12 Possible Names for the New Stadium's Plaza
Posted by Erik Bergs on Friday, April 25, 2014 at 12:00 AM
By Erik Bergs / April 25, 2014
Comment
[caption id="attachment_227476" align="aligncenter" width="570"]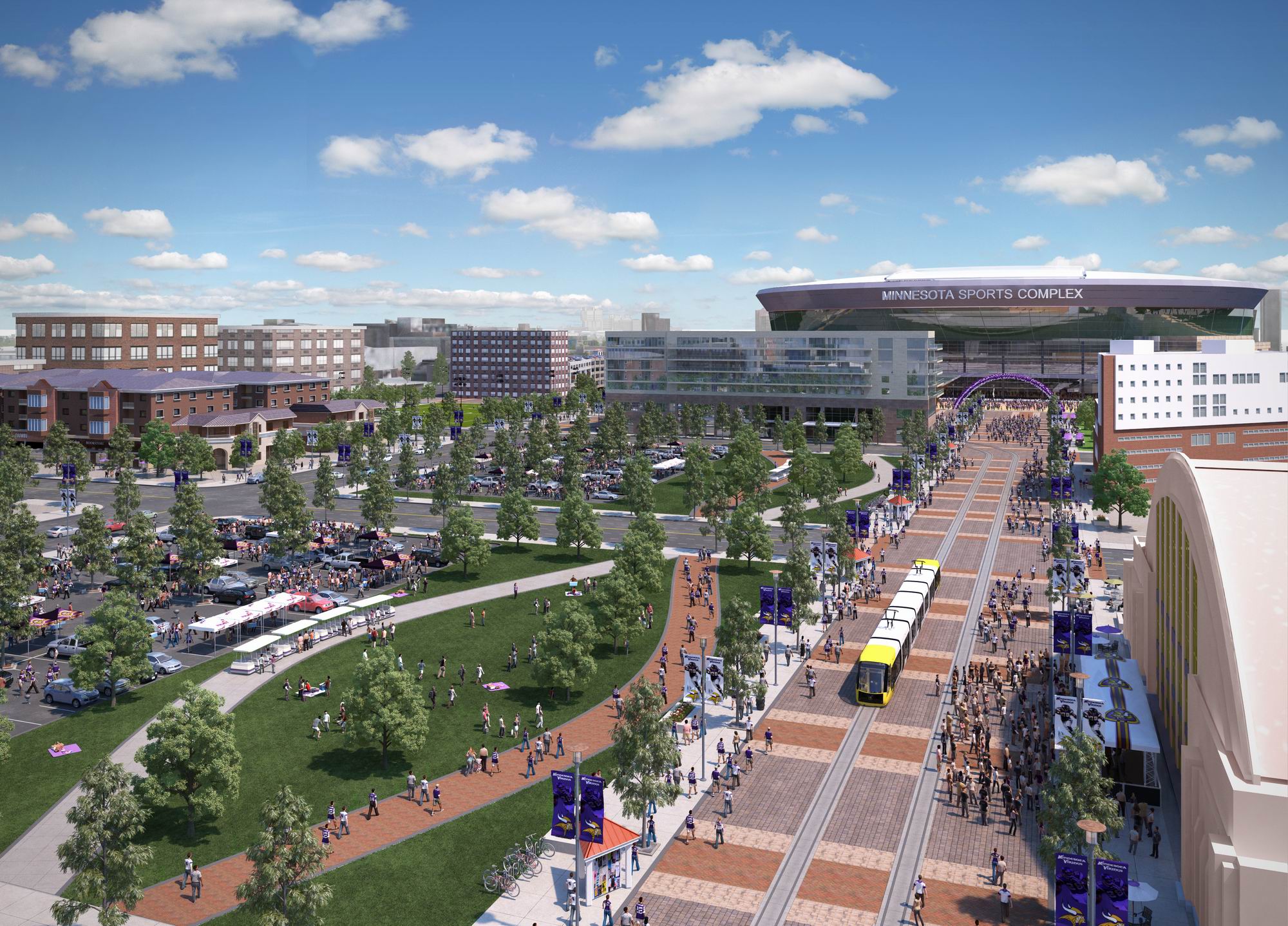 A version of the plaza, with light-rail, facing toward the stadium[/caption] The design for the new Viking's stadium calls for a large open plaza. It will include a transit station for the light-rail, a wonderfully glassy entrance to the venue itself and a not so glassy view of the (also newly constructed) Hennepin County Juvenile Detention Center (which will be directly across from the doors). Yet a large question mark remains: what will this plaza be called? The proposed "Downtown East Plaza" isn't very catchy and will not make it to the final product. Here are some alternative ideas for you Minneapolis.
#12 Denny's Green
If you've heard anything from a Minnesota fan, that made them tear up on the spot -- it was probably from the 1998 NFC Championship matchup with the Falcons. But maybe we can put those demons to rest with a big statue of their coach: Denny Green. Just have him taking a knee of course!
#11 The Strib's Strip
Minneapolis' favorite newspaper wasted no time in getting out of their suddenly highly valued buildings (they are adjacent to the plaza). We could applaud them for their balanced coverage on the issue (which just happened to pay off really well) with some naming rights.
#10 Rybak's Ruins
If Minneapolis were to suddenly pull a "Detroit" and had no money to finish the project, then I'm sure this would be a fitting name. Thankfully, that's not likely (and neither is using RT's name).
#9 Humphrey's Hub
The late, great Hubert Humphrey might not have an inflated hump to his name anymore, but perhaps this could be a lingering consolation prize?
#8 Wilf's Ward
Zygi isn't shy about
pushing money
into the stadium situation. Maybe he could persuade a swivel-eyed politician or three into letting him build condos on top of the Juvenile Detention Center. A vague yet uplifting title would suit them, maybe something like 
Reach for the Sky
!
#7 Peterson's Promenade
Would this be named after #28? Of course not. But somebody important to Minnesota for other reasons (who just happens to have the same last name) will do. The fans would be none the wiser.
#6 The Mondale Mall
It doesn't matter which Mondale it's named after; it would be just as random either way.
#5 Pawlenty's Plaza
I fear Pawlenty is going to be the forgotten governor of our times. It's often forgotten that he held the office for a whoppin' 8 years! Oh and he ran for President too... I think. Let's just make sure there's lots of vanilla ice cream stands dotting this version of the
square
(get it?).
#4 Betsy's Bluff
Here the engineers could craft a long hill-like design onto the plaza by running the light-rail through a shallow tunnel. Just send them the right plans this time.
#3 The Ventura Walk
Jesse may not be responsible for the new stadium, but he knows all about the whole conspiracy and the masterminds behind the deal. He will seek them out and demand to know "Just what's going on here!?" If they don't give him answers, maybe he'll settle for this (he could also donate his tax rebate for a statue of himself in the middle).
#2 Dayton's Dream
The name might be a little different, but so is our governor. The sculptures in this version of the space would be best left uninterpreted.
#1 Bud's Boardwalk
The former Viking's coach is the most deserving of the plaza's name. Just don't expect any heated surfaces when it's negative thirty degrees. Photo via: Vikings.com
The personal views expressed in this post are the writers' own and do not necessarily reflect the views of Minnesota Connected or its sponsors.