3M Greats of Golf: Your Free Ticket to Walk With Legends
Posted by Tony Randgaard on Monday, July 13, 2015 at 12:00 AM
By Tony Randgaard / July 13, 2015
Comment

Imagine starting your golf round with 8 straight birdies. Annika Sorenstam did just that at the Standard Register Ping LPGA event at Moon Valley Country Club in Phoenix -- 14 years ago. The longest string of birdies her caddy Terry had witnessed was five-in-a-row. After eight, Annika admitted that her mind was wandering and she got nervous. No woman had ever shot a golf round under 60 strokes and she dreamed about making history. She told her caddy: "Let's get a par on this hole." And then she steered her drive into play and two-putted the ninth green for par. Mission accomplished. At the break between nines, her excitement rose again and she exclaimed: "Terry, are you ready for more birdies?" And then resolutely proceeded to birdie the next four holes! The buzz spread like wildfire across the course. Something epic was happening and fans flocked to her gallery to follow the quest. When she birdied Hole 17 she reached 13 under -- right on target for a record score of 59. At Hole 18 she had a white-knuckle 3 footer left for par. She thought: "It's only 3 feet and I have done this millions of times before in practice and competition. Trust yourself! I lined up the ball, took the putter back, accelerated through and it went right it!" Annika ran to her caddy and leapt into his arms. She had made history — the first woman to shoot 59.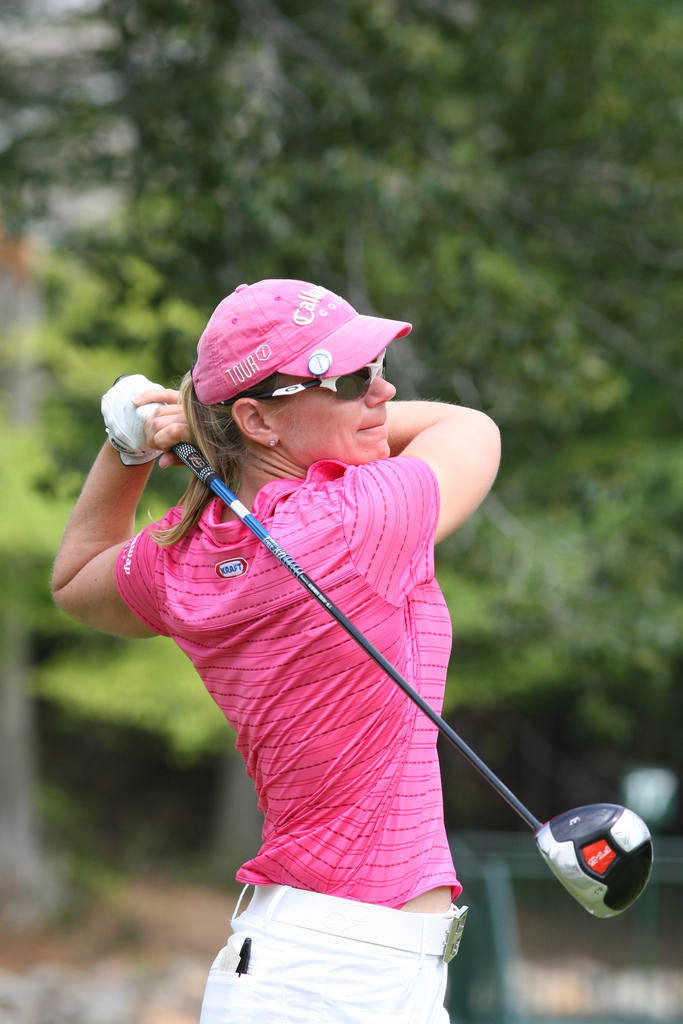 In tribute to her accomplishment, Annika earned the nickname "Mrs. 59." She returns to Blaine August 1 to participate in the 3M Post-It® Products Greats of Golf Competition. Annika retired from competitive play holding 10 major championships and an amazing 79 worldwide wins. She represents an excellent role model for achieving that rare balance between career and home. After reaching the precipice of professional golf, she raised a family and now is giving back to the game through her successful Annika Golf Academies and her charitable foundation. Annika joins legends Jack Nicklaus, Arnold Palmer and Gary Player at the Greats of Golf, a tournament inside a tournament at the 3M Championship at the TPC Twin Cities golf course. Making their first appearance in the Greats of Golf are Tom Weiskopf and World Golf Hall of Fame member, Hale Irwin.
"With the new additions, The Big Three, Annika Sorenstam and all of the legends together will provide golf fans a world-class viewing experience," said Jim Fall, vice president Global Sales for 3M.
The Post-It® Products Greats of Golf Competition is a team competition teeing off after the regular field at 11:50 a.m. on Saturday, August 1st. We report on the runaway success of their recent stops and explain why free admission offered for this event is the chance of a lifetime.
Houston Stop
For the six marshals working the par 4 eleventh hole at the Insperity Invitational in The Woodlands last year, spectators were scattered and passed by at a leisurely rate. Besides the steamy temperatures in Houston, the main challenge was to stay focused as virtually all the professionals were hitting the spacious fairway on the 418 yard hole. Bernhard Langer, Tom Kite, Fuzzy Zoeller, Colin Montgomery, Hale Irwin and Kenny Perry moved through with little fanfare. Looming though, was the warning that the really big crowds and challenges were still hours away when the "Greats of Golf" would pass by. Tournament directors cautioned: "No autographs and keep the gallery outside the ropes!" By the time that Jack Nicklaus, Gary Player and Lee Trevino reached the hole, a huge gallery swelled both sides of the fairway. For the first time all day, marshals scrambled to block fans from crossing the fairway and held arms overhead to hold down the din and excitement. This group was escorted by more police officers than any of the regular Senior PGA groups. Yes, this surreal setting would make your father proud! This was a wonderland where two 75 year-olds and a 79 year-old, playing a scramble from the front tees -- were the headliners.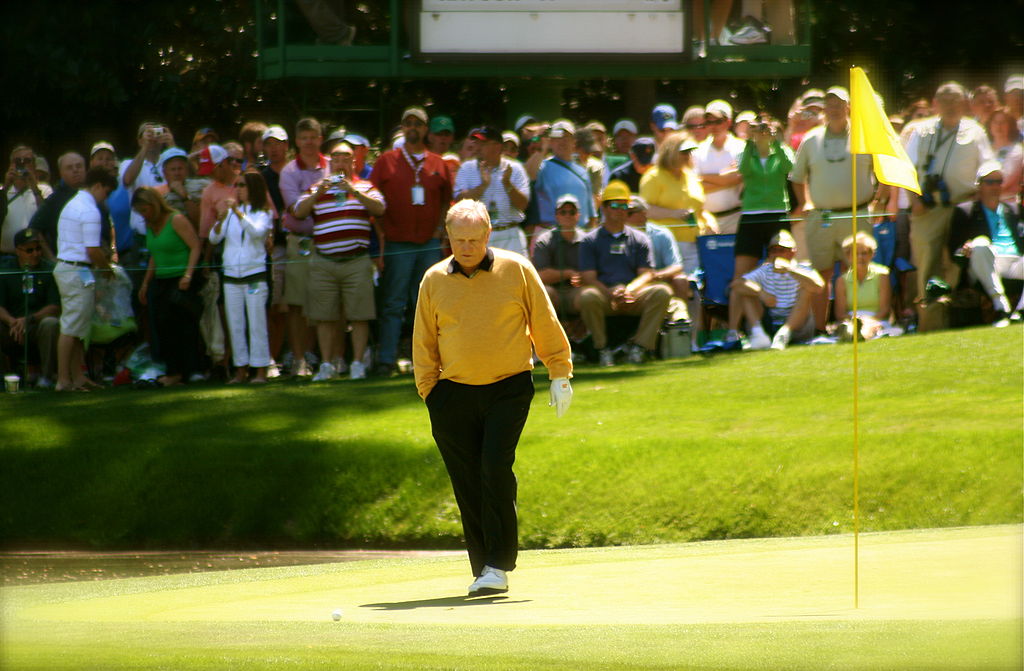 All doubt about who the stars were, was erased when the Golf Channel devoted the bulk of their coverage to each shot made by Jack, Gary and Lee. You could feel the emotion as the three long-time rivals joked, reminisced and embraced throughout the round. On the par 5 thirteenth hole, the team left themselves behind a bunker, facing a daunting wedge shot with only a sliver of green to land on. Sounding like a threesome at your local municipal, Trevino hinted to days-gone-by when Jack's short game was suspect: "Have Jack hit first, have Jack hit first." The greatest golfer of all time, shrugged off the slight, stepped up and hit a towering parachute wedge that landed 3 inches from the hole and stopped on a dime. Not only did this shot thrill the crowd, it amazed Player and Trevino. They had never seen him hit such a shot before and asked:
"Where did you get that shot?" Nicklaus deadpanned: "I am playing a lot more than I used to." And there were high fives all around. Trevino highlighted the moment: "We don't know when we are going to see each other again and that makes this so special."
Rubbing Elbows With The Pros
The 3M pro-am practice rounds are free and open to the public as well. Pairings will be posted at the 3mchampionship.com site. Play starts at 7:00 a.m. on Wednesday July 29 and Thursday July 30th. I've had the opportunity to fill-in pro-am slots in Minneapolis and Houston. The first time our group joined Phil Blackmar who won the Champions Tour AT&T event in San Antonio. Phil casts an imposing figure, 6 foot 9 inches tall and every bit of 275 pounds. By coincidence, my pro-am partner had played in the NFL, was 6 foot 7 and over 300 pounds. This was too much for fellow Senior PGA pro Fuzzy Zoeller to resist. He sauntered over and announced:
"Blackmar, that open invitation to join me on my bass boat……is withdrawn for you and your buddy there."
During the pro-am round, Blackmar boomed 300 yard drives and notched 9 birdies. Each time he would roll in a long putt, we noticed his veteran caddy Linn Strickland whispering a string of profanities. By the third birdie, I asked him what was wrong? As the oldest caddy on the tour, he stated confidently that each birdie carded during a practice round would be subtracted from their real event round by the "Golf Gods". The next day I followed Blackmar, who polished off a lackluster 73 by three-jacking the finishing par 5, from 18 feet. His caddy may have been on to something? As is the unique personal nature of the Champions Tour, instead of commiserating the closing hole, Strickland picked me out of the stands and yelled: "Tony, you owe me a Crown Royal, meet me in the Clubhouse!" About two weeks later, I received a hand-written note from Phil Blackmar, thanking me for the round together. What an unexpected and caring gesture that was.
A Unique Players Dinner
After the Houston Player Dinner there is a coffee bar outside the ballroom at the Marriott Waterway, which magically transforms into a full-service bar. We saw the full impact of the Champions Tour on display there, with legends of the game graciously and openly rubbing elbows with the common fan. Ben Crenshaw and Johnny Miller were to my left. Over my right shoulder, Arnie was drinking gin and tonics and selflessly posing for more than 20 photos. We chose not to interrupt his fun. Instead, two-time major winner Fuzzy Zoeller ambled up sporting one of his famous Fuzzy's Ultra Premium Vodka concoctions. We introduced ourselves and spent a delightful 25 minutes taking in jokes and sharing stories. It was as though we had known him for years. We exchanged contacts and promised to keep in touch after the tournament. During the 2007 event, I was following Freddy Couples when about 8 golf carts burst right up the middle of the fairway while he was setting up for his second shot. Unperturbed, he stopped and walked over to hug George (senior) and Barbara Bush and a friendly reunion stopped play for about 10 minutes. The presidential party and Secret Service in golf carts, followed Couples for several holes. At the Insperity Players dinner two years ago, it seemed like a needless hassle that I had to stop by the tournament office to get an admission medallion for each of our United Airlines guests. After all they already had tournament badges? Things became clearer about 15 minutes into the dinner when the Secret Service sealed off the exits and the younger George Walker Bush entered and took a table about 20 feet away. Even more surprising, Jim Nance and President Bush held a rare fireside chat that was a highlight of the event. The audience was warned 'no cellphones or cameras'. When one of our guests lifted their phone to take a picture, I quickly learned where the security expression, 'Swarm!' came from. Agents came out of the woodwork to politely warn our friend to put the phone away. By the end of the evening, the audience was enthralled by the fireside chat, inspired by Trevino and Player and serenaded by Toby Keith. Our United guests said the scene was 'surreal' and one of the highlights of their life. The raised hair on my neck signaled my own silent agreement.
Tips for 3M Blaine Event
Now Annika, Arnie, Jack, Gary and Hale have joined the 3M Post-It® Products Greats of Golf Competition event and will bring their magic to the Twin Cities. It is run as a tournament within a tournament. The scramble format will tee off starting Saturday August 1 at 11:50 a.m., after the final group of the regular Champions Tour. If you bring your family out early, you will be amazed that the legends are within arms-reach at the putting green and can listen to their funny banter at the practice range. Unlike the big tour, photographs are permitted during the Greats of Golf activities. Therein lies the wonder and allure of Senior PGA golf: The greats of the game, Presidents, celebrities and common fans competing, sharing memories and renewing precious friendships. It's an addicting elixir that keeps us coming back every year. For more information about the 3M Championship: 
www.3mchampionship.com
Retired after 31 years in marketing with United and Northwest Airlines, Tony has been published by MinnPost, Minnesota Connected, Air Cargo News, The Forward, CNS Air Cargo Focus, TC Daily Planet and the Rake. He has won a Silver Addy award in Advertising and launched United Cargo's Friendly Skies ad campaign in 2014.
Photos courtesy of:
Keith Allison
-- 3M --
Torrey Wiley