50-Foot Snowman Towers Over Minnesota Farm
Posted by Joseph Friedrichs on Tuesday, March 4, 2014 at 12:00 AM
By Joseph Friedrichs / March 4, 2014
Comment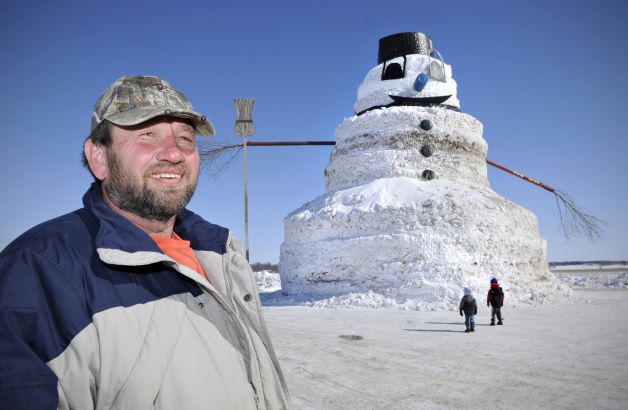 Apparently unsatisfied with the 29-foot snowman he built in 1991, Greg Novak decided he needed to up the ante. Enter "Granddaddy," the 50-foot snowman on Novak's farm near Gilman, Minnesota, where more than 4-feet of snow presently calls the frozen ground home. Novak spent the five weeks erecting Granddaddy -- he built the snowman through all sorts of Minnesota weather such as freezing cold temperatures and occasional flurries. He built the massive snowman in hopes of spreading good cheer and, presumably, to pass the time during this brutal winter.
"It's a smile idea. Building a snowman isn't original," he said. "Building one this big is a little different." 
The snowman was constructed by packing snow into large compartments and then stacking the snow fifty feet high. For the snowman's nose Novak used a garbage bin, while the buttons down the front are garbage bin lids.
"It's been a long, hard winter. We might as well have fun with it. If you can't beat it, embrace it," he said.
Although Granddaddy is impressive in sheer stature, it is not the tallest snow character ever built.
According
to the Guinness Book of World Records, residents of Bethel, Maine, built a snow woman measuring just over 122-feet on February, 26 2008. Photo via: Associated Press