89.3 The Current's 9th Birthday Party (Friday) @ First Avenue
Posted by PJ Mudd on Friday, January 31, 2014 at 12:00 AM
By PJ Mudd / January 31, 2014
Comment

Last Friday night, First Avenue hosted the first of two nights celebrating The Current's 9th birthday party. Most of The Current DJs and staff were on hand to fulfill hosting duties throughout the weekend, which gave it a real 'happy birthday' vibe. If you weren't lucky enough to get tickets, which were offered to MPR members first and sold out days before the shows, you could have listened to the live broadcast on the radio. Friday night showcased the talents of Actual Wolf, Strange Names, Lizzo, and Har Mar Superstar. I unfortunately missed Actual Wolf perform, but around 9 o'clock, caught my first band of the night, Strange Names -- they are a duo, playing as a four piece, with a female friend as a fifth when needed. Styled like the prom band in any 80s movie, complete with Ray-Bans and X-Ray specs, they sounded incredibly polished for a band who's first full length album doesn't even come out until this spring. Cramming 10 songs in 30 minutes, the band set the pace and tempo for a fun and entertaining evening. They finished out their gung-ho set, strong, with their new single, "Ricochet."

After a brief set change, The Current DJs helped segue to the next act. Home in Minneapolis, between trips to London, Lizzo took the stage with Lazerbeak on the beats, Sophia Eris on backup vocals, and Ryan McMann on drums. Sounding much stronger and confident than the last time I saw her at a LIZZOBANGERS set at Icehouse, she got the whole crowd moving. Halfway through her slammin' set, Sophia Eris and Manchita joined her for a couple GRRRL PRTY songs, including "Wegula." She followed that up with her single "Batches & Cookies" which had the entire audience singing along. As a final surprise, she debuted her new single "Paris" which was recently featured on the HBO show
Girls
. Absolutely one of the highlights of the night and with the number of folks that left at this point, they must have felt it was going to be hard to top.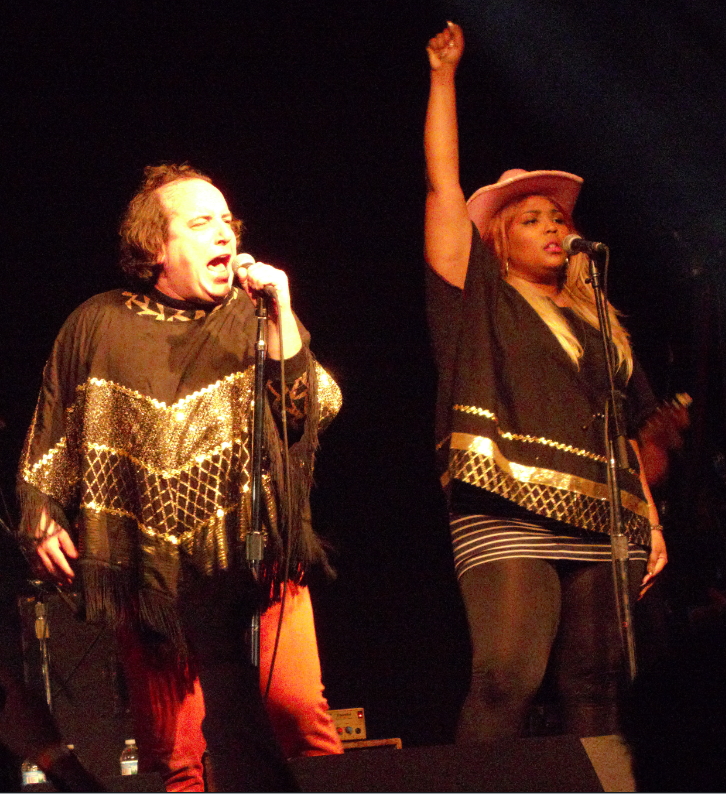 During this changeover we were introduced to all The Current DJs and staff, which was nice to put faces to names you hear on the radio everyday. We were then finally introduced to the final act of the night, Har Mar Superstar (with 100% more Lizzo!). Starting off dressed in a hooded duster, Har Mar kept the energy going with his impassioned voice. Charging through songs like "Lady, You Shot Me" and "Prisoner," Har Mar kept things light by interjecting some humor between songs, by reminding the audience how great the merch was at his merch booth. He mostly kept to his trademark progressive strip show throughout the set, but when one audience member demanded he remove the pants he was a little put off. Obviously even with pants on he can still belt it out, all while standing on his head! Har Mar was the only artist that night to have an encore, returning for two final songs, which just happened to be the final two songs on his most recent album,
Bye Bye 17
.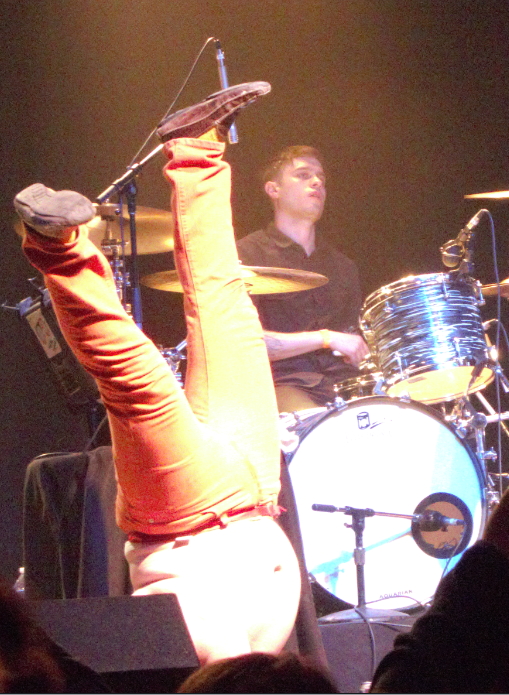 This was hands-down one of the best birthday parties I've ever attended and can't wait to get invited back next year. Happy Birthday to The Current and thanks to all the staff and DJs for making it such a great station. Photos via: PJ Mudd