A Glimpse of the Twin Cities -- Ten Telling Photos of Minnesota's Winter Story — So Far
Posted by Brent Lee on Tuesday, February 25, 2014 at 12:00 AM
By Brent Lee / February 25, 2014
Comment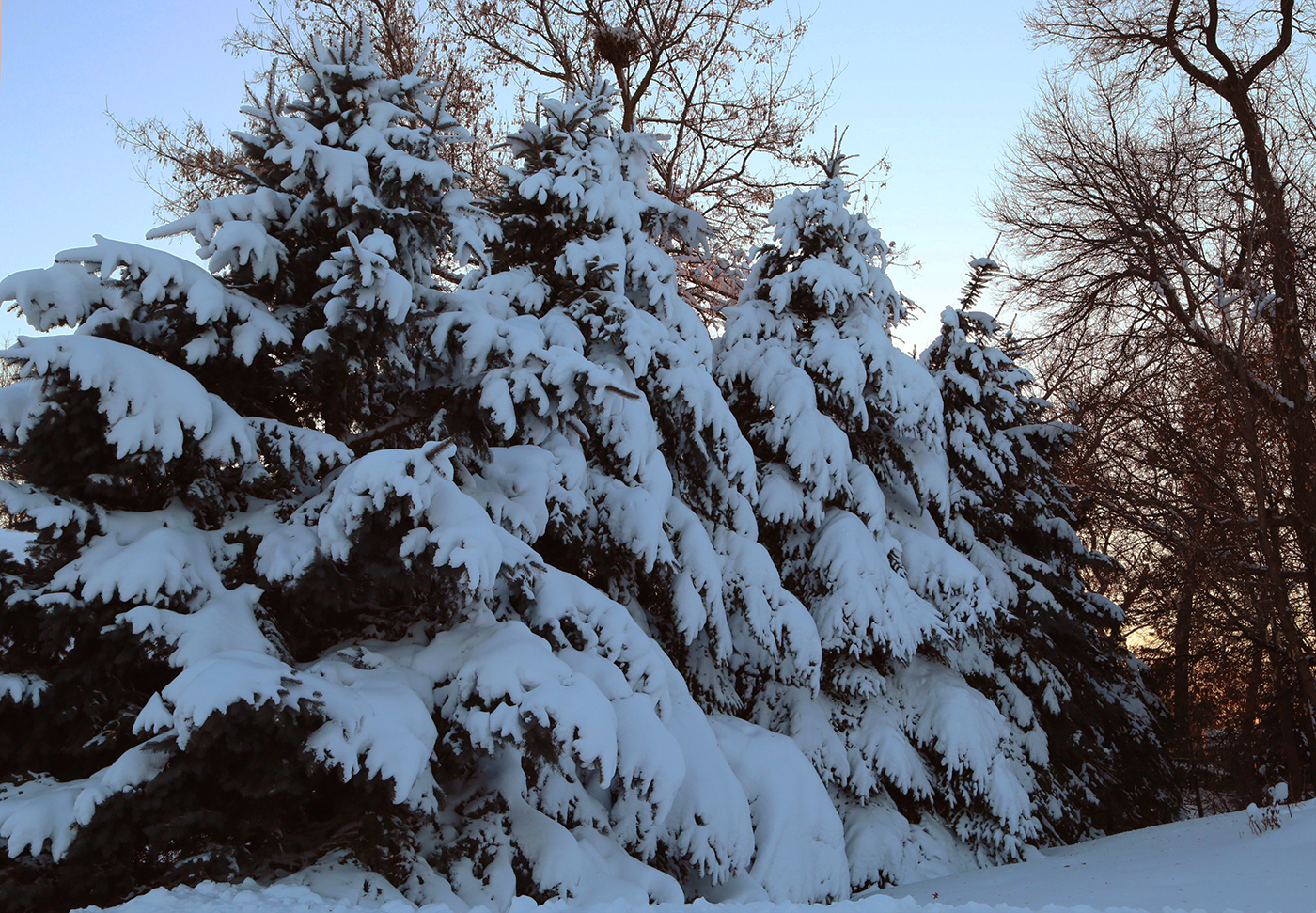 The storm of the year hit Minnesota this past Thursday and Friday adding ten to twelve inches of insult to what has already been been a cold and injurious winter. The question on all of our minds  is, "Is the worst of winter over?" As we do about this time each year, Minnesotans the state over will channel their inner
Punxsutawney Phil
this week, emerging from behind their frost-covered front doors, trying to gauge whether or not the 2014 winter's most ferocious and frigid days have come and gone — or if the end of February and the month of March (and maybe even April and May) hold their very own gelid, glacial surprises. Of course, we can't control what the weather gods have in store for our future. Only time will tell. In the meantime, let's take a quick look back at the past with ten photos telling the story of Minnesota's 2013 - 2014 winter (so far).
Red Wing 2013 Winter Storm -- May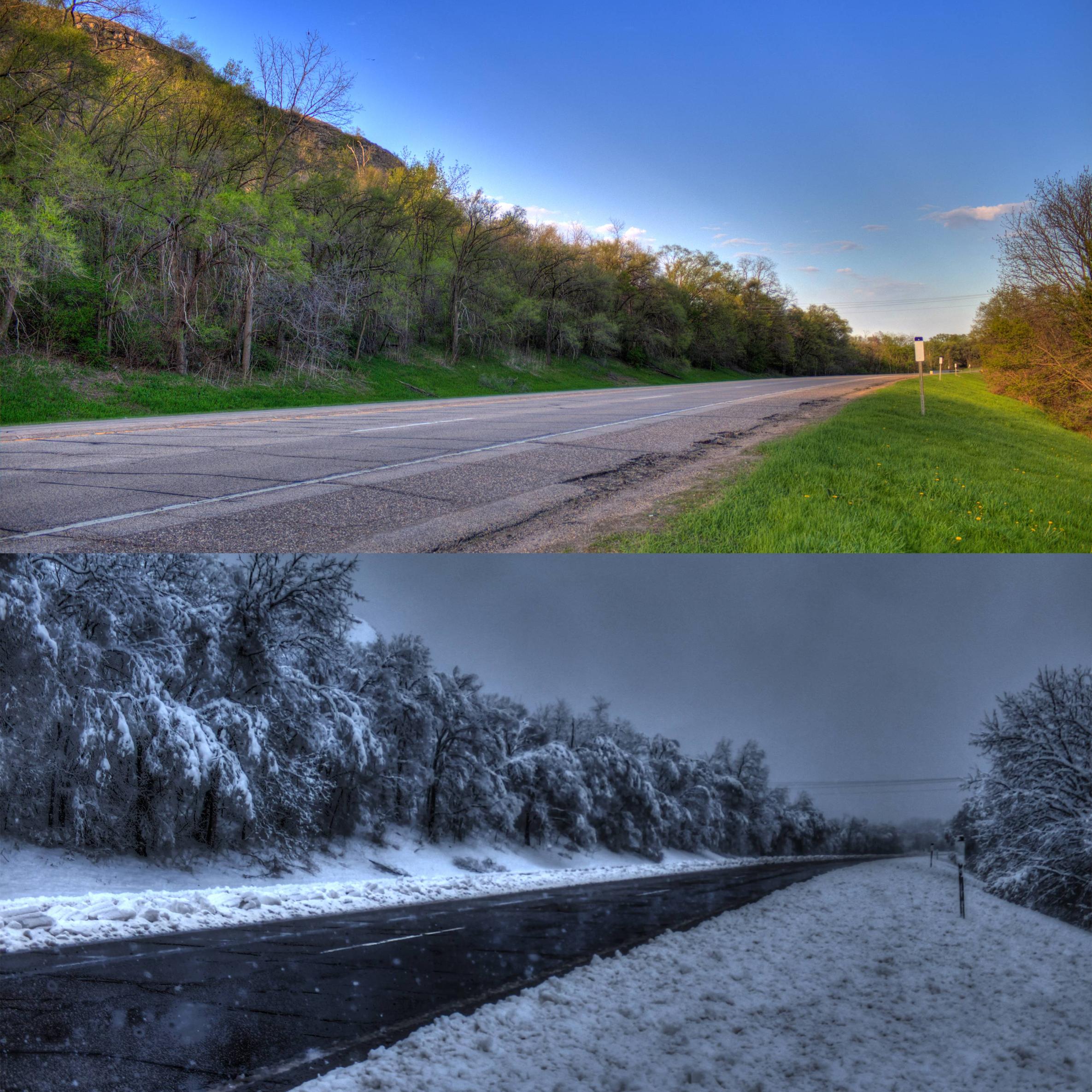 This year's brutal winter was preceded by last year's nearly never-ending edition. Taken just two weeks apart in May 2013, these two images from Red Wing show the dramatic contrast in climate that Minnesota winter storms can provide when they invade our spring. Perhaps it was an early preview for this year's inhospitable iteration of the chilliest season?
Minneapolis From the Sky - December 27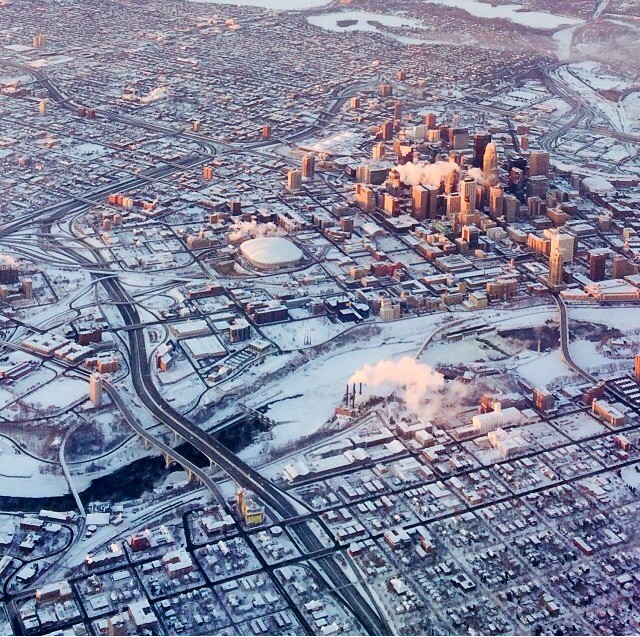 White Christmas fans had their dreams come true this year. And while the snow we received for Christmas does look pretty fun and festive when viewed from the sky in this photo of Minneapolis taken on December 27, it tends to lose its magical appeal when you come down to street-level and are forced to try and drive through it or shovel it from your driveway.
Snowy Target Field - January 25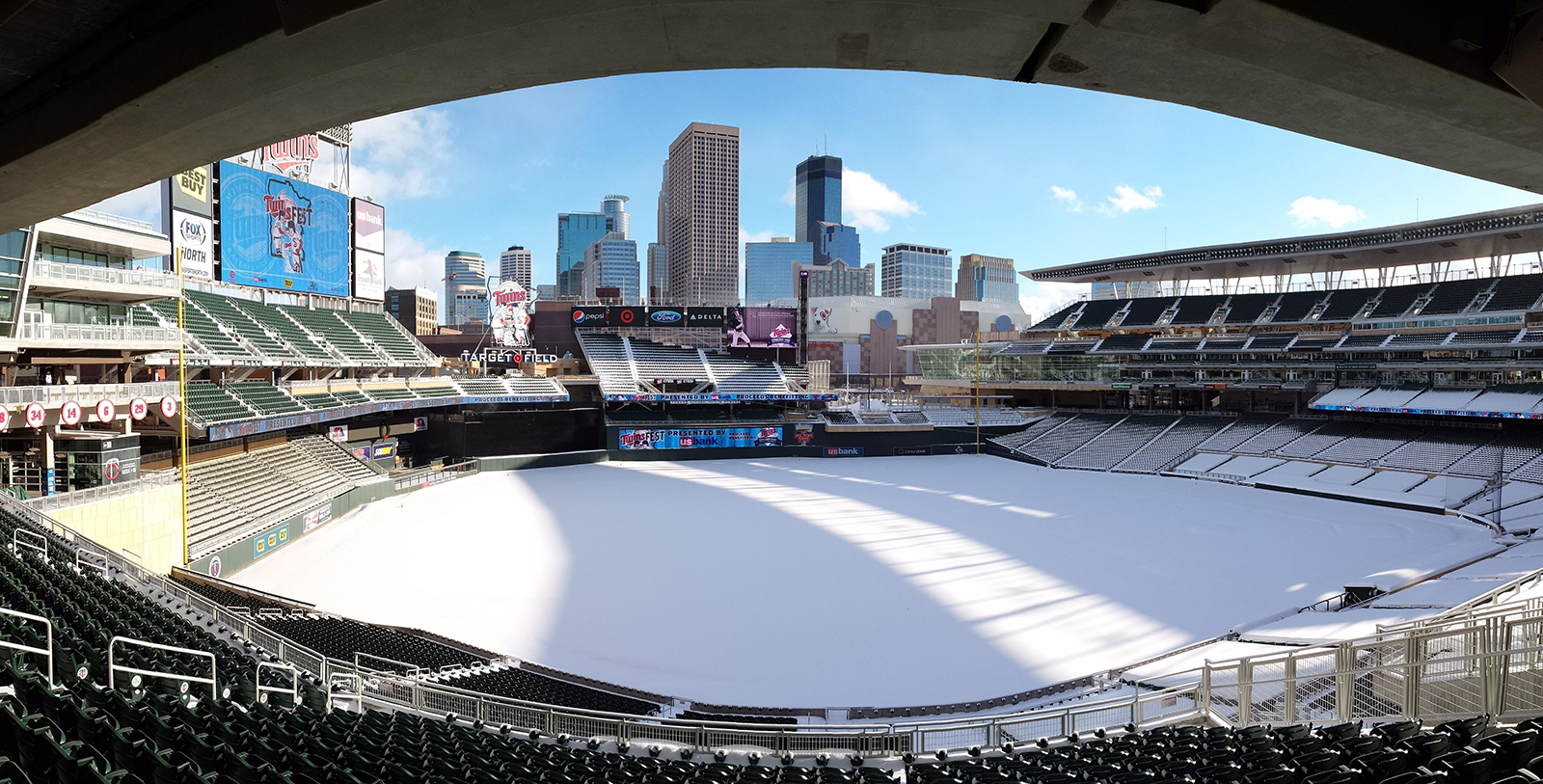 It's hard to believe the Twins play their first preseason game in a couple of days against the Boston Red Sox on February 28. Our beloved local nine open the regular season about a month later on March 31 against the White Sox and play their home opener at Target Field on April 7. If the weather cooperates, the Twins first home game will be greener than this January 25 picture. Yet, based on last May's surprise snow, that remains a rather sizable "if."
US Pond Hockey Championships (January 17 - 19)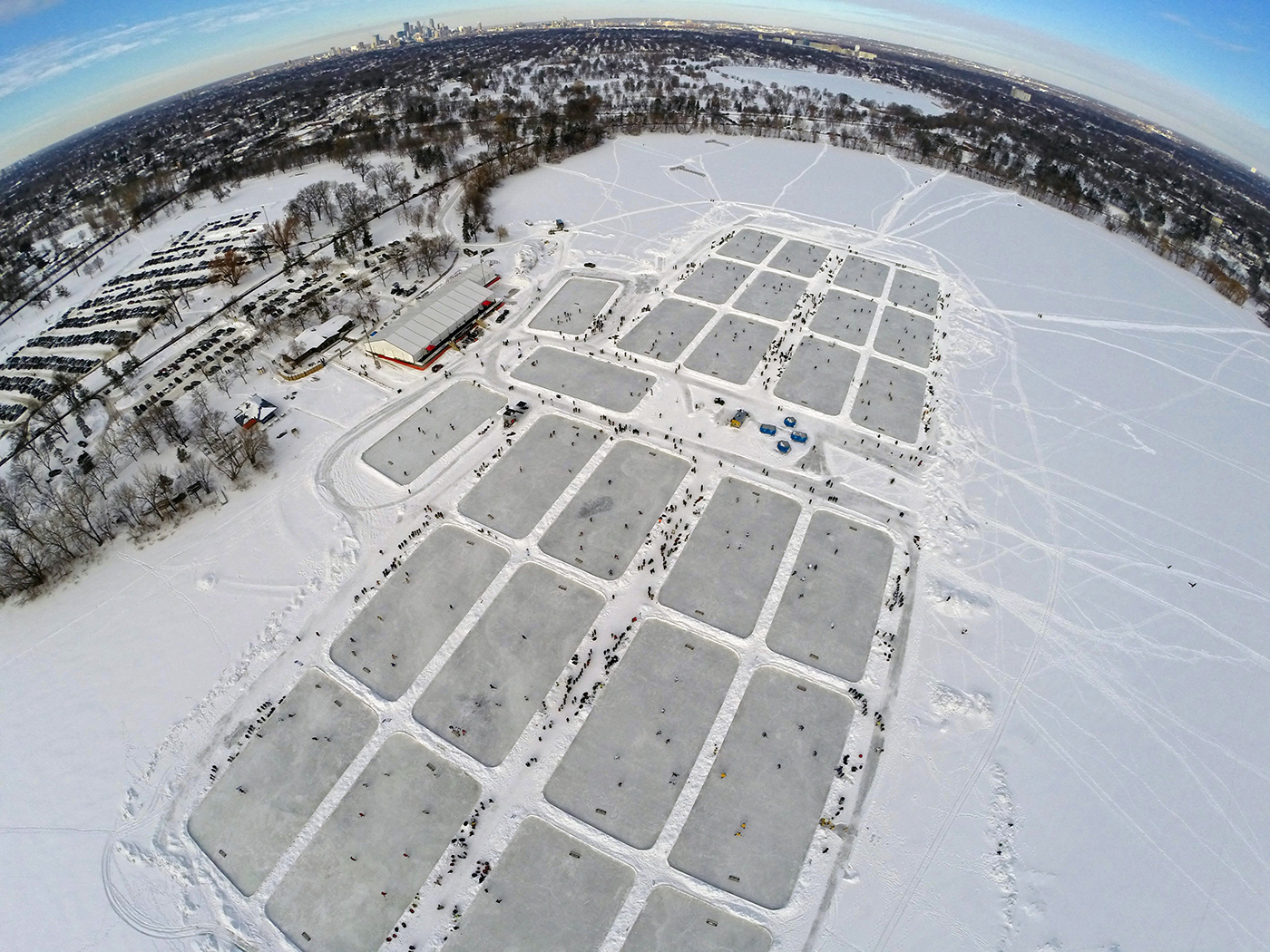 On ponds and lakes across the state, Minnesota's youngsters learn the game on nature's free ice, all the while dreaming of one day becoming a hockey hero. The US Pond Hockey Championships on Lake Nokomis celebrate this tradition -- the ninth annual event drew over 2,000 players on 250 teams, and about 25,000 spectators in 2014. Pond puck lovers from 45 states and Canada converged on the temporary 25 outdoor rink hockey mini-Mecca that is constructed from January 17 through the 19 on Nokomis' ice, each team vying for the right to hoist the event's coveted trophy — The Golden Shovel.
Ice Patio in St. Paul -- January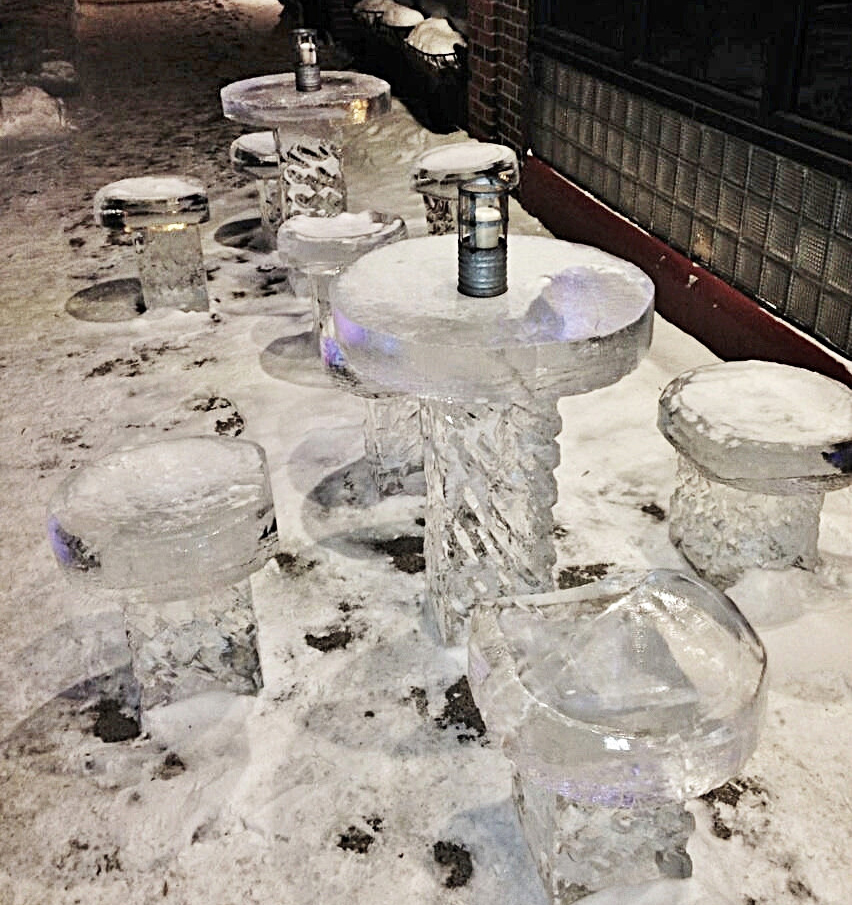 Because of our often abbreviated summer season, hardy and resourceful Minnesotans find novel ways to enjoy a beer on the patio even in during the forbiddingly-cold and extended winters.
Groveland Tap
in St. Paul afforded its patrons some creative outdoor seating options on the sidewalk for the bravest of souls. Now that's a cold seat.
Frozen Beer at Beer Dabbler - January 25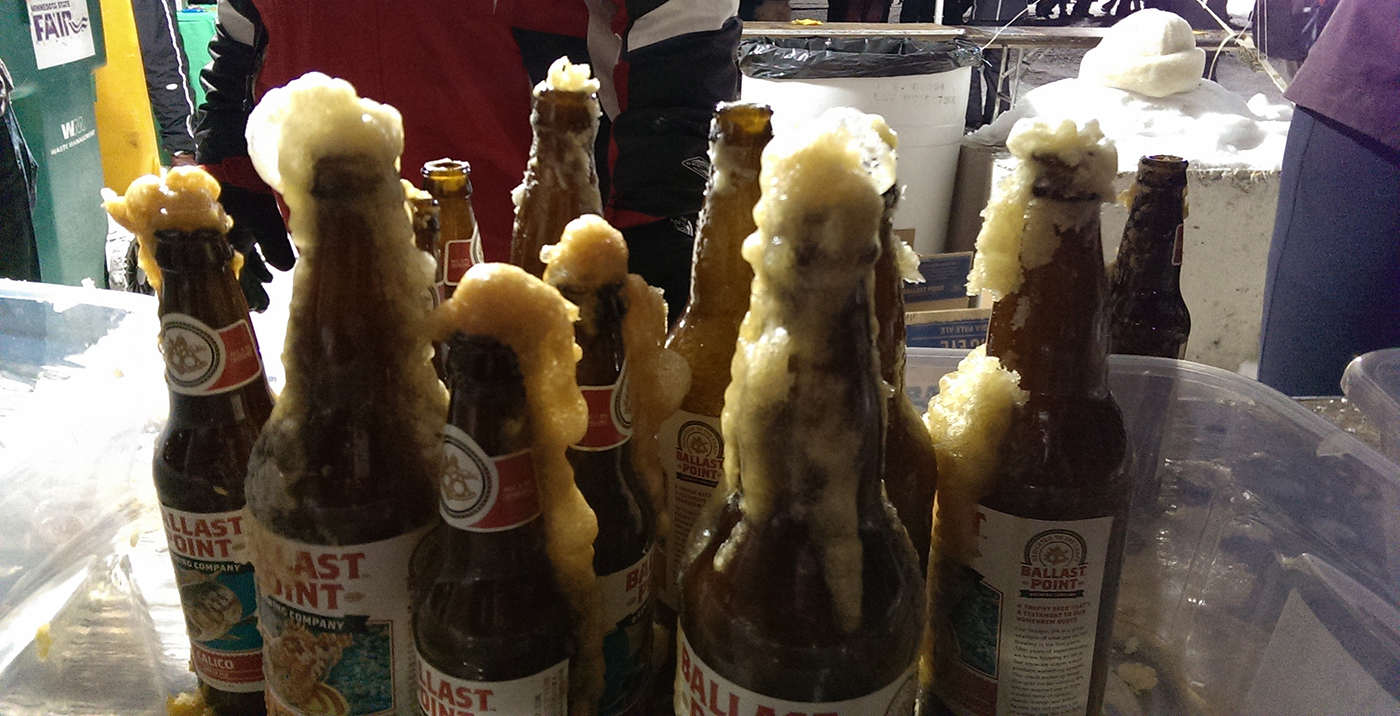 This unfortunate photo — taken at the 2014 Beer Dabbler Winter Carnival — illustrates one of the possible drawbacks of drinking on frozen patios like the one pictured above. Now that's a cold beer.
Rosedale Parking Lot -- December 11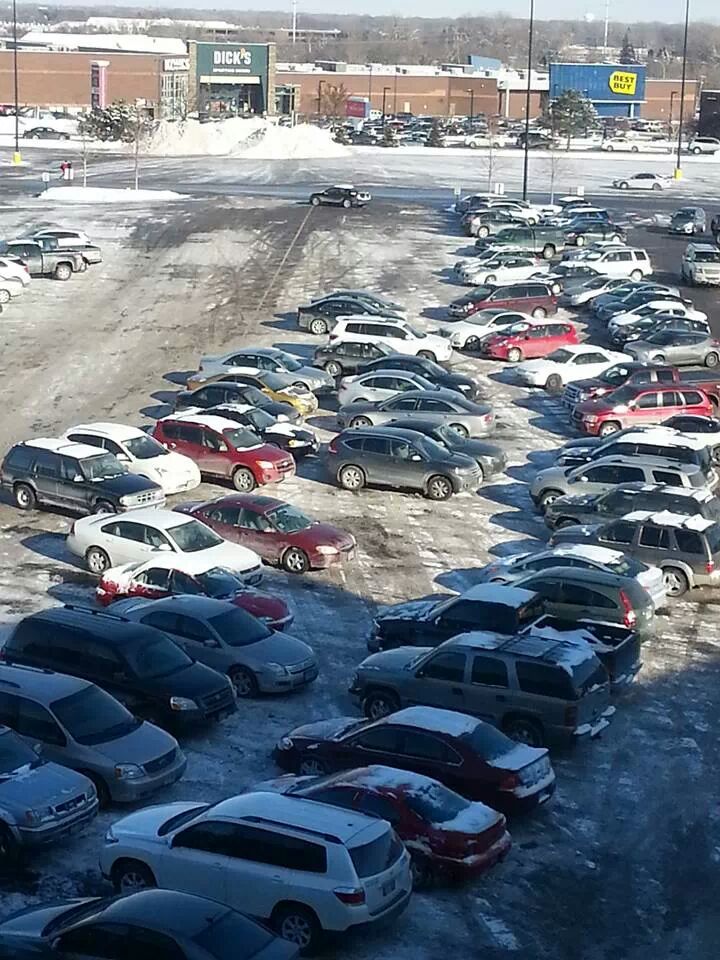 One of the many, many automobile-related implications of Minnesota winters: parking lot capacity shrinks by at least 20% and controlled chaos ensues as dividing lines become obscured by fallen snow and ice, while cleared snow piles up to form mini-mountain ranges all over the parking lot. The result, as shown here in one of Rosedale's parking lots on December 11, can often make holiday shopping even more stressful than it already is.
Minnehaha Falls -- January 24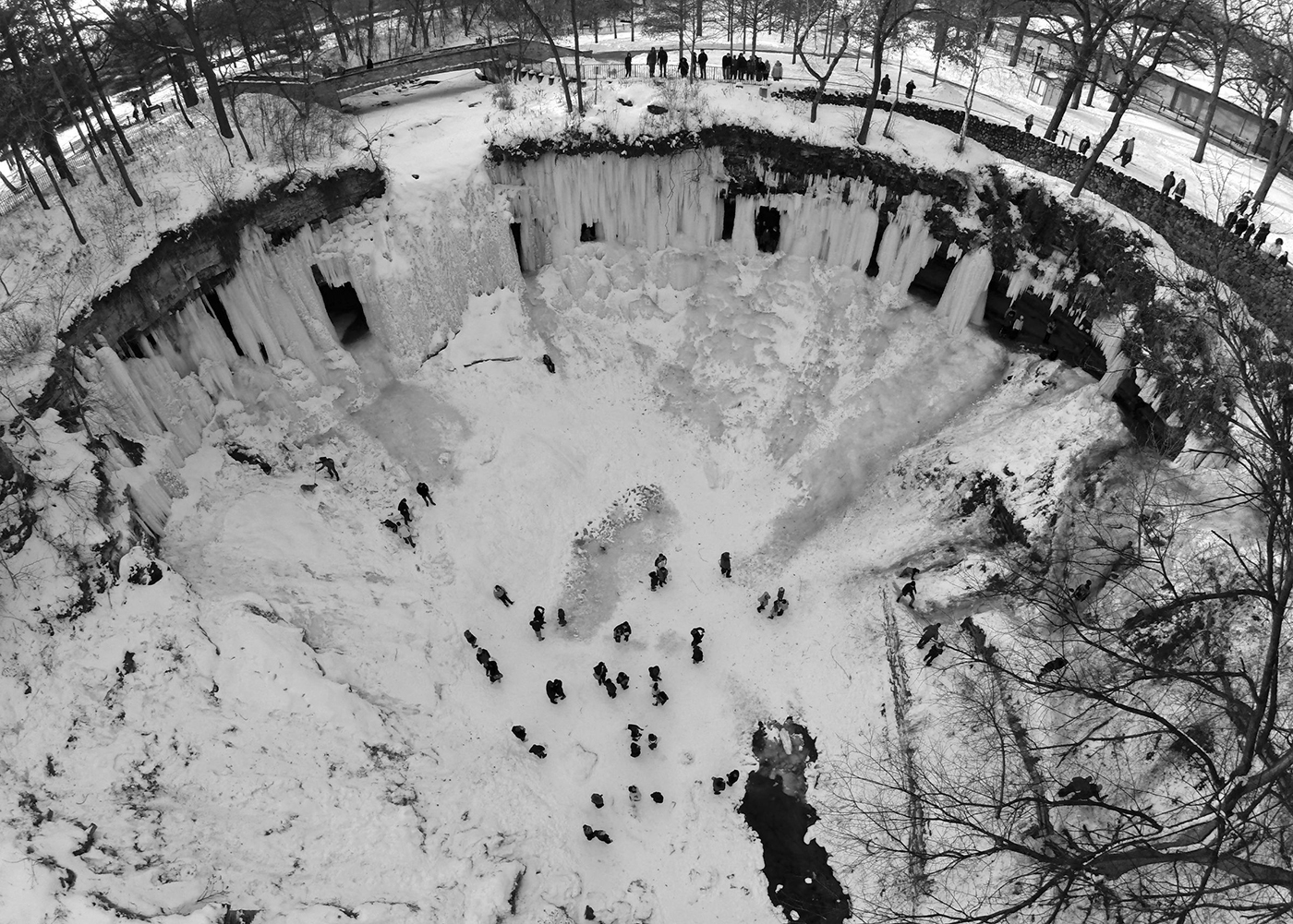 During the spring, summer and fall, visitors from all over the metro flock to the beautiful Minnehaha Park in Minneapolis -- most enjoy standing near the falls, taking in the scenic cascading waters. During the winter, there is much less cascading and much more ice, and visitors are able enjoy uniquely intimate access to the frozen landmark.
Beach Property in Duluth -- January 16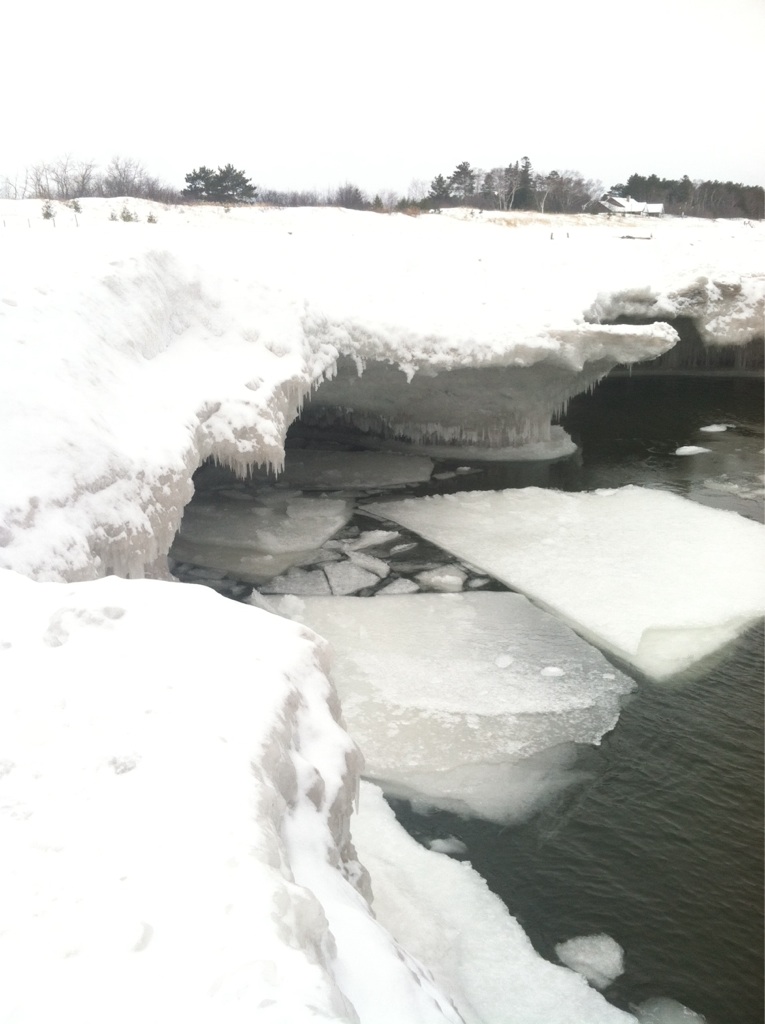 Despite what you might think, there's really no reason why you cannot enjoy the beach during the winter in Minnesota. This photo gives us a look at some lovely beachfront property in Duluth on January 16. Sure, there's no sun or sand or people or fun, and the water — the part of it that isn't frozen — is cold enough to popsicle-ize you instantly… but... well... I forgot the point I was trying to make. Oh, yeah. In Minnesota, the beach is open year round! This photo proves it.
Ice Fishing on Lake Mille Lacs -- January 15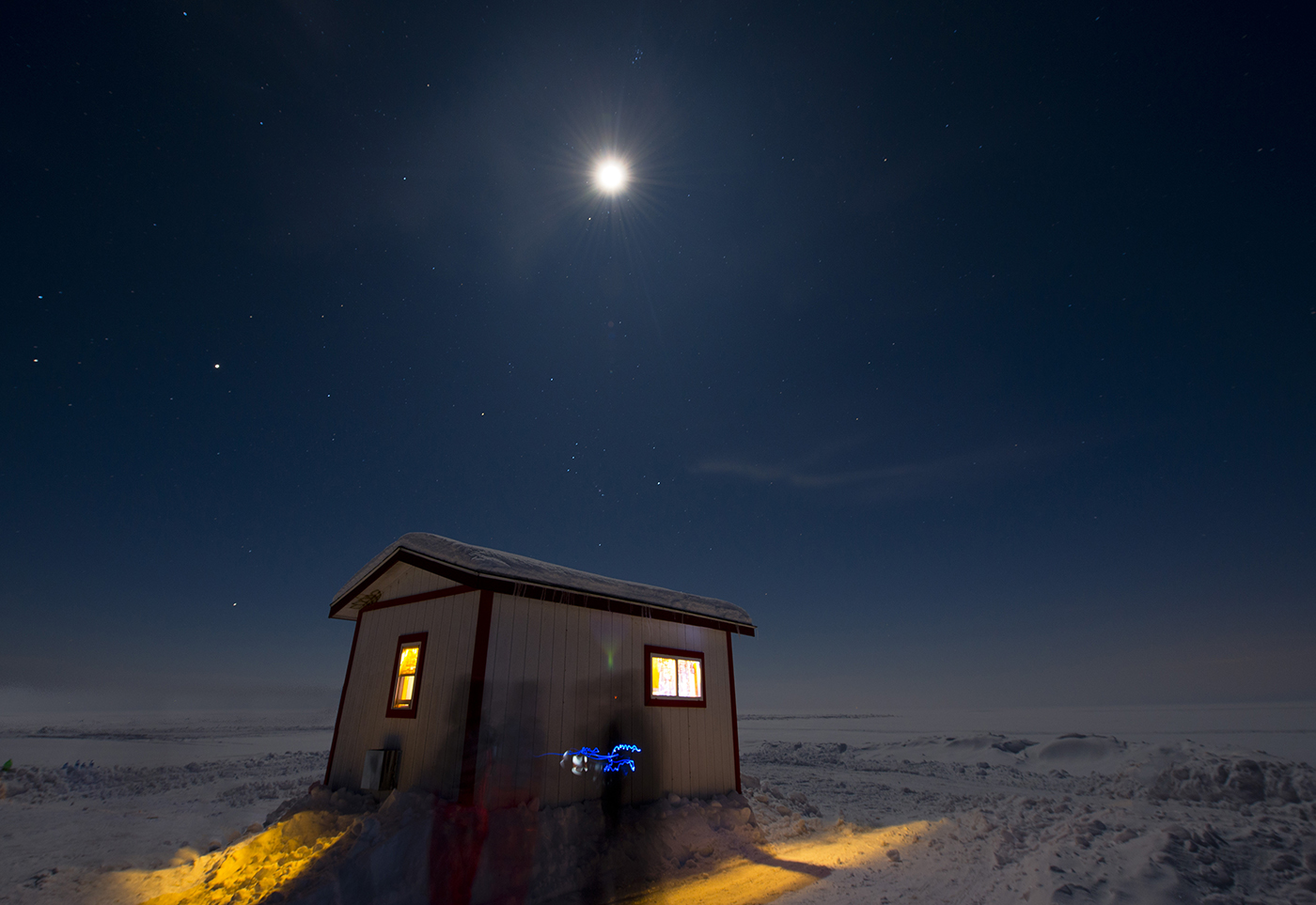 This photo taken by an ice fisherman on January 15 at Lake Mille Lacs unleashes more than a thousand words to describe what every true Minnesotan already knows: even during the harshest of winters, Minnesota can be a land filled with new adventures, majestic scenery and creative activities that sometimes make our most frigid and frostiest season the most memorable and beautiful of the year. ** Now, I love Minnesota as much as the next guy, but enough is enough. Let's all hope and pray the 2013 - 2014 winter has begun its swan song and soon gives way to milder temps and snow-less-ness. Even true Minnesotans have a limit to how much winter they can withstand, and with 44 subzero days so far this season, I trust I'm not alone when I say I'm ready for spring. Photos via: Matthew Deery and Imgur