A New Restaurant Gem on the East Side -- 'Cook St. Paul'
Posted by Angie Newgren on Friday, August 8, 2014 at 12:00 AM
By Angie Newgren / August 8, 2014
Comment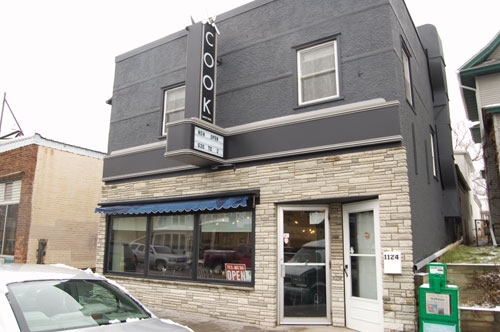 Living on the Eastside of St. Paul, my attention has been brought to Payne Avenue and the rising of restaurants and little shops along the route. Following an East Sider residents's Facebook group, the new restaurant
Cook St. Paul
has been getting quite the hype on lots of posts. Cook St. Paul is owned by two cooks, Eddie Wu and Charles Cook. Their restaurant sits where Serlin's Cafe grew to popularity for multiple decades until the owners closed down for their retirement. I decided to check it out this new place, and interview owner Eddie Wu. The restaurant is on the smaller size with a dozen or so tables. Although smaller, there was a modern feng shui feel to the place that made me feel comfortable, not cramped. The tables were one of the first things that grabbed my attention. They were another big part of the contemporary feel -- in their simple style of natural stained wood they still felt modernistic. I later found out they were hand made by the owners.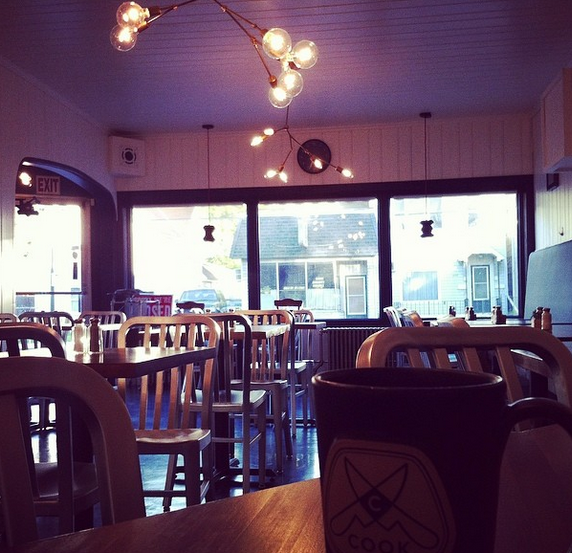 Cook St. Paul opened mid April 2014. Being still so new, one of my first questions was how business has been since their opening.
"Awesome," Wu answered. "We have either met or exceeded our expectations of what we set. We ran two sets of numbers: best case scenario and break-even. Either a what we'd like, or what we'd need to not shut down. We are above the 'this is what we'd like.'"
There are many reasons I believe the business is doing so well, starting with with ingredients. About 80%-90% of the food they sell is hand made.
"We make our own bread, jam, dressing, grind our own meat and make our own burgers," Wu said. "If we can't make it, we get it locally. The coffee is made locally in Saint Paul and we grind it here. Our ice cream is from Sweet Science who make their ice cream in the Twin Cities. Our gelato and sorbetto are from Cowbella out of Saint Paul which has all natural ingredients."
Continuing the conversation Wu told me that every weekend is a trip to the farmer's market to get more local ingredients. The specials offered are based off of whatever the farmer's market has to offer. One of the most popular dishes is the Bi Bim Bop, a Korean dish served at lunch with a lot of marinated vegetables.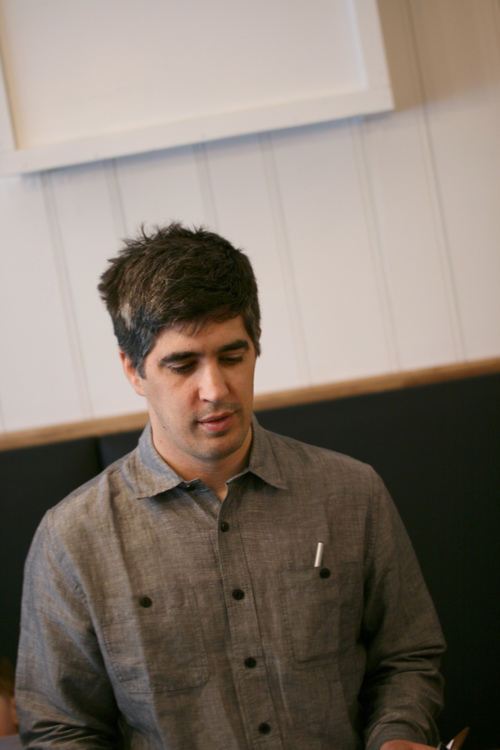 Although most of the menu are American diner options, there are three choices that are Korean. Previously Wu had a one year apprenticeship with one of the most notable Korean cooks in the Midwest -- what he learned inspired him to keep cooking Korean dishes, something they also use it as a tool to stand apart from other diners.
"We also wanted it to be a stepping stone, Wu continued. "At my apprenticeship I saw the trepidation on a lot of Scandinavian Minnesotans who were going in there and being caught so off guard and so unfamiliar with the menu. What I wanted to do was have a familiar environment with an otherwise familiar menu, with Korean options on it, so in case they get gun shy last minute and couldn't pull the trigger they could say 'Oh Bi Bim bop...Bi Bim Bop....I'm going to go with a burger.' Or if four are here, someone gets a burger, someone gets a sandwich, someone gets a soup and someone gets Korean; they can all try it."
Being one of the Scandinavian Minnesotans I had to ask about spice-levels due to my unfortunate lack of spice-intake. Wu described his two scales: a Korean scale and a Minnesotan scale. A five on the Minnesotan scale measures to a two on the Korean scale. On the Bi Bim Bop the spicy (Minnesota five) parts are presented separately. There is also an alternative hot sauce for those who ask, which is labeled as a nine on the Minnesota scale or a six on the Korean scale. Currently, Cook St. Paul is open for only breakfast and lunch. Wu mentioned that he is hopeful when dinner opens there will be a Korean Night every couple weeks for him to showcase all the Korean foods he knows how to make -- he hopes by the end of the year they will be open for dinner. They are waiting until the restaurant's other cooks can manage the dishes without the two owners's help and also for a liquor and wine license.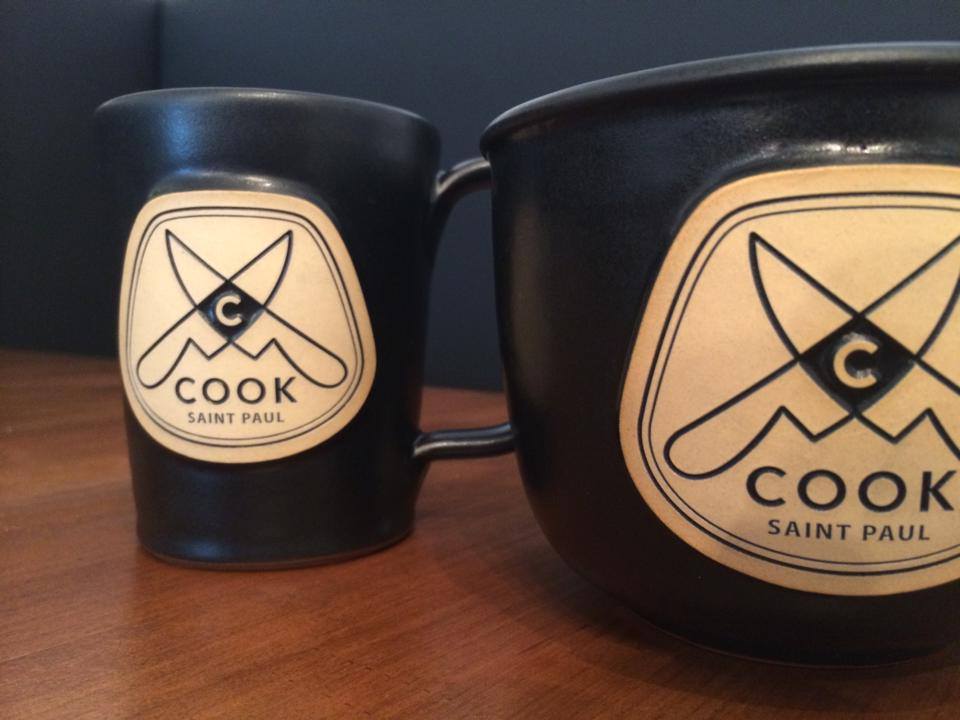 Cook St. Paul is only one of many restaurants popping up on Payne avenue. When I asked about the competition:
"The more the merrier," Wu said. Everyone wants this to be a destination as opposed to 'I am going to eat at Ward 6, and then I'm leaving.' Think of the mentality of Grand Avenue,  Selby or Northeast. Where you can say, 'What are you doing on Saturday?' 'I don't know lets just go to Payne.'"
He believes there's potential for the Eastside and Payne Avenue -- with all the available real estate there could be a snowball effect of booming businesses. With all the new stores and restaurants popping up, I would have to agree. And perhaps Senator Tom Bakk would too, who apparently was seated just a few tables from us and said goodbye to Wu when he left. [caption id="attachment_274698" align="aligncenter" width="478"]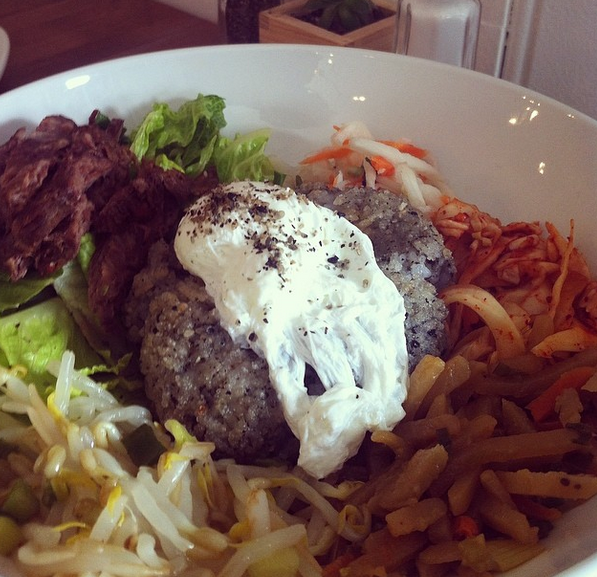 Korean dish Bi Bim Bop.[/caption] Originally going into Cook St. Paul, I thought the name was based on the other owner, Charles Cook's name. But Wu told me that's only part of it. The previous owner of the building, Irv Serlin of Serlin's Cafe, would often say, "Oh I'm just a cook."  So it is taken also as an acknowledgement to him. Cook St. Paul really does what it says though. It is two great cooks, who prefer not to be called chefs, that create dishes that are all locally made and grown. On top of their delicious cuisine that supports the community, their appeal expands by the energy they put into every detail of their restaurant and some of the best waitstaff I have witnessed. I recommend taking your friends to this new restaurant and discover what Cook St. Paul has to offer. Photos via:
Cook St. Paul