A Patio Worth Visiting -- 'Salut' Restaurant Review
Posted by Dena Hodnett on Thursday, August 29, 2013 at 12:00 AM
By Dena Hodnett / August 29, 2013
Comment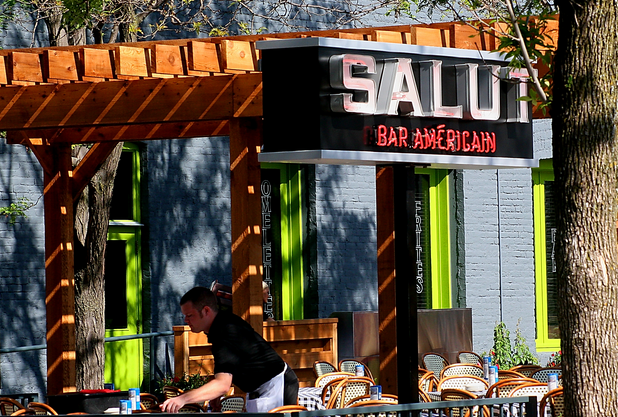 Looking for a restaurant with a great patio for a sunny afternoon happy hour? Then Salut in St. Paul is an excellent choice.  The ambiance is what makes it for me. Their patio is spacious and charming, with ample seating and umbrellas if you don't want the full sun. I met a few girlfriends here on a week night for some after work happy hour goodness.
I love the restaurant, but honestly their happy hour menu isn't that exciting. They have only one fun mixed drink highlighted as a happy hour special for $5, the "Business Time" which was a glorified vodka lemonade, and then domestic taps, well drinks and certain wine for $4 -- all from 3:00 - 6:00 PM.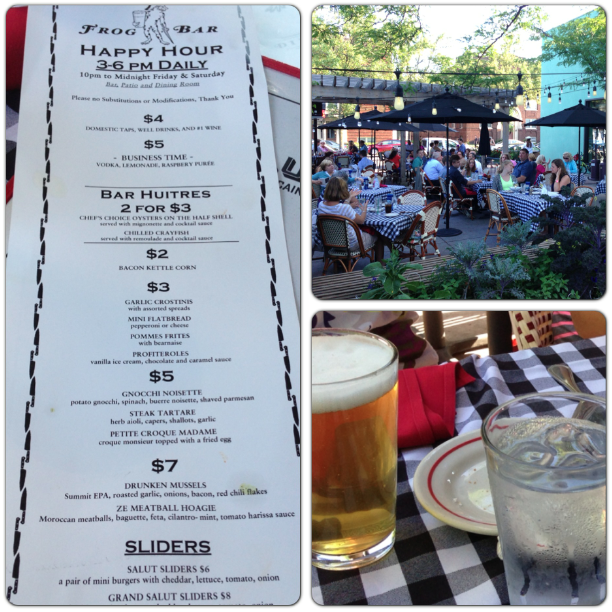 The service was pleasant, but very slow. We each had 2 drinks, but we could have easily ordered 2 more rounds if our waitress would have checked back with us. It didn't appear that they were understaffed, but I'm going to give the seemingly distracted server the benefit of the doubt and say they must have been. Again, very pleasant, but she brought us the wrong drinks and admittedly forgot to put in an entree order for one of the girls at the table -- and didn't remember until she brought the check. The rest of the table ordered a bunch of happy hour appetizers to share, so my poor forgotten entree-less friend was just fine.We tried the oysters on the 1/2 shell, the bacon kettle corn, the drunken mussels, the pommes frites (fancy name for french fries) with a béarnaise sauce (delicious) and the sliders -- a nice step up from your usual bar menu. Overall, decent food but nothing to rave about. Actually the oysters were a little sad compared with past visits. I've had "rave-able" meals for lunch & dinner at Salut before, and I believe the bar & restaurant have above average selections, so I was a tad disappointed in the just decent food & beverage happy hour fare.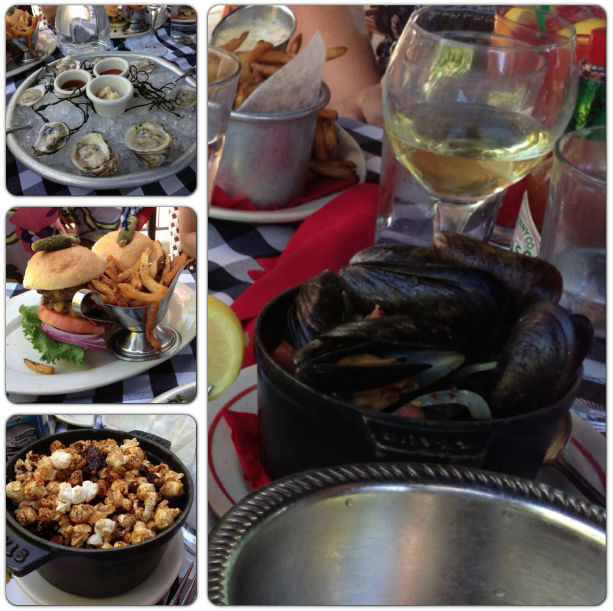 However, did I mention the patio is awesome? Living in Minnesota, I applaud the outdoor efforts from restaurants. It is such a treat to enjoy a little sun and breeze with my dining experience. Outdoor dining makes a happy hour... just a little happier in my book. The central location off Grand Ave. in St. Paul and affordable happy hour food prices make this an overall good spot.FYI - there is usually a wait after 5:00 for the patio, so try to arrive a little earlier and you will get first dibs on the best tables and easy parking. At some point after 5:00 they turn the adjacent lot into free valet parking, so you can use the valet, hope for a spot on the street, or in the lot behind the building. With only a few more glorious outdoor dining days left this summer, the Salut patio is worth a visit. Skip the happy hour menu if you are looking for some better food and drink options, but be prepared to pay as prices do jump quite a bit on their regular menu.
Cheers!