A Vacation For All Seasons -- The North Shore
Posted by Kendra Ackerman on Friday, December 13, 2013 at 12:00 AM
By Kendra Ackerman / December 13, 2013
Comment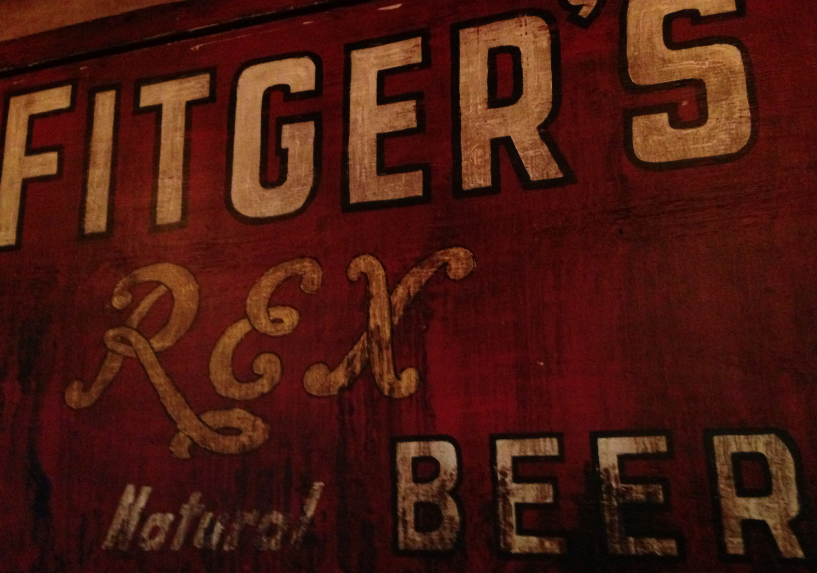 It is known that Minnesotans get the best and the worst of each season. Whether it's the scalding heat in August or the unbearable cold in January, we sure know how to make the best of it. When anyone thinks of a vacation, they probably don't even consider of visiting Minnesota. But what people may not know is how beautiful "The North Star State" and all that it possesses can be. A couple weeks ago I was reminded of just that. My boyfriend and I wanted to jump in the car and drive a good distance away from the Twin Cities. We didn't want to break the bank or take extra vacation time off from our jobs. We also didn't want to visit the same place we've traveled to before. So, after a brief discussion we decided to head towards the
North Shore
, four hours Northeast of Minneapolis. We initially wanted to plant ourselves in Duluth but my boyfriend had been to the North Shore area once before with family for a ski trip and couldn't say enough about it. Now, even though we weren't visiting during the ski season, we figured it would be a great getaway to beat the city crowds. A couple more hours north of Duluth was just the perfect distance away from our busy lives in Minneapolis.
Even though we weren't staying in Duluth, we wanted to stop for a bite to eat. We decided on Fitger's Brewhouse. Not only is it a brewery, but also an inn and a restaurant. The ambience is a hustle and bustle pub with cheerful staff. Our waitress greeted us promptly but gave us enough time to figure out what we wanted to order. I ordered the Brewhouse Fish Tacos and am very glad I did. The dish contained three large tacos with beer-battered cod, and fixings such as cabbage, black bean corn salsa and a chipotle mayo dressing to top it off. I will definitely be going back there for those alone.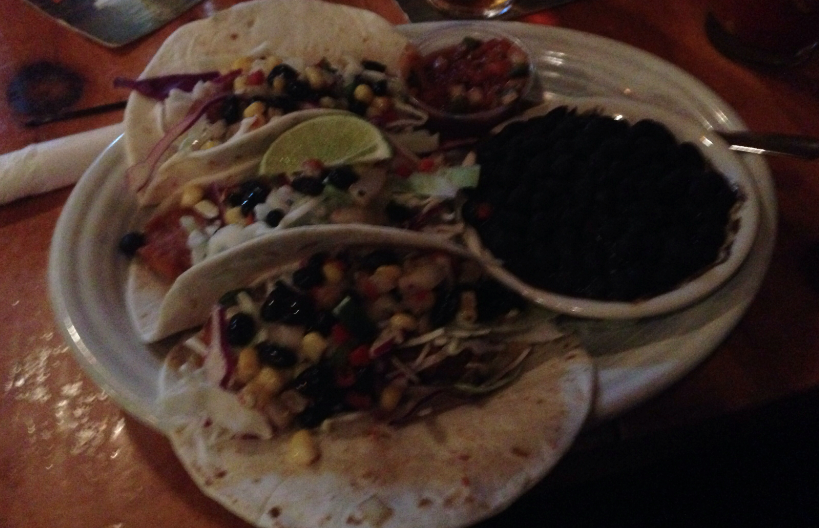 The rest of our trip in the Duluth area was beautiful. It wasn't quite the winter yet but I can only imagine the surroundings being even more astounding with snow all around. It is nice to see parts of Minnesota preserved and untouched without a piece of trash or beer bottle.
Once we arrived at our destination, a small town named Tofte outside of Lutsen, we decided to grab dinner. We ended up at the only restaurant in town which is a part of a resort on Lake Superior called Bluefin Bay Resort. Stepping in, the bar area is the first thing you see, then off to the side is a dining area with a more private appeal. To keep it short, the homemade sangria was on the strong side but tasty, the spinach dip with crispy bread was delicious, and the cuban wasn't the best I've ever had, but I still enjoyed it. To top it off, we shared the chocolate cheesecake and if you are human and like cheesecake, you would enjoy it.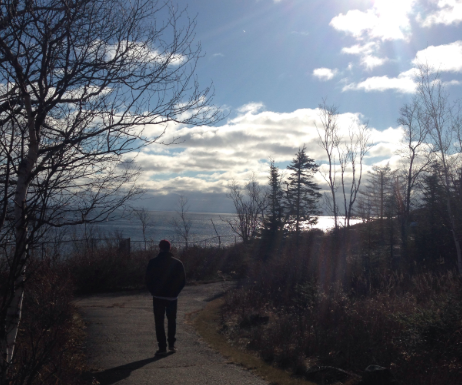 The next day we went to Grand Marais. It is about 20 minutes north of Tofte. From there if you want to hop the border into Canada, it's only a short 60 miles away. Since we visited in between seasons, we figured we were in the middle of their off-season. It was pretty quiet in town, and several shops were closed. A particular shop that was open was
Lake Superior Trading Post
. It's a great shop for tourists like us who are looking for good quality souvenirs. Or, for the adventurous types, they have plenty of camp gear in case you forgot something at home. There were a lot of trinkets and unique gifts for just about anyone who would step in there.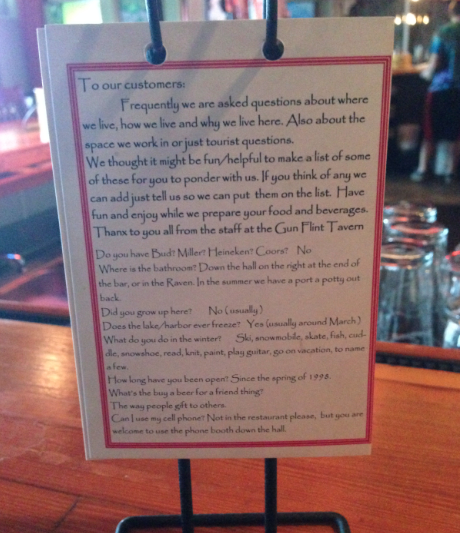 Another spot that stuck out to us was a pub called the
Gun Flint Tavern
. It was a Saturday afternoon so it was pretty quiet but it was beneficial for us because we got to interact with the great staff and learn a little about the area. They had a great array of beer and specialty drinks such as the 'Pirate Punch.' We did not eat there, but I can imagine the food would be excellent as well. There is also a bar off to the side of the room called '
The Raven
' that is smaller but the interior is beautiful. It looks like a sunken ship. Towards the end of our day in Grand Marais we walked out to one of the lighthouses. The trek out to the lighthouse was enjoyable and once we got there we realized we could climb up into the structure to check it out. The surroundings were breathtaking with the hills behind the town on the right, and Lake Superior in front of us. Grand Marais is definitely a place that I will visit time and time again.
To end our stay at the North Shore, we decided to venture up the hill to the Lutsen Resort. We wanted to try out the resort's restaurant called Mogul's Grill & Tap Room.The ambience of the restaurant felt high-end. It was cozy with fireplaces and seemed like it would be a great spot for the holiday season. Like said before, we visited in between the busy seasons so the restaurant wasn't as packed as it would be during high demand. We decided to camp out for the Vikings game and it was a great idea. Not only was the staff friendly, but the other customers were chatty too. We ordered a few beers and decided to split the beer cheese soup and chicken Alfredo. Both were excellent -- if I lived there, the delicious tastes would keep me coming back. Even though the Alfredo wasn't on the season's menu, the cook still offered to make it for us. It is nice to know they are open to accommodating customers' needs.
On our way back to Minneapolis we stopped at Split Rock Lighthouse. It was probably the highlight of the whole trip. For a rate of five dollars you can park and spend the whole day exploring the grounds. Even though the weather wasn't ideal to make a whole day out of it, we wanted to stop anyways. Once we got to the lighthouse, the sights in front of us were beautiful. The sky was blue and the water seemed like it went on forever. There was a ship in the near distance that made me feel like I was visiting the East Coast. I was taken back at how pure and natural everything looked. It reminded me to appreciate the small things.
Lastly, while driving back through Duluth we stopped downtown for a quick bite to eat. We decided on
Tycoons Alehouse
. Even though the restaurant is new to downtown Duluth, the history behind Tycoons is interesting. Not only does the decor and music take you back to the 1940s, but the unique menu comes hand in hand. The beer cheese soup was some of the best I've had to date and the Chicken Wild Rice Croissantwich was something I've never had before. Every bite left me wanting another -- I would drive back from the cities to go back again for that sandwich. Overall, the trip was a great one. It seems like all we did was eat, but it was worth it. The food was more than what I expected and our surroundings were beautiful. To me, those two factors are the only thing I need to have a memorable vacation. Photos via: Kendra Ackerman