A Very Special Birthday: Torching America's Best Transit System
Posted by Tony Randgaard on Saturday, June 17, 2017 at 12:00 AM
By Tony Randgaard / June 17, 2017
Comment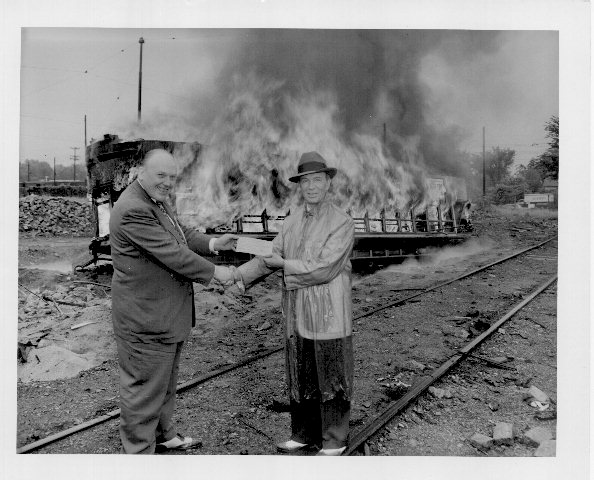 All in all, June 19th, 1954, was a crazy day. Maybe surreal was a better word. A regular at the Brass Rail bar on Hennepin sauntered outside and had to do a double take at the passing rail car. Could it be? That sure looked like Hubert Humphrey, our famous senator wearing a Twin Cities Rapid Transit (TCRT) motorman's cap and driving the eight carriage Oak-Harriet street car toward St. Paul. And as the trailing cars swoosh past, they are filled with well-dressed civic leaders dining on chicken salad over white table cloth tables. The bar patron shook his head and darted back in the bar to get another drink and regain his bearings. The banner on the side of the processional helps you steady the Flux Capacitor: "Goodbye Streetcar Hello Bus Day." Yes, June 19th (1954) is the infamous anniversary of the last street car run in the Twin Cities and the funeral of one of the most efficient mass transit systems in the world. The legendary Hubert H. Humphrey was joined at the controls of the honorary last train by Twin Cities Rapid Transit (TCRT) President Fred Ossanna. They were steering the Oak Harriet cars on Washington Avenue to their
waiting graveyard at the TCRT Snelling Avenue Shops
. Humphrey told the Minneapolis Morning Tribune:
"My first (street car) ride was on the Oak Harriet line so it's a fitting route for my last ride."
For lovers of mass transit the trek of the "End of the Line" luncheon would quickly go from sentimental to horror show as the cars crept into the TCRT Snelling Shops, a massive transit yard at the intersection of University and Snelling. (The razed metal shop and carpenter shop buildings will soon become the playing pitch for the future Minnesota FC Loons soccer stadium.)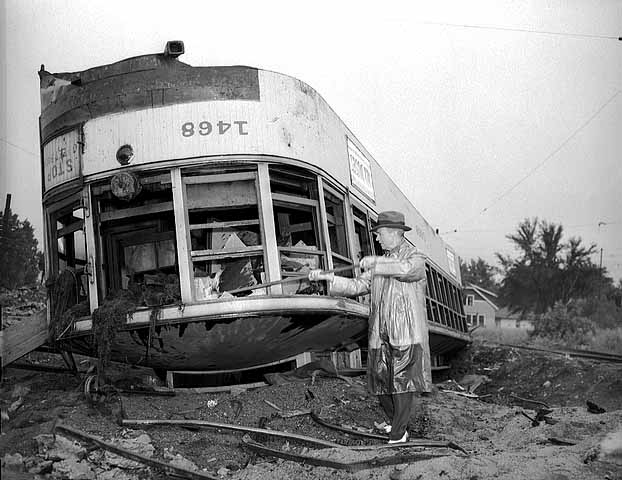 Once in the Snelling yard, President Ossanna received a ceremonial $20,000 check from the company's insurance company and then resolutely walked around street car number 1468 with a torch, setting it on fire in a roaring conflagration. And one can only imagine the reaction of the TCRT Snelling Shops 500 employees who may have been in attendance? Unlike many cities in the U.S., the Twin Cities street car line did not take delivery of finished street cars. Instead, because of the unique demands of Minnesota winters and summers, TCRT employed hundreds of master craftsmen: from carpenters to electricians; from welders to mechanics. They built more than 1100 of the wooden cars from scratch in those Snelling Shops.

It had to be a sad day to see their work burned while hundreds of new buses lined up to take their place. The Morning Tribune described the farewell street car operation:
"As the last riders left the old trolleys to board new buses for the trip home they carried signs, fare boxes and leather straps torn from the cars. The conversion was over. It's progress. It's also the end of an era."
And finally, in what may be the ultimate stroke of karma, it turned out that President Ossanna's theatric acts of destruction of the TCRT rail system, may not have been made just in the name of progress or modernization. Over the next five years, clandestine links were uncovered with mob investors including Minneapolis underworld king pin Kid Cann. On August 7, 1960 a jury found that Ossanna and four associates were guilty of fraud and transportation of stolen materials in their role in the disposal of the TCRT street cars, track and equipment. They made more than a million dollars in profit by scrapping the system. Ossanna spent four years at Sandstone Prison and of course as we wrote about last month (
Kid Cann's Exciting Story
), the infamous Kid Cann was the only one of the defendants in that trial that was found not guilty. How is that for irony? Photos courtesy of: Minnesota Historical Society