American Hero Movies: 'American Sniper' v. 'Unbroken'
Posted by Brent Lee on Monday, January 19, 2015 at 12:00 AM
By Brent Lee / January 19, 2015
Comment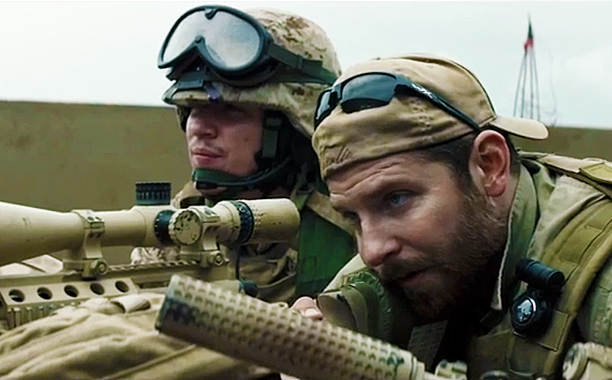 The 2015 Oscar nominations were released last Thursday, and
American Sniper
is up for Best Picture. It
shouldn't
be. Don't mistake me:
American Sniper
is
not
a bad movie. It's just not a great movie, either. This was equal parts surprising and disappointing, since the trailer and TV advertisements looked compelling, and Bradley Cooper and Clint Eastwood's involvement in the film had as me as excited as I'd been in a long time to see any movie. I was expecting something iconic and potentially timeless, and
American Sniper
is neither. I've been pretty negative in every movie review I've been asked to write for Minnesota Connected thus far, and I don't want to be a "cinema snob" who levels harsh criticism against
every
mainstream movie. So, in an effort to avoid directly criticizing and nitpicking
American Sniper
more than I have to, in lieu of a standard review, I've put together a simple side-by-side comparison of the two "American hero" movies I saw this past week:
American Sniper
and
Unbroken
. There are hundreds of detailed reviews, discussions and debates taking place on the Interwebs surrounding both films right now. Rather than pile on top of all that noise, I hope this format will provide you, the reader, with a quick, high-level view of what to see—and what to skip—next time you head to the movies.
American Sniper

Film

Unbroken

An American Navy SEAL serves four tours during the war in Iraq accumulating more kills than any sniper in United States military history while struggling to adjust to life back in the U.S. as a husband, father and civilian.

Quick Synopsis

Olympic athlete endures a series of incredible life-threatening obstacles after crash landing his B-24 in the ocean and becoming a POW during World War 2.

January 16

Release Date

December 25

Bradley Cooper

The Hangover Trilogy (2009-2013)

Silver Linings Playbook (2012)

American Hustle (2013)

Lead Actor

Jack O'Connell

Some British films and TV Shows you've likely not heard of.

Chris Kyle

(1974 — 2013)

Subject Portrayed

Louis Zamperini

(1917 — 2014)

US Navy Seal (Seal Team 3) 1999-2009

Earned (2) Silver Star Medals, (5) Bronze Star Medals, (1) Navy and Marine Corps Commendation Medal, (2) Navy and Marine Corps Achievement Medals.

160 confirmed kills (255 probable kills) during 4 tours of duty in Iraq.

Allegedly punched former MN Governor Jesse Ventura, though a defamation lawsuit found Kyle's claim to be false.

Exploits of each American Hero (Kyle & Zamperini, not Cooper & O'Connell)

US Air Force (372nd Bombardment Squadron) 1941-1945

Earned the Distinguished Flying Cross, Purple Heart with one oak leaf cluster, Air Medal with three oak leaf clusters and the Prisoner of War Medal.

Survived for 47 days aboard a life raft in the middle of the Pacific Ocean.

Finished 8th in the 1936 Olympics after becoming the youngest American ever to qualify for the 5000 meters (19 years, 178 days).

The book American Sniper: The Autobiography of the Most Lethal Sniper in U.S. Military History by Chris Kyle with Scott McEwen and Jim DeFelice (2009)

Script Based on…

The book Unbroken: A World War II Story of Survival, Resilience, and Redemption by Laura Hillenbrand (2010)

37

Each Book's Number of Weeks on the New York Times Best Seller's List

189 (and counting)

Clint Eastwood

Million Dollar Baby (2004)

Unforgiven (1992)

Mystic River (2003)

Letter From Iwo Jima (2006)

Gran Torino (2008)

Invictus (2009)

Among many others...

 Film Director

Angelina Jolie

In the Land of Blood & Honey (2011)

$60 Million

Budget

$65 Million

6 — Best Picture, Best Film Editing, Best Sound Editing, Best Sound Mixing, Best Adapted Screenplay & Best Actor (Cooper)

Academy Award Nominations

3 — Best Cinematography, Best Sound Editing & Best Sound Mixing

133 minutes

Actual Run Time

137 minutes

133 minutes

Perceived Run Time

All afternoon

Intense—like The Hurt Locker with guns instead of explosives.

What Each Film Wants to be…

Epic—the most epic inspirational film of all time.

A less tense, less gritty, overall less interesting version of The Hurt Locker.

What Each Film Actually is…

A really long movie version of a Successories poster.

Bradley Cooper — Cooper does a great job transforming into his character and providing a believable performance as Chris Kyle.

The pace of the film is quick and there is no shortage of action. Something relevant to the plot is taking place in every scene. I tend to enjoy slower developing movies, but I can also appreciate the relatively hasty progression of American Sniper.

The sound work during battle scenes is crisp, lively and immersive. Every sputtering engine, fired gun shot and barked order really add to the overall experience.

Best Aspects

There are some beautiful visuals throughout the film including scenes onboard a B-24 during a bombing raid over Japan and adrift an inflatable raft stranded in the Pacific Ocean.

Two scenes shown often the trailer and TV advertising for the film—the Olympic race and Zamperini lifting a wooden beam over his head—might give you a sincere motivational boost. (But the motivational boost will wear off off long before you leave the theater because the movie seems to last forever.)

The nagging feeling that eats at you while you are watching that this movie should be getting awesome soon, but it's not. And it's not going to.

The film is at it's best when it touches upon the deeper ethical grey areas of war (e.g. The trailer depicting Kyle's decision whether or not to shoot a woman and child threatening U.S. troops with a grenade). It just doesn't explore these aspects with enough depth for my taste. While American Sniper does a decent job depicting the main character's psychological stress as a result of combat, it's ultimately a pretty straight-forward, black and white, good guys vs. bad guys war movie—We've seen plenty of those movies already. The truly interesting and novel stories dive deep to investigate the grey areas of war, ethics, politics and how they all interact.

Worst Aspects

This. Movie. Drags. On. And. On. It's only 2 hours and 17 minutes, but it feels much longer.

The film is fairly void of emotion given the extreme circumstances encountered by the main character.

The beatings. I understand Zamperini endured horrible and violent treatment while in captivity during the war. But this film includes more hits with a stick (and punches) than is necessary to communicate the story effectively. After the first couple dozen shots to the face, each additional blow comes across as nothing more than a cheap way to get a reaction from the audience.

"I'm very excited about this film—Directed by Clint Eastwood; Starring Bradley Cooper; A film about the greatest American sniper in history…this is a can't miss classic!"

What I thought to myself as I walked into the theater.

"The previews give me goosebumps, and I don't understand how or why critics are giving this film such mixed reviews. It looks like a sure thing. I hope it's good…"

"Meh. It was pretty good, I guess. Cooper was solid and entertaining as always, but I wish Eastwood would have made this into another brilliant film on par with Million Dollar Baby, Mystic River or Unforgiven. At least it was much better than Unbroken."

What I thought to myself walking to my car after the movie.

"Thank god it's over. At least it was much better than Tammy."

6.5/10

My Final Grade for Each Movie

4/10
I'd say
American Sniper
is worth a try in the theater due to Bradley Cooper's performance.
But don't get your expectations up!
The film as a whole is nothing groundbreaking, and it has next to zero chance of winning Best Picture at the Academy Awards next month.
Unbroken
, on the other hand, is (at best) Redbox-caliber entertainment. Ideally, you can hope for it's arrival on Netflix where it can be background entertainment while you fold your laundry. Photo via: Warner Bros.