An Iconic Grandstand Destroyed by Fire at Tink Larson Field
Posted by Troy Larson on Thursday, April 14, 2016 at 12:00 AM
By Troy Larson / April 14, 2016
Comment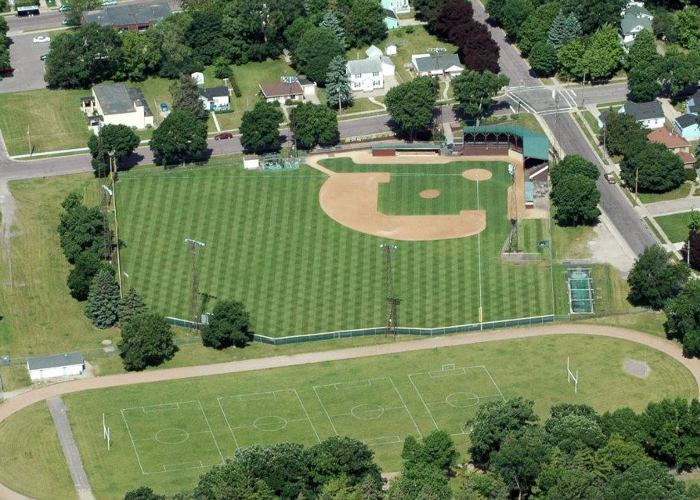 On Wednesday of last week, the grandstand at Tink Larson Field
went up in flames
. The ball park, which is based in the small Southern Minnesota town of Waseca, is an icon in the state-wide baseball community, especially to those in the region. The fire, which was first reported around 8:11 p.m., destroyed most of the grandstand which included seats from the old Metropolitan Stadium. You can see pictures of the
destruction here
. It is believed the fire started somewhere in the center of the grandstand. There is no word yet on what caused the fire. Tink Larson Field is named for longtime Waseca area coach Tink Larson. In 1971, the grandstand was nearly torn down. Larson worked with city officials to raise funds to rebuild the structure and purchase new lights. He also served as the field's caretaker for more than fifty years. The only item that was saved was a picture of Tink's late wife, Sharon, who worked in the concession stand at the park for many years. The ballpark was built in 1939 as a project of President Franklin Roosevelt's Works Progress Administration. Back then, the park was known as Community Field. Lights were first installed in the 1940's. People took to twitter to express support for the ballpark.
Its a sad day for baseball, my heart goes out to Waseca baseball for the tragic fire at Tink Larson Field.

— Brandon (@BrandonWolf15) April 7, 2016
I want the city of Waseca and the Braves to know that myself & the @FaribaultLakers have them in thoughts tonight. Love Tink Larson field.

— Reuvers (@ChrisReuvers) April 7, 2016
Once the investigation into the fire is completed, the grandstand will be removed. Temporary bleachers and a fence will be installed so baseball can be played on the field this summer. Funds are already being raised to rebuild the grandstand.
There is now a way to donate online to the Tink Larson Field cause: https://t.co/0smBaKc3VJ

— Bluejay Activities (@WasecaBluejays) April 9, 2016
It is certainly sad to see this historic ballpark destroyed. But, for those that played ball or watched a ball game at this park, the memories will live on. Photo courtesy of: Waseca City Website