(Another) Midweek Minnesota Sports Update — Five (More) Things to Know
Posted by Brent Lee on Wednesday, April 16, 2014 at 12:00 AM
By Brent Lee / April 16, 2014
Comment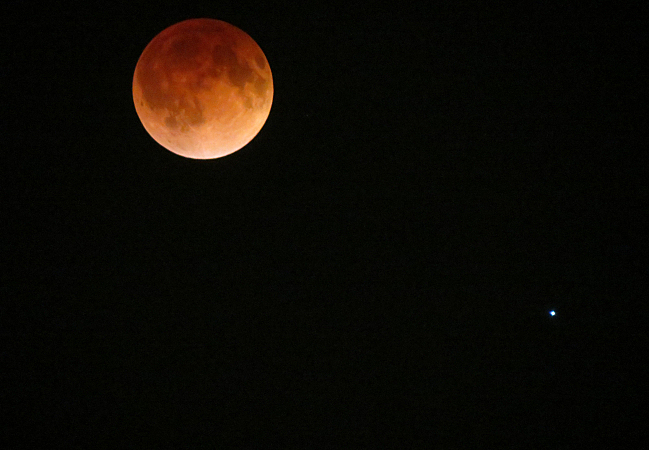 You might have stayed up super late in order to watch '
Blood Moon 2014
' Or maybe you were too busy finishing up your income taxes. Or you were catching up on HBO's
Game of Thrones
or Netflix's
House of Cards
or enjoying the premiere of FX's
Fargo
TV series. Whatever the case, you were
really
busy. And because of your busyness, you didn't have the time to stay abreast of the last week of Minnesota sports news. It is for you, dear loyal and busy Minnesota Connected readers, I provide this quick review:
#1 — Timberwolves (Almost) Done with Regular Season and (Mathematically) Out of Playoffs (Again)
The Timberwolves wrap up their regular season tonight at Target Center at 7:00 pm against the Utah Jazz. If the Wolves win, they'll climb to (41-41) and finish the 82-game regular campaign with an even .500 record. If they lose, they'll fall to (40-42), tallying their ninth
straight
losing season. Hmm. I'm torn on how to
feel
about the Timberwolves right now. The
optimist
in me says getting to .500 is a moral victory for the club and something they can build on going into next season.
Yay!
The
realist
in me is less enthusiastic than the optimist: win or lose, the Timberwolves are mathematically eliminated from the playoffs and tonight's game against the rather lousy (24-57) Jazz is essentially an irrelevant exhibition on par with other
meaningless
sporting events. The
pessimist
part of me is kinda rude, but is also sometimes the most honest of all the voices in my head — and he is saying Kevin Love's
not
going to be playing in Minnesota beyond next year so there might be a whole lot of irrelevance and "rebuilding" taking place at Target Center after 2014-15 and we might as well get used to it. As usual, I'll let the voices in my head duke it out and let the future decide who is right. Let's move on...
#2 — Gophers Beaten and Fans Riot
After an inspiring NCAA Tournament run including a last second
goal
that may very well long live in Gopher hockey lore, the maroon and gold men emulated the
performance
of their lady counterparts from a couple weeks ago, losing in the NCAA Championship game to a team many believed they ought to beat. The Dutchmen from Union College in Schenectady, New York skated into the Frozen Four final in Philadelphia and
outgunned
our Gophers in a 7-4 loss last Saturday night at Philly's Wells Fargo Center. After the loss, University of Minnesota students took to the streets of Dinkytwon to show their drunken displeasure, and we all collectively rolled our eyes and lamented the levels of
stupidity
our species is capable of achieving on account of a damned hockey game. Championship defeats and college kids being asinine for an evening aside, congratulations to both Gopher puck squads — men's and women's — on remarkable and successful seasons.
#3 — Wild Begin Playoffs!
Enough negativity! (It's
too
cold outside for that...) Let's look at a bright note that involves no stretched optimism (or rioting):
the Minnesota Wild are in the playoffs!
The Wild finished the
regular season
with a (43-27-12) record, good enough for the top Wild Card spot in the Western Conference. Minnesota will take on the Colorado Avalanche, who won the Central Division by going (52-22-8), in the first round off the NHL postseason. Will Zach Parise, Ryan Suter and the rest of our guys be able to weather the Avalanche en route to a deep postseason run? Will late season acquisition Ilya Bryzgolav stay hot (he is 7-1-3 with a 2.12 GAA since joing the Wild) and provide the elite-level goaltending that is so often crucial to NHL playoff success? Questions like these and more will begin to be answered Thurdsay
night
as our hometown Wild travel to Denver's Pepsi Center to take on the Avalanche at 7:30 pm (CST).
Author's Note:
Also, check out the '
Beard-A-Thon
' at the Wild's website. It's funny and benefits charity, so, win-win.
#4 — Twins and Mauer are... well, the Twins and Mauer (as usual)
It's my pet theory that Joe Mauer pays close attention to Minnesota Connected, and
this
piece from last week lit a fire underneath every Minnesotan's favorite hometown major leaguer, encouraging him to up his meager recent production at the plate. When the article was published on April 11, Mauer was hitting .250 and hadn't driven in a run nine games to start the season. Then, according to my theory, Joe read the
Zealot's
take on Minnesota Connected, said to himself, "Hmm. Yes, perhaps I should produce more offensively? I make like a
bazillion
dollars to play a kids' game, after all. Maybe I
should
listen to the critics and do better?"
Wallah!
Instant results: Mauer
proceeded
to go 5 for 13 (.384) with 4 RBI and his first homerun of the season as the Twins' routed the Royals in a three-game sweep of visiting KC. The realist in me should point out that Mauer struck out three times on Tuesday night during the Twins' 9-3
loss
to the visiting Toronto Blue Jays (Mauer did have an RBI). The optimist (i.e. Mauer apologist) in me blames this on a game time temperature that was a less-than-balmy 35 degrees — Mauer's hands were too cold and we shouldn't criticize him. Plus, he's a Minnesotan, and we should be extra "Minnesota nice" to one of our own. The pessimist in me thinks the Twins will lose 85 games this year even if Mauer hits .350 and drives in enough runs to make even his harshest critics happy. But I digress...
#5 — Vikings Changing and Building
The NFL season never truly ends. As soon as a Super Bowl Champion is crowned, the offseason personnel moving and shifting begins — it's a perpetual loop that attempts to keep diehard football fans satiated all year round. Back in January, before
Super Bowl XLVIII
had even been played*, Minnesota Connected
reported
the Vikings brought on Cincinnati defensive coordinator Mike Zimmer to replace Leslie Frazier as our new head coach. As far as player personnel, last month we
reported
the Vikings added two potentially key pieces to their porous 2013 defense, signing Carolina's Captain Munnerlyn to aid their defensive backfield and the Giants' Linval Joseph to try and fortify things up front. We also re-signed (potential 2014 opening day starting) quarterback
Matt Cassel
to a two-year, $10 million contract, while defensive end Everson Griffen
scored
a five-year deal worth $42.5 million. It hasn't all been
additions
for the purple this offseason — we also
lost
the
beloved
Jared Allen to our hated (and divisional) rival Chicago Bears and shipped Toby Gerhart to Jacksonville without ever (in my opinion) finding out exactly how good he
could
be.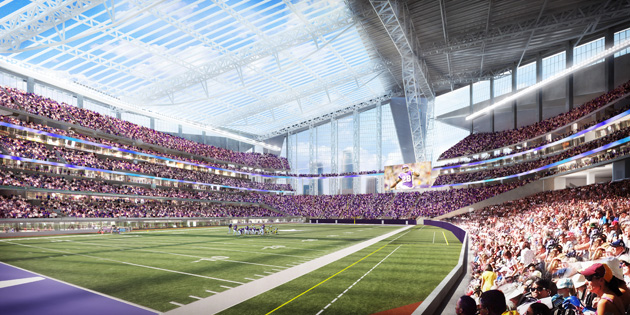 With the construction of a brand new stadium
well underway
and the highly-anticipated NFL Draft approaching quickly (starting Thursday May 8th), there is plenty for Vikings' fan to be excited about with the 2014 season still many months into the distant horizon. Or you can always check out the recently released film
Draft Day
if you need a football fix and can stomach Denis Leary.
Don't
do it. Watch Kevin Spacey in
House of Cards: Season 2
instead and white knuckle your hankering for pigskin for a few weeks until the NFL Draft.
Trust me
.
*Author's Note:
Based on what I saw, the pessimist, optimist and realist in my head all agree (which is rare): Super Bowl XLVIII never was "played," in any reasonable sense of the word. "Games" are "played." The Super Bowl was 36-0 at some point — that's
not
a game, it's a "drubbing" according to any dictionary worth reading. Photos via: MNDaily.com -- Vikings.com