Apple Picking Time!
Posted by Erik Bergs on Wednesday, October 1, 2014 at 12:00 AM
By Erik Bergs / October 1, 2014
Comment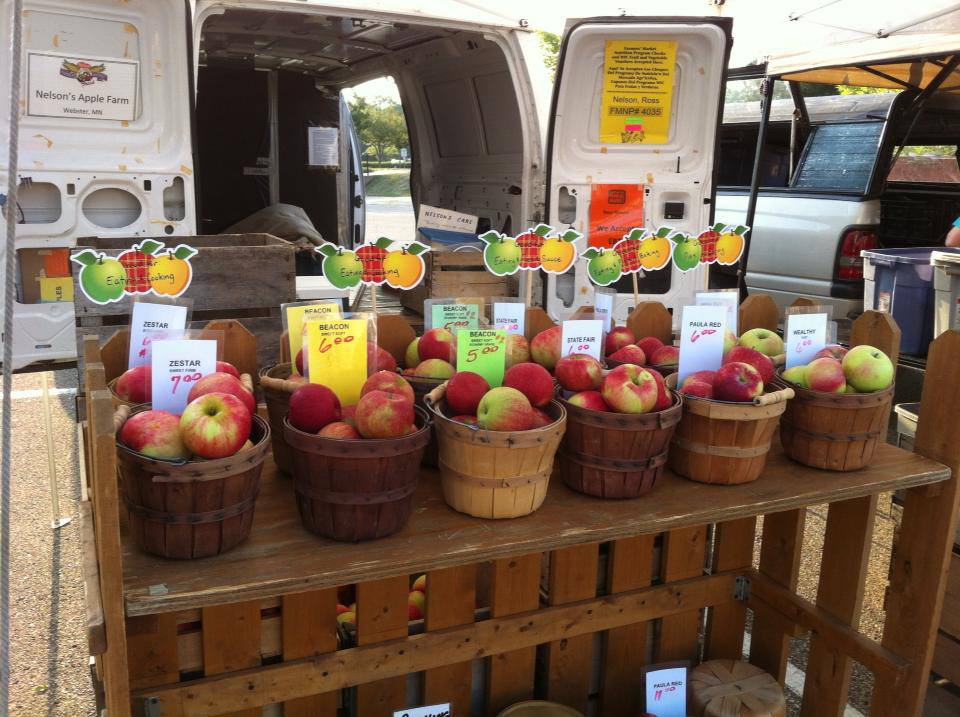 Back in fall of 2012 I was shocked to find southeastern Minnesota to be almost devoid of apples. Orchards were closed and bins stood empty in the many seasonal stands. Most touristy stores contained only jars of jam and sauce (probably from previous years) staring ominously at the disappointed patrons and staff alike. I had to settle for some Wisconsinite fruit... it was depressing. This year, however, is different. In 2014, apples are making a comeback. The local and sustainable favorite of Minnesotan families will be filling the backs of minivans and springing dusty cookbooks from their shelves. For one apple farm on the edge of the south metro, this year will be exceptionally special.
Nelson's Apple Farm
is celebrating its 40th season in the business. Minnesota Connected caught up with Andrea Nelson who explained their recipe for success along with a couple challenges for satisfying consumers:
"Through the years there have been many changes, but one thing has remained constant, our commitment to growing the best looking and tasting apples possible. It's because of this commitment, we make sure to pick the apples at their flavor peak and not earlier. However, with that said, some people really like the taste of Red Haralson's when the skin is still green and the seeds are still white. So, we let these people pick their own before we officially open - they must call ahead and make an appointment, though. An apple that might taste too starchy to me, might be perfect for the next person. So, it really does come down to personal preferences and taste buds. But, when it comes to bringing apples to the farmers market (we are associated with the St. Paul Farmers Market Association and attend six markets throughout the week) we bring varieties once they've reached their peak of flavor."
The past few years, including this one, have had some very strange weather patterns. Andrea elaborated on weather influences, but she was quick to add that it wasn't alone as far as difficulties for producing the perfect crop:
"Apple trees generally do okay with Minnesota cold winters thanks to advanced research in rootstock and tree variety hardiness. But, extreme cold, ice, deep snow, and even salt from nearby roads, can cause significant damage to the apple trees. We have been fortunate over the years and have not had significant losses due to Minnesota winters. This past winter we did lose a few trees, however. Snow cover helps to keep the ground from getting too cold, which in turn kills the rootstock and ultimately the apple tree. Ice buildup on the trees causes a problem because of the extra weight on the limbs. These limbs are bound to snap off should a strong wind come along or the weight of the ice is too much for the limb to bear."

"Deep snow is also a problem in part because of mice. Mice will start to chew on the bark from the apple trees if there isn't enough food sources available for them otherwise. An apple tree without bark also can cause severe damage or lead to the tree's death. The other factor, road salt, is something that we had not really encountered or considered to be a factor for our apple trees until a few years ago. Our gift shop and newest field of trees is located next to County Road 86. These trees were planted about 14 years ago. As the trees closest to the road grew we realized that the salt from the road was affecting their growth and overall health condition. They just don't seem to have the same vim and vigor as the other apple trees at the orchard. But when it comes to fruit on these trees, it still meets our commitment to best looking and tasting apples."

"The past few years have been extremely rough for apples. Weather is the number one factor for this. We've had hail damage, wind storms and frost cause anywhere from 10 to 90% crop loss in recent years. This year has been a blessing in that we have not had a hailstorm."

"Wind was another issue for us a couple years ago. It looked to be a good apple season and then there was a week to two week span where there were three strong wind days. One day the winds came from the west and knocked much of the fruit off the trees. The next wind storm came from the east and knocked even more fruit from the trees. The third wind storm came from the south. By that time the apples basically suffered from all sides and had little hold left."

"Another weather factor apple orchardists faced in the a couple years ago was the frost that occurred at apple bloom. The warm winter caused the trees to come out of dormancy too early and then it got cold again. By this point it was too late and the trees had already started their springtime rituals. Apple season definitely suffered because of it. Spring 2013 was the opposite of Spring 2012 when the bloom time frost occurred. In 2013 the trees stayed dormant longer and everything began to bloom about two weeks later than average. This year was much like 2013, but the full bloom came even three days later than it did the previous year."

"This year's apple crop has not suffered like previous crops have. Throughout the summer we really weren't sure when the apples would be ready. All indications led us to believe that it would be closer to mid September when even the earlier varieties would be ready. But, the apples started to develop and ripen as they should and we were able to start bringing our apples to sell at the St. Paul Farmers Market sites in late August. Our pick-your-own and gift shop opened September 13. We mainly had the early season varieties available and a few of the mid-season varieties to choose from. The biggest help to change an apple from being "not ready" to "ready" is the cool nights and warm days. It's amazing to be able to look out at a tree one day and see green apple after green apple. And to come out the next afternoon and see the same tree bursting with nothing but red apples.  What happens is the starches in the apple turn in to sugars, giving the apple both its color and its flavor. As of last Friday the most popular apple, Honey Crisp, was not quite ready, but had an okay flavor. On Saturday we sampled one and said it was just about there, but still didn't have that great Honey Crisp flavor. On Sunday we again sampled a Honey Crisp and boom, it was there. That juicy, melt-in-your-mouth flavor was there! That's the magic of what a cool night and warm day can do for an apple."
[caption id="attachment_324288" align="aligncenter" width="570"]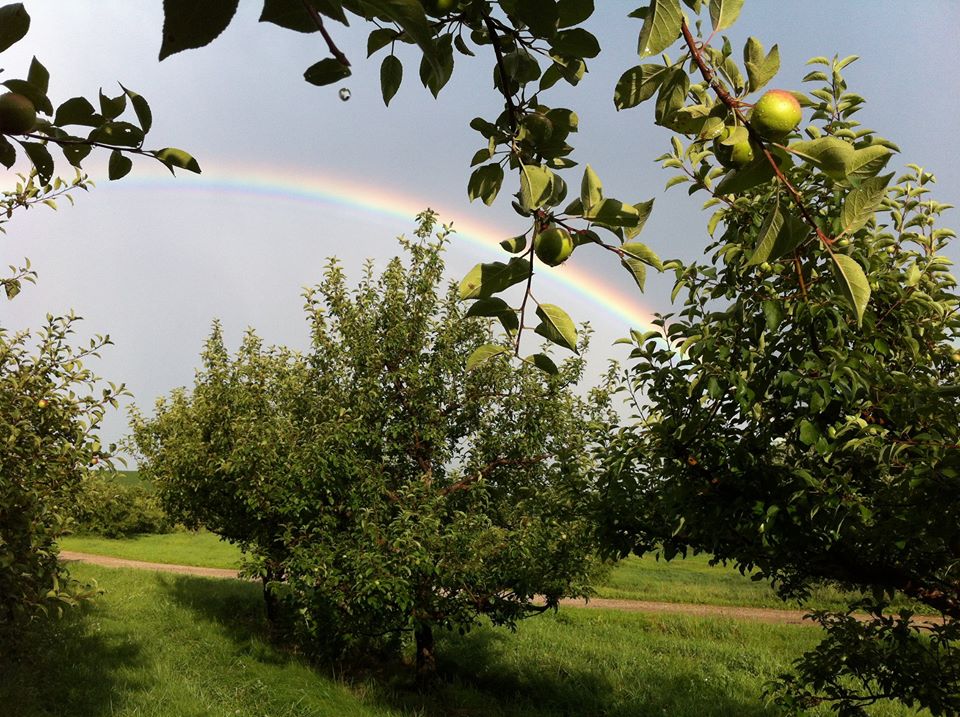 The Nelson's orchard after weathering a storm[/caption] The perfect Minnesota apple has been something long pursued by researchers and orchardists alike. The fruit of their labor even has made its way into the "
Top Ten Foods Invented in Minnesota
," but according to Andrea better seasons are still possible:
"Overall, I would consider this year to be a little lighter than normal. Pick your own will be limited on some varieties and abundant on others. Honey Crisp is one where there is an abundance. Regent and Fireside are two that are a little lighter, but there are still plenty to choose from."
Before letting her go, we had to ask Andrea about her favorite type of apple:
"My favorite kind of apple hands down is the Spartan. I just like to eat them straight off the tree. When we had apple trees across the street we had a few rows of Spartans. We also had the best tasting Red Delicious and Paula Red apples in that area. We didn't have any of these three varieties planted in our other two (now three) fields. I was upset that I couldn't eat Spartan anymore. This is variety that I've never been able to find in a grocery store and during apple season I'm too busy in my own orchard to be able to venture to another orchard that does have the variety, so I miss out on them. After years of pleading my case for Spartan, we planted a row. Last year was the first year we started to see fruit production on the trees. I was ecstatic. Spartan has a little bit of a starchy flavor. I like it for its size because I'm actually able to eat a whole apple in one sitting and don't have to waste a half eaten apple. Spartan is more of a late season variety and should be ready around the end of September and beginning of October. We've also planted Paula Red and these trees are producing fruit now as well. We haven't brought the Red Delicious back. Who knows maybe someday. Probably not, though, since there are many other awesome new varieties coming out like Frostbite and Snow Sweet and an apple known right now as the B51."
Visit the Nelson's F
acebook page
for updates as we move into mid-to-late apple season. They are open from 1 p.m. to 6 p.m. on weekdays, 10 a.m. to 6 p.m. Saturdays and Sundays. If you're short of ideas for family activities, the foreseeable weather looks like it will be very cooperative for spending a day at your favorite apple farm! Photos by: Andrea Nelson