'Baauer' & 'RL Grime' @ Skyway Theatre
Posted by PJ Mudd on Friday, June 28, 2013 at 12:00 AM
By PJ Mudd / June 28, 2013
Comment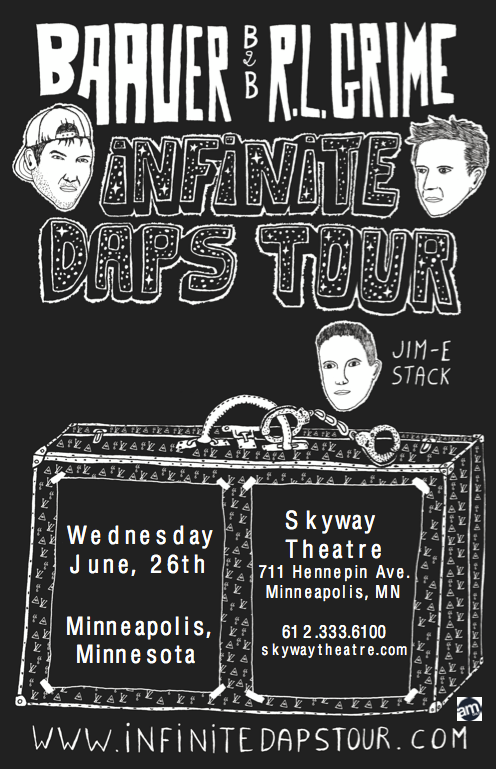 The last time
Baauer
was in town, it was at the peak of 'Harlem Shake' mania and the show sold out.  This time around, not so much.  Obviously the 'Harlem Shake' got played, and played, and played, so it's no wonder it isn't the draw it was just a few months back. That's not to say we didn't get a good show, because we did.
Something I didn't realize until they went on was this was a 'B2B' set.  Meaning Baauer and RL Grime played along side each other, not one after the other.  So, not only do you get to hear two talented DJs drop hit after hit on you together, but you get to watch two guys, working together, and having a blast doing it.  I'm sure the bottle of whiskey they were both taking pulls from the whole time helped.
The pair did a great job getting the audience ramped up.  Mixing mostly Trap and Hip-Hop, you really had no choice but to dance.  We heard 'Higher' and 'I Woke Up in a New Bugatti', and a few Major Lazer songs.  Now, I realize Baauer is on the Mad Decent label which is run by Diplo.  And Diplo is also behind Major Lazer, but playing 3 Major Lazer songs in your set boarders a little on infomercial status.
As the night was winding down, 'Harlem Shake' made it's appearance, albeit brief.  Even just getting a minutes worth of that song, sent everyone through the roof.  In fact, I almost lost my phone when the floor transformed into a real life Harlem Shake video.
After 2 hours and nearly a full bottle of whisky, they popped out to the front of the stage to shake hands with the audience, and bid us a good night.