Bachman's Family One of Two Medical Marijuana Winners
Posted by Erik Bergs on Wednesday, December 3, 2014 at 12:00 AM
By Erik Bergs / December 3, 2014
Comment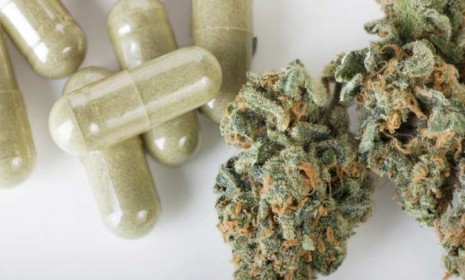 The history of the Bachman's family and their vegetable farm in south Minneapolis goes back well over a century. Currently their family-owned business is the host of notable events like the
Upper Midwest Koi Show
and the 
Winter Farmers Markets
. But for ten of the family members, the prospect of legally growing a previously banned 'medicine' has placed a whole new range of media attention upon their collective surname. The Minnesota medical marijuana journey started early this past summer when the legislature 
nudged
a highly restrictive (and thus acceptable) bill up to an approving (but reluctant) Governor Dayton. By the date of July 1, 2015, two selected companies would have the legal right to sell medicinal marijuana in pill, oil or vapor form to certain patients in need. The scramble for the two prized positions of growing and distributing didn't take long to heat up. Minnesota Medical Solutions (or MinnMed, one of the two winners) had even gambled on an early start to their facility before any law had passed. By mid September, a total of 29 letters of intent had
crossed
the Minnesota Department of Health's desk. 12 groups sent in applications with a $20,000 non-refundable fee. December 1st proved quite painful for ten of the applicants as it was announced that two physician-led groups MinnMed (out of Otsego) and Leafline Labs (which included financial backing from ten members of the Bachman's family) were the chosen ones. Both look to be distributing come July.

One half of Leafline's public face Andrew Bachman (an emergency room doctor)
explained
his view on the issue to the Pioneer Press:
"I see this as an extension of what I do now, taking care of patients, except on a massive scale."
Andrew (the great-great-grandson of Henry Bachman Sr. who started farming and selling vegetables in 1885) will be the only member of the family who is actively managing Leafline (the others are merely financial backing). This isn't the first time that the Bachman's family has changed its growing habits. One of the great sparks of their success came after Albert Bachman decided to focus on the flower market in the early 1900s. Now, his family name and the iconic violet vans full of fragrant affections are seen all across the Twin Cities. The family is now set to repeat its success with an old formula for a new century; but they might find a bit more controversy in the green than they did in the purple. Images via: Wikipedia -- Bachman's