Bland Food and Sour Staff Attitudes -- 'Cheeky Monkey' Bistro Restaurant Review
Posted by Dena Hodnett on Wednesday, November 6, 2013 at 12:00 AM
By Dena Hodnett / November 6, 2013
Comment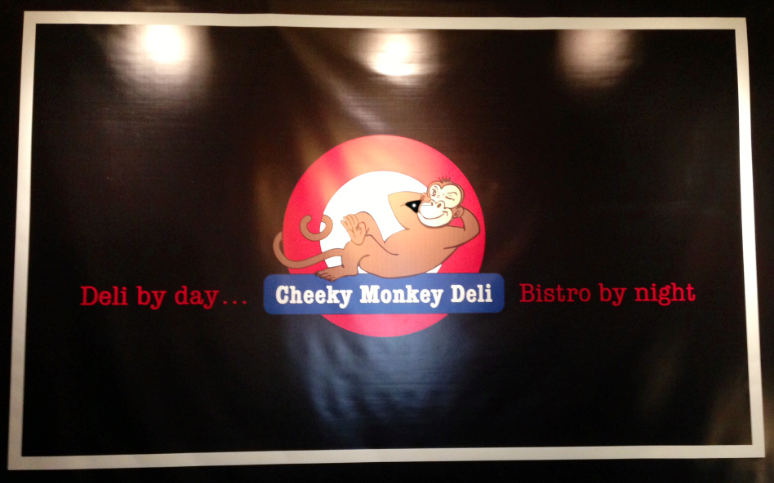 My most recent visit to the
Cheeky Monkey Deli and Bistro
 ended up as a disappointing evening. Now, I usually adore
Cheeky Monkey
. It actually pains me to write a negative review for this place. But hopefully my critical review will prevent future 'Monkey goers' from experiencing the same negatives.
Cheeky Monkey
calls themselves a "Deli by Day and Bistro by Night." I have decided to stick to the "Deli by Day" visits from now on as my two visits to the "Bistro by Night" were very disappointing. My last lackluster bistro outing was over a year ago, so I thought maybe it would be much better as I really enjoy the lunch experience. It wasn't better. The service was still slow, there was still plenty of attitude, and the food was once again disappointing. We arrived around 7ish to an almost half-filled restaurant. When escorted to a small two top table, we asked if we could sit at one of the
many
four tops available instead. Our host said, "I guess," and with heavy attitude, allowed us our desired back corner table preference. Now before you start thinking that I am high maintenance, I will say that I am fine with a two top table when places are busy and meals will be small. But I have no shame in wanting some space when tables are plentiful and when I am planning on ordering an appetizer, salad and entree. These things just don't all fit well on a smaller table top. Moving on. We were definitely punished for our table change request by the host who waited a good ten minutes before bringing us water. It was a no eye contact/speed away water drop too. We get it. You hate us. Another healthy five to ten minutes later, our actual server approached and cheerfully answered our beverage questions and gave her recommendations. They had Crispin Cider on tap ($6), which is one of our favorites, and I tried the Fox Barrel Blackberry Pear hard cider ($6). Both were excellent! Very refreshing. Side note: their menu listed the Fox Barrel as a Minnesota brand (which I like to support and partially why I wanted to try it), but after Googling to locate where I could get it, I saw it was actually from a brewery in California. Sigh...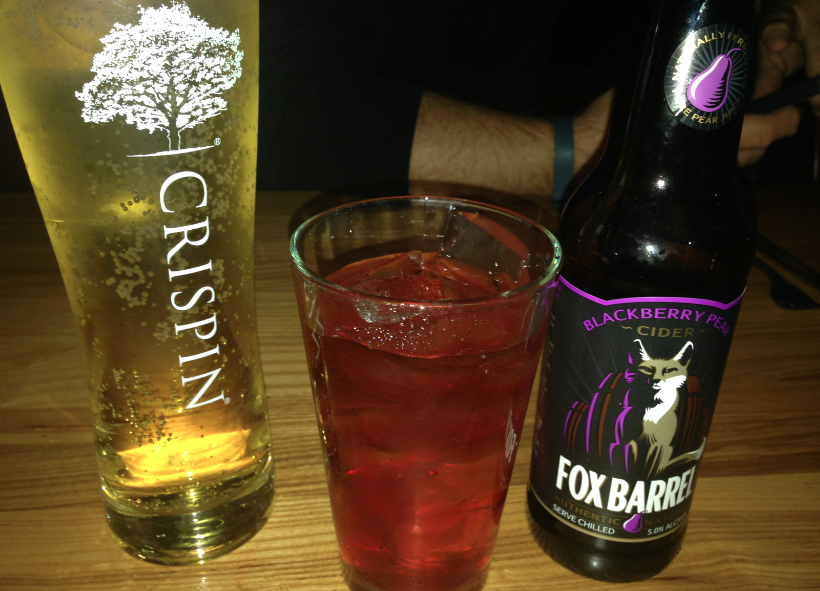 After we ordered our drinks, we had to call back our server as she sped away. We asked if we could also please order some appetizers. We were very hungry now and didn't want to chance another ten minute wait. Having to ask if you can order food instead of being asked if you would like to order food is a huge peeve of mine, but again, moving on. We ordered the house made salt and pepper chips with blue cheese dipping sauce ($4.50) and the Burrata ($9), which is one of my favorite cheeses served with crostini, tomatoes, balsamic, olive oil and basil. The chips were good, but it's kind of hard to mess up chips. The Burrata was decent, but the "perfect bite" ratio was off. If you sliced the tomatoes in half, they were still large on the mini Crostini and Burrata. Using this ratio, you ran out of Crostini before the end and were left with just tomato and cheese. A small detail yes -- but for $9, they could do better.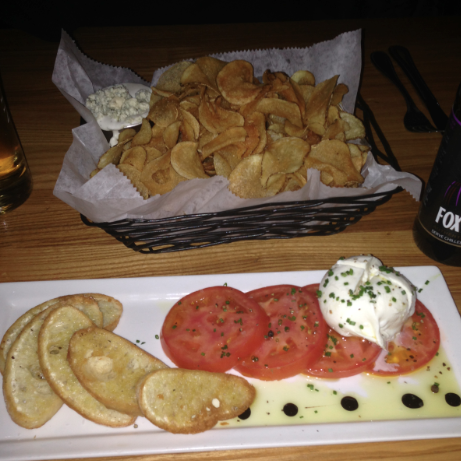 We should have stopped at this point, but we decided to see if our experience got better. It didn't. For our next course, we ordered a beet salad ($12) which was roasted beets, spinach, goat cheese, toasted walnuts and a champagne vinaigrette. My husband also ordered the tomato and okra soup ($5.50) and I ordered the ham and brie sandwich ($9.50) which was smoked ham, with brie and apricot mustard spread pressed warm on a ciabatta roll. Our server asked if I would like a side item instead of chips and recommended their french fries. I said yes since we had the chips already as an appetizer. She didn't mention it was a $2 up charge for the difference. I would have likely ordered it anyway, but I like a more upfront approach than seeing it on the bill at the end and having to try and figure out the ambiguous $2 "Misc" charge. You know when you are watching a bad movie and you tell yourself that it must get better? And then you watch the whole thing and it doesn't get better? And then you are so annoyed with yourself for wasting time and watching the whole thing when you knew at the beginning it was bad? That sums up the evening. To start, our server brought the salads with the meal. So we had a choice of eating the salad in the proper dining order, and letting our already tepid main courses get even colder, or eating the dinner items first and our salad last. We chose the latter. My husband said the soup was "pretty good" although he was looking around for salt and pepper -- worst of all, it wasn't hot.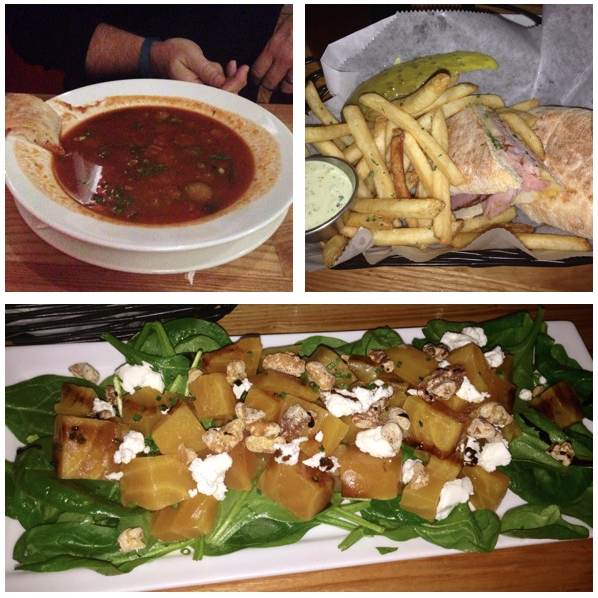 My sandwich and fries were barely warm and they tasted OK. The chimichurri aioli sauce with the fries tasted off and it definitely didn't compliment the sandwich. The sandwich was, OK. Just OK. Then... the Beet salad. It was awful. Now I will admit that I think plain beets taste like dirt. That being said, I
love
a good beet salad and how it transforms this dirt tasting veggie into something delicious. This was NOT a good beet salad. It was bad, so, so, so bad. The beets were apparently not marinated in any sauce at all leaving their dirt taste in full force. The chunks were too large and the goat cheese and toasted walnuts were too scarce. We asked for some balsamic to try and help it and our server brought us that and more (? we didn't see any initially on) of the vinaigrette that was already on the salad. It couldn't be saved. Super disappointing. The fact that it was $12 (their most expensive salad -- same price as the Salmon salad) was even more painful. The bland food and sour attitudes of the certainly not busy staff was enough for us to forgo dessert (sad) and take our leave. Like I mentioned initially, I really do like this restaurant during it's deli hours. By day I've always encountered cheerful staff and tasty food. My pained recommendation is for my friends to only visit during lunch hours until they seriously improve their "bistro" experience. The free parking on either side of the restaurant makes for an easy meeting spot on this busy stretch of road.
Cheeky Monkey
is located in St. Paul's fun Cathedral Hill neighborhood at 525 Selby Ave. St. Paul, MN 55102. Their website can be found here:
www.cheekymonkydeli.com