Brett Favre Says Johnny Manziel is Just Like Him -- But Better
Posted by Brent Lee on Tuesday, February 25, 2014 at 12:00 AM
By Brent Lee / February 25, 2014
Comment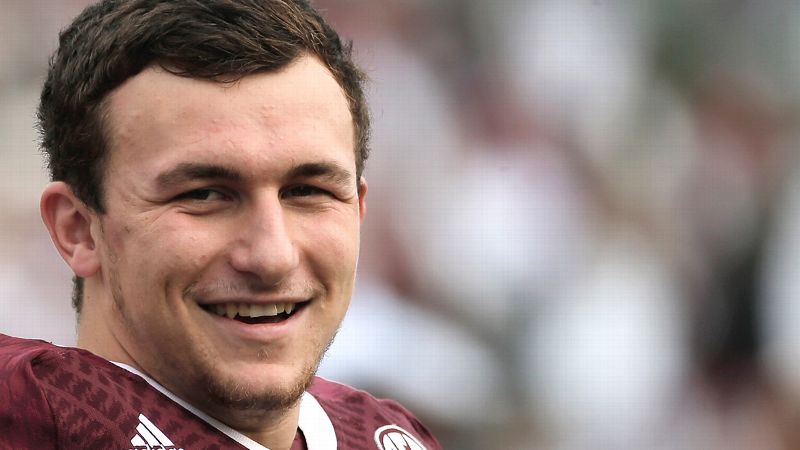 Johnny Manziel has been dubbed "Johnny Football" because he's got everything anyone could ever want in a football player (except height). Based on Brett Favre's recent appraisal of his talents, perhaps we ought to call him "Mini-Favre" instead. Manziel rose to become one of the best-known names in college football in his time as the quarterback for the Texas A&M Aggies, winning the 2012 Heisman as a freshman, becoming the first player in NCAA history to accomplish the feat. Manziel left A&M after the 2013 season, forgoing his junior year and becoming perhaps the biggest story of this year's upcoming NFL Draft.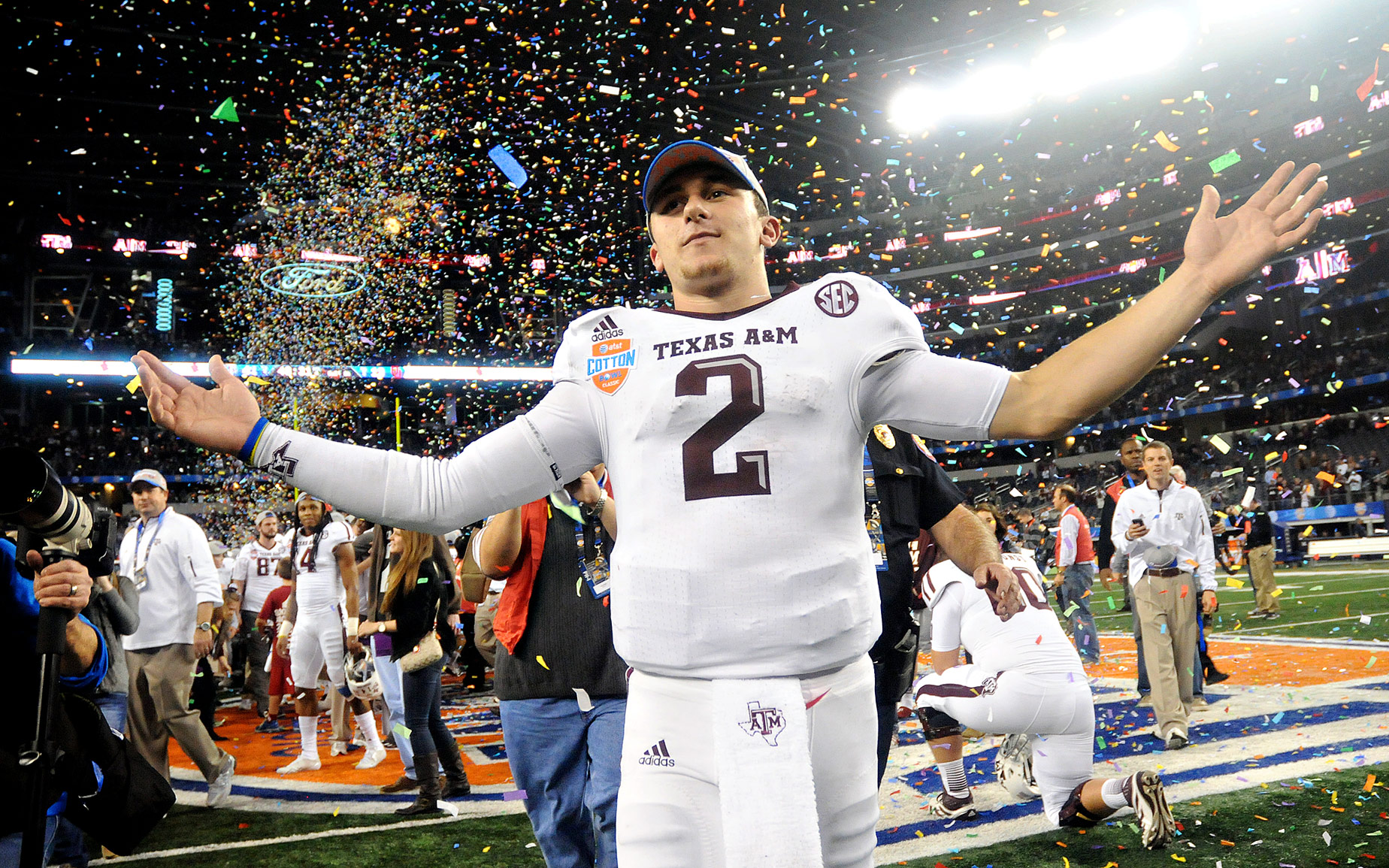 In the annual hullabaloo that surrounds the lead up to May's draft, many NFL pundits have weighed in with their opinions on Manziel's prospects at the pro level. His unique style of play has drawn comparisons to scrambling quarterbacks like Doug Flutie and Fran Tarkenton, but Brett Favre thinks Manziel's abilities bear a great deal of resemblance to those of one particular pro quarterback he happens to be very familiar with. As Favre recently
told
the USA TODAY, Manziel reminds him of, well, himself.
"I haven't watched him much, but one game I watched, for like three quarters, was the Ole Miss game. I almost thought I was watching film of a young Brett Favre."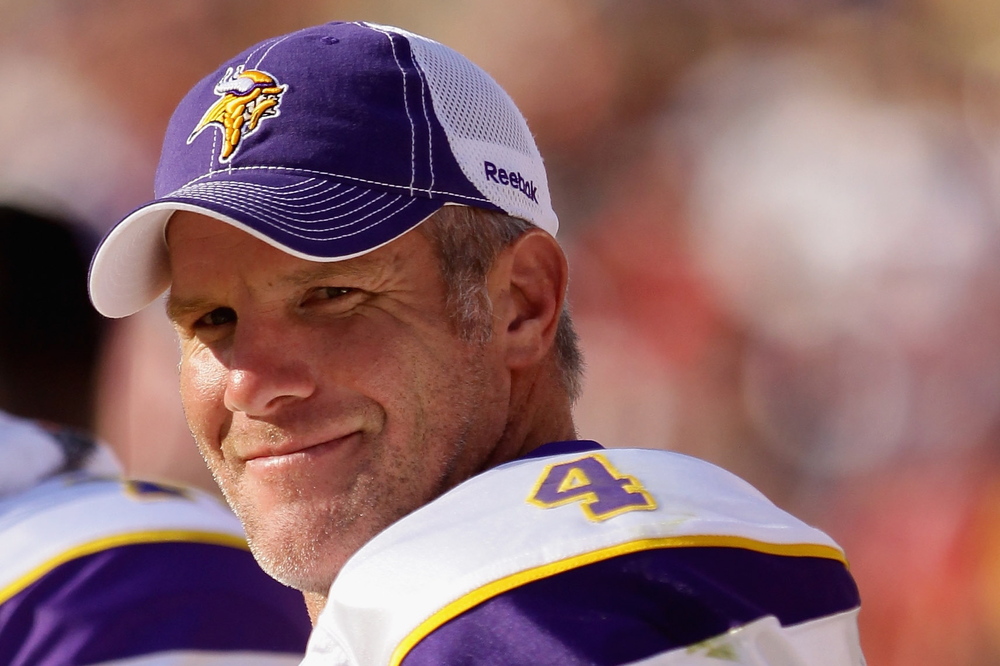 The game Favre is referring to was one of Manziel's best of the year. The Aggies rallied to win a (41 - 38) comeback thriller thanks in large part to Johnny Football's heroics. Manziel was 31 for 39 passing for 346 yards, adding 124 yards on the ground, including two touchdowns. Favre pontificated a bit more about his college self in comparison to Manziel, saying:
"I didn't think I did a lot of things well (in college at Southern Miss), but he did. And I liked the attitude of 'whatever it takes' — from that standpoint, I liked him."
The now 44 year old Favre spent 17 years breaking NFL records and Vikings fans hearts while quarterbacking the rival Green Bay Packers, retiring after the 2007 season. Then, as we all know, he came back. Twice. Favre zigged East to play for the New York Jets in 2008, before zagging back West to play for the Purple in 2009 and 2010, breaking the hearts of Vikings fans one (2009 NFC Championship) or two (entire 2010 season) more times before hanging up his cleats for good.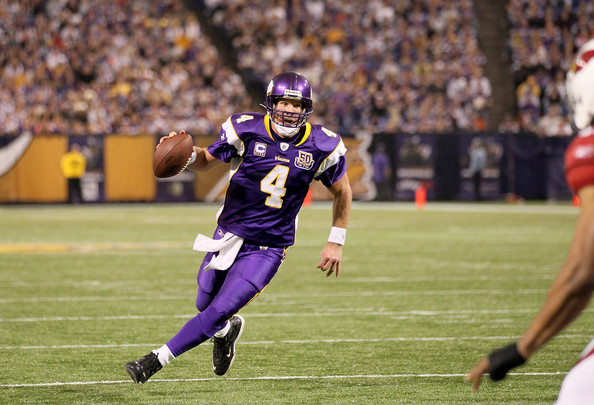 I, for one, think Favre's comparison of Manziel to himself is a fair one. Both quarterbacks have strong, accurate throwing arms, while possessing the unique ability to use their legs to buy extra time to find receivers down the field. If Favre is on target in his analysis, it's worth noting he quite clearly indicated he thinks the 21 year old Manziel might even have an edge on the younger, college version of himself.
"I didn't throw near as well as him," said Favre. "He may have that capability — unbelievable throws and can makes plays with his feet. I was impressed."
In any case, it's good to see old #4 in the news again. Especially for something other than rumored comebacks or alleged "sext" messages. Photos via: Google