Brian Dozier Has Arrived
Posted by Jeff Schwenn on Friday, May 9, 2014 at 12:00 AM
By Jeff Schwenn / May 9, 2014
Comment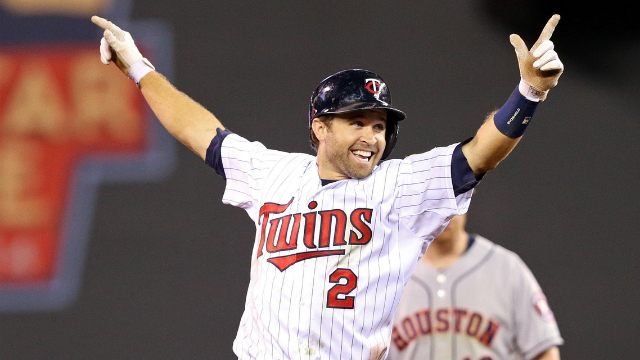 Brian Dozier is becoming a cornerstone type player for the Minnesota Twins. Watching him gain confidence throughout last year and this year has been a pleasure for fans, especially after so many losses.
As many recall Michael Cuddyer was a great player and team leader. He would do whatever the team needed him to do, both on and off the field. He represented the Twins brand well and letting him go hurt the team on many levels. Brian Dozier is a player very similar to Cuddyer. Dozier's positivity with the press, tremendous defense at second base and presence at the plate make him one of the top second basemen in the game.
He had a rough rookie season in 2012. He struggled as the everyday shortstop, resulting in his demotion to the minors -- but that seems long ago. Moving to second base rejuvenated his career.
You don't have to watch many games to realize Brian Dozier's glove can change games in favor of the MInnesota Twins. Last season he committed just six errors and combined to make 110 double plays, simply outstanding numbers. This season his great plays with the glove are getting national attention -- a Gold Glove might be in his future. His transformation in the middle of the infield is similar to another Twins shortstop turned second baseman who did fairly well, soon to be Twins Hall of Famer Chuck Knoblauch.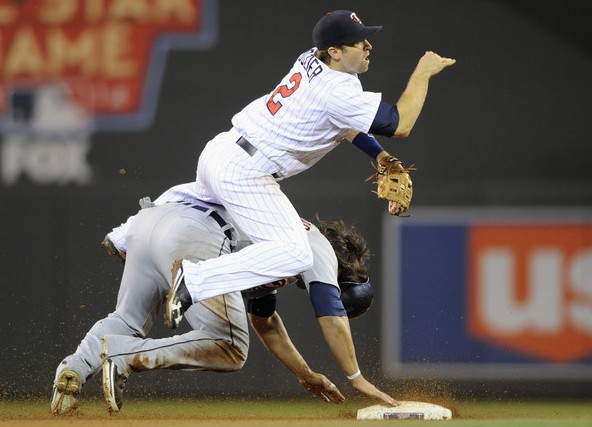 Brian Dozier the hitter is unique. His numbers won't wow you, but if you watch him everyday he's in the middle of a lot of good things (that's an inner ball term). In 2014, he has a team leading eight home runs with three of those leading off games. His .358 OBP and .790 OPS are both sixth best in baseball. His 31 runs scored are the second most in MLB (wow!) and throw in a league leading 11 stolen bases, you have a cornerstone player the Twins need to build around.
Dozier's batting average may never be very high unless he figures out how to hit right-handed pitching. In 839 plate appearances against righties he's hitting just .224/.291/.346. Lefties are more to his liking to a tune of .286/.350/.524 (275 PAs). At age 27, Brian Dozier is coming into his prime -- his numbers against righties figure to improve, which could mark his true ascension in the MLB ranks -- although, if they linger, it could be his Achilles Heel.
Team leader, team spokesman, and a team player are what cornerstone players are to a baseball team. Brian Dozier exhibits all of these qualities. The Minnesota Twins need to begin thinking about offering him a long-term contract before his price goes up even more.
He's the type of player contending teams must keep long-term, especially considering the Twins will contend, eventually.
Photos via: Google
Video via: MLB.com