Calm Down: Cheerios' Prince Tweet Was Dumb But Not Offensive
Posted by Brent Lee on Thursday, April 28, 2016 at 12:00 AM
By Brent Lee / April 28, 2016
Comment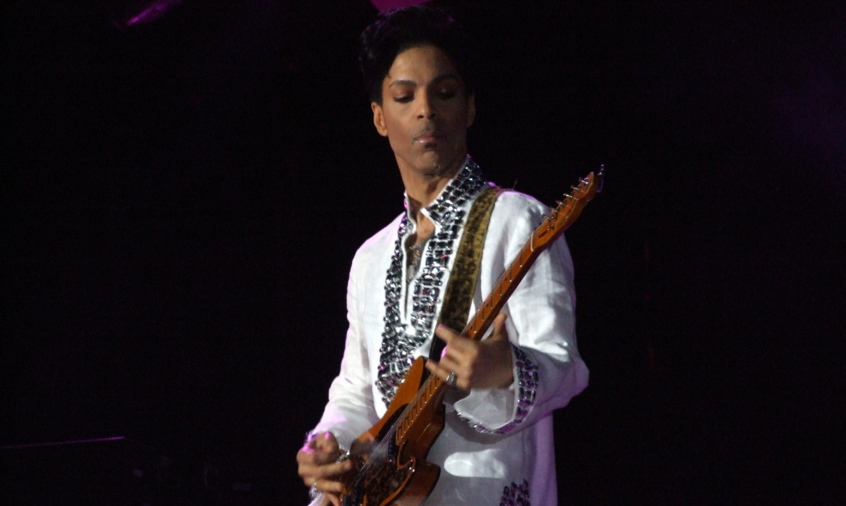 Last Thursday, after
Prince's untimely death
, outrage from the Twittersphere forced Cheerios to remove a tribute tweet and issue an apology as the world moved a step closer to becoming a soulless vacuum of tepid hypersensitivity. Here is the highly controversial tweet. (Warning: This is not for children -- I've added the parental advisory warning due to the offensive nature of this tweet.)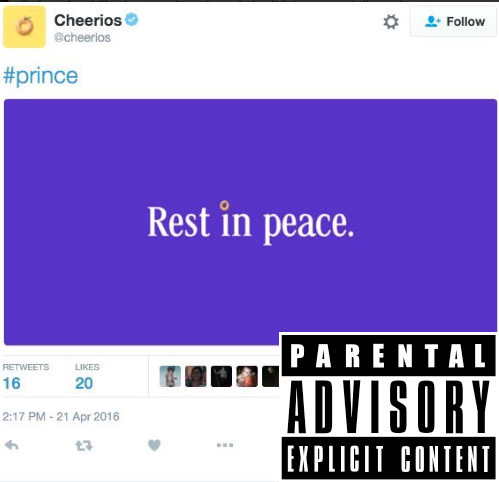 Offended? You shouldn't be. The tweet is not, according to any sensible definition, offensive. We're talking about a Twitter account devoted to a friggin' Minnesota based cereal brand that posted a harmless cutesy-if-also-kinda-dumb tribute to a Minnesota music legend. And yet, the obviously innocuous nature of the clumsy tweet did nothing to dissuade a bevy of naysayers from chiming in on Twitter to claim they were personally offended by Cheerios' tasteless self-promotion. They complained until Cheerios removed the tweet and apologized. Was Cheerios' tweet self-promotion? Of course it was. Twitter exists explicitly for the purpose of self promotion. It was self-promotion when our beloved Twins turned their Twitter all purple. And if the Vikings weren't already purple, they would have done the same. In fact, many companies used various purple-laden methods to tribute-ize the fallen star right along side their products and brands. Here are just a few examples: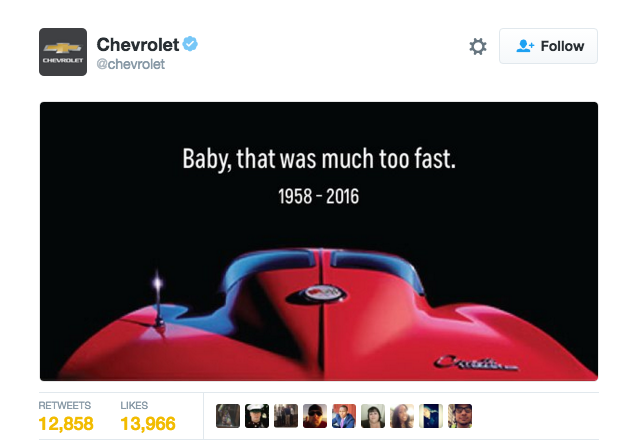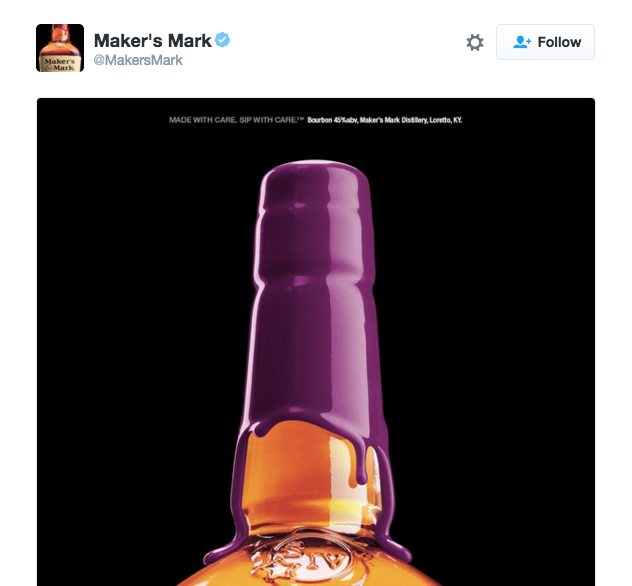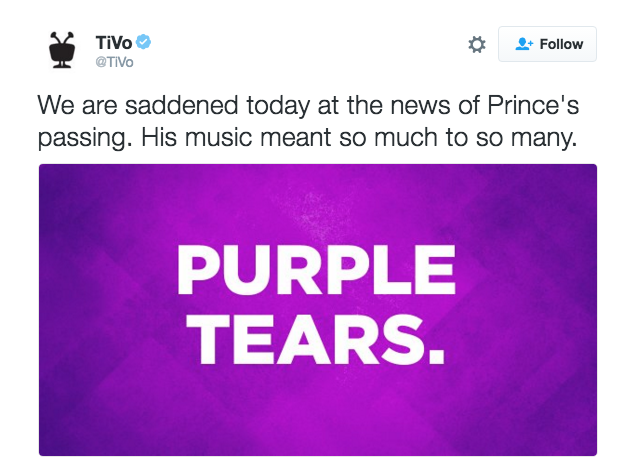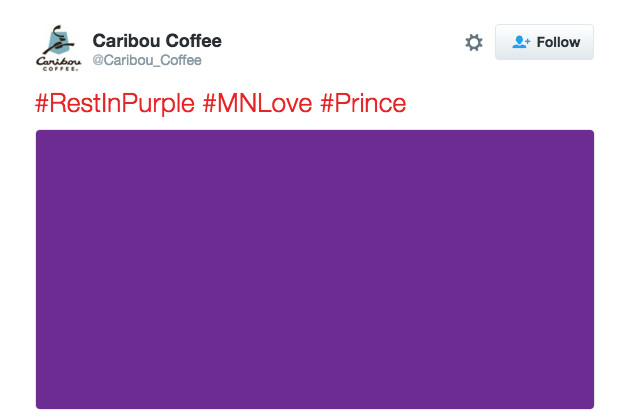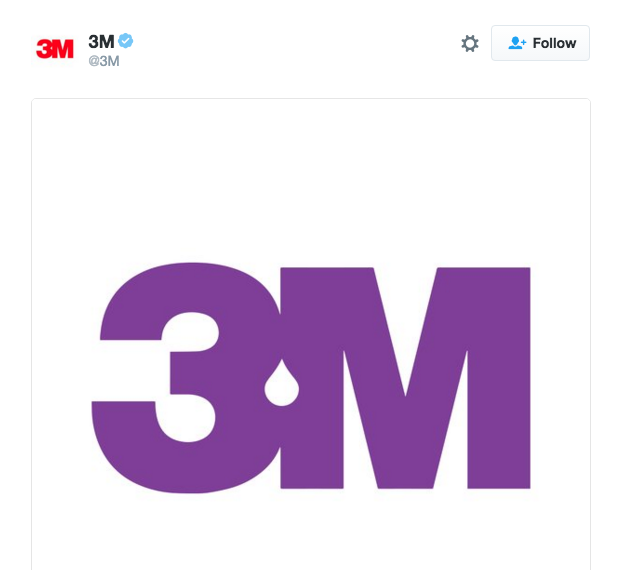 Some were well done; others a bit tacky and ham-handed. What all these tributes share is that they are, while simultaneously perhaps very sincere, self-promoting by their nature. For better or for worse, Twitter is used to capitalize on discussion of the day's news, no matter how tragic that news might have been. While I'd agree Cheerios' specific effort on their now-deleted Prince tribute tweet was not terribly thoughtful or creative, what the hell else did you expect Cheerios to do? It's
Cheerios
, people. Their whole marketing "strategy" is using an "o" shaped piece of whole grain cereal to dot the lower case letter "i". That's it. With few exceptions, it's
all
they've been doing on
everything
since I was a kid (Well, that and the annoying animated bee they employ to peddle their honey nut wares). Did we really expect this particular tweet to usher in a brand new commitment to cutting edge, nuanced, artful marketing pieces? From
Cheerios
? By the way, who on earth follows Cheerios on Twitter? It's almost as if people just get on the internet and actively search out things to offend themselves... ... Here is my tribute to Prince, a video from the 2004 Rock and Roll Hall of Fame Induction Ceremony. Prince arrives on stage at the ~3:20 mark, then proceeds to
play his
make sweet love to his guitar, producing from the instrument an impossibly masterful, goosebump-inducing solo that borders on Divinity.
Farewell, you Purple God of Music. You will be missed by millions.
Images courtesy of:
Scott Penner
-- Twitter
The personal views expressed in this post are the writers' own and do not necessarily reflect the views of Minnesota Connected or its sponsors.