Can Adrian Peterson Catch Emmitt Smith?
Posted by Brent Lee on Monday, July 13, 2015 at 12:00 AM
By Brent Lee / July 13, 2015
Comment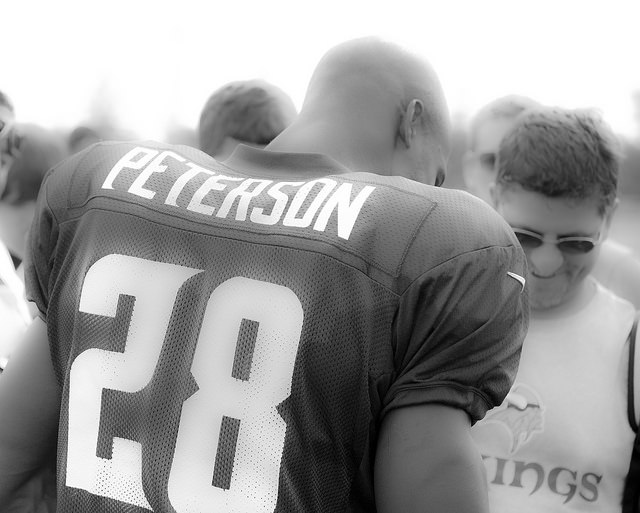 After a swarm of off-season drama, Adrian Peterson is expected to don a purple helmet when the Vikes begin their 2015 regular season just a few months from now. There is no doubt Peterson has been one of the best players in professional football since joining the Vikings in 2007. In fact, given his highly productive start over the first several years of his career, there has been plenty of discussion of AP going down as one of the greatest (if not
the
greatest) running backs of all-time. To date, Peterson has rushed for 10,190 yards in the NFL. Emmitt Smith, the the league's all-time leading rusher, ran for 18,355 yards during his career with the Dallas Cowboys and Arizona Cardinals. In an recent
interview
with the Pioneer Press, Peterson discussed his chances of eventually passing Smith to become the NFL's all-time leading rusher.
"I don't think it's impossible. A lot of things are still to come... I look at things that anything is possible. He played 15 years. I'm going into year nine but I've only got eight on the body. That's a long-term goal (to break the record).''
Peterson is on a good pace as far as yards per game, gaining his 10,190 yards in just 104 regular season games. For comparison, in his first 104 games, Smith rushed for 9,832 yards. So to this point in their given careers, Peterson has a slight edge... But... Unless you live in a cave, you're aware Peterson missed all but one game during the 2014 regular season after a suspension by the league stemming from child abuse charges last fall. Thus, when he takes the field again this September, Peterson will have aged a full year without gaining a single yard in his pursuit of Smith's all-time record. Adrian Peterson will, therefore, be 30 years and 197 days old when he next carries a football in an NFL regular season game (his 105th game). When Emmitt Smith was 30 years and 197 days old, he had accumulated 13,544 yards (in 150 games), putting him 3,354 in front of Adrian at the same age. (It's also significant to note Emmitt Smith played his first NFL game at only 21 years and 117 days old, whereas Peterson was 22 years and 172 days.) Here's a graph showing Peterson and Smith's cumulative game-by-game rushing production side by side: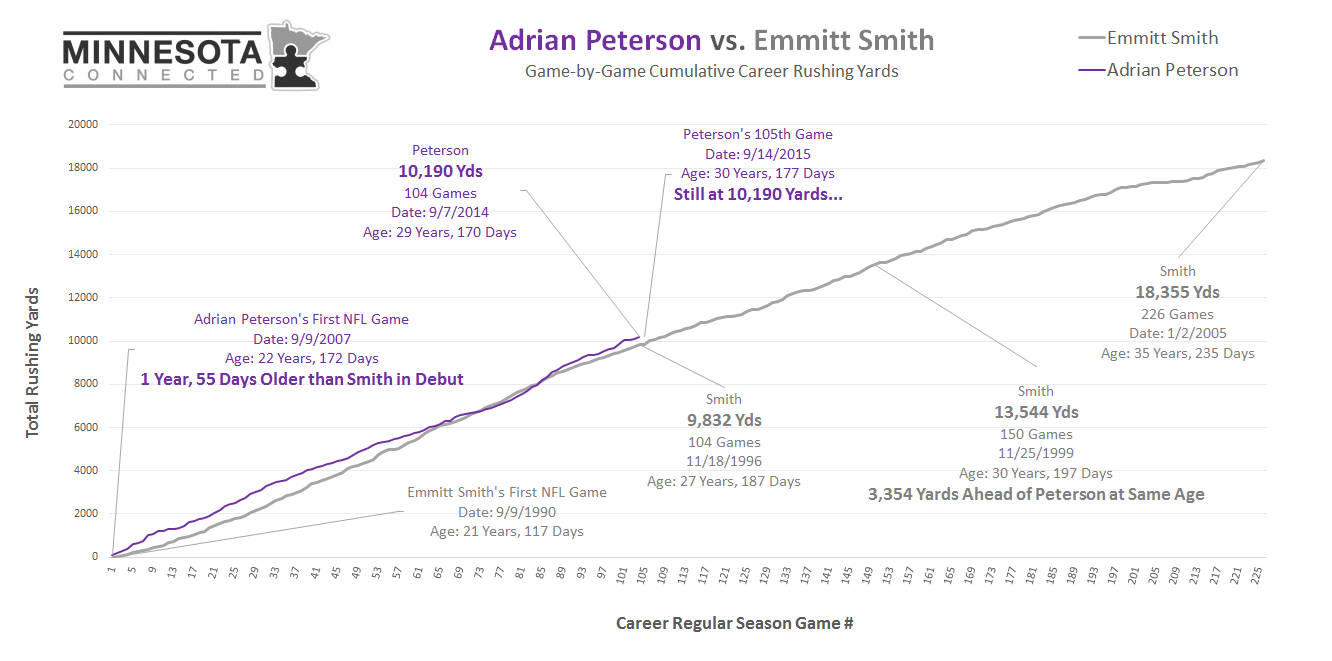 So, based on the data, how likely is it the 30-year old Peterson goes on to break the all time rushing record?
Best Case Scenario
Let's consider an ideal set of events for Vikes fans: Peterson comes back in 2015 and breaks the single season rushing record, running for 2,106 yards. The next year, at 31, he drops off a bit, but still has the most productive season in NFL history for a 31-year old running back, rushing for 1,698 yards. Let's say this dream scenario plays out in a similar manner for the remainder of Peterson's career, and his yearly rushing totals are the best in history for a running back at any given age. It would look like this...
2015 — At age 30, Peterson rushes for 2,106, breaking Eric Dickerson's record set in 1984.
2016 — Age 31 — 1,698 (Curtis Martin, 2004)
2017 — Age 32 — 1,334 (Walter Payton, 1986)
2018 — Age 33 — 1,142 (John Henry Johnson, 1962)
2019 — Age 34 — 1,348 (John Riggins, 1983)
2020 —Age 35 — 1.240 (John Riggins, 1984)
At this ridiculous pace, Peterson would surpass Smith's record midway through the 2020 season. If he were to do this, it would indeed be legend-level stuff. Serious football minds could have serious football discussions about whether Peterson was the greatest player who ever buckled a chin strap. This is the best case scenario.
Reality
The statistical reality is running backs lose significant productivity after turning 30.
Significant
. While everyone agrees Adrian is a physical phenom who is not like most other running backs, he is still only human, and should be expected to experience diminished production at an accelerating rate as he ages. He may very well have a huge year in 2015 (and 2016), but there is no reason (except blind optimism) to believe Purple Jesus will be putting up huge rushing totals as he nears his mid 30's. And without
huge
historically unprecedented numbers, he'll not catch Emmitt Smith. Vikings fanatics will be quick to point out Peterson, though relatively old for an running back, has less total wear on his body when compared to other backs his age. After all, he missed a whole season. Yeah, I suppose that's true. But he's also torn ligaments in his knee and runs with an
aggressive
reckless style that has exposed him to plenty of wear and tear over the course of his playing days.
My Prediction
Barring injury, I expect Peterson to have a big year in 2015. He seems to carry a chip on his shoulder about how his suspension played out last year and I imagine he'll run even angrier than he usually does. I can't envision a scenario where a healthy Adrian Peterson rushes for less than 1,350-1,400 yards this upcoming season. I can see him going for 1,200+ in 2016; 1,000+ in 2017. But after that, I think he'll have lost a significant portion of the explosiveness that makes him the special runner that he is. That's just nature. He'll slow down and screech to a halt long before Emmitt Smith's 18,355 is in sight. Images by: Matthew Deery -- Brent Lee