'Canby Classic Cinema' Gets Restored Back to Life
Posted by Tony Randgaard on Friday, August 19, 2016 at 12:00 AM
By Tony Randgaard / August 19, 2016
Comment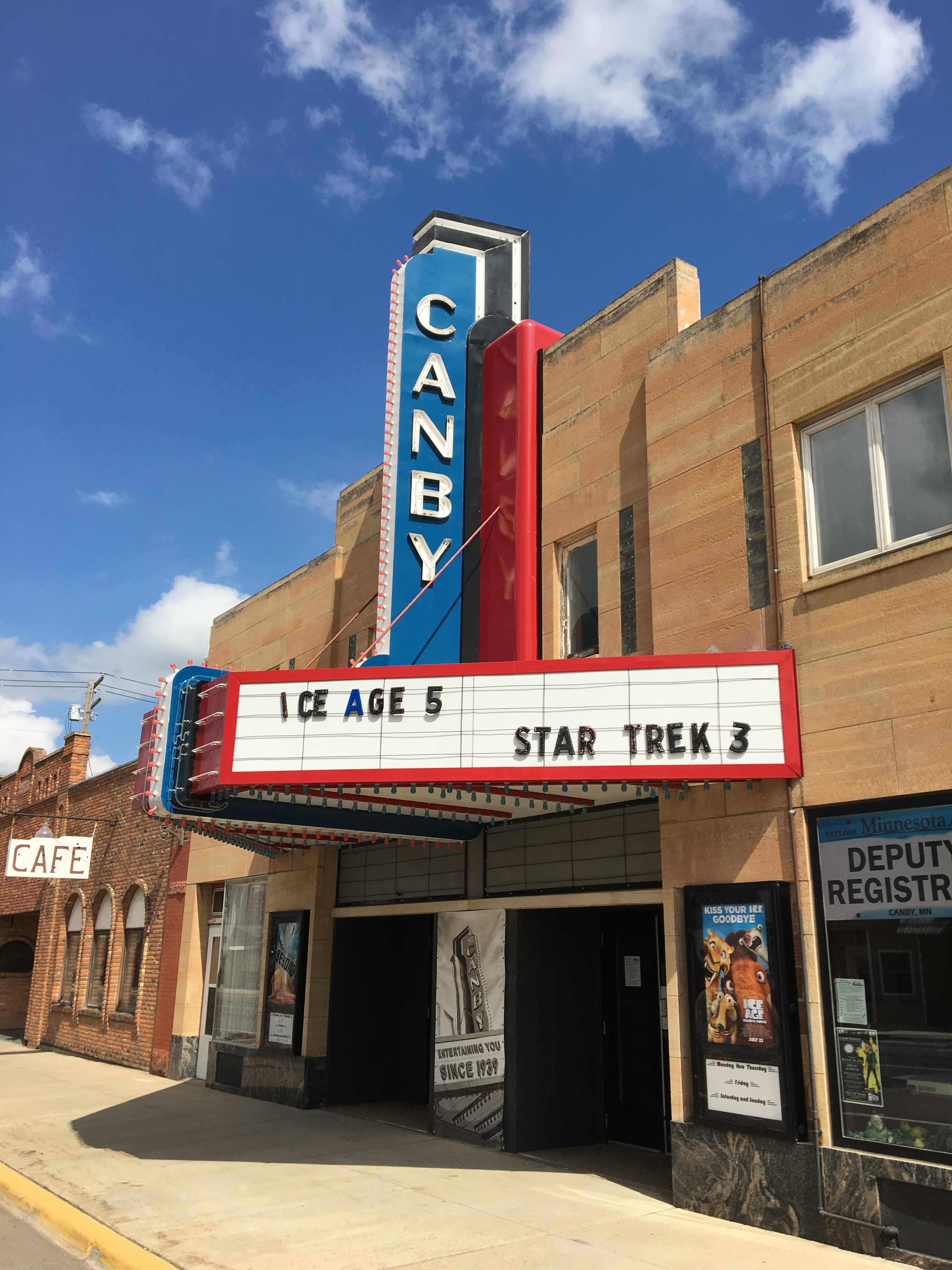 Canby, Minnesota's Central Park, is an idyllic spot for a family reunion. It is encircled by a bustling small town that could leap right out of
A Prairie Home Companion
. A quick left turn from last week's Randgaard family reunion and I had to screech on the brakes to capture a shot of one of America's classic art deco theatres, Canby Classic Cinema. Two years ago this art deco treasure was dilapidated and the roof was leaking when the City of Canby bought it and stepped in to save historic venue. Canby Mayor Gene Bis talked to a number of people that remembered their first dates or met their spouses at the 75-year-old theatre. He told WCCO that the small town theatre is "a traditional thing in our country and I think a lot of people relate to that." Since then the city and the Canby Arts Council have run an epic grassroots fundraising campaign that has generated hundreds of thousands of dollars. From passing a bucket for donations to staffing the theatre with volunteers, the spirited effort has yielded next generation seats, a revamped marquee and modern refurbishment throughout. The latest initiative secured state-of-the-art digital media equipment for theatre two. While the traditional family reunion may be going the way of Blockbuster, full service gas or your answering machine, it is uplifting to see this community passion to save the small town theatre. If you're not up for the drive to Canby to experience this art deco gem, you'll find some of the same architectural charm at the Riverview Theatre at the corner of 38th Street and 42nd Avenue in south Minneapolis. In fact the Canby architect, Perry Crosier, often collaborated with the designers of the Riverview. Last year WCCO followers voted these two theatres number one and two as their favorite theatres in the state. Clearly, there is no need to pull your DeLorean out of the garage. You can go back to the Fifties by soaking in the nostalgia of these two classic theatres. To see more photos of the classic Canby theatre or to donate to the project,
click here
. Photo by: Tony Randgaard
Retired after 31 years in marketing with United and Northwest Airlines, Tony has been published by Slant News, MinnPost, Minnesota Connected, Air Cargo News, The Forward, CNS Air Cargo Focus and the TC Daily Planet. He has won a Silver Addy award in Advertising and launched United Cargo's Friendly Skies ad campaign that is still running today.