'Catching Fire' Hits Theaters This Weekend -- Jennifer Lawrence Continues to Shine
Posted by Matthew Deery on Friday, November 22, 2013 at 12:00 AM
By Matthew Deery / November 22, 2013
Comment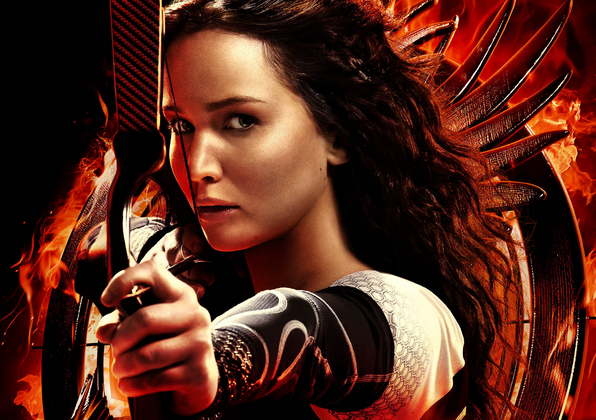 The Hunger Games
is one of the most popular series in the world -- the three books were read by millions, and the same can be said for the first film which dropped last year. While I was not one of those who read the books, I did for the most part enjoy the first film. Though
The Hunger Games
captured the
hearts of so many
worldwide, the first film didn't do enough to enamor me with the series  -- going into the sequel 
Catching Fire
 on Monday morning, I wasn't expecting to be wowed by this second chapter. After the film completed, I found myself still wrapped in events within the film. After a bit, I realized, I just drank the Kool-aid. I was now a Jennif- I, mean,
The Hunger Games
fan. In case you didn't know, the main character in the series is Katniss Everdeen -- this bold heroine is played by the immensely talented Jennifer Lawrence. Part of my fascination with
Catching Fire
stems from my mild obsession with the actress. She hit my radar in 2010 in
Winter's Bone
, a role that got her nominated for Best Actress at the age of 20. She starred in many other films I enjoyed after that,
X-Men: First Class
,
Like Crazy
, and of course,
The Hunger Games
. But my adoration for the budding actress really struck watching my favorite film from last year,
Silver Linings Playbook
-- her character Tiffany was revered by most, and for that, she won the Academy Award for Best Actress. Not only is Lawrence young, gorgeous, and insanely talented, but she is one of the coolest human beings I've
ever read
about. You can spend hours reading about the
nice
things she's
done
, the lives she has
touched
, and the
humility
 she wears on her sleeve. Watching her in movies is such a rewarding experience, and
Catching Fire
is no different.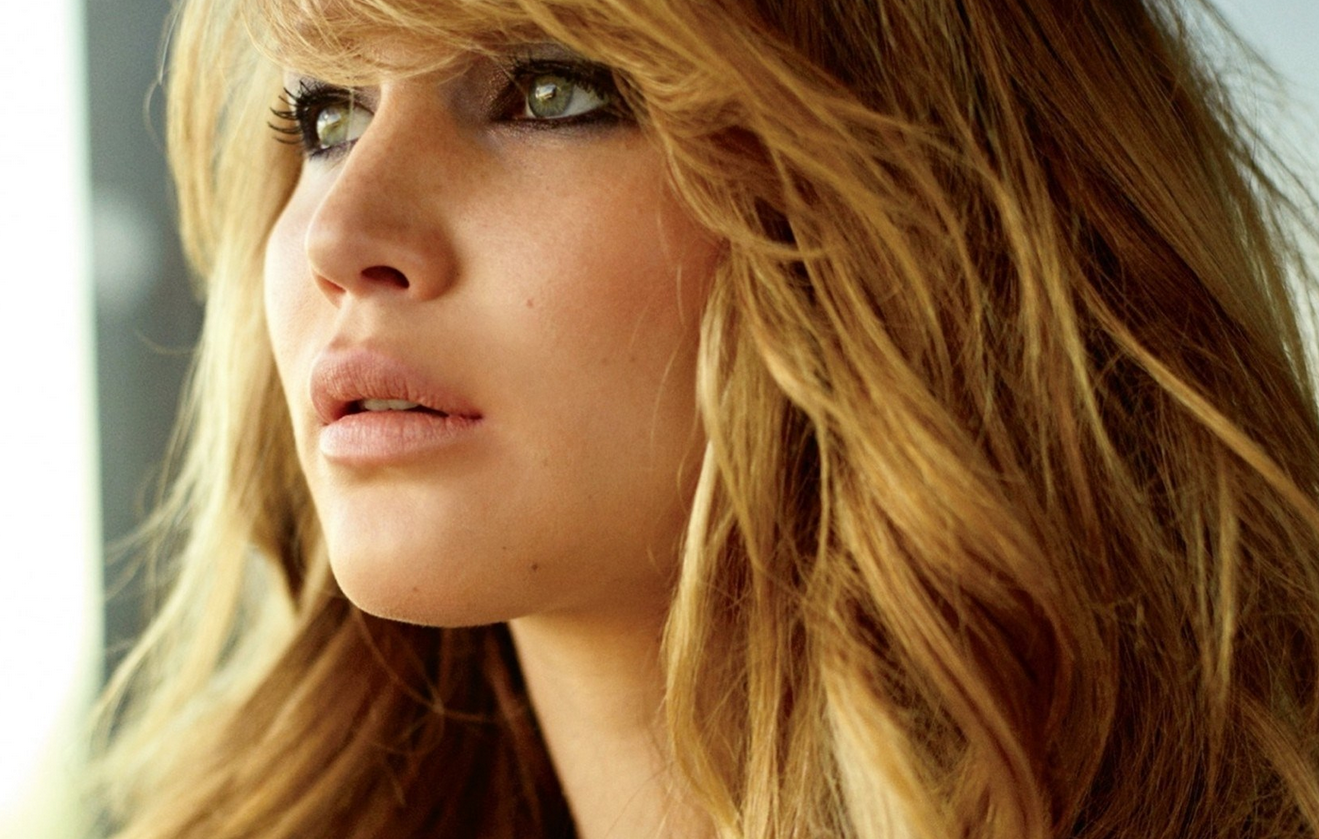 Her role of Katniss is far from her best, but Lawrence does an excellent job of portraying the character who is much like her actual self -- so much stardom has affected her, both in real life (Hollywood) and in the dystopian future world Katniss resides in (Panem), and in both environments she plays her fame so well. Both the real woman and the character want to use their platform to help others -- both want to be themselves amidst those who want them to be something else. The character and the actor are now synonymous with one another. Though Katniss' stardom came first with the book's success, the character will forever have the face of Lawrence, and Lawrence will forever be known as Katniss. And this is just the beginning of her career. I strongly recommend you invest into this young actress -- she is the real deal, both on and off the screen. While I don't really need to give any recommendations to see
Catching Fire
, it is sure to be the highest grossing film worldwide for weeks to come, I really am going to use this soap box to do just that. The devoted fans are going to show up in droves to see it, that is a certainty. For those unsure about this second film, many thought
The Hunger Games
was "just average" or "just ok," I recommend you see where 
Catching Fire
takes the series. It really has a lot to say on a society predicated on government control and how it affects those within the world. The sequel is not without its flaws, and it has a handful, but with Lawrence as the emotional center, it captures the hearts and minds of those oppressed by a totalitarian government. Some of my recommendation might just be my fascination with Lawrence -- but I'm convinced it's not only that.
Catching Fire
works so much better than the first film, selling poignant emotional moments as a currency to buy into a revolution against the Capitol. The movie has more than enough emotion and subtext to keep
Catching Fire
on the mind for a couple hours -- plus it ends in such a profound way, it's impossible not to ponder what comes next (I haven't read the books remember). This second chapter is a great bridge to the third installment.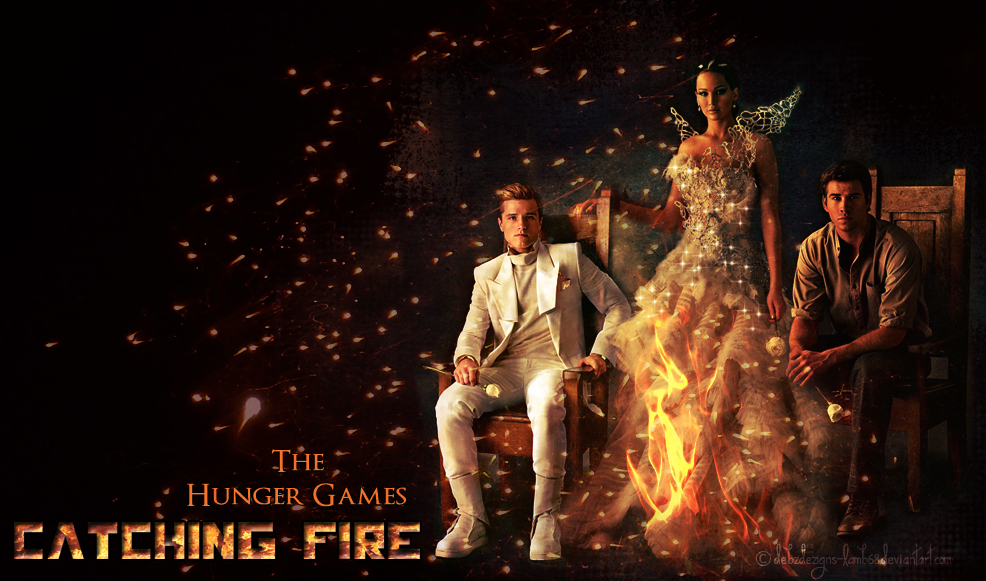 So we get it, Jennifer Lawrence is great. But I just wanted to finish by praising another factor to what made me enjoy
Catching Fire
even more.
Showplace ICON
in St. Louis Park is where I saw
Catching Fire
, and they recently upgraded their VIP theaters to Dolby ATMOS. This is a new (for Minnesota), state-of-the-art sound system almost unlike anything I've ever experienced before -- and I've seen a
ton of movies
at the best theaters in the state. The ICON VIP theater now has over 60 individually powered speakers, yes, 60+, that create an out of this world auditory experience. There are speakers on the ceiling, all over the walls, and even behind you, to create 360° of movie audio. And this system isn't merely an upgrade on surround sound -- if it was, I wouldn't be spending so much time gushing about the unreal movie experience Dolby ATMOS creates. Movies like
Catching Fire
have sound design specifically tailored to work on a whole another level with the 60+ speaker set up (only the bigger blockbusters currently tailor to ATMOS). The technology allows for 128 individual audio tracks to be laid on the film print (trust me, that is
a lot
) to play on specific speakers within the theater. This technology not only gives the sound an extra boost, but allows the audio to occupy space in the theater that correlates with the events on screen. In the brief Dolby ATMOS demonstration before the film, a rain forrest was used to display the capacity of the system. When a rainstorm kicked in, the speakers overhead drowned the audience of critics with the sounds of rain. When the movie kicked into high gear, Katniss competing in the fight to the death was significantly enhanced with the spatial audio system.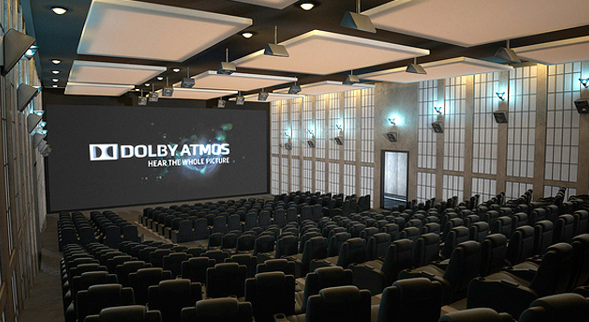 My rant here cannot do Dolby ATMOS enough justice. It really is something that
needs to be experienced
to understand. These type of new technologies create memorable movie experiences that cannot be recreated at home. And because
Catching Fire
comes out this weekend, and the film has a sound design tailored for the ATMOS theaters, I cannot recommend enough you journey to the Showplace ICON to check out the movie there. For those fans and casual movie goers, this is the optimal way to experience this film. Jennifer Lawrence and Dolby ATMOS crafted a movie experience that still has me ranting, even days later. Images via: Google