Chimgee Haltarhuu: Circus Performer, Domestic Abuse Activist, and Downright Amazing Woman
Posted by Angie Newgren on Wednesday, July 30, 2014 at 12:00 AM
By Angie Newgren / July 30, 2014
Comment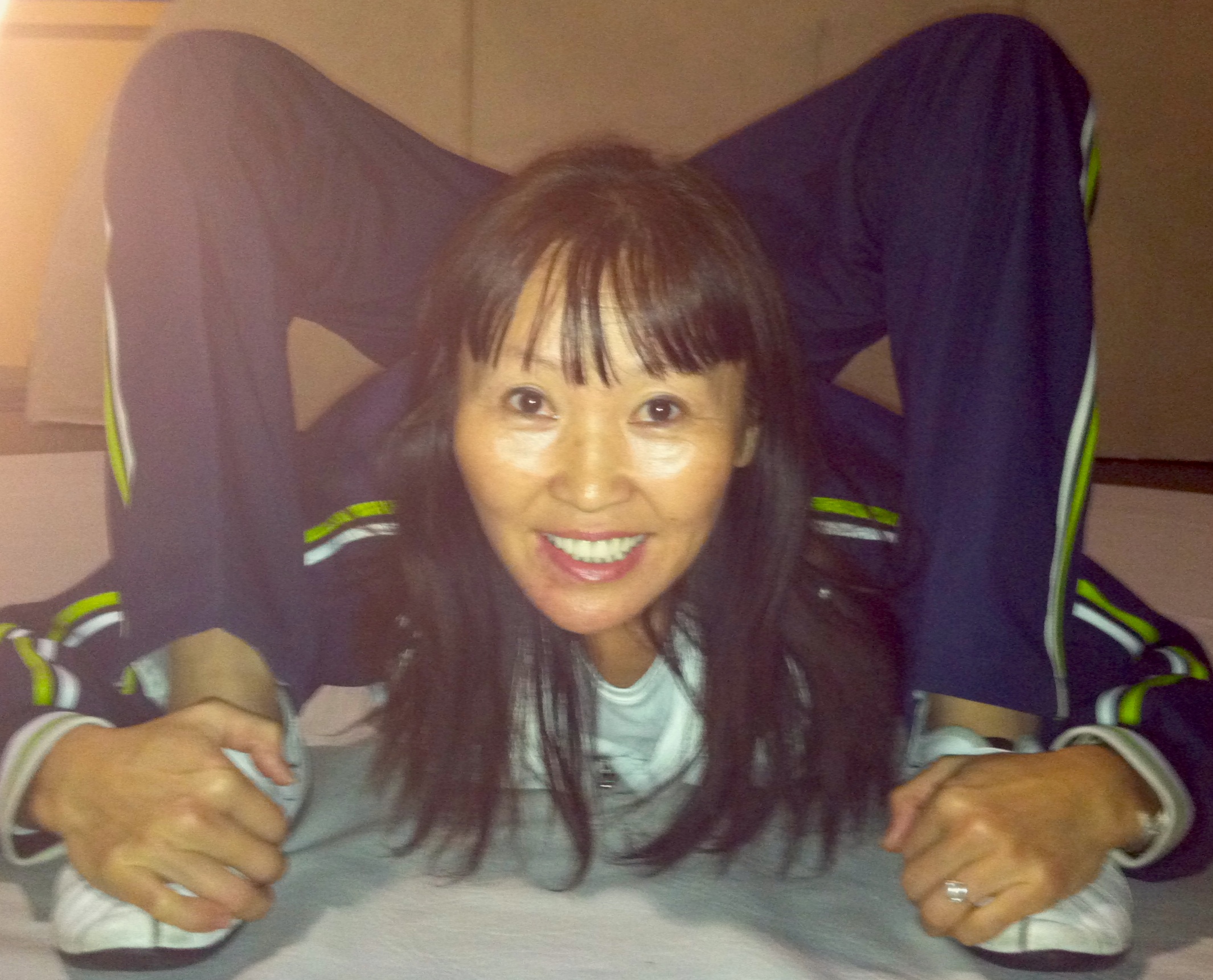 Meet Chimgee Haltarhuu, a Mongolian-American woman driven to end outdated views in Mongolia on domestic abuse. Haltarhuu shared with me her life story: from growing up in Mongolia, joining the circus, moving to the U.S., and starting a mission to help battered women. Chimgee Haltarhuu is one of the most motivated and inspiring persons I have ever met -- I encourage you to read her story on how she broke from the cyclical pattern of abuse and now helps others to escape it.
Lifestory
Haltarhuu's story starts off in Mongolia when she was a child. As a young girl, she was always active, so much so her family put her in a gymnastics class as an outlet to that energy -- immediately she thrived. But despite her talent, she was not able to continue gymnastics. It wasn't lack of motivation which took her away from her love, but Mongolian custom. Being the second oldest child, it was Haltarhuu's responsibility to look after her younger siblings. In Mongolia, there is no concept of hiring a babysitter. It is always left to the eldest children to look after the young ones when needed. So instead of gymnastic classes, Haltarhuu was cleaning, cooking, and taking care of her siblings. However, that never stopped her from practicing what she learned in her initial classes. She still did the gymnastic routines at home and even started teaching her siblings.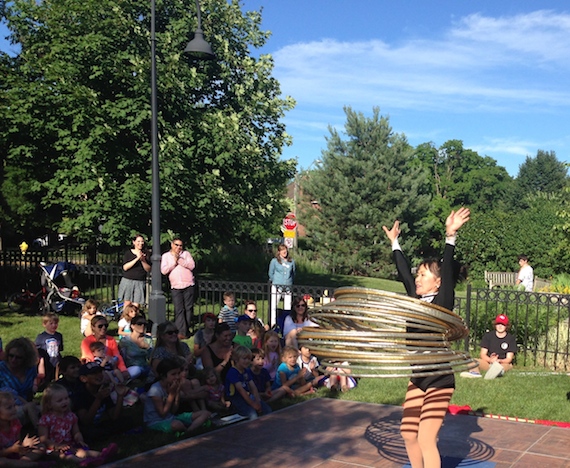 One day when Haltarhuu was 16-years-old, her father showed her an ad in the newspaper. The ad was for adolescent auditions to join the Mongolian Circus. A seven hour train ride to the capitol later, she was one of over 500 children trying to get accepted into the program.
"I could tumble, I knew was strong, but it all depended on what they were looking for," she said. "On the first day they told me to do pull ups. One. Two. Three. Four. I just kept going until they finally told me to stop."
The second day consisted of artistic modes: posture, pushups, cartwheels. And on the third, finalists were called in, and the winners chosen. Haltarhuu was one of eight to pass. A total of six boys and two girls. What this meant for these eight was to train at the Mongolian Circus school, graduate, and become professional circus performers. Haltarhuu stuck with the Mongolian Circus for six years until she was offered a position by the Ringling Brothers, a famous American circus. Within three weeks of acceptance, Haltarhuu was given visas for her and her five-year-old son. They came to the U.S. with a two-year contract and without knowing any English. As she put it: "...without even knowing how to say hi or bye." Within those two years Haltarhuu's son was taught privately with the other circus members' children while they traveled. When the contract expired, she accepted another two-year contract.
"I stayed for my son," she expressed.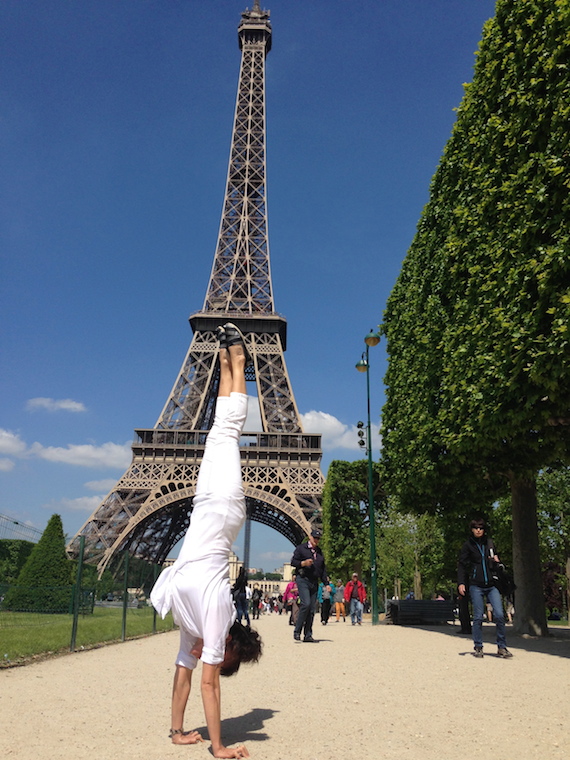 She wanted to continue life in the U.S. to give her son a better education. She continued to perform with the Ringling Brothers and later was granted rights as an American citizen. Soon after the Ringling's circus, Haltarhuu moved onto The Yankee Doodle Circus. It is an upstate New York circus which traveled the East coast. It was there she met her husband Eron Woods. At the time Woods was the music director for Yankee Doodle. He was great with Haltarhuu's son which led to the pair becoming very close -- and after seven years of dating he proposed.
Haltarhuu replied, "Ask me after [it's been] ten years."
To which he did, and she finally said yes. She added:
"I'm lucky to find the right man," she said. "He's good. I'm happy."
Currently Eron Woods is a professional percussionist who performs mainly around the Twin Cities with his bands the Nick Haas Trio and the Overtones Jazz Trio.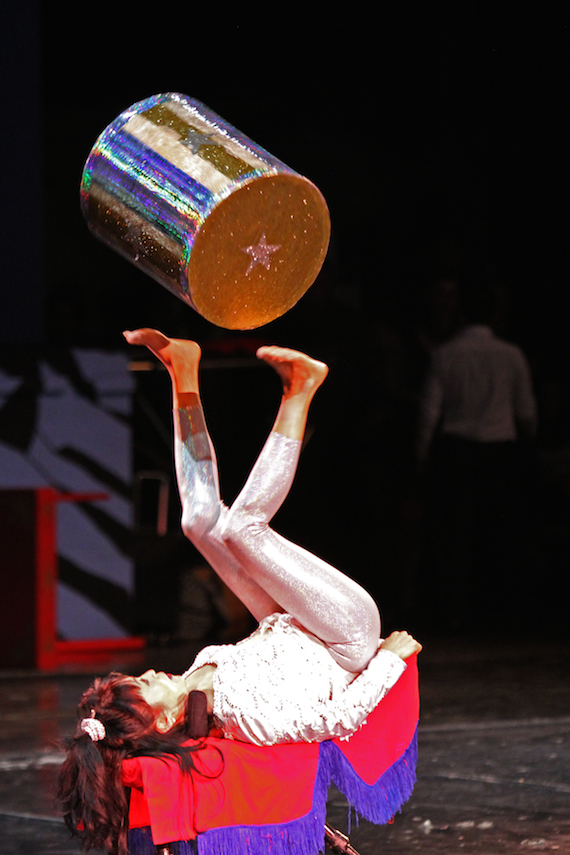 In 2002, the new family moved to Minnesota where Woods originates. Saint Paul was opening a circus,
Circus Juventas
, who was looking for professional coaches, including Haltarhuu's specialty, contortionism. She continues to teach their today.
Mission Manduhai
After settling in Minnesota, Haltarhuu started non-profit organization, 
Mission Manduhai
, to end domestic abuse in Mongolia. Her organization is named after Manduhai (sometimes spelled Mandukhai) Khatan, a well-known Mongolian Empress Warrior, often compared to Ghengis Khan. Unfortunately domestic abuse is common practice in Mongolia -- Haltarhuu herself watched her father beat her mother. She later married into the same cycle with her first husband, her child's father who deceased before she came to the U.S.
 "I grew up watching abuse all the time," she said. "My [previous] husband [did it] too. I came here [to the U.S.], worked hard, had a good job, a house, and a good husband. I am the happiest woman in the world. But I never forgot my past. I want to help women in Mongolia. I am not going to just sit here and have a good life. I want to do something."
Mission Manduhai works with Haltarhuu and her chosen group of circus performers traveling to Mongolia to give free performances and advocate for the end of domestic abuse. They focus on the countryside of Mongolia, whose citizens have little to no resources in regards to escaping abuse. On the radio they announce their shows usually night-of, and emphasize that it is free. When I asked if they put ads in the newspaper, she informed me that the countryside citizens do not receive any sort of newspaper. The group also goes through the small villages shouting out the event's information. Despite these less than 21st century announcements, turn-outs are always great. Events like this are seldom in small Mongolian villages, or even never, so not a lot of people opt out on the opportunity to see the show.
"In the beginning of the show we talk about our mission and our campaign, how to prevent beating and abuse, and how it's not right," she said.
After a brief introduction, they do their performance. Afterwards, all the performers hand out flyers to everyone, which are also spread out in the crowd. The flyers emphasize the wrongness of domestic abuse and provide a hotline which Mission Manduhai funds for Mongolian women to call 24/7.
"Never after a show was a flyer left at a table, or on the floor, or chair," Haltarhuu said. "Everybody takes one home. They needed the information. It's very impressive."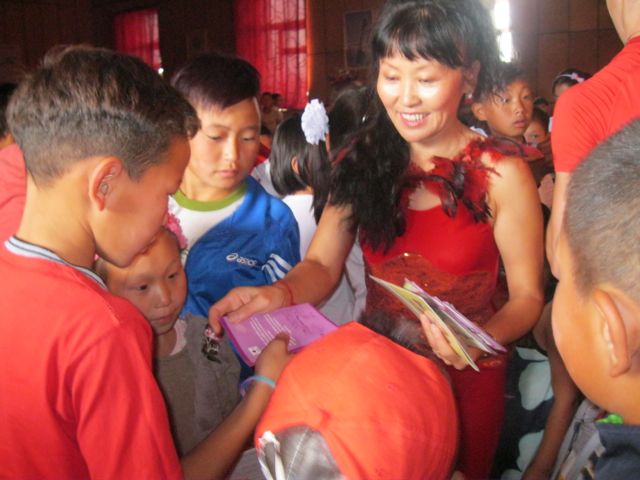 Haltarhuu also mentioned that it is especially important to get the younger generations thinking about the evil of domestic abuse. She knows the situation in Mongolia will not change overnight, but hopes these messages will stick with the younger boys who will grow up contemplating the message of Mission Manduhai.
"Afterwards we have an open talk on how to end domestic abuse," she said. "If someone's husband is there they do not talk much. Later on, some ladies come and visit, and talk. They are shy at  first. I have to talk, and tell my story. Be open first."
I inquired if Mission Manduhai had ever received any negative reaction to their outreach. One leader of a village would not allow them to come into the village after they explained their purpose. However, in Mongolia, no land is "owned," so Mission Manduhai went through with it anyways, just outside the village -- and the show was a huge success.
"At the end of the show, I saw him [the village leader] in the very back," she explained. 
The first Mission Manduhai trip was in 2010, and since has been followed by trips 2011, 2013, and so to be 2014. In 2012 the trip was cancelled due to lack of funds. Each trip is two or three weeks long and includes 18-22 shows in different villages. Funding is contributed by Haltarhuu and her circus friends' putting on a performance to raise money for the tickets. Circus Juventas supports by lending its venue. Aside from just working on domestic abuse in Mongolia, Haltarhuu also advocates for it here in the U.S.  She has given speeches on domestic abuse around the city, including speaking to a women's activism course at Carleton College. Haltarhuu has received multiple awards and recognition, including last month where she was bestowed a "Special Recognition Award" by the Advocates for Human Rights.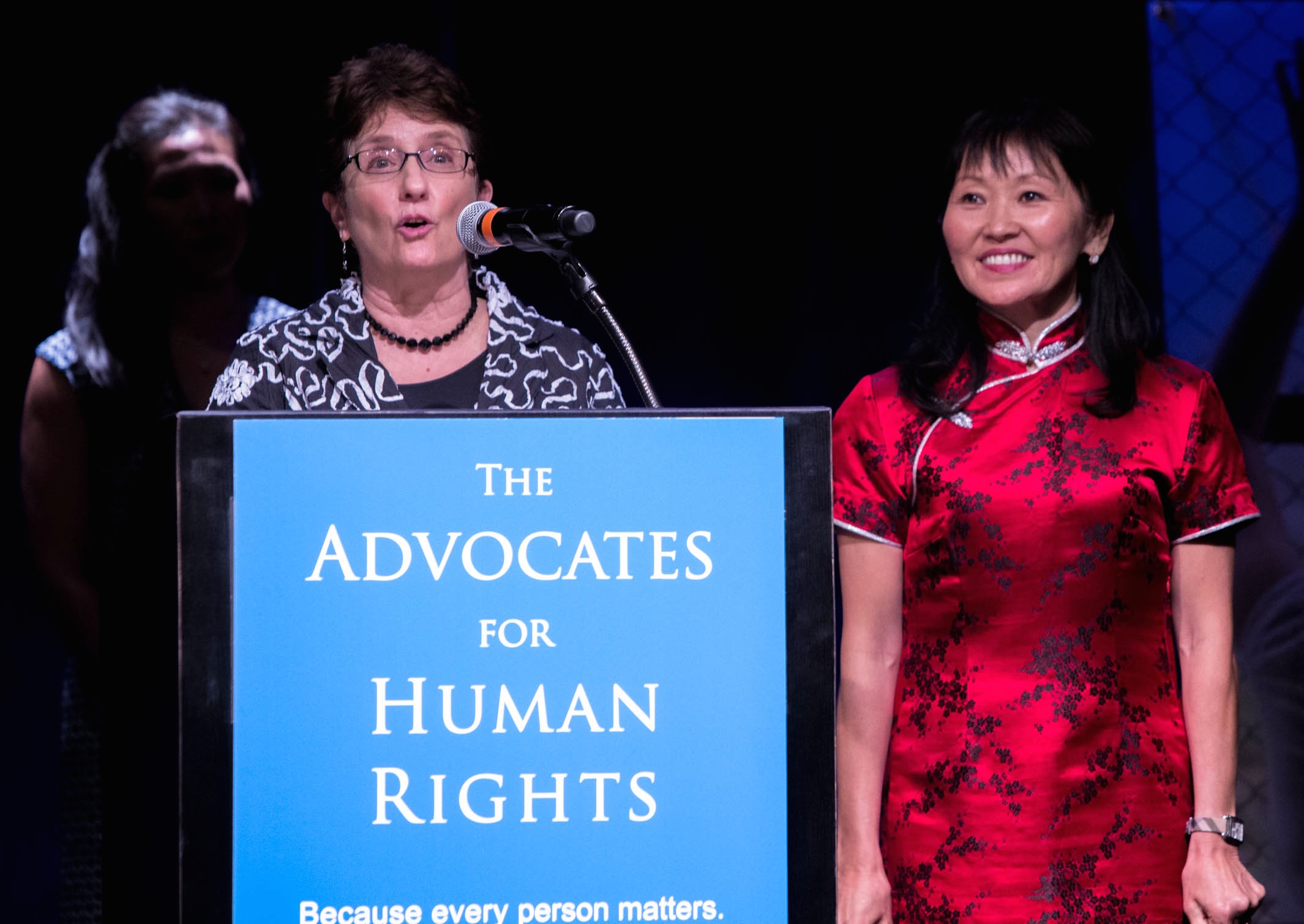 I am still humbled from my interview with Haltarhuu. She used her skills as a performer to escape to a better life in America for her son, and then went back to Mongolia to help rectify their archaic practices. Although there is still so much work to be done, Haltarhuu will always be standing on the front lines of this injustice and will be known as one of the eminent leaders of this honorable movement. Photos via: Chimgee Haltarhuu