Crash Wreckage and Fresh Evidence of a Minnesotan's Courage
Posted by Tony Randgaard on Friday, August 14, 2015 at 12:00 AM
By Tony Randgaard / August 14, 2015
Comment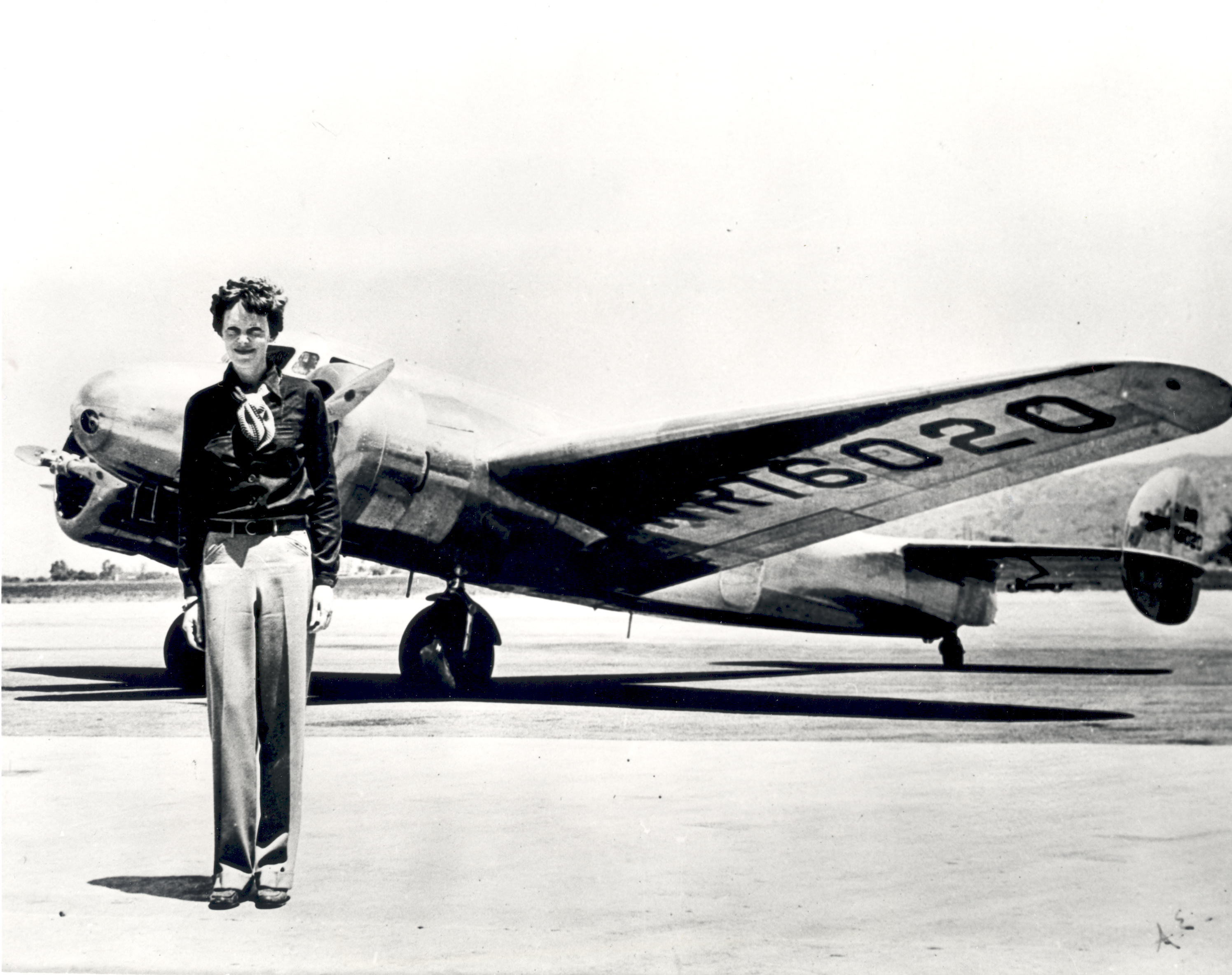 A piece of fuselage combed from a remote beach. Toiletry items, jars and a knife sent back to the laboratory for verification, while families and friends skeptically reject the evidence. A modern day Malaysia Air drama? No this is the Amelia Earhart search, 78 years old yet active, alive and kicking. The third expedition by The International Group for Historic Aircraft Recovery (TIGHAR) hell-bent on finding Amelia Earhart's lost Lockheed aircraft was completed last month. In previous missions the Group has employed search teams, scuba divers and a manned submersible submarine to uncover a 19 by 23 inch piece of metal fuselage, a knife, sextant and a freckle cream jar which bear likely connections to Amelia Earhart. Recently we visited the Northwest (NWA) Airlines History Centre to investigate Minnesota connections to Earhart. When her plane was lost July 2, 1937, not only was she the most famous woman in the world, she was also a technical advisor for hometown Northwest Airlines.
St. Paul Roots
Amelia Earhart was riding a tidal wave of celebrity when she agreed to join the inaugural Northwest Airlines test flight to blaze the first northern route across the rugged Rockies and Cascade mountain ranges. The previous May, she had set the world abuzz as the first woman aviator to fly nonstop across the Atlantic. Braving wind shear, icing and mechanical issues, she completed a 15 hour flight, landing in a grassy pasture in Culmore, Northern Ireland. Her first encounter on land, a farmer asked, "Have you flown far? And Amelia answered famously: "From America." At 5'8'' and 118 pounds she had a model's build that obscured her tomboy background. Growing up she loved playing basketball at St. Paul Central. She moved from Des Moines to St. Paul as a teenager and told friends that she learned how to speak "Minnesotan" very quickly. She spent her time outdoors -- sledding, hunting, climbing trees and looking for the next adventure.
This rare publicity footage
captured shortly before her last flight displays her preference for suits instead of flight togs. At the same time, she scrambles off the wing and deftly strikes professional promotional poses nearby. In deference to the cameras, Amelia would only don her flight goggles with engines running during taxi.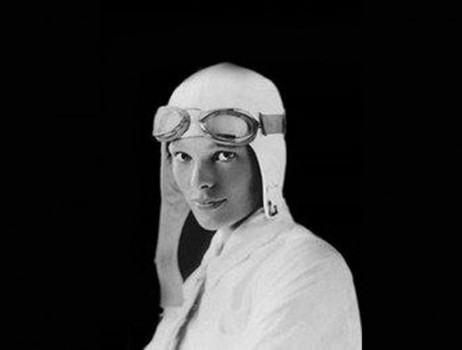 Her friend at Northwest was Croil Hunter, Casselton North Dakota-native and new traffic manager charged with charting new commercial routes and securing new airmail contracts to keep the carrier afloat. At the time Northwest was a fledgling regional carrier that could barely make ends meet. Watching Amelia in two ticker tape parades and hobnobbing with First Lady Eleanor Roosevelt, movie star Mary Pickford and Charles Lindbergh -- gave him pause. She drew publicity wherever she went. Her first impression was so strong that acquaintances would name babies, pets and even lakes after her. If Hunter could hire Amelia as a Northwest consultant, she could open doors for new business in Washington D.C. -- and elevate the upstart carrier's profile. Even into modern times, Northwest executives took great pride in the marketing line that "we fly to cold and dark places." Hunter was convinced that Northwest could make money flying a northern intercontinental route from Minneapolis-St. Paul, transiting Bismarck ND, Billings MT, Spokane and reaching Seattle. A commercial aircraft had never made such a crossing before. Hunter made his pitch and convinced Earhart to join him in this daring flight effort. Their Ford Trimotor aircraft left the Twin Cities, in the throes of winter on January 28, 1933. Amelia joined one of Northwest's best pilots, Captain Hugh Rueschenberg and up and coming young co-pilot Joe Kimm, who had recently been promoted from flight steward to the right seat. The flight legs from MSP to Bismarck and then on to Billings went smoothly under sunny flying conditions. As morning broke the next day at the foot of the Rockies, co-pilot Kimm acknowledged: (Captain Kimm was interviewed by Northwest (NWA) History Centre)
"Then came the dicey part of the flight. Up to now we had been blessed with beautiful sunny but cold weather. We encountered numerous snow squalls shortly after takeoff from Helena. Flying VFR (visual flight method) we carefully made our way to Mullan Pass in Idaho, the lowest point across the Great Divide. It was impossible to proceed farther, the clouds obscured the mountains and we had no idea what was on the other side. But, to give up now would have doomed the venture."
Talk about a white-knuckle flight? Kimm continued:
"(Captain) Hugh Rueschenberg was not one to give up. He made his way back to Missoula and climbed up and flew through a gap in the mountains north of town. In essence, without being aware of it, he had crossed the Great Divide. We found ourselves over the Clark Fork River that originates from Idaho's Lake Pend Oreille. We followed the river, then turned southward and arrived in Spokane tired but happy."
A testament to Earhart's fortitude, she barely peeked her head into the cockpit during this ground-breaking adventure. And conditions were harrowing at times. Traversing the mountains caused such icy conditions, that Kimm admitted the pilots urinated in a can and used it as crude deicing fluid. When they arrived in Spokane there was no welcoming reception. Kimm recalls:
"No one was expecting us. They didn't know we were around. So I went down to the Davenport Hotel to see about some rooms. I told the clerk we had a special guest along and we wanted something extra nice for her. He said he had a suite available – two bedrooms, a living room, a dining room and a bath for $75. I took it. When Croil Hunter saw it he said something to the effect "Hey, we're going to have a party." And we did. Just the six of us. Beverages and a big turkey dinner. I remember we started with Olympia oyster cocktails with hot sauce. I'd never seen an oyster before much less tasted one. It was quite an evening. We'd made it to Spokane. I took a picture of Amelia with my little Brownie camera, I still have it."
This wasn't the first time that Amelia displayed fearless confidence as a passenger. She was the first woman to cross the Atlantic as a passenger in June 1928. It is hard to imagine such a rare combination of bravery as a pilot and passenger.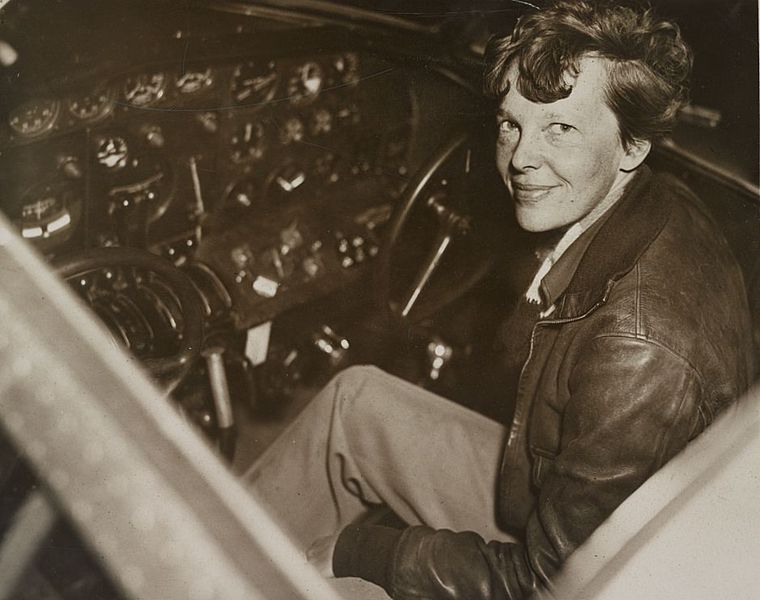 Following the Northwest feat, Amelia would garner seven aviation speed records and then effortlessly achieved the first solo flight between Honolulu and Oakland in 1935. The acknowledged "Queen of the Air" started formulating plans for her most ambitious adventure yet: a World Flight that would circumnavigate the globe at its Equator. At the same time that she was providing technical expertise for Northwest's launch order of the Lockheed Electra model 10, the manufacturer was building a customized version of the same plane for Amelia's World Flight. Starting in Oakland on May 20, 1936, Earhart and her acclaimed navigator Fred Noonan completed 30 flight legs and more than 22,000 miles of the scheduled 27,000 mile journey. On July 2nd, their flight departed from Lae, New Guinea, destined for a narrow strip of island atoll, called Howland Island. The trip was 800 miles and the island's surface was barely a mile long and 1600 feet wide. The U.S Coast Guard cutter Itasca was waiting to provide radio and landing coordinate support. During Earhart and Noonan's descent to Howland Island, the Itasca received clear, distinct transmissions but Earhart could not hear their replies. At 7:42 a.m. she transmitted:
"We must be on you, but cannot see you — but gas is running low. Have been unable to reach you by radio. We are flying at 1,000 feet."
In her last transmission at 8:43 a.m. Earhart announced:
"We are on the line 157 337. We will repeat this message. We will repeat this on 6210 kilocycles. Wait." Then, "We are running on line north and south."
The crew of the Itasca felt that Earhart and Noonan were very close. Although the ship fired its oil boilers to billow smoke signals, the fliers were not seen and never found alive. At the time, the $4 million search by the Navy and Coast Guard was the largest effort ever undertaken. In a twist of irony, the latest and most advanced search methodology being used for missing Malaysia 370 finds ships and submersibles searching a similar north-south coordinate line in the Indian Ocean.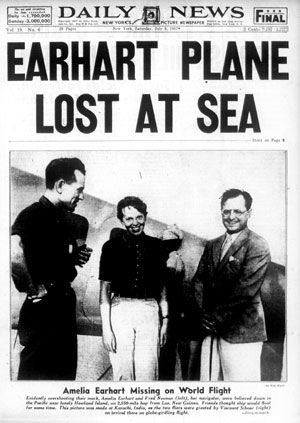 The most recent TIGHAR Earhart expedition has not revealed any new evidence in Amelia's disappearance. The group believes that her aircraft is located on a rugged sea slope in 600 feet of water, west of Nikumaroro Atoll in the Phoenix Islands. Unfortunately, this summer's mission was plagued by operational difficulties as the submersible submarine broke down, and could not be repaired to explore that sea wall. Experts are skeptical of the piece of sheet metal (rivets do not match those on the Electra), jars and knife previously uncovered by TIGHAR. The aircraft wreckage is the missing piece of the puzzle. While the decades old Earhart mystery has not been solved definitively, the NWA History Centre did provide new evidence of Amelia's unprecedented daring and enduring connections to Minnesota. To explore and recreate your own Northwest stories like these, visit the NWA History Centre at 8011 34th Avenue South Suite C26, in Bloomington, Minnesota. Hours are 11:00 a.m. to 5:00 p.m. Monday through Friday and 9:00 a.m. until 1:00 p.m. on Saturdays.
Learn more at their site
.
"Courage is the price that life exacts for granting peace...." Amelia Earhart
Images courtesy of: Wikipedia Commons
Retired after 31 years in marketing with United and Northwest Airlines, Tony has been published by MinnPost, Minnesota Connected, Air Cargo News, The Forward, CNS Air Cargo Focus, TC Daily Planet and the Rake. He has won a Silver Addy award in Advertising and launched United Cargo's Friendly Skies ad campaign in 2014.