Did Minneapolis Organized Crime Steal My Bike? (And How You Can Protect Yours)
Posted by Tony Randgaard on Monday, November 11, 2019 at 12:00 AM
By Tony Randgaard / November 11, 2019
Comment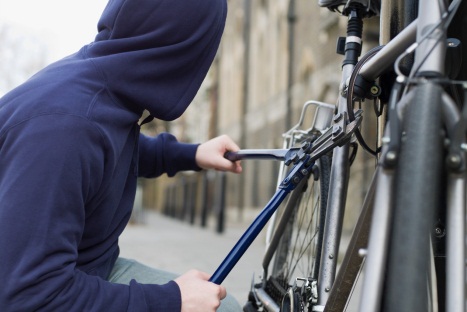 It wasn't my first rodeo. I grew up in the City and earned my street smarts at now- shuttered Minneapolis Central High School. While Prince was also being burnished by the inner city, I was playing hoops with him every day at Bryant Junior High. So there was no way I was going to park and lock up my bike at tree-shrouded McRae Park and catch the bus to the State Fair. Instead, I locked my "Pee Wee Herman" Schwinn cruiser in the driveway of a bank, in the line of their security cameras on 47th and Chicago.
By early evening the next day, my prized one speed had vanished without a trace. In awe of a crime occurring right in the parking lot of a bank, I walked for blocks hoping that I had forgotten where I parked it. I hadn't.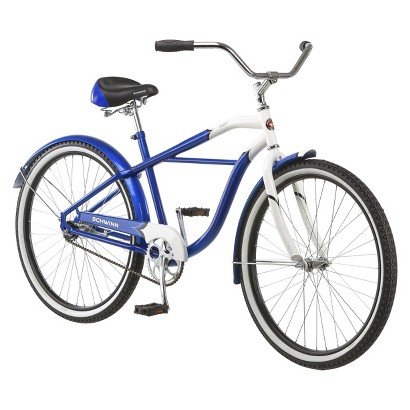 The bank was gracious enough to review its surveillance video and fill in the story:
"On August 28th at 12:42 p.m., a Chevy pickup drives south on Chicago Avenue, pulls into the bank's driveway and parks next to the bike. The driver gets out, cuts the chain lock and puts the bike in the back of the truck. Then he drives north on Chicago Avenue and turns right onto Eastbound 47th Street."
The security officer added that the suspect is an older man and they captured clear images of both sides of the truck. But the key bad news was that the video was grainy and he could not make out the license plate number. Uggh. So much for a quick Hollywood-style apprehension.
Reconnaissance
To be honest, if some kid had snatched my bike, I wouldn't have lost any sleep over it. My Schwinn Legacy Cruiser looked a lot better than it rode. But the fact that the crime appeared to be well-organized and was executed in broad daylight seemed outrageous. I was angry and retired with time on my hands—a dangerous combination. I wasn't going to let this thing go easily.
I recalled an excellent Star Tribune article about surging bike thefts in the Twin Cities and got myself up to speed with the trends. The article's map of almost 4300 Minneapolis bike thefts since 2017 was startling. No nook or cranny of the city escaped the splatter of an epidemic of bike thefts. And even more ominously, that deluge of dots represented reported thefts only. A significant percentage of victims simply do not take the time to open a police report. Further, the impression I drew from the map was the big business of bicycle theft.
I found another disturbing article by KQED Television, the NPR affiliate in San Francisco. Their investigation pointed to a growing organized crime aspect in the bicycle business. KQED noted that thieves were becoming more sophisticated. Not only were they using power tools, they were employing trucks, and storing multiple bikes for sale online — or in other cities. They reported that bikes being stolen in the Bay Area were popping up in Los Angeles or Portland.
Action Plan
It was clear I would not be able to garner surveillance footage without an active police report. Moreover, I was determined to talk to the police directly and not simply record something online that could be ignored. I located a series of phone contacts in the 3rd Precinct and filed my report with a dispatch officer who was very helpful. He was frank that for a Property Crimes officer to follow up, some type of evidence would be critical. He stated that due to the sheer volume of incidents, it was extremely difficult for officers to spend much time on a bike theft. I was up against long odds if the stolen bike market was as prolific as it looked.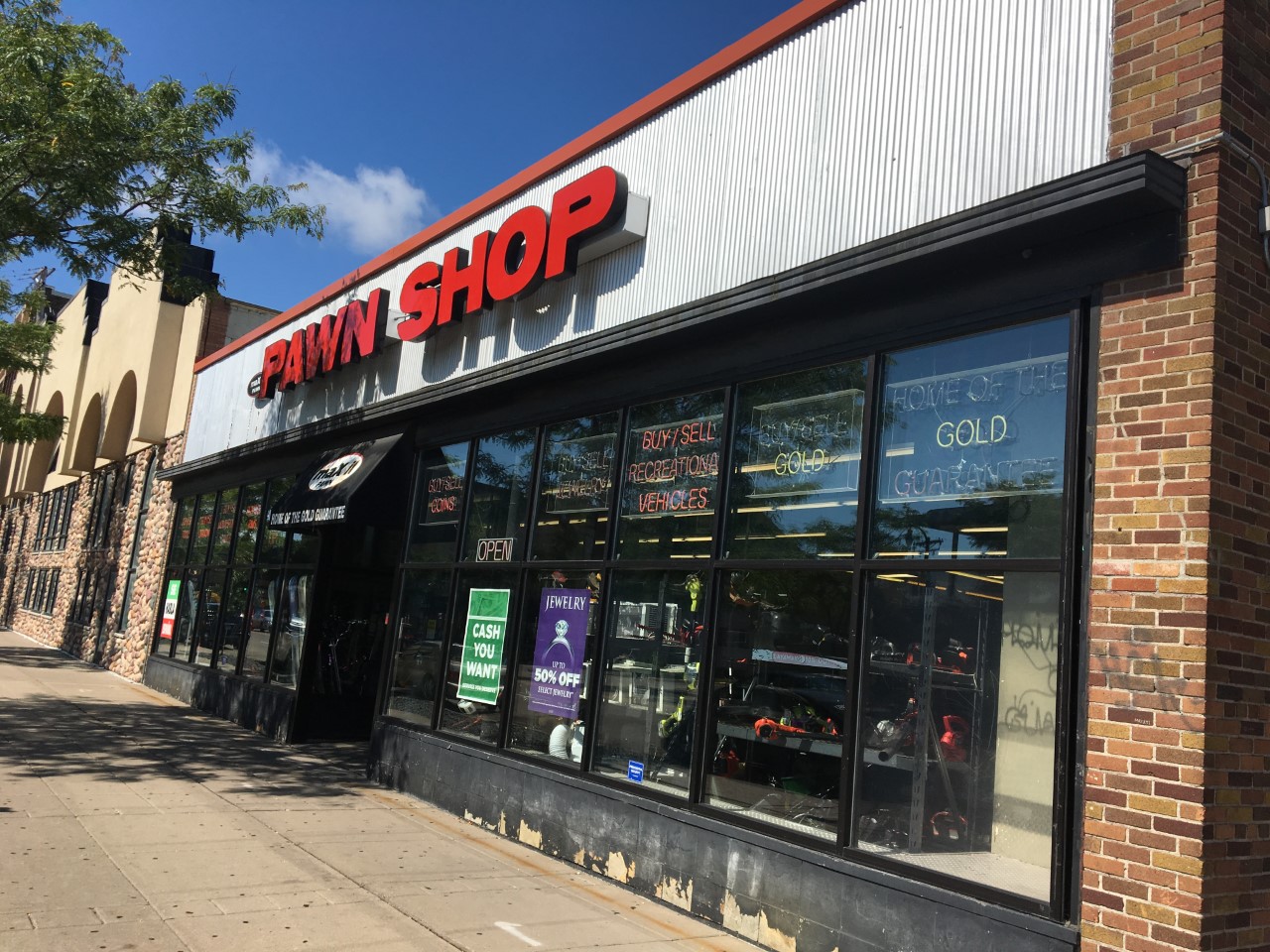 While accessing expert advice online, I learned that stolen bikes often turn up at pawn shops or on Craigslist. I used Google maps to see what the pawn shop market looked like in my area. Well, not too bad. There were only 5 pawn shops in a 5 mile radius. Since my bike was not worth thousands of dollars, I felt that it wouldn't make sense for the thieves to go very far with it. I made a flyer with a photo of the bike, the police report number and precinct contact and headed to the streets. After stopping into 5 pawn shops, the results were surprising. Only one, Cash N Pawn on East Lake Street did any trade in bicycles. That store had significant inventory on hand and there were bikes being offloaded from a rusty van as I walked in. (see photo) I located the store's supervisor and introduced myself. When I told him about the theft and displayed the flyer, he immediately shut me down. "We don't take flyers. We only work with the police department directly."
I pressed on, "Would you take a look at the flyer in case it comes in?" He refused.
After a few more pawn stops on Lake Street, it started to make sense. If the Twin Cities are awash in valuable hot bikes, why would a pawn shop pay hundreds of dollars for a bike only to have the bike identified by serial number as stolen? They would be forced to turn over the bike with the loss of their total investment. While it was instructive to observe firsthand how the pawn shops operated, the road trip did not provide any solid leads-- and extinguished any hope that posting flyers would be useful.
When I returned home, I started the first of what became regular searches of Craigslist. In contrast to the pawn stores, there was very large inventory of Schwinn cruisers being sold there. Some of the bikes had me doing a double take and then scrolling through all the photos. But alas, the bikes did not have the identifying marks I was looking for.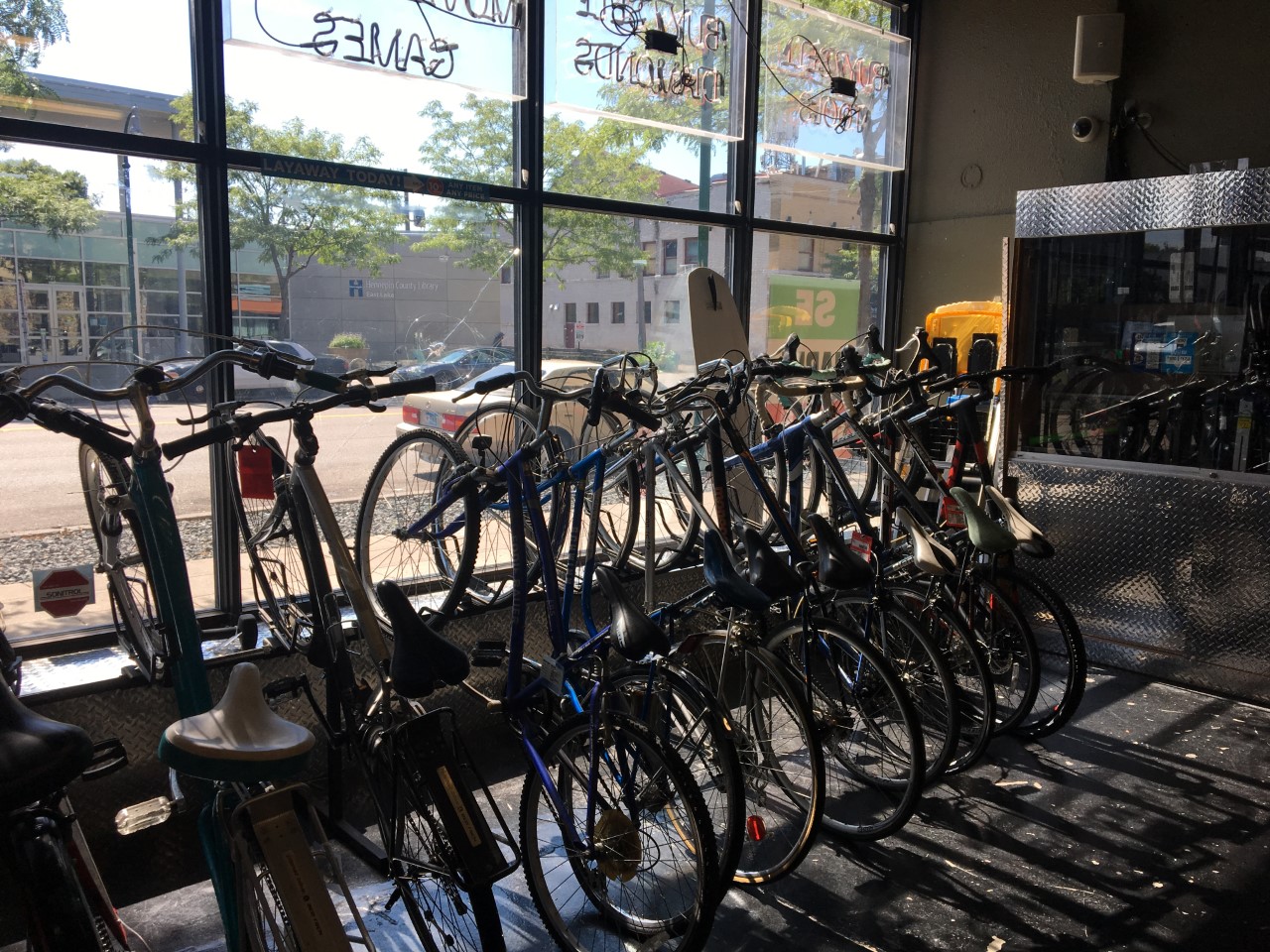 My next step was to request the bank video from the cameras that I parked near. As I noted there was some valuable information in that video but no smoking gun. I mean I had the exact time of the crime, the vehicle and rough description of the suspect.
What would Columbo do here?
That's easy. I returned to the scene of the crime to see if there were more cameras to add evidence to the cause. That section of Chicago Avenue is bustling with boutique businesses, bars and restaurants. Strolling north on Chicago at 48th Street, I passed Town Hall Tap, Pizza Hut, Turtle Bread and some other small businesses. I didn't spot any cameras but when I reached the bank parking lot a flash of metal caught my eye. When I kneeled down at the point where the bike was taken, there was a very odd circular metal plate on a different bank directly across the street. In fact the plate could not have been lined up any better, a direct line to me, following the bank's driveway. Why would a bank have such a strange reflective plate mounted on the building? Could it be? Ha, maybe another video surveillance option?
Enlisting More Support
As a writer who does a lot of research, it didn't take long for me to secure the second bank manager's contact number. I had the exact time of the crime and a police report so I sent the manager e-mails asking if they could check their cameras for 12:42 p.m. and advise the 3rd Precinct (or me) if the pickup had been captured on it. I wasn't all that surprised when there was no response over several days.
At the same time, I worked the push-pull method and began calling the 3rd Precinct to advise them that the bank wanted to turn over the surveillance video file to them. (The bank would not give the video to me.) I found their Property Crimes officers' direct lines and went down the line phoning them, getting voicemail and then leaving the information about the surveillance video, the police report number and my contact number. To this day, no one has called me back.
Across town, I was very impressed with the response that I received from the University of Minnesota Police. U of M Assistant Director of Public Relations, Lacey Nygard replied to my e-mail in minutes. I was very interested to learn more about their successful Bike Bait program. The U of M Police place decoy bicycles around campus, wired with real time GPS connected to police dispatch.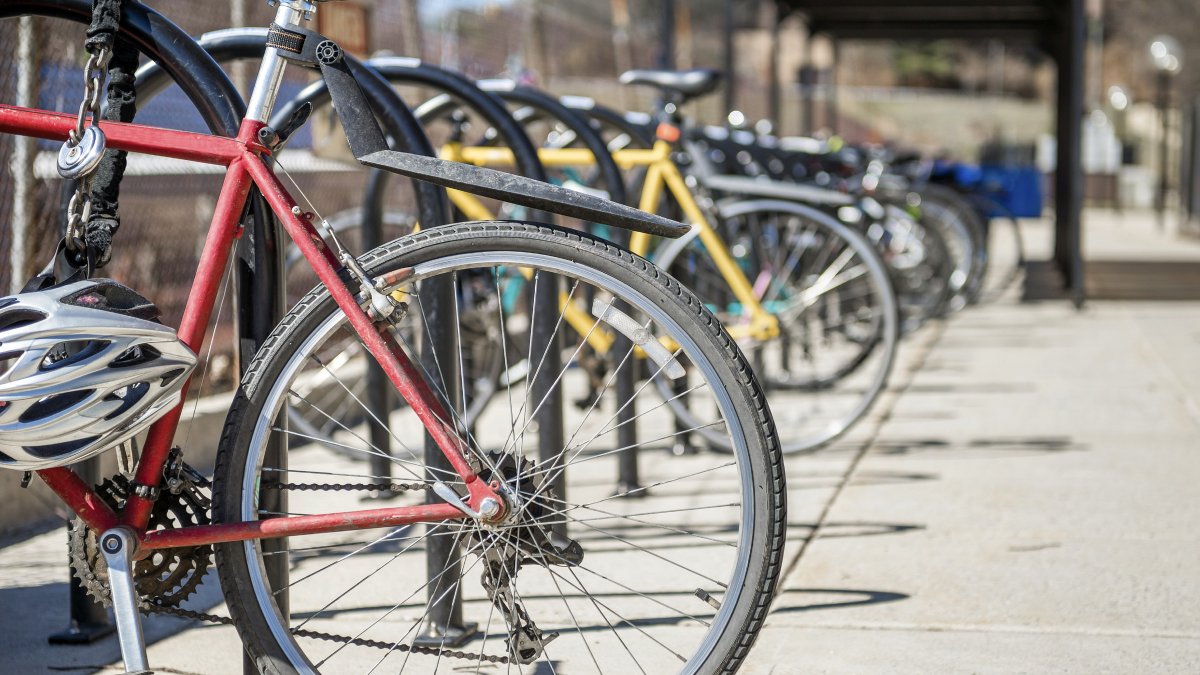 "We have noticed an increase in thefts and we continue to work on new innovative ways to combat it on campus, just like we did with the launch of the bait bike program," Nygard said. She explained that arrests occur in minutes and that the program is scalable to a large number of bait bikes, based on need.
WCCO reported that the program snared 30 arrests last year and a key point was that the thieves were not students. Indeed, many of the culprits had existing rap sheets for burglary or drug possession.
Tapping Bloomington Expertise
During my search, I received a tip to talk with a retired Special Ops Commander from the Bloomington Police Department. Mark Stehlik was known as one of the "bike guys" on the force because of his passion for cycling. In more than 25 years on the force, he encountered bike thefts on the street and while running special operations. When we chatted, that love of cycling was all around him. He was in his garage and he counted 13 bikes hanging and stacked nearby. One of the first points he made was that a bike theft is extremely low on the priority list for a Property Crimes investigator. Boy, he got that right.
In contrast to what I was finding in Minneapolis, Stehlik said that the majority of Bloomington thefts were crimes of opportunity such as a thief taking advantage of "an open garage door or bike left in the driveway."
Tapping his experience, he cited one key tactic for bike enthusiasts: "If you care about your bike, do not leave it in a detached garage. It is just too easy for criminals to boot in a service entrance door."
He added, "Be very careful where you park and opt for a U lock instead of any of the cable or chain varieties."
In my case he offered two additional resources to help me find my bike: a Facebook group called "TwinCitiesStolenBikes"; and their affiliated web-site resource: (http://mplsbikelove.com/twin-cities-stolen-bikes)
Last Call
It was the call I was waiting for! Not only did I not get voicemail, my call was answered by the bank manager immediately. Yes, she had seen my e-mails and the police report information. I described how her driveway pours directly into the scene of the crime. And then asked nervously, "Were you able to check your cameras for 12:42 p.m. on August 28th?"
"No, I am sorry Tony. We do not have any cameras facing down that driveway."
My hopes sank with a thud. That invisible driveway might also signify the end of the road for my search. There were no other options for me to pursue in the neighborhood.
Hope for the Future
While the prospects for finding my bike were fading like the November sunshine, my conversation with the U of M led me to new and emerging technology that may flip the bicycle theft trade onto its head. While the U of M is employing GPS decoys, the Ohio State University has moved prevention to a new frontier. The university developed a cutting-edge program called Bug Your Bike that installs RFID chips (in the frame of the bike) and registers students' bikes (serial numbers, descriptions) online. The school reported that Bug Your Bike has recovered stolen bicycles and that students are very positive about it. The numbers prove that out as more than 3000 students have registered. Talk about a great deterrent for thefts! As a result of the success of the program, Bug Your Bike has recently been expanded to full citywide coverage in Columbus, Ohio. The program partners-- City of Columbus and the Central Ohio Transit Authority mean that the RFID bugs can be tracked just about everywhere in the area.
Well that was a quite a journey. The good news is that I now have a new, better Trek bike to cruise around the city. The old Schwinn seems like a distant memory now. Of course, I did take Mark Stehlik's advice and buy a state of the art U lock and I don't park my bike overnight any longer. And maybe there is a silver lining ahead. Next up on my white board: Peppering the Mayor and the U of M with calls to get their own Bug a Bike programs! As they say, idle hands are the devil's workshop….