'Doomtree' are back for Doomtree Blowout XI @ First Avenue
Posted by PJ Mudd on Wednesday, October 30, 2013 at 12:00 AM
By PJ Mudd / October 30, 2013
Comment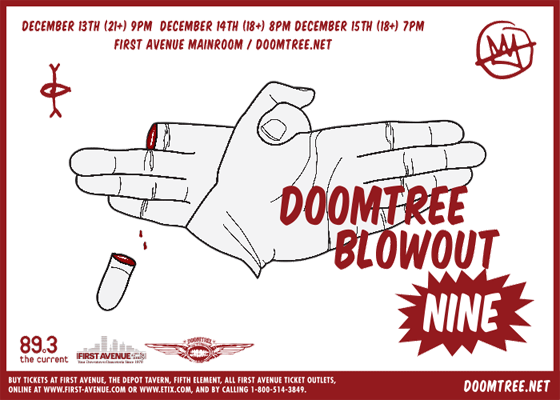 Friday December 13th, Saturday December 14th, and Sunday December 15th, Doomtree will return to First Avenue for their annual Doomtree Blowout.  This year marks the 9th year of the Minnesota rap collective's get together and tickets officially go on sale to the public, Friday at 12:00pm CST. However, if you're a subscriber to Doomtree's newsletter you already have early access to tickets.
New this year is the availability of a 3-day pass if you can't decide which night to attend and would rather attend all three nights.  If you'd like to save some money on ticket fees, meet the group, and grab a beer during the Viking's game, well you're in luck.  Sunday from 2:00PM - 4:00PM, the group will be selling tickets at The Depot Tavern, which is located right next door to First Avenue.
I've seen Doomtree a few times, and they always put on a great show with tons of energy, but I have yet to attend the Blowout.  I'm looking forward to making number nine my first time (I'm going Friday).
Photo via: Doomtree Newsletter