Edina's Mardy Fish Retires from Professional Tennis
Posted by Travis Bridell on Friday, September 11, 2015 at 12:00 AM
By Travis Bridell / September 11, 2015
Comment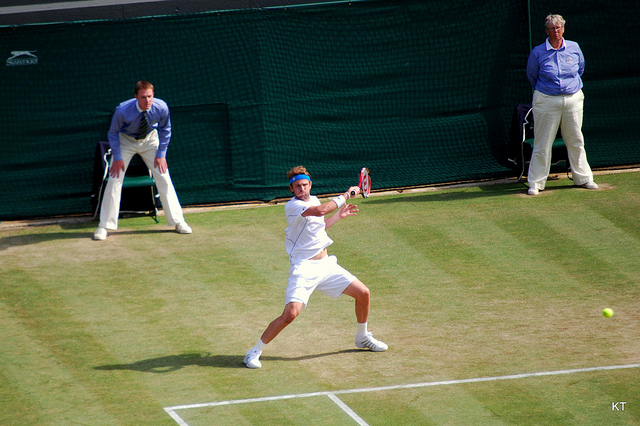 Wednesday at the U.S. Open in Flushing Meadows, New York, the world said goodbye to Mardy Fish as a professional tennis player. Minnesota tennis fans were especially affected by Fish's decision because of his upbringing in the area. Fish grew up in Edina and learned to play tennis in Minnesota before moving to Boca Raton, Florida for his last few years of high school. He is an avid Minnesota Vikings fan (even
blowing the Gjallarhorn
in 2008). In the first round of this year's U.S. Open, Fish was able to hold off young Italian Marco Cecchinato in four sets, 6-7, 6-3, 6-1, 6-3 for his first win since 2013. The 6-foot-2 righty played his final match in a five-set loss to 18th seed Spanish Feliciano Lopez.
"I worked as hard as I could," Fish, 33, said. "That was all I had."
Although Fish fell in his first five-set match since 2012 partially due to cramping from the extreme heat, (6-2, 3-6, 6-1, 5-7, 3-6), he was able to make a strong statement for those who suffer from anxiety. Formerly the top-ranked American, passing his friend Andy Roddick, and the seventh ranked player in the world, Fish was forced to go on hiatus after suffering severe anxiety attacks that kept him from playing Roger Federer in the 2012 U.S. Open. In a post for the Players' Tribune, Fish
recalls
some of the feelings he experienced due to his anxiety.
"I am hours away from playing the match that you work for, that you sacrifice for, for an entire career," Fish writes, "And I can't do it."
Fish made his first appearance as a professional in 2000 playing on the Challenger and Futures circuits and played doubles with Roddick during his first win on the ATP Tour in 2002. He was able to rack up over $7 million in career earnings, according to
ESPN
, with $1.8 million coming in 2011. That was when Fish hit his prime after he shed 30 pounds of weight, trained harder and moved up to the seventh spot in the world that August. His anxiety heightened and eventually Fish had heart arrhythmia as well that led to his peak performance being cut short.
"I don't think that's my legacy, the player with the mental health stuff," Fish told USA Today, "But if I can help one or 10 or 100 people, if they can draw from my story, then that's worth it to me."
Fish retires with 301 singles wins, but he also proved that weakness isn't something to be ashamed of, nor can it keep you from doing the things you love.
"This is a story about how, with the right education, and conversation, and treatment, and mindset," Fish writes, "The things that mental illness takes away from us — we can take them back."
From most (like 
this fan
), you deserve a thank you Mardy Fish, and enjoy your retirement. Photo courtesy of: 
Carine06