Extra Security Set For Final Metrodome Football Game
Posted by Matthew Deery on Monday, December 23, 2013 at 12:00 AM
By Matthew Deery / December 23, 2013
Comment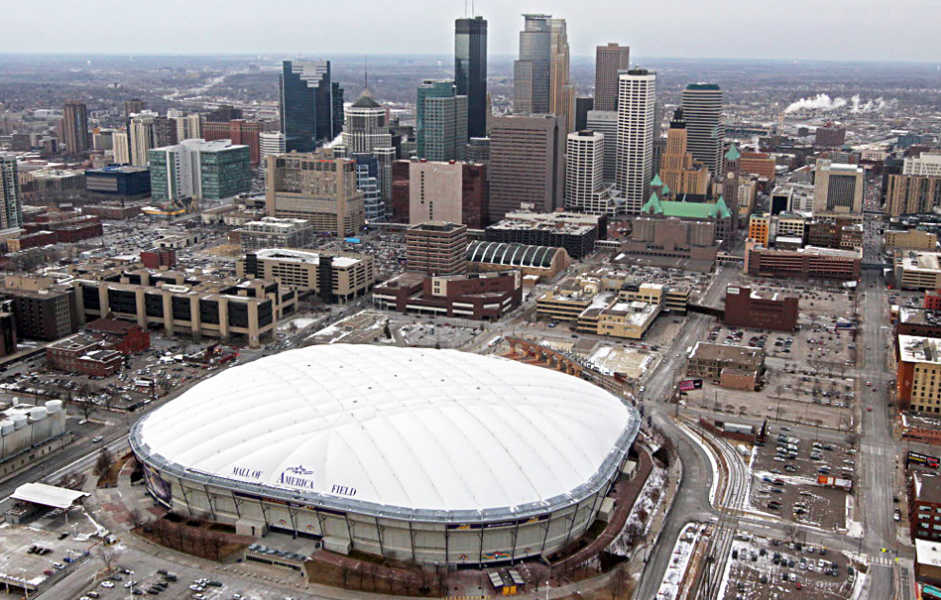 When the Vikings played their final game at Metropolitan Stadium on December 20, 1981, the stadium personnel faced a riot crowd ready to steal whatever they could to get their hands on so they could cherish the Met after it was gone. Nine people were arrested as a horde stormed the field, tore down the goal posts, ripped out end zone speakers, and even broke off pieces of the scoreboard. Metrodome authorities are determined to prevent that from happening again, so for this Sunday's final Vikings game under the dome ever, extra security will be on hand to keep looters at bay. UPDATE:
The blue Metrodome seats are now on sale
-- no need to try and rip one out of the foundation. In contrast to a typical game, there will be twice as many officers and security personnel on hand for the Metrodome finale this Sunday. Fans are not allowed to bring any Metrodome pieces home with them, though surely, it won't stop people from trying. Many have grown up with this venue, and bringing home a keepsake is something many feel entitled to. "All told, we're looking at close to 700 security representatives within the building," Vikings spokesman Jeff Anderson
said
. "We don't expect any issues, but we want this to be a memorable game for our fans, and we want to do it in a safe and respectful way."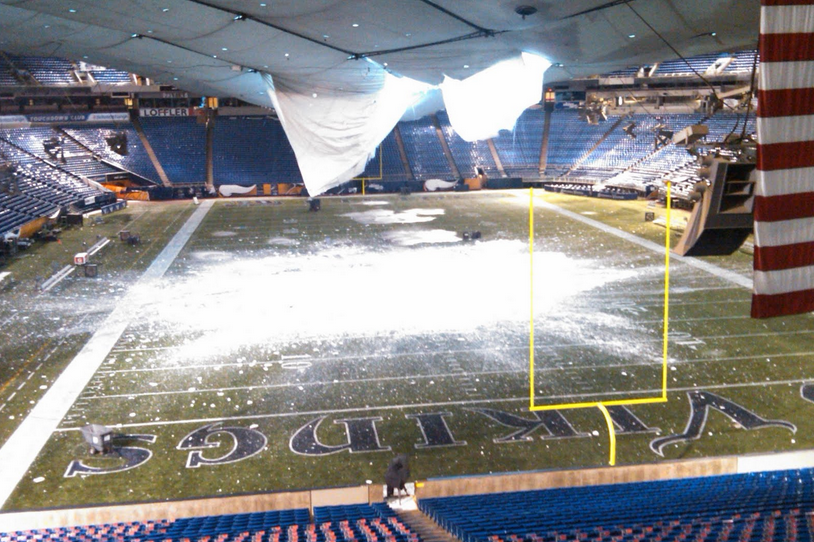 Though fans cannot steal anything, they will be
given
a commemorative pennant of the Metrodome as they walk into the final game versus the reeling Detroit Lions. The extra security should make a big difference, but also consider this: Metropolitan Stadium hosted Vikings teams of greatness, teams who won NFC Championships and went on to Super Bowls (though they never won those contests), the Metrodome has hosted teams of greatness, but nothing but losers in the end. Fans wanted pieces of Metropolitan Stadium because championship football was played there, memories were made on the field. While undoubtedly football memories were made at the Metrodome, no championship football was played, and the venue hosts more sour memories than cherished ones. The Vikings have never won a NFC Championship while playing at the Metrodome, and I'll be glad once it's gone. The team needs a fresh start away from that decrepit stadium. Thankfully the Twins built some great, championship memories in the Metrodome, because the Vikings sure never did. Photos via: Star Tribune