Fate and Luck: The Incredible Mr. Hillary
Posted by Tony Randgaard on Saturday, September 24, 2016 at 12:00 AM
By Tony Randgaard / September 24, 2016
Comment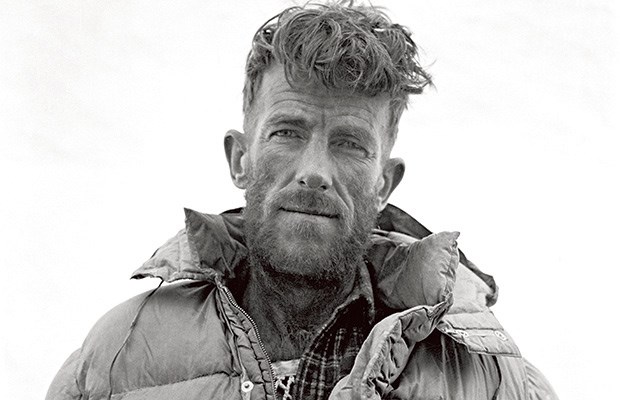 Ed Hillary and Tenzing Norgay were the Lebron and Steph Curry of mountaineering -- yet all they could do was wait. They were holed up in a small tent on the South Col of Mount Everest while the 'varsity' team of two climbers was aggressively attacking the last 2,000 vertical feet above them. Their colleagues would become the first climbers to summit Everest, the world's highest and most unreachable peak. In contrast to other climbers, Hillary and Tenzing were imposing physical specimens. Hillary was 6 foot 5 inches of lean, sinewy muscle and abounding energy. Norgay was larger than other Sherpas and his elite acclimatization to altitude enabled him to climb near the summit two times recently. Norgay sat cross-legged in the small tent with a three-foot flame from the camp stove shooting up between his legs, while the others slept. A similar fire may have burned inside him. He had a score to settle with Everest. At 3:30 p.m. the first assault team of Charles Evans and Tom Bourdillon stumbled back into the South Col campsite — weary and beaten. According to Hillary's official autobiography
Reaching The Summit
by Alexa Johnston, they ran out of time and oxygen to reach the summit. Now the stage was cleared for Hillary and Norgay. Together with a support team of three other climbers, the group hauled hundreds of pounds of supplies upward, fifteen hundred feet to the next encampment at 27,900 feet. Then the supply group descended, leaving Hillary and Norgay alone to scrape off sleeping space on a rocky shelf only 6 feet wide. A sheer cliff fell around them. Now they would settle into what John Krakauer called the 'Death Zone' where the human body sheds muscle and organs begin to systematically fail. They managed four hours sleep and woke up freezing at 4:00 a.m. to a sunny morning and 26° F below zero. By 9 a.m. they had ploughed their way through crusty snow to the South Summit with hundreds of feet of sheer rock ridge still looming above them. To attack a rock face with snow axes and crampons would be exceedingly dangerous and could exhaust what little oxygen they had left. Hillary noticed a V-shaped gap between the rock ledge and the snow cornice falling away from it, took about 36 feet of rope and wedged himself into it. By grasping the rock step above him and pressing his boots in the snow behind, he was able to shimmy his way up and beyond this cliff.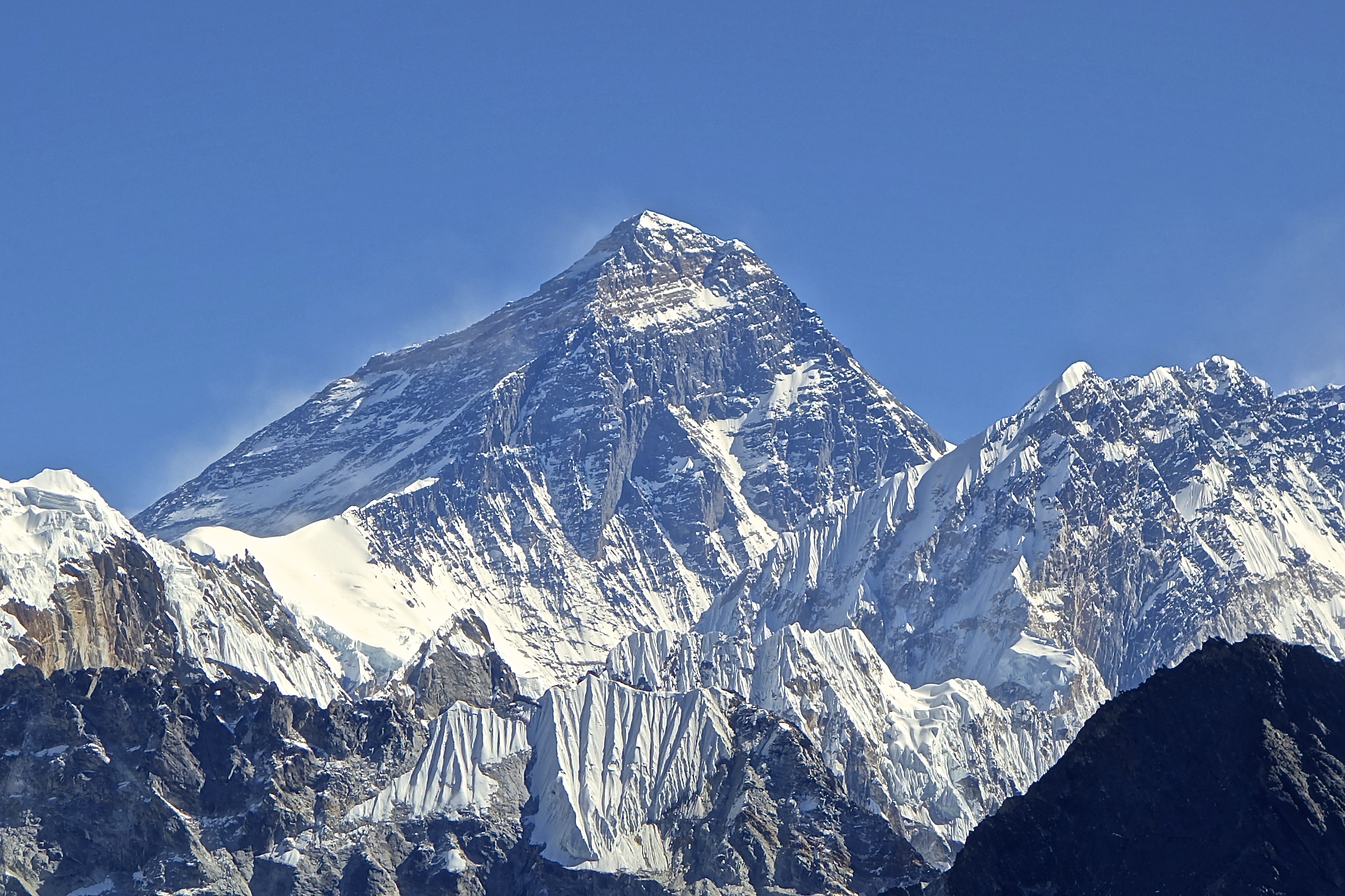 When he emerged on the other end, there was glorious packed snow and an inviting ramp to immortality. He pulled the rope tight again and helped Norgay traverse what would go down in history as the Hillary Step. A few more steps and they reached the summit of Mount Everest on May 29, 1953. They commemorated the event with a few photos of the vista and by burying a crucifix and some candy. Here is some
great historical footage
about the achievement. Later Ed Hillary admitted:
"We didn't feel that we had conquered Everest, we felt that Everest had relented."
The timing of the achievement could not have been better. Hillary, Norgay and their expedition leader John Hunt were delivering the amazing feat in lockstep with the coronation of the new Queen Elizabeth II in England. In short order Ed Hillary was knighted as Sir Edmund Hillary and became a worldwide sensation.
Cliff Notes Today
A look back at Ed Hillary's life from our perspective is nothing short of amazing. There are switchbacks, leaps and potholes that are dizzying. I ran across this vintage Massey Ferguson tractor at the State Fair, a coincidence that leads us right into Hillary's next adventure.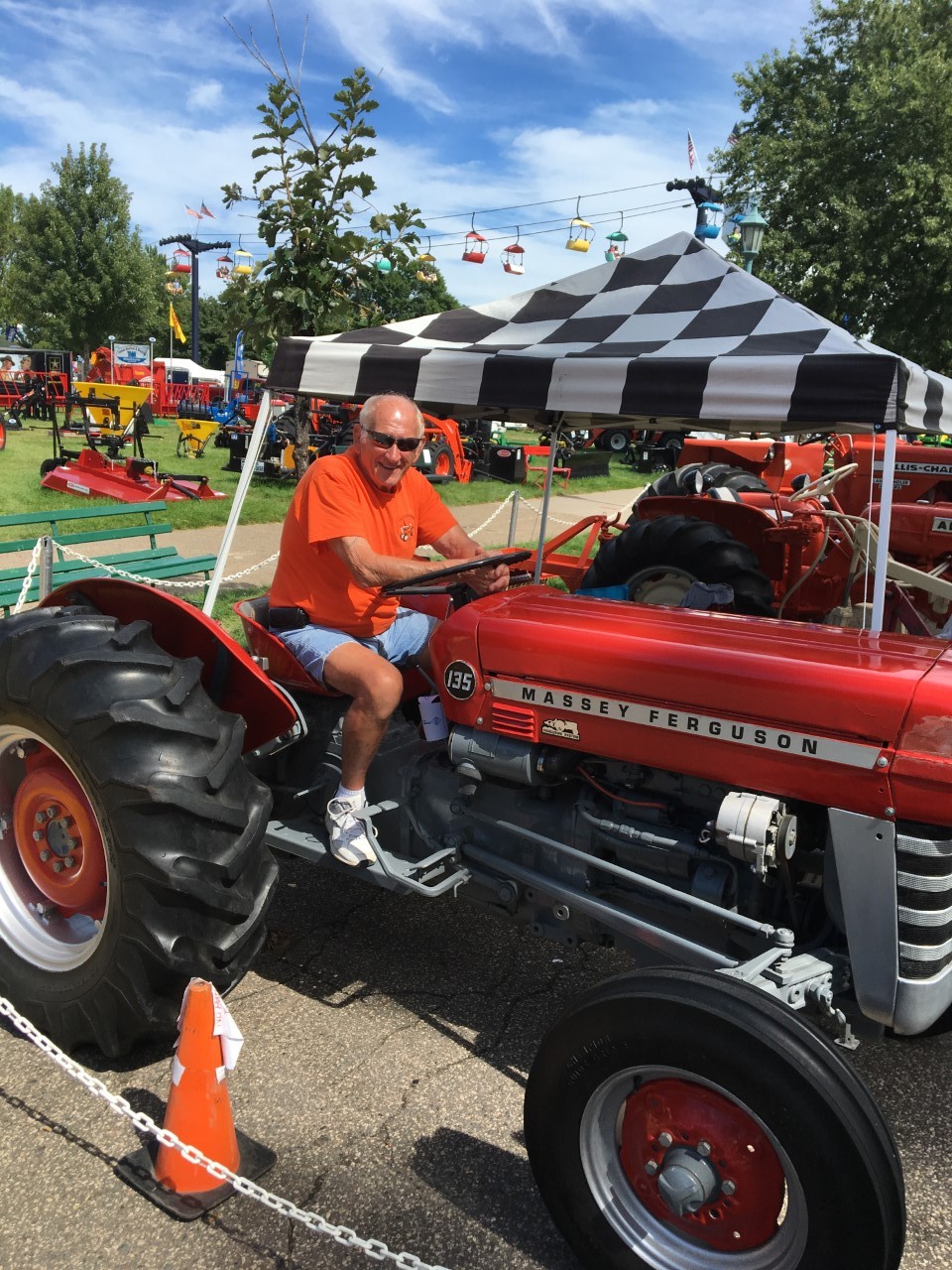 The bright idea was to travel thousands of miles on a modified Ferguson tractor — to the South Pole. You may have read recently about the Twin Otter aircraft that flew 9 hours in pitch darkness from Rothera, Antarctica to the South Pole and successfully evacuated two sick scientists. Back in 1955, there was no way out in a land of 100 below zero temperatures and hidden crevasses that fell off into oblivion.
On To The South Pole
After a failed bid in 1955 to scale another Himalayan peak, Ed set his sights on the next grand expedition — an overland journey to the South Pole. Dr. Vivian "Bunny" Fuchs was spearheading Great Britain's effort. The last similar British effort (to reach the pole) had resulted in the deaths of Robert Scott's entire party in 1912. This time Fuchs prodigious ambition was not just to reach the pole but to cross Antarctica from west to east. By enlisting Hillary and his celebrity, Fuchs hoped to garner New Zealand government support as well. When they met in London to discuss the adventure, Hillary was sold. He would be following the footsteps of his heroes Ernest Shackleton and Scott. Ed agreed to promote the venture and build food and fuel depots from the opposite coast of Antarctica nearly to the pole. These would support Fuchs party on the last legs of what would become the Commonwealth Transarctic Expedition. [caption id="attachment_121777" align="aligncenter" width="550"]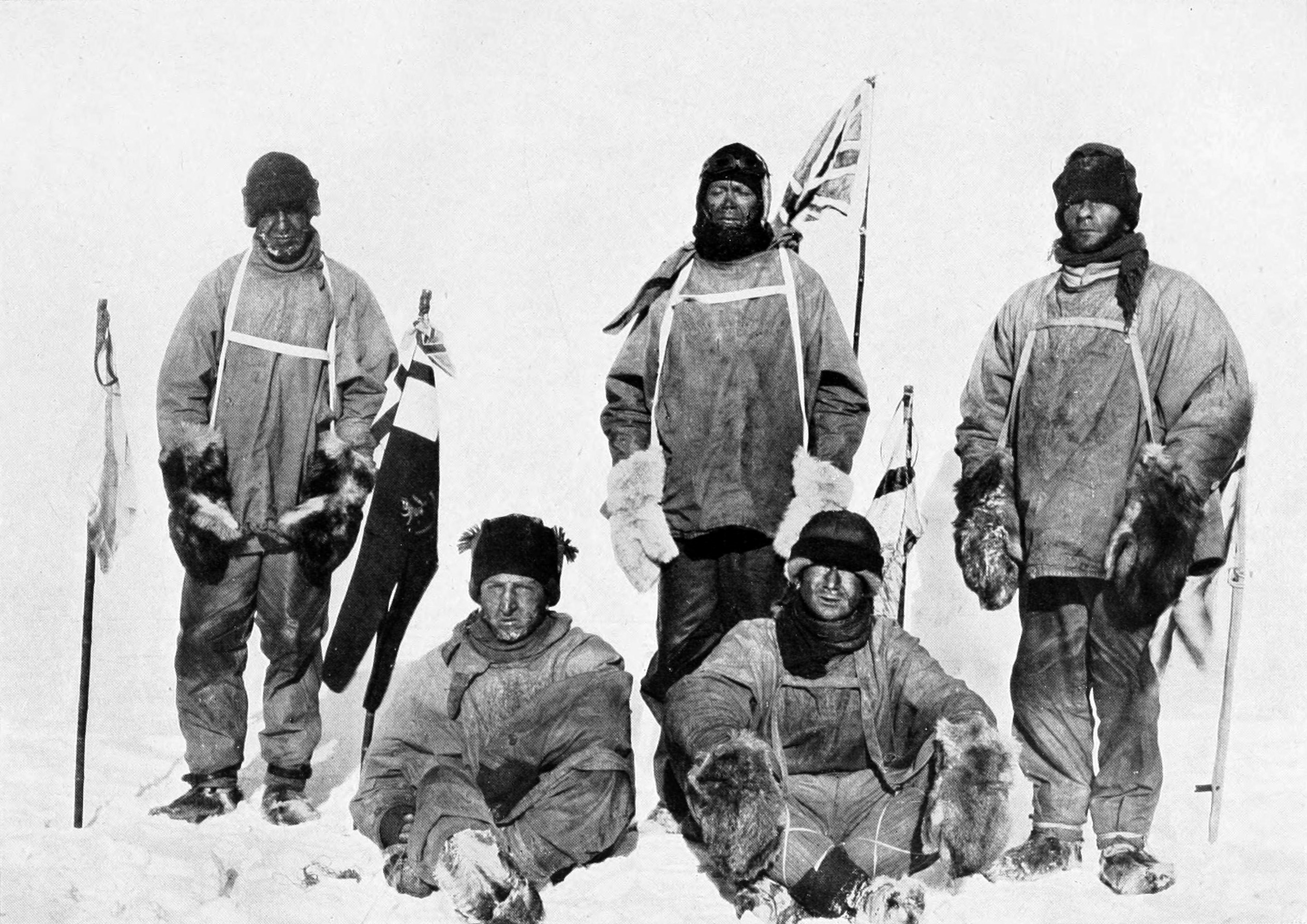 Scott's Party in 1912.[/caption] There was widespread public interest and support for exploration of the South Pole. While building and organizing the massive project of vehicles, housing and personnel, Hillary met a rail-thin Naval officer named Peter Mulgrew who would become an enduring friend and one who would change Ed's life in many ways. Mulgrew's slight build obscured gritty determination and the physical stamina that is so important for an explorer. Ed was drawn to his quick wit and more importantly Mulgrew had honed expert radio and radar skills on land and sea. By now Ed Hillary was 37, married with two young children and possessed the valuable organizational skills of four trips to the Himalayas. He brought together an impressive support team of 23 scientists, engineers, Mulgrew-the-radio-specialist and a number of adventurers who had shown their mettle on the world's highest peaks. While Bunny and the Brits from the other coast were stumbling through logistics and planning delays, Ed led his team through all sorts of rehearsals and simulations before they ever left New Zealand.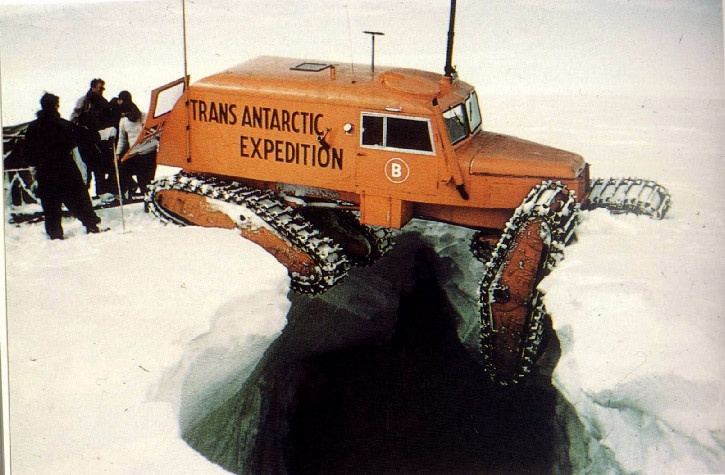 The New Zealanders were tasked with hauling and positioning fuel and food at four depots spaced strategically from the Pole. The most remote would be 700 miles from their Scott Base on the west coast, but not near the South Pole. Hillary's team selected specially-designed Ferguson tractors as their innovative mode of transportation. Peter Mulgrew joined Ed as one of the tractor drivers that would push through the hazardous snow, -100º F temperatures, frequent blizzards and ice crevasses. The tractors, fitted with snow tracks, proved to be very effective. So effective in fact, that the New Zealanders laid depots to within 500 miles of the Pole -- weeks ahead of the Brits arrival. Reaching the pole was not an agreed upon part of the Hillary mission but he did not hesitate to exploit the opportunity to follow in the footsteps of legends. Hillary had meticulously planned their fuel supply to enable the last 500 miles to the Pole. On the second day they encountered deep and mushy snow. They were forced to lash the tractors together to prevent getting stuck. Ed, Peter and three other drivers drove nearly night and day. As fuel was dwindling, excess cargo was jettisoned to wring out fuel efficiency. By January 3, 1958, they could see specks on the horizon and a row of flags. It was the South Pole! They rolled into the Pole station the next day at 12:30 p.m. -- as the first explorers to reach it overland since the horrors of the 1912 Scott party. The world was captivated by the news and Hillary and Mulgrew were welcomed by adoring crowds when their ship made its return to Wellington harbor. And more accolades were on the way. Peter Mulgrew received the Polar Medal from the British government while Bunny Fuchs was knighted for his leadership in the successful crossing of Antarctica.
The Search For Sasquatch
After the successes of the South Pole expedition, Hillary could not quench his thirst for adventure and love of the Himalayas. While on the Transarctic expedition, he had collaborated with Dr. Griffith Pugh of the British Medical Research Council and they formed a joint vision for a scientific return to Nepal. Ed yearned to conquer a new peak, Makalu without the aid of oxygen, while Pugh was determined to investigate the impact of a longer term acclimatization of the human body at 20,000 feet. The two goals could be complementary. If a group of climbers spent six months at high altitude, would they build the legendary stamina of the local Sherpas and be able to conquer Makalu without oxygen? The problem was money. Such a mission did not have the marketing chutzpah to generate the funds required for months of supplies and labor in the mountains. Hillary came up with the Sixties equivalent of 'Messin with Sasquatch.' The Himalayas held their own legend of the abominable snowman and there had been dozens of purported sightings of the hulking furry beast. He attached a 'Hunt For The Yeti' side trip on to the mission and it was a stroke of genius. Hundreds of thousands of dollars were generated and by September 1960, the Himalayan Scientific and Mountaineering Expedition was underway and hundreds of tons of equipment and supplies were being hauled to Nepal's Mingbo Valley. In one direction, Ed and Peter marched with scientists for an eight week Sasquatch hunt using hidden cameras and microphones. On the surface this sounds like a wild goose chase -- but it was staffed by some of the world's leading scientists including the legendary Marlin Perkins of television's
Wild Kingdom
fame. Results of the long trek over high passes and glaciers were meager. The team discovered some large footprints and obtained a Yeti 'scalp' to be brought back to the United States for testing. Back at the base of Makalu, a second group was building huts replete with stationary bicycles and medical equipment to scientifically track the fitness of the group over many months at 20,000 feet. The high altitude test was established in a scenic valley with ready access to ski slopes. The test participants skied and hiked every day and religiously worked the stationary bicycles. Ominously, their fitness levels only edged from 50 percent of sea level endurance to 66 percent over the course of the winter — and they were dropping weight. [caption id="attachment_1217780" align="aligncenter" width="553"]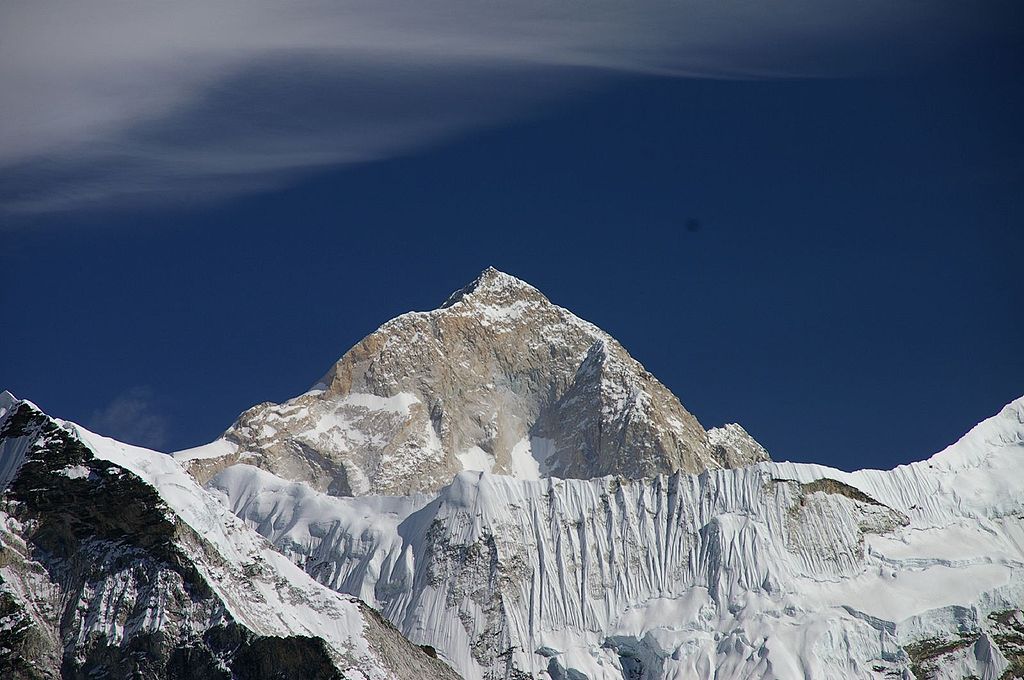 Makalu Summit[/caption] For Hillary's part he was stressed with the impact of his largest project ever. He flew back to the States over the winter with the Yeti scalp and to make promotional appearances. Later in the spring at the climbing base camp, he had to return to Kathmandu for nine days of bureaucratic lobbying for permits. In the process, he lost a significant portion of his high altitude fitness. Adding to his responsibilities, his wife Louise flew with him to Nepal for the first time. She was very excited to hike in with Ed and join the efforts to build a new children's school in the local village of Khumjung. The effort to give back and build educational infrastructure for the Sherpas would become a lifelong passion of the couple. By April, the large expedition was ready for its next phase — a climbing assault to conquer the summit of Makalu. Ed had organized the similar Everest relay process of sending teams to set up Camp 3 at 21,200 feet and then retreating while a fresh team hauled up the supplies for the next camp at 23,000 and so on up the mountain. Author Alexa Johnston called Makalu "The Goddess of Destruction" and that local legend began to come true. Ed was not feeling well with a piercing headache and numbness in the left side of his face. Within 24 hours, he was having trouble talking and the team doctor Michael Ward realized he was in serious trouble. He was experiencing a cerebral thrombosis that could quickly turn fatal. Ward administered oxygen and painkillers and his friend Peter Mulgrew rushed down to his aid. While Hillary was being escorted to lower altitudes he reassured Mulgrew that he would be fine and encouraged Peter to continue the mission to the top. Ed was confident that the remaining veteran climbers were prepared for success with camps and supplies in place up the mountainside. Indeed, within 10 days, Mulgrew, Sherpa Annullu and Dr. Tom Nevison had forged their way through howling winds to Camp VII at 27,000 feet. The next day was windy but clear and they edged to within 400 feet of the summit — when disaster hit. Mulgrew toppled over and collapsed face-first into the snow. He said:
"The pain gave no warning. It came like a giant knife, plunged into my side…For several seconds I lay gasping in agony, fighting for breath…"
He was stricken by a pulmonary embolism that had sent a blood clot racing into his lungs. Now the trio was at the mercy of Makalu and it was all they could do to crawl back through tornadic winds to their tent. The next day, with Mulgrew collapsing "every few minutes," conditions became grave. The three climbers could not make it to Camp VI and were marooned in the Kill Zone elements for several hours. Sherpa Annullu, who had a broken rib himself, went for help. With the heroic aid of two other Sherpas, they brought back a tent, oxygen and water for Mulgrew, who was now unconscious. Over the next nine days expedition teams bravely carried Mulgrew all the way down to the lower altitudes of the Barun Valley. There, an American helicopter evacuated Mulgrew, Doctor Ward and another injured Sherpa to Kathmandu. [caption id="attachment_1217782" align="aligncenter" width="553"]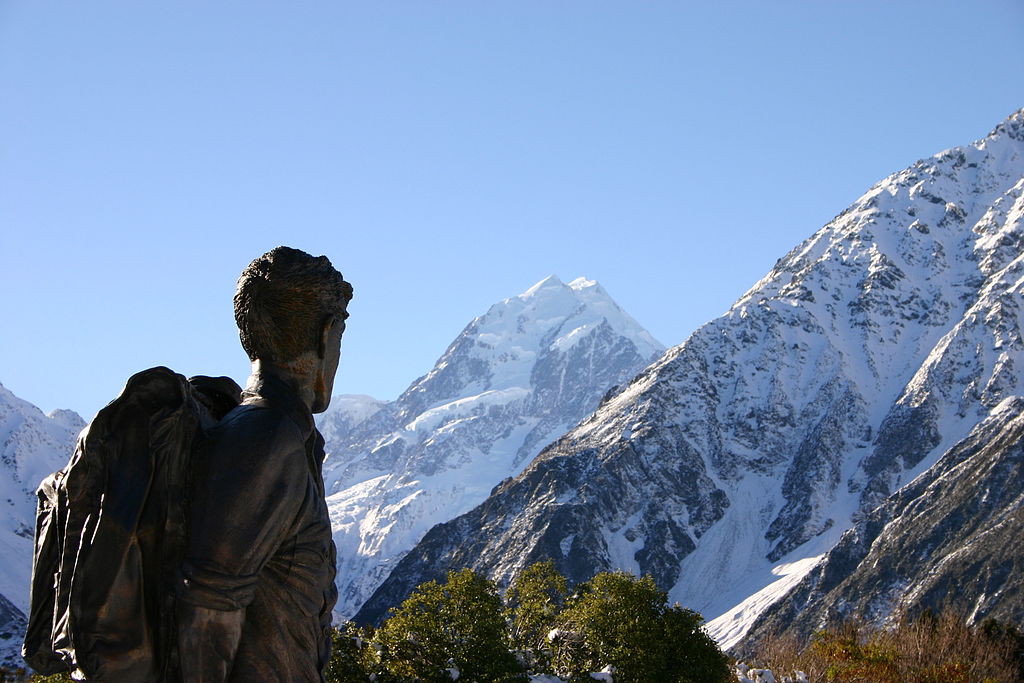 A statue of Hillary gazing at his favorite peak, Mount Cook.[/caption] By the time that Mulgrew had recuperated in the United Mission hospital in Kathmandu, he lost several fingers and both legs were amputated below the knee. With the support of the nation behind him, Mulgrew spent a number of months rehabilitating from his crippling injuries. He was fitted with prosthetic legs and learned to walk all over again. Drawing from his adventurer's determination, he completed a remarkable recovery and returned to naval service within twelve months — and was back in the Himalayas four years later. At the same time, Ed made a full recovery from his thrombosis and was able to hike back to safety at lower elevations.
Final Destination
Despite the ruins of the failed Makalu ascent and with no verifiable evidence uncovered of Sasquatch, Ed and his wife Louise made deep connections with the Sherpa people which would propel their lives into the next decade. Louise wrote to a friend:
"Few people are fortunate enough to be wholeheartedly accepted by the inhabitants of a village in a distant land, and I suppose that feeling of unity can only be achieved by working together and then playing together."
They were instrumental in completing their school in Khumjung later that year. The enthusiasm for changing the lives of 60 children energized them. The next year Ed and Louise set their sights on a new hospital for the area. They solicited contributions from contacts around the world and Ed even helped clear land for the first-ever airport in the region. The airport was named Lukla and many have called its 1,150 foot runway the most dangerous in the world. Pilot John Claydon called it a "do or die" air strip because of the 20,000 foot mountain at the other end. It is ironic that the life of Edmund Hillary, so blessed by unrivaled triumphs at altitude using only rope and ice axes — would be cursed by the modern advances of the airplane. By spring 1975, Ed and Louise were helping build another hospital in nearby Phaphlu, Nepal. Louise and their teenage daughter Belinda were flying from Kathmandu to meet Ed. He said he was struck by a terrible premonition and when he saw a helicopter approaching instead a single engine plane he said:
"I knew that something dreadful had occurred."
The small Pilatus aircraft had crashed on take-off from Kathmandu airport and his beloved wife and daughter were dead. Four years later Hillary joined Air New Zealand as a guide for charter flights to the South Pole. The 5,000 mile flights were very popular sightseeing tours culminating at Ross Island base near McMurdo Sound. For the 14th flight on November 28, Hillary was booked for a speaking engagement and could not escort the flight. Of course his friend Peter Mulgrew quickly stepped in to provide support. Four hours into flight, the DC10 approached the base where they made history (on the South Pole expedition) when the captain turned to Mulgrew:
"Actually those conditions don't look good, do they?"
One of the last sentences registered on the flight recorder was Mulgrew saying:
"No they don't." 
The plane was cruising on autopilot at 1,500 feet. Seconds later the aircraft inexplicably ploughed into the 12,400 foot Mount Erebus. Mulgrew and all 257 passengers were killed in the first ever Air New Zealand crash. Ed spoke sorrowfully about his friend:
"I felt great sadness at Peter's death. We had shared so much together..."
Prologue
Friends felt that Ed had not recovered from the grief and loss of Louise and Belinda. He had resorted to heavy drinking and was distant to his remaining family. The horror of the Air New Zealand disaster exacerbated the situation until he rejoined an unlikely acquaintance — Peter's Widow, June Mulgrew. They found solace in each other while working together on the non-profit Himalayan Trust – and were married in Auckland on November 30th, 1989. Hillary summed it up:
"After her death (Louise), I had five years of depression and misery. When my long friendship with June blossomed into a much warmer relationship, I learned to live and love again."
So there you have it -- the true story of the incredible Mr. Hillary. He conquered the world's most unattainable peak and was one of the first to reach the South Pole. He survived a disastrous ascent of Makalu while his closest friend Peter lost his legs and fingers. Then Hillary lost his wife and daughter in a tragic plane crash and by luck or fate, Peter filled in for him on the doomed Air New Zealand Flight 901 which crashed into Mount Erebus. And did we mention that both airplane crashes were found to be the result of airline negligence? Finally, as in all great Hollywood scripts, Sir Edmund finds happiness with none other than, his best friend's wife! Here is where we are obliged to say: "And they lived happily ever after." Photos courtesy of: Wikipedia
Retired from United Airlines communications, Tony has been published by Slant News, MinnPost, Minnesota Connected, Air Cargo News, The Forward, CNS Air Cargo Focus and the TC Daily Planet. In the airline industry he won a Silver Addy award in Advertising and launched United Cargo's Friendly Skies ad campaign that is still running today.