Minneapolis Final Four Craft Brewery Tour Guide
Posted by Tony Randgaard on Thursday, February 21, 2019 at 12:00 AM
By Tony Randgaard / February 21, 2019
Comment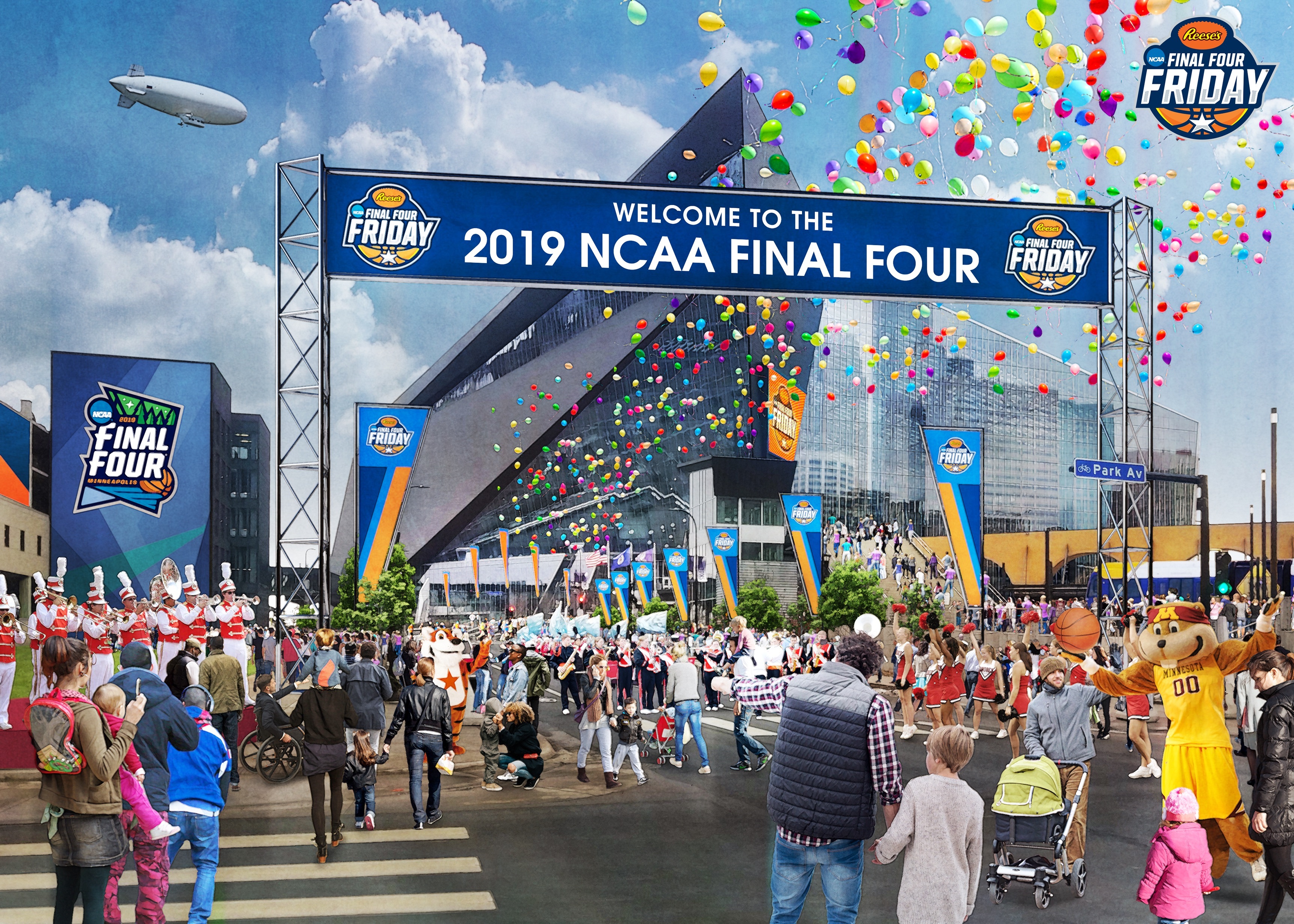 In last month's
Final Four guide
, we told you about the humble, hardscrabble beginnings of the first two Final Fours hosted in Minneapolis. Back in 1951 there were 6000 seats available on game day at Williams Arena and you could snag a ticket for $2.40. By 1992, fans were welcomed to the Twin Cities with snow flurries and Metro Transit buses to get them downtown. Tom Powers of the Pioneer Press warned visitors to prepare for the cold with a survival kit consisting of a blanket, tea bag, matches, candle, tin cup and two sticks of dynamite. Ha! And the 1992 festivities? They must have seemed exceedingly dull for the thousands of fans converging from Duke, Michigan State, Indiana and Cincinnati. Unlike the glitz of our recent Super Bowl, the headlining entertainment included Jeff Cesario and the music of the Magnolias. In the Strib's daily
About Town
column, the only notable celeb mentioned was Stephen King while the paper's
Critics Choice
was a blue grass musician named Jim Lauderdale. We packed 51,000 fans into the alcohol-free Metrodome. The Twins and Vikings had warned that the structure could collapse, but thankfully the "big one" didn't hit for another 18 years. On the bright side, taxpayers were on the hook for less than $500,000 for the plastic blue curtains in the old Dome—versus the whopping, estimated $5.2 million tab for our new custom drapes at US Bank Stadium. Now, don't get me wrong. Minnesotans can find a way to have a good time. The University of St. Thomas held a Bobby Knight Chair Throwing Contest while the Mall of America hosted a Dick Vitale Sound Alike contest. At the Dayton's store downtown, our sports icons: Sid Hartman, Mark Rosen and Dave Lee held a promotional event on Saturday. Unlike the demilitarized zone of the recent Super Bowl, fans and tourists could walk to within a couple blocks of the Metrodome. And those sidewalks were as busy as a Turkish bazaar with dozens of scalpers being shadowed by undercover officers. Were the waters profitable? Well, one of the sellers, John Langbein told reporters that he made $300,000 on Saturday alone! Back then, many of our establishments still sold 3.2 beer and we stopped serving our visitors drinks at 12:20 p.m. each night. Moreover, we were boasting about our craft beer fare that included Summit EPA, Cold Spring and James Page Boundary Waters.
Crawl the Craft Beer Wonderland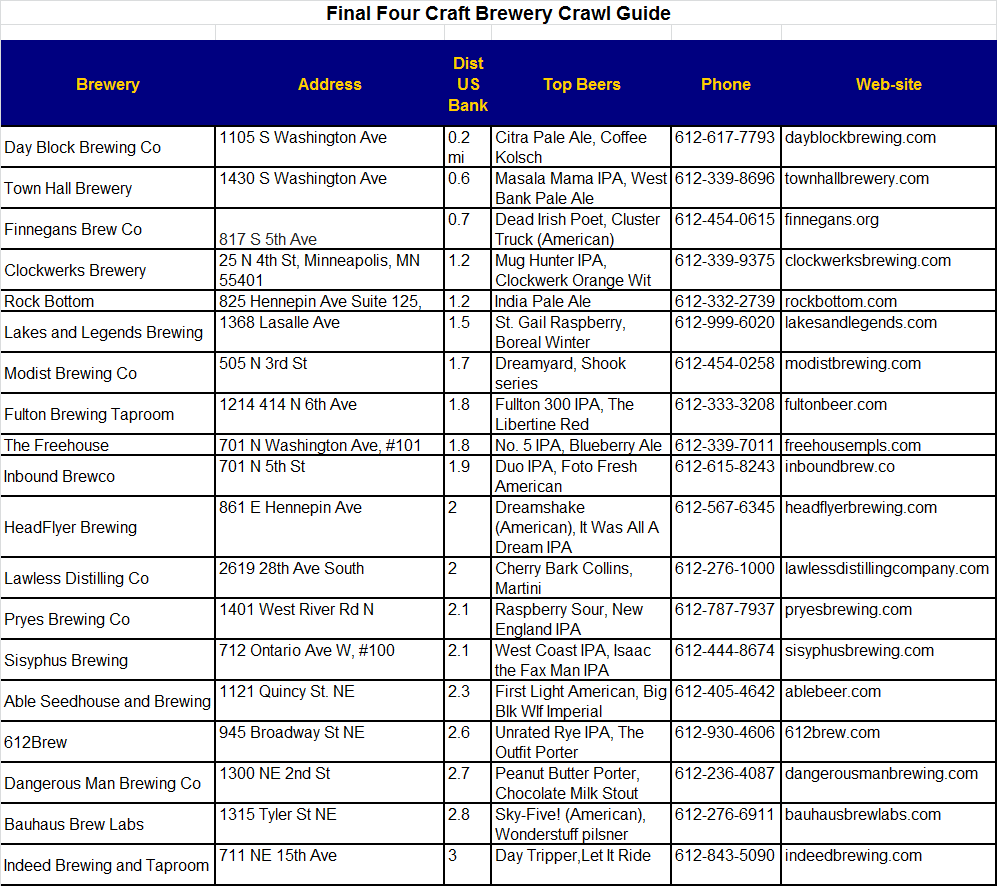 Fast forwarding 27 years and the Twin Cities have transformed into one of the best craft brew meccas in the country. There are an astounding 19 breweries within scooter or walking distance of U.S. Bank Stadium. Why not add a fun craft beer crawl to your Final Four itinerary? Take advantage of our easy reference Final Four Craft Brewery table featuring locations, distance from U.S. Bank Stadium, web-sites and more importantly — top rated beers by the esteemed drinkers at the
Untappd
social beer site. For sheer convenience, the new Finnegan's Brew house (see photo), Town Hall and Day Block Brewing are within blocks of the stadium. It is hard to beat the cushy, country club atmosphere in the new Finnegans house. Posh leather chairs and booths entice you inside at the same time that the quiet spacious patio beckons during fair weather. Savoring the hint of chocolate and fruit in their Dead Irish Poet stout, it's hard for me to ignore the irony that Finnegans is a proven philanthropic leader in the community, donating all of their profits to charity.
Yes, I am helping humanity by guzzling this tasty concoction.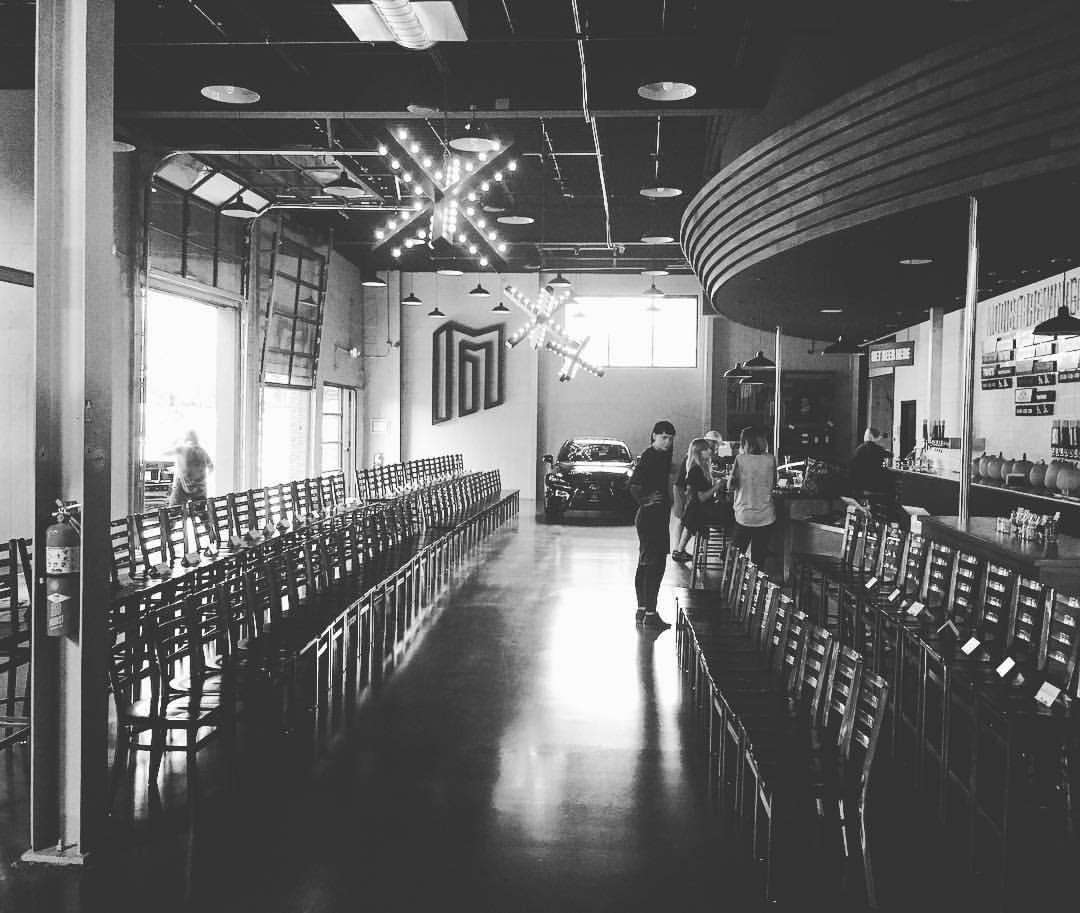 Meanwhile, Modist and Lakes and Legends brew houses are convenient to many downtown Final Four hotels. The Modist building is huge with towering beer vats greeting you on your walk in. Dreamyard is their citrusy go-to favorite while the more adventurous should grab a mug of the First Call Coffee Lager. On the south end of Nicollet Mall, Lakes and Legends taps their own popular exotics. My beer buddies swear by the Saison series (such as Cranberry Saison) while the St. Gail Raspberry and Boreal Winter score high marks with reviewers. To stumble to and fro, among several premier craft breweries in one swoop,
Uber
to Bauhaus, 612Brew, Dangerous Man or Indeed in Northeast Minneapolis. It's an easy walk between them. Indeed delivers an outstanding, buzzing social vibe and a choice of two bars to hunker down in. The brewer is rocking the local tap scene with bestselling Day Tripper and Mexican Honey flavors. Yelp users clamor for their LSD Honey Ale too. Two blocks away, Bauhaus boasts a similar million dollar facility and an eclectic atmosphere of local music and hip décor. You can't go wrong with their benchmark Bohemian pilsner Wonderstuff or the malty, tangerine and apricot-infused Wagonparty. Both have grabbed top medal honors in national beer competitions.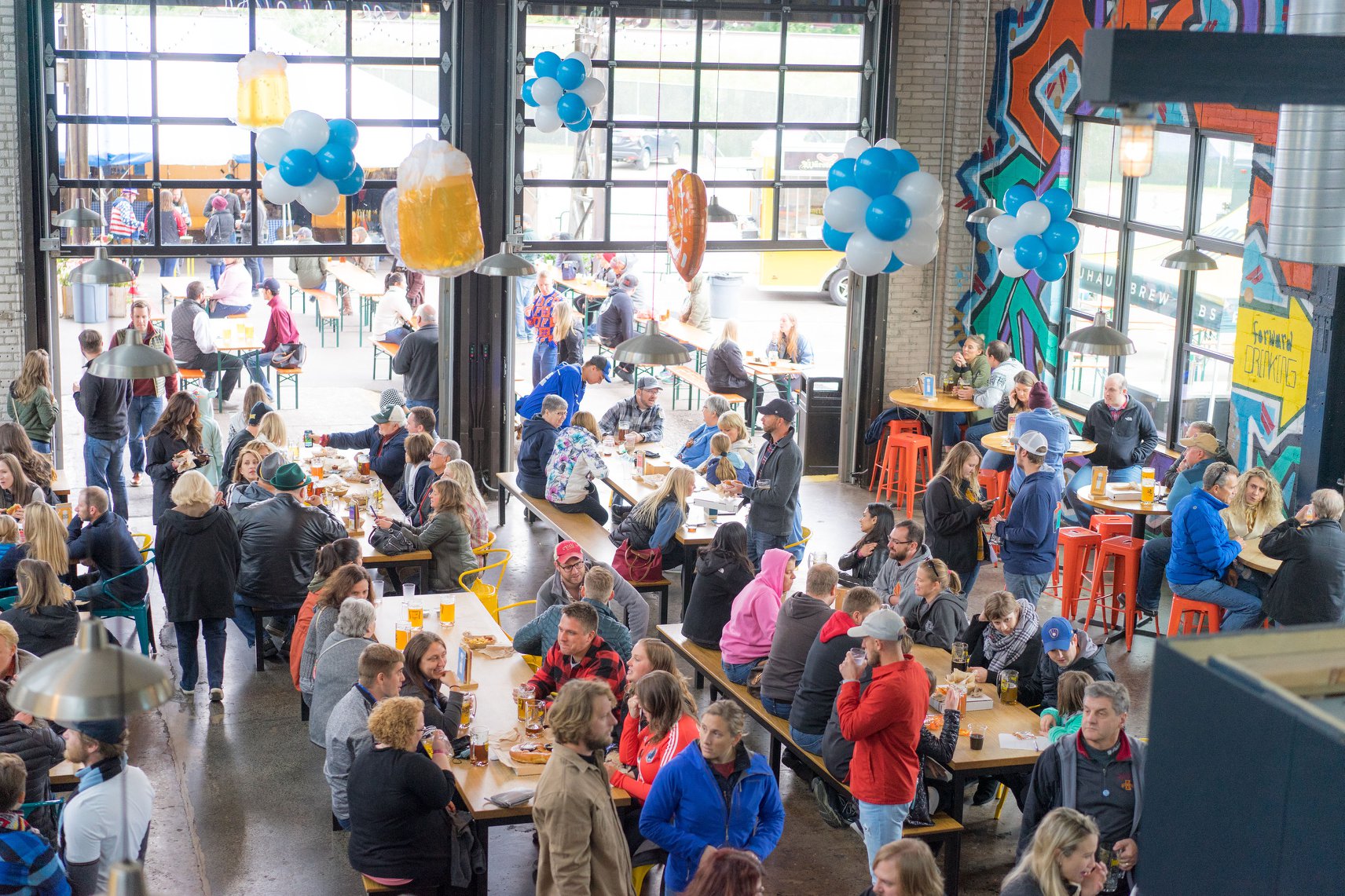 Cap off the evening at Dangerous Man, a classic restored bank that delivers a raucous social setting. Forget those staid industrial warehouses, this space feels like a popular night club. Our experts want you to get your Reese's Peanut Butter Cup craving into high gear. Their top Dangerous Man choices are the Peanut Butter Porter and the Chocolate Milk Stout. Why fight it?
OK, I have to admit that I lost my train of thought, derailed during a marvelous tour of craft beer treasures. Back to the main event, the Final Four and all it has to offer. There are several economical, fun events that are must-see entertainment: Reese's Final Four Friday (free), The Dribble Parade, Final Four Fan Fest and the Music Fest are on the top of my list. Simply
click here to get the details
from our Final Four primer Part 1 and you are on your way.