First Pitches and Luck Don't Like Kevin Correia
Posted by Jeff Schwenn on Monday, April 28, 2014 at 12:00 AM
By Jeff Schwenn / April 28, 2014
Comment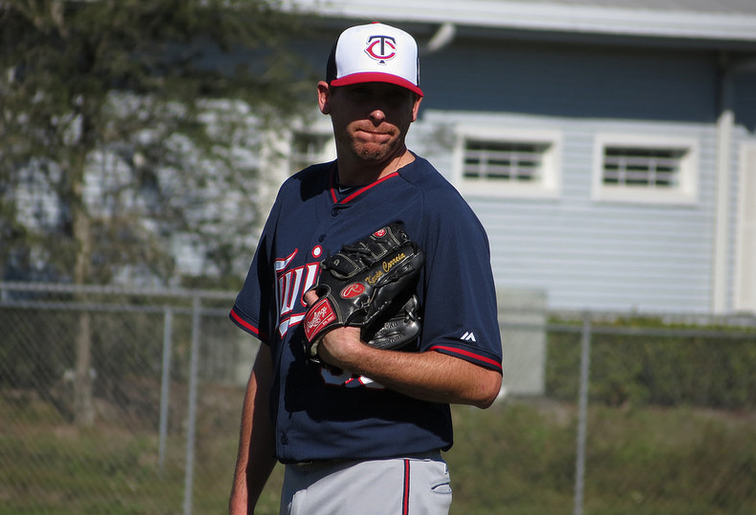 Kevin Correia has gotten off to a terrible start this season for the Minnesota Twins. His ERA is at 7.33 and hitters are batting a robust .327 against him. Team this up with him only striking out four batters per nine innings and you have just witnessed one of the worst months of pitching in Kevin Correia's career (he's had worse believe it not). Kevin Correia doesn't have dominant stuff and never has. His cut fastball has averaged 88 mph this season, but unfortunately so have all his other pitches. He throws an occasional 79 mph curve, but he's not fooling anyone -- at age 33 he has to be wondering if the end is quickly approaching. Twins fans already feel it's here, but I don't think it's over quite yet for him.
Correia's Batted Ball in Play (BABIP) is .347 this season, meaning when batters put the ball in play this year they hit .347.  This is very high especially considering his career average is .302. This large variation indicates Correia has been unlucky meaning hits are falling in when they would have been caught in other years. In addition, against right handers in 2014 his BABIP is .420 (yikes!) -- well above his career average of .307. These numbers will stabilize as the year progresses which means he'll record more outs than he has in April.
So luck hasn't been on Kevin Correia's side through his first five starts this year. His other issue is his first pitches of at bats are being destroyed (a technical term meaning hit hard) at an unheard of rate of .517/.559/.793 (Batting Avg/OBP/SLG). The scouting report on Correia is obviously hit that first pitch, it's the best offering you'll see and opposing hitters have destroyed it repeatedly -- but that won't continue. Hitting .517 in baseball doesn't last, especially when failure is expected at a minimum 70% of the time.
Correia must adjust and make better first pitches or his career is truly over. If hitters don't get that first pitch, they become very pedestrian against Correia batting .262/.300/.381. This is good news and something Correia must build off of. Get through that first pitch of an at bat and he becomes a competent major league pitcher.
Kevin Correia won't improve this season because of a refinement in his pitches or extra work he puts in during his off days. Mathematical probability will rescue him.
Photo by: BeGreen90