Garrison Keillor Releases New Book of Poetry
Posted by Joseph Friedrichs on Thursday, October 3, 2013 at 12:00 AM
By Joseph Friedrichs / October 3, 2013
Comment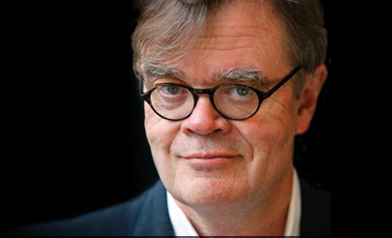 To lead a life of cheerfulness is a choice and Minnesota is full of people with brains and good taste, popular radio-show host and Minnesota author Garrison Keillor told a crowd of approximately 150 people at the Fitzgerald Theater Thursday, October 2. "Where the temp gets down to thirty below and it's perfectly flat, miles of snow," Keillor said while reading a poem from his new book, 
O, What a Luxury
. "And you ask why I live in this desolate spot. Why? Because you do not." Wearing his trademark red shoes and a pinstriped suit, Keillor read more than 20 poems from his latest book, which was officially released October 1 by Grove Press. The book contains dozens of poems that cover topics ranging from politics to love and, of course, his home state of Minnesota.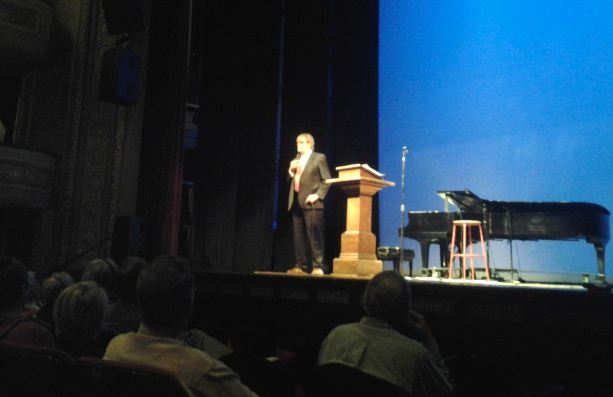 Accompanied by his longtime friend and musician Richard Dworsky (who happened to be celebrating his 60th birthday that evening), Keillor recited poems and shared stories of his life while Dworsky played the piano, most often in between the recited poems. Keillor has hosted the radio show
A Prairie Home Companion
for more than 30 years, with its headquarters in St. Paul at the Fitzgerald. And though radio has brought Keillor much of his fame, he has always found pleasure in writing stories and poems. "If my parents would send me to my room as a child, that would have been exactly what I wanted," Keillor said. "To be in there, alone, with a sharpened pencil to write words down on a paper."
O, What a Luxury
 is combination of verses that are lyrical, vulgar, pathetic and profound, according to Keillor (and the book's cover). Mostly, the poems are sprinkled with humor. In the poem "One Thing After Another," Keillor writes:
Life is just one thing after another,

If it isn't one thing it's bound to be the other.

If you don't believe me, just ask your mother,

Life is one thing after another.

Wake up in the morning and haul out of bed,

And there on the rug the dog did his business,

Your only clean shirts is this weird striped red

Thing your Aunt Joan gave you for Christmas.
Keillor said writing the poems in his new book was an adventure with the intent of "having fun." This is an evolution in his writing career, where he once thought writing poetry should be about the darkness of life, and about the pain and suffering a poet endures, Keillor explained. During his days as a student at the University of Minnesota, Keillor said he witnessed poets such as John Berryman give readings while severely intoxicated and apparently under much stress. This image, of a pained writer, was what "a poet was supposed to be like," Keillor said. With age and acceptance and family love, Keillor said he has realized there is more to writing than such narrow concepts, and that using words can be like piecing a puzzle together.
O, What a Luxury
 is available online (as is just about everything in modern society these days). Or, if you're looking to shop locally, stop by Keillor's bookstore Common Good Books, located at the intersection of Snelling and Grand Avenue in St. Paul. Images via: Google and Joseph Friedrichs