Goodbye Jason Kubel -- Twins Fans Have Many Lasting Memories of Your Baseball Heroics
Posted by Jeff Schwenn on Tuesday, June 10, 2014 at 12:00 AM
By Jeff Schwenn / June 10, 2014
Comment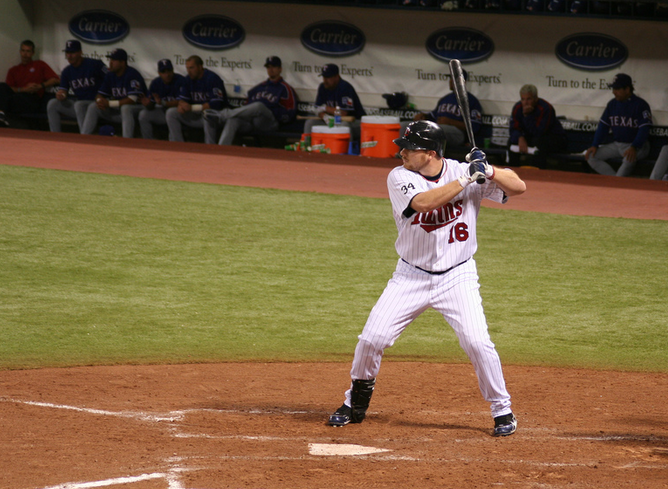 Jason Kubel has been designated for assignment, which means the team no longer needs his services. It's too bad it had to end this way for Kubel. His career with the Twins shouldn't be remembered for the struggles the past two months. Jason Kubel was a fine hitter and should be remembered as such.
Kubel was a force in 2004 -- between AA and AAA he hit .352/.414/.590. He earned a September call up to the Twins and hit .300 in 23 games. He went to the Arizona Fall League to refine his skills and looked to be a permanent fixture in the Twins outfield in 2005 and beyond. Then everything changed. He incurred a devastating knee injury during Arizona Fall League play and missed all of 2005. He never was the same destructive hitter again, but fought his way to the majors and became a valuable member of the Twins from 2006 to 2011.
In 2009, Kubel reached his zenith hitting .300/.369/.539 -- all would be career highs for him. His 26 RBIs in September/October were key for the Twins as they forced a memorable Game 163 against the Tigers.
Two moments stand out to me about Kubel and both come from his impressive 2009 season. In Game 163 the Twins were down 3-1 to the Tigers in the bottom of the sixth inning. Scott Baker had been tagged early in the game and outs we becoming a precious quantity. Jason Kubel came to the plate in the 6th and with two outs he hit a mammoth home run that landed in the upper deck in right center field bringing the Twins to within a run and igniting the crowd. It was a momentum changing hit and the sheer distance of the blast was something not often seen in the Metrodome. Kubel's largest career moment came earlier in the 2009 season. On April 7th, in just the 12th game of the season, Kubel had one of the greatest games in Minnesota Twins history. He hit for the cycle, but the way in which he did it was incredible. With the Twins down 9-7 in the bottom of the eighth inning and the bases loaded, Kubel needed a home run to hit for the cycle. He connected for a grand slam moonshot into the upper deck of the Metrodome securing the win. Only seven other players in baseball history have completed their cycle in such fashion. Not to be forgotten, Kubel hit a memorable game-winning 8th inning grand slam off Mariano Rivera in Yankee Stadium during the 2010 season. It was the first grand slam Rivera had given up in eight seasons. Jason Kubel was never the same hitter after 2009, but he can retire saying he had days where he was the best player on the field. Not many players can say that. Photo by:
Dan_H