Gopher Men Beat St. Mary's Gaels -- Advance in NIT
Posted by Brent Lee on Monday, March 24, 2014 at 12:00 AM
By Brent Lee / March 24, 2014
Comment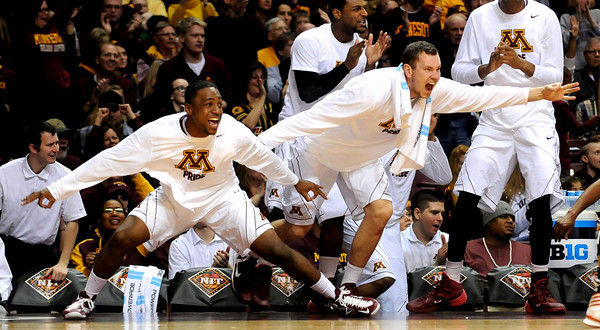 You can poke fun at the NIT if you'd like (
I do
), but after a crazy, upset-filled, four day stretch of college hoops mayhem in the Big Dance, the Minnesota Golden Gophers are (technically) one of only 24 teams left playing Division 1 basketball in March — 16 in the
real
NCAA Tournament, and eight in the NCAA "leftovers" Tournament called the NIT. Maybe slightly harsh to call them leftovers... but
kinda
true,
right
? After spotting St. Mary's a (14 - 0) lead during a scoreless drought to open the game which lasted just under seven minutes, the Gophers rallied back to defeat the Gaels (63 - 55) in the second round of the NIT.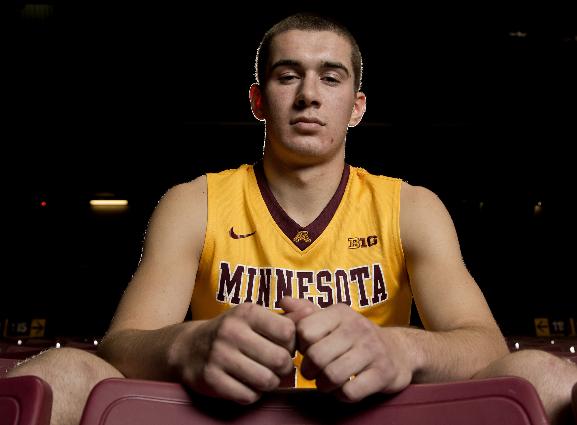 Minnesota was led by sophomore forward Joey King who scored 18 points in 35 minutes. Guards DeAndre Mathieu and Austin Hollins added 14 and 10 points respectively for the Gophers, who trailed by four at the half, only to outscore the St. Mary's Gaels (41 - 29) over the game's final 20 minutes. Minnesota's victory leaves them just one game from the NIT Final Four which is played at Madison Square Garden in New York City. The Gophers' second straight win also leaves me with a couple glaring questions (which I'm going to answer all by myself):
Question#1 — Where was this grit, determination and apparent sheer will to win down the stretch of the Big Ten season schedule and in the Big Ten Tournament?
Question #2 — What on earth is a 'Gael'?
To question #1, the reality is St. Mary's is not a Big Ten caliber team.
Not even close
.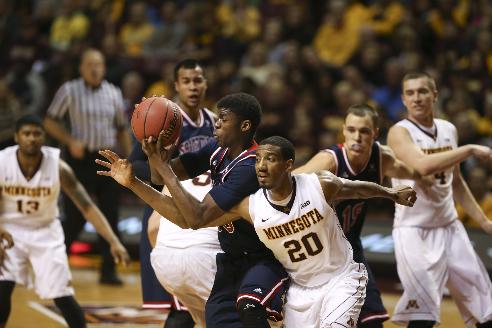 The Gophers started (12 - 0) this year largely because they play teams
just like
St. Mary's in their non-conference schedule — relatively small schools from small conferences who have nowhere near the talent or recruiting influence enjoyed by the Gophers. It is no coincidence that each year, the Gophers' struggles begin — and their losses start to mount — when the weaker part of their schedule is behind them and they set out on their Big Ten campaign. Minnesota has finished with a winning record in the Big Ten only twice in the last 16 years — it's no surprise they struggled in conference play again this season. It also no big shock to see the Gophers winning now that they are playing against teams over which they, in many ways, hold a rather large advantage. To question #2, according to St Mary's
website
:
"In 1926, sportswriter Pat Frayne of the now defunct San Francisco Call christened the football team "The Gaels." The Irish warrior quickly became the mascot and moniker for all the athletic teams. Since 1929 the name of the yearbook."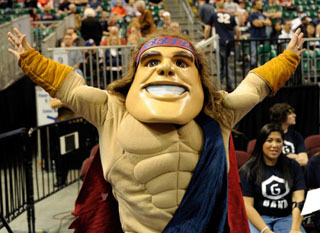 And according to my sources at
Wikipedia
via Google:
"The Gaels or Goidels are speakers of the Gaelic (or Goidelic) languages; a branch of the Celtic languages comprising Irish, Scottish Gaelic and Manx.
I also found this little nugget on the St. Mary's website that, while utterly unrelated to this story, I personally find far more interesting then any aspect of a second round NIT game:
"The Famous Phone Booth Stuffing:

"In 1959, 22 or 23 small students (no one can agree on just how many) were stuffed into a phone booth, resulting in a coverage in Life, Time, Newsweek and other publications. A photo of that exploit continues to appear on postcards, books and ads. Of course no women were involved as it was an all-male school until 1970.

"In 1984, during Homecoming Weekend, groups of male and female students did it again, recreating the stuffing in front of the College Chapel. They ended up again in national magazines and television. One of those stuffed was a son of one of the original participants, Paul Desrochers '61."
Hm. Fascinating.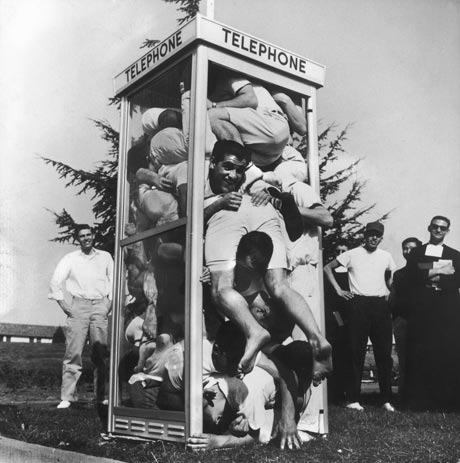 The Gophers host the Southern Mississippi Golden Eagles on Tuesday night at Williams Arena. No word yet on whether or not Southern Miss alum Brett Favre will be bringing his keen NFL mind or brand new gun show to display at the Barn in support of his alma mater.
Photos via: Pioneer Press (Sherri LaRose-Chiglo) -- Star Tribune -- St. Mary's University