Gophers Exit B1G Tourney Asking 'What Happened?'
Posted by Travis Bridell on Monday, March 16, 2015 at 12:00 AM
By Travis Bridell / March 16, 2015
Comment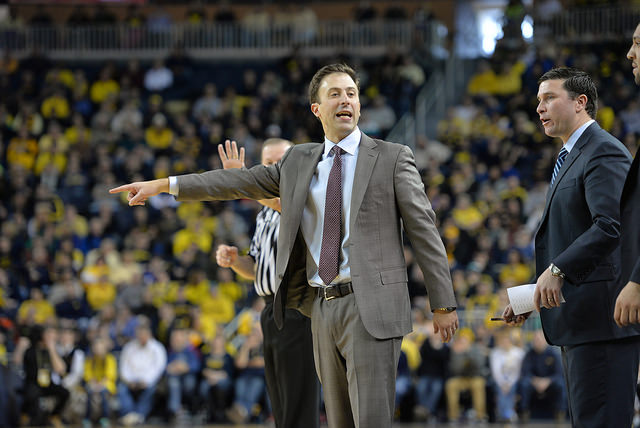 The Gophers Men's Basketball team's Big Ten Tournament was over last week after a 79-73 loss to Ohio State (23-9) in the second game of the tournament for Minnesota. The Gophers (18-15) headed into the Tournament as one of the bottom four seeds of the 14-team conference, which forced them into a play-in game against Rutgers (10-22) on Wednesday in Chicago. The Gophers took the game 80-68 despite zero points from star guard Andre Hollins. The team needed to win five games in five days to make it to the NCAA Tournament via automatic bid.
"We definitely came in with the mindset of making a run," point guard DeAndre Mathieu said after Thursday's loss, "Winning five games in five days and getting chosen to play in the NCAA Tournament."
With only one additional win against a cupcake Rutgers team, they may not even have an opportunity to defend their NIT title of a season ago. Last Sunday, the regular season ended mercifully with a 79-76 buzzer-beater loss to Penn State. Head Coach Richard Pitino and company were hoping to take advantage of one last chance to play in the postseason by making a run in the Big Ten Tournament with All-Big Ten honorable mentions Hollins and center Mo Walker at the helm.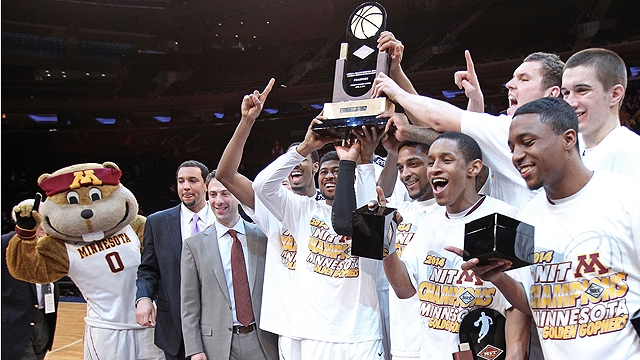 Last season's NIT Championship was supposed to be an important step in the development of the program, because in the first season of Pitino's tenure, the team finished strong. Even 
Minnesota Connected
 said after last year's NIT:
"While they graduate Thursday night's senior star Austin Hollins, the Gophers return four starters for the 2014-2015 season and should be poised to improve."
They did not improve from a season that set the school record for wins. Over the course of the season there was no lack of change throughout the lineup, including: starting Nate Mason and Charles Buggs, playing Buggs at the three, playing Nate Mason, Andre Hollins and DeAndre Mathieu (the three shortest players) at the same time and completely taking Elliot Eliason out of the rotation, among others. The season got off to a rocky start as the team lost a player to domestic assault charges (Daquein McNeil) and the first game of the season to the elder Pitino and a down Louisville squad.

The fast pace and decent passing of the Gophers led to a fairly effective offense, but an inefficient one. The anemic rebounding was particularly concerning for 6-foot-9 starting forward Joey King who averaged three rebounds per game (especially considering 6-foot-2 Hollins was second on the team in rebounding with four/game). Certainly 
adding talent
 that Pitino brings to fit his system will only help his chances at success. Mason's improved play and King's increased offensive confidence throughout the season also brings hope, but optimism can only go so far, as we've seen this year (
in all our sports
).

Defensively, the team needs to improve and finishing out games is a weakness that haunted the team throughout the season. Fifth in the nation in steals is a great start to a better defense, but pressuring the shooter would be a much more welcome addition. It seemed that every team was raining threes upon the Gophers at a remarkable clip, a facet the coaching staff will have to address. The Gophers were also 3-9 in games decided by six points or fewer, a very disappointing fact. The team has acted frantically at times in close situations, even in their overtime win against Michigan State (21-10) a couple weeks ago. A made free throw would have likely won the game in regulation, but to their credit they fought for a 96-90 win. For the next step in the Pitino era, it's defense and closing out that will set the team apart from years past. As for this year, Minnesota hopes that they aren't done.
"I don't think we would take a CBI or CIT -- I hope we're an NIT team," Pitino said, "I want to keep playing with these guys, keep coaching them. We enjoyed it last year."
The team will just have to wait and see what kind of call comes through for them, if any at all.
"I get it, you're kind of labeled in sports today. If you don't make the NCAA Tournament, you're labeled a failure," Pitino said.
As much as it hurts to say, the Gophers and its fans will have to look forward to a possible tournament, but more likely once again to next season to see a team that lives up to or surpasses expectations. Photos via: 
MGoBlog
 -- NCAA -- 
ESPN