Gophers' Hageman Impresses at NFL Combine
Posted by Brent Lee on Thursday, February 27, 2014 at 12:00 AM
By Brent Lee / February 27, 2014
Comment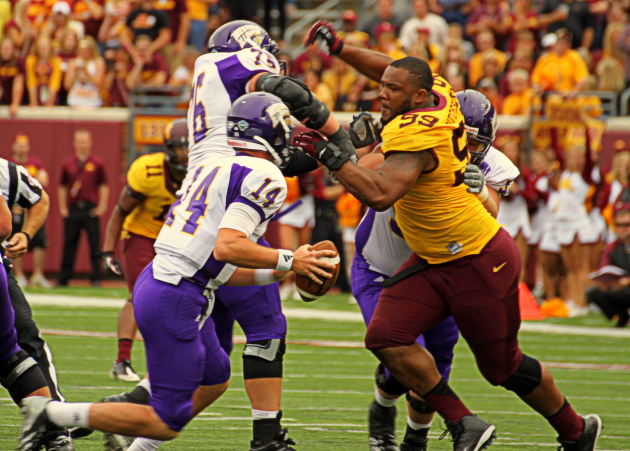 At 6'6" and 310 pounds, you might assume Golden Gopher football standout Ra'Shede Hageman is the type of player that most (smaller) guys can outrun. You'd be
very
wrong, and such errant assumptions might prove to be dangerous to NFL quarterbacks who are holding them. We found out the particulars of just how misguided such assumptions are — and how phenomenally athletic Ra'Shede Hageman is — at the NFL Combine in Indianapolis earlier this week. The annual Combine serves as a proving ground for free agent rookies to showcase their talents before the upcoming NFL Draft in May. 335 might-be NFL future stars converge on Lucas Oil Stadium in Indiana's capital for a series of physical tests and measurements, each designed to gauge whether or not the hopeful prospects have what it takes to play in the pros. Monday's schedule featured defensive lineman and Hageman, a tackle who is often compared to fellow physical freaks J.J. Watt and Ndamukong Suh -- he was one of the players that all eyes in attendance kept in clear focus. The All-American Hageman confirmed what we already knew about his exceptional strength, benching 225 lbs for 32 repetitions and finishing as the third best defensive player overall in that category. Hageman then proceeded to run a 5.02 40-yard sprint, as well as logging solid efforts at the broad jump (114") and the 3-cone drill (7.87). His combined performances placed him among the quickest, most agile, and most explosive rookie defensive tackles on display.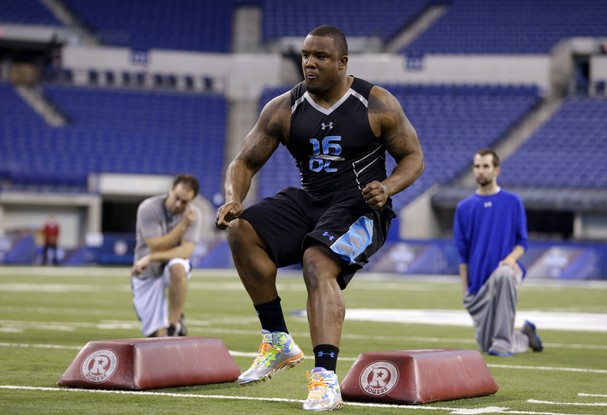 While the 24-year old Hageman performed splendidly throughout the day, impressing scouts from many teams in each event, the real show started right about the time he registered his vertical leap. 35.5 inches.
Goodnight, nurse.
This guy is 6'6", 310 lbs and can jump three feet in the air? That is NBA-caliber leaping ability in a body that would dwarf most of the WWE's roster of wrestlers.
Amazing.
Despite his tremendous physical gifts, according to some experts, Hageman is no sure thing to pan out in the hyper-competitive National Football League. NFL.com's player
profile
describes him as a "classic boom-or-bust prospect," going on to point out his strengths:
"Able to redirect and chase athletically. Fierce tackler. Rare leaping ability for his size (workout all-star). Disrupts passing lanes. Has a "wow" factor at his best. Has immense upside. Team captain."
And weaknesses:
"Wide gap between physical ability and performance on tape. Green eyes, instincts and understanding of blocking schemes. Motor idles. Too often lets his pads rise and exposes his frame. Does not play to his length. On skates vs. double teams. Hand use needs work. Unsophisticated counters and pass-rush moves. Aimless pass rusher in need of a plan."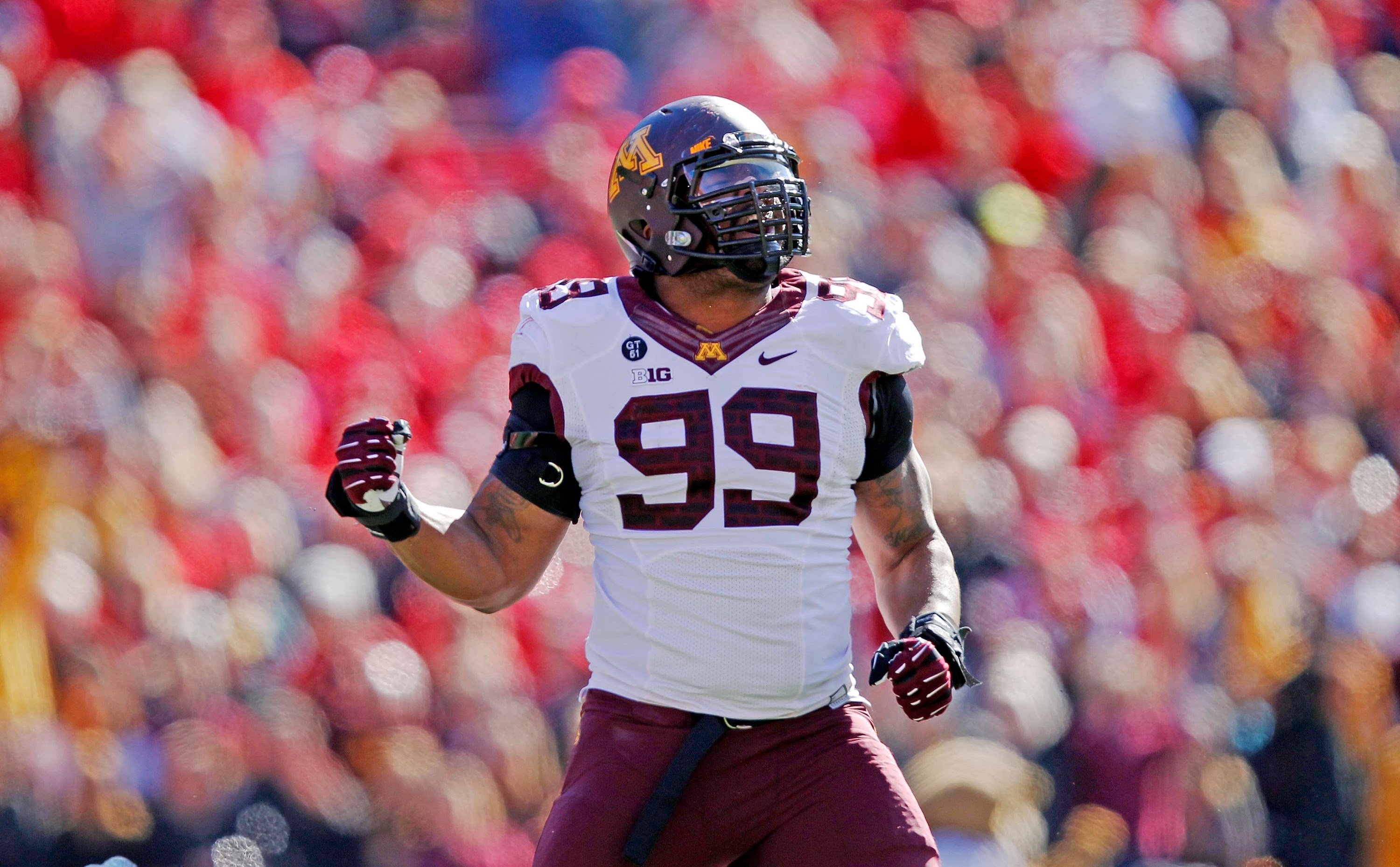 If you are not familiar with Hageman's story, it's worth looking into. And if you're not already a fan, you might become one by learning about what he has overcome to make it this far. John Rosengren wrote this
piece
 for SBNation last November profiling Hageman — it's very good and worth a read. Read the lead of the piece and consider how far Ra'Shede has come:
"He was born on fourth-and-long. Mom drank when she was pregnant with him. Traded sex for drugs while he was in diapers. State authorities dragged him out of a crack house closet when he was 4 years old. Threw Mom in prison. Dad? Dead before the kid met him."
He's a young man whose beaten long odds and he's on the verge of earning an opportunity that every kid grows up dreaming about, and after his performance at the Combine this past Monday, Ra'shede Hageman appears to have cemented his status as a first round pick. It's a great story that I
hope
continues, and I think it will.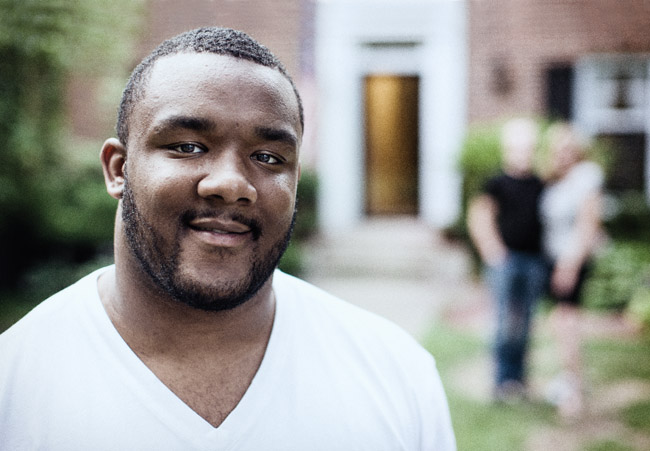 In my opinion, and despite his "not-a-sure-thing" status, NFL GMs would be silly to let Hageman slip too far down the board in May's draft, and NFL quarterbacks would be crazy let Ra'shede slip off their radar at the line of scrimmage. I predict he'll go late in round one, and then go on to make a lot of teams regret not picking him earlier. The first round of the NFL Draft is on Thursday, May 8. Photos via: Google