Gophers Win in NIT... Hello? Anyone?
Posted by Brent Lee on Thursday, March 20, 2014 at 12:00 AM
By Brent Lee / March 20, 2014
Comment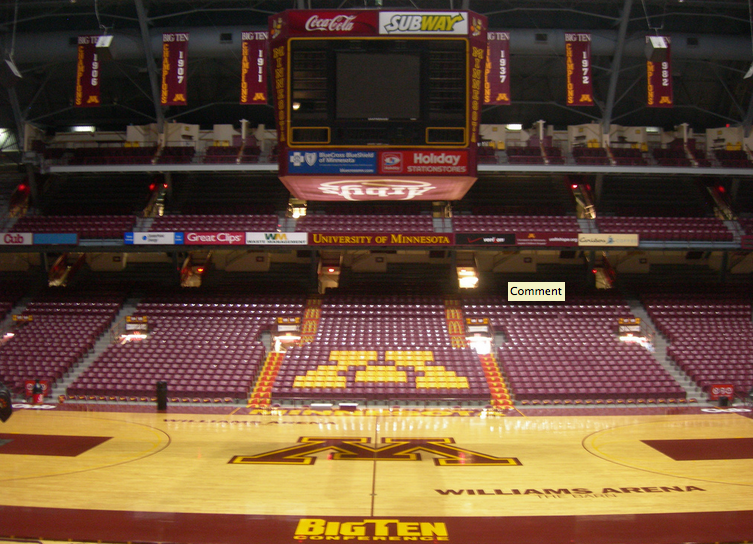 As we
reported
earlier this week, after falling (hard) to Wisconsin on Friday, the Gopher men's basketball team was not selected for the NCAA Tournament on "Selection Sunday." As a consolation prize, they were however invited to play in the National Invitational Tournament (the NIT), a 32-team bracket composed of the teams deemed not-quite-good-enough to play in March Madness's main event. On Tuesday, the top-seeded Minnesota Gophers opened their NIT run with a relatively tight (88 - 81) win over the bottom-seeded Panthers of High Point University. If you were unable to see the game, you are not alone — Tuesday's game was not on TV, the only coverage available a streamed online version of the action on ESPN3. Since likely almost no one saw it, here are a few key numbers to update the many fans who missed their chance to view the game live:
3,493
That's the
reported
number of fans that showed up to see the mighty Golden Gophers defeat the Panther's from High Point, which is
reportedly
an actual Division 1 school with a real-life basketball team that has uniforms and everything.
14,625
That's the capacity of the legendary and historic William's Arena. (Empty seats at last night's NIT game = 11,132)
1,750
That's the capacity of the Millis Athletic Convocation Center, where High Point plays its home games.
21
That's the number of points scored by Gophers' senior Maverick Ahanmisi in only 23 minutes on the floor. Ahanmisi was the game's leading scorer and also happens to have the coolest first name in college basketball. He averaged only 2.8 points during the Gophers' season before his offensive outpouring on Tuesday.
31 and 1
That's Richard Pitino's age along with the number of seasons he has been the head coach for Gophers.
Relax
and give him some time, people. Let him have a few years with his own recruits before we impatiently chase a coach out of town before we knew if he had what it takes to be a success.
2
That's the number of additional consecutive games the Gopher's will need to win before anyone apart from the family members of the players will pay one iota of attention to the games they play in the NIT. Two more wins would send Pitino's Gophers to the NIT Final Four at Madison Square Garden in New York, and that would be (kinda ) cool. In the meantime, with the bona fide Big Dance — the
real
NCAA Tournament — kicking off on today, here's a rough estimate of the number of people who will be paying attention to the lowly NIT...
0
The Gopher's host the
St. Mary Gaels
— which, like High Point, is also reportedly a real Division 1 team — this Sunday, March 23rd at 2:00pm. Photo by:
Jimmy Emerson