Interview -- Jean-Philip Grobler -- The Man Behind 'St. Lucia'
Posted by PJ Mudd on Thursday, January 23, 2014 at 12:00 AM
By PJ Mudd / January 23, 2014
Comment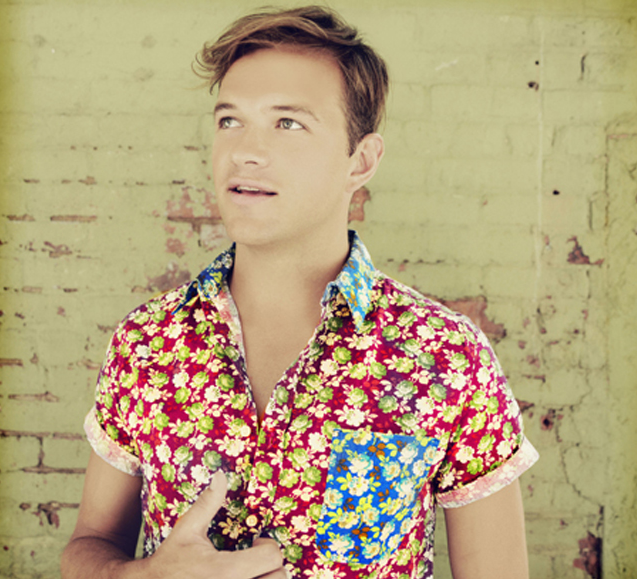 "... the music just takes on a slightly different meaning in the cold weather, but I like to think that it still makes people feel like it's summer a little bit."
St Lucia was started in 2010 by Jean-Philip Grobler, a Johannesburg born, former member of a boys choir and current Brooklynite. The band, best known for their warm summery, electro-pop sounds, will be visiting sub zero tundra of Minneapolis for the first time this weekend. We were able to ask Grobler a few questions ahead of his visit -- and although St. Lucia has been warned about the cold, they're really looking forward to their stop at the Fine Line on Sunday. We were able to ask Grobler a few questions via email ahead of St. Lucia's visit.
MinnesotaConnected:
 I read that you got the name St Lucia from randomly picking a spot on a map of South Africa. How much of growing up in Johannesburg do you think influences the sound of St Lucia?
Grobler:
I think that a lot of it does. When I was growing up, the general population still had fairly conservative music tastes because we were shielded from the international music community for so long. Before I hit my teens, all that I'd heard or knew about was the poppiest or biggest of pop, like Phil Collins or Lionel Richie or Michael Jackson, and there was never any stigma that I was aware of to liking that stuff. I think that the fact that I liked that music growing up so much has made it feel very natural for me to integrate it into my music now. With 'African' music, it's been a bit different. It was always there, and it was never something I considered special until I'd been living out of the country for many years and was able to look back from a distance and realise the value of that music. http://www.youtube.com/watch?v=EmsyXRw3KuI
MC:
Your music is very dreamy and reminiscent of warmer weather. I know personally I've just hit play on your catalog in Spotify to distract myself from the freezing weather we've had lately. What's it like playing in the US during the winter?
Grobler:
Touring during the Winter can be difficult because someone in the band seems to always be on the verge of getting the flu, and it really takes a toll on my voice because of how dry it is, so I constantly have to carry a humidifier with me. In terms of context, the music just takes on a slightly different meaning in the cold weather, but I like to think that it still makes people feel like it's summer a little bit.
MC:
 Speaking of Spotify, you did a live session for them. What's your take on services like Spotify and Rdio, specifically if they help or hurt young bands just starting out?
Grobler:
 I'm still a bit on the fence about the whole thing. It's a little bit like giving everyone an unapproved drug for some illness and having no idea what the long term effects will be but just knowing that this helps with these few symptoms. I haven't fully studied all the ins and outs, but to me it seems like if it's managed properly and enough money runs through it, it could be a good part of the music industry picture. I love using it, and in many ways I think something like that is the future.
MC:
 As a relatively young band yourself, what was it like to get on so many festival bills last year? (I caught you at Lollapalooza by the way.)
Grobler:
 It was awesome. Playing festivals is one of the best things about being in a band, especially if the weather is good and there are a bunch of other bands that you like playing.
MC:
 Does your set change much between a festival setting and a club setting? Is one easier or more fun than the other?
Grobler:
 We normally have about as much time for a festival set as we have for an opening set, and so we'll play the songs that generally go over best with audiences. Both are fun but in different ways. With a festival audience, you have a whole bunch of people who are there who may never have heard of you before, so you have to work a little bit harder to get people excited.
MC:
 You were originally scheduled to play the 7th St Entry here, but got upgraded to the Fine Line, did that surprise you at all? I didn't think you've been to Minnesota before, is that correct, will this be your first time? If you've never been here before what sort of impression do you have, other than it being cold and snowy?
Grobler:
 Being upgraded took us completely by surprise. We'd never been to Minnesota before, and so we came in with very low expectations and were completely blown away. Our guitarist/bassist Ross Clark went to McNally and lived in Minneapolis for 2 years, and he loved it, so I'm excited to check the city out. We've definitely been warned about the cold though.
MC:
 Have you had any exposure to any Minnesota artists (that you're aware of anyway), if so which ones have interested you the most?
Grobler:
Well, I mean, Prince of course has been a huge influence to me. Ross was really into Happy Apple and the Bad Plus for a while. But Prince just takes the cake for me because of how brilliant he was and still is in many ways. http://www.youtube.com/watch?v=S4nb47lllz8
MC:
 With two EPs and a full length in the last two years, do you have plans on releasing anything in 2014? Will we get to hear any new material when you visit Minneapolis?
Grobler:
 We still have some B-Sides from the album that haven't been released yet, and so those have to come out at some point. We used to play one of them in our live set, but stopped once the album came out to make space for all of the other new material. We probably won't play any of it on this tour but maybe next time around. We are doing a few new things though that I think make the show quite a bit more fun.
MC:
 You've had a lot of background in music, such as touring and performing before St Lucia, did that help prepare you and help you avoid making mistakes with St Lucia?
Grobler:
We've definitely made our fair share of mistakes, but I think having done these things before has given us a higher tolerance for when things go wrong. Everyone makes mistakes, it's just important to be able to learn from them and move on to bigger and better things.
MC:
 For people who've never seen you live, what should they expect to see?
Grobler:
 We have a lot of fun on stage and involve the audience a lot. Plus, we have this whole new lightshow made up of these amazing LED light strips that I think takes the show to a different level.
MC:
 Touring as much as you have been lately, who is the messiest member of the band and why? Who is the funniest member of the band and why?
Grobler:
I'd say that, right now, both of those things are embodied by one person, and that's Ross. He really is the most consistently funny, and really not all that messy but a bit messy...;-)
MC:
 Can I buy you (and the band) a beer when you're here?
Grobler:
 Haha, we won't say no to that! St. Lucia will be performing with Sir Sly, on
Sunday January 26th, Fine Line Music Cafe
Photo via: St. Lucia
Facebook Page