Interview with Minnesota's Master DJ 'Freddy Fresh'
Posted by Erik Bergs on Thursday, July 10, 2014 at 12:00 AM
By Erik Bergs / July 10, 2014
Comment
[caption id="attachment_274071" align="aligncenter" width="550"]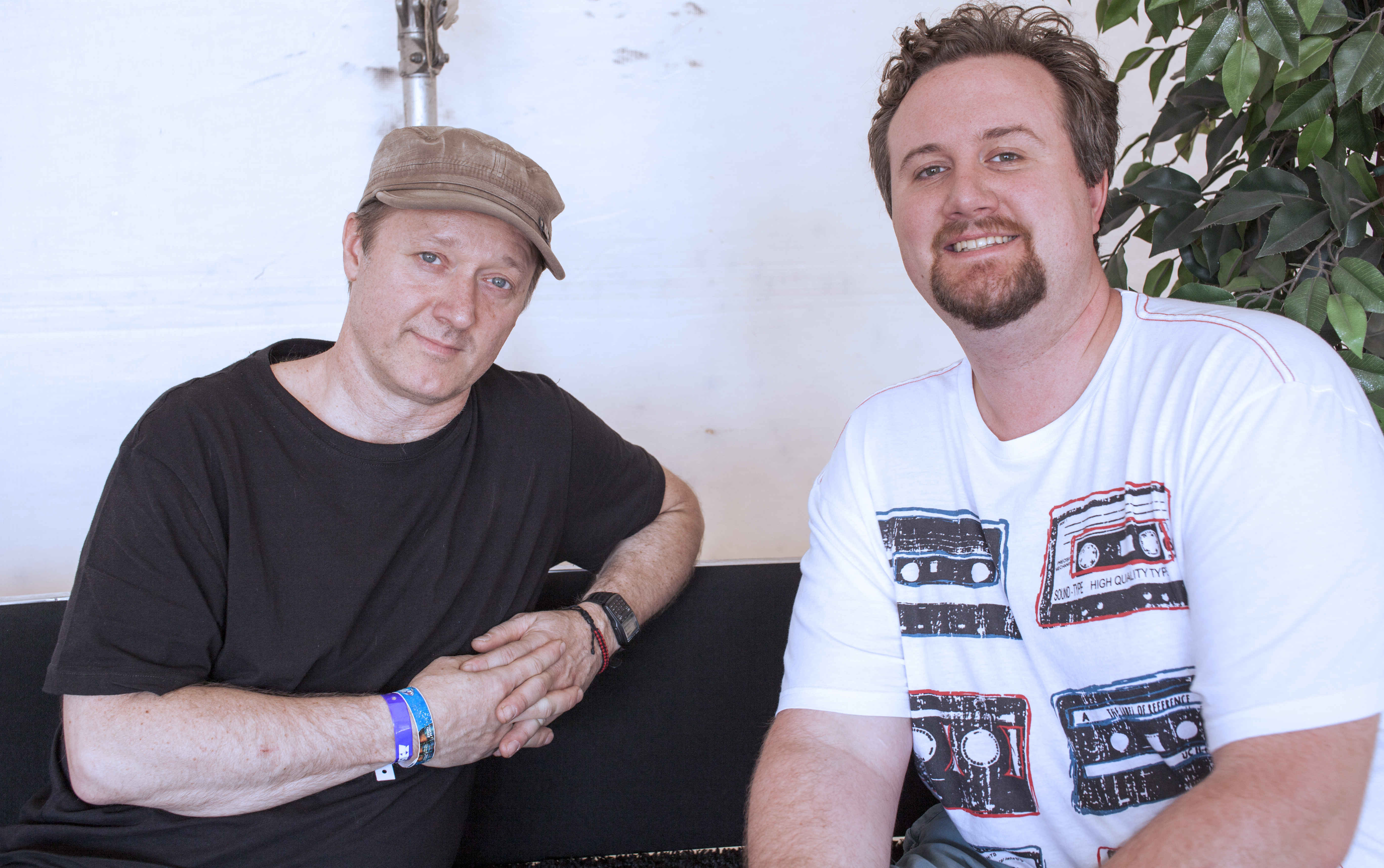 Freddy Fresh (left) and I (Erik Bergs, right) sat down for a chat at Soundset 2014[/caption] At
Soundset
 Minnesota Connected met with local Minnesotan and global superstar Freddy Fresh. His interview was a lot different from the other artists that we 
spoke with
; he happily admitted to being older than the various performers working the concert; but with his advantage in experience and a bit of retrospection, Freddy dropped quite a few jolts of wisdom.
'Soundset' Chat
Minnesota Connected: What are you up to these days?
Freddy Fresh:
I teach DJ techniques at the college level. I also do a lot of production work, remix work etc. Currently my attention is on my two record labels:
Electric Music Foundation
(techno and electronica) with our first digital release called
Launch
out July 14th and
Howlin' Records
with a new single
Hardcore Rocka'
by Freddy Fresh / Andy Ictus featuring Tanto Metro and Devonte coming up from my new album which will be out by fall.
MNC: You have worked with quite a few other artists over your career…
FF
: Yes I've worked with
Fatboy Slim
and I've produced songs with
Grandmaster Flash
as well. I've remixed Eminem for England, I've toured with
Jungle Brothers
and remixed the catalogue of
Sugarhill Gang
. I worked with a lot of old school artists. I've worked with newer artists too like
Freestylers
and remixed
Heaven 17
and even some rock bands like
Travis
. Back in the day I was with Sony London, so I ended up doing a lot of English acts and English work. I lived there for many years and toured from there all around Europe, Asia and South America. I toured for 17 solid years and by choice I stopped taking International gigs.
MNC: You are very well known internationally, but at the same time are also a very local Minnesota guy. What's behind that? What grounded you here?
FF
: I got remarried 10 years ago with a woman in Colombia. I was performing in Bogota and I ended up living there for almost a year. We ended up traveling to about 10 different countries together, but we had two girls (3 and 5 year olds). I also had two daughters from my first marriage… And frankly touring is a marriage killer. And a broken up family is not a good life for a child. You know, I'm older now; and I've done more things now than I can really conceive of. I've played in the Olympic stadium of Moscow and played at all the biggest festivals of the world. I don't think it gets much better than that, I've been very blessed. Now should it be my goal to ride that wave until I'm dead, until I can't anymore? Or should my goal be to keep my family? You can't take the ability to create music away from anyone. What you can do is take away staying hot, following trends and extracting money from that, which is (by taking that away) the sacrifice of keeping your family happy.
Granted, Minnesota is not the Mecca of dance music or electronic music. But I love the state and you can raise a family here. And if I want, I can travel to where the action is if I need to. But to answer your question in short: I chose my family.
MNC: What do you think Minnesota has to offer hip hop?
FF
: There's a lot of talent here. I mean, of course we have the
Rhymsayers
crew and whatnot. But I always say that at any given time the best artist in the world is somebody that nobody knows making music in their basement. Because they're so hungry and they're so on fire from the passion of making music that they're doing nothing but living, eating, sleeping and dreaming that art form; whether it's DJing or rhyming or playing a guitar. When I was in England working at the studio, for years and years I'd walk up this certain corridor and see this one kid scratching. All he would do was sit at one turntable and scratch. For months I just saw him doing that. That's all he did. That's
A.Skillz
. He's one of the best DJs in the world now. He tours all over Europe. Those are the kinds of people that we have in Minnesota. There are a lot of people here that want to make up for the fact that this isn't in New York, LA or London, but they might not even realize that those scenes are not always the answer to happiness, fame and fortune. But yes, we have a lot of talent here.
MNC: What advice would you give to DJs that are just starting out now? How can they break through to people like me, so that we buy their music or attend their shows?
FF
: Play music that you like and try to find what other styles fit rhythmically with your tastes. Investigate old and new songs and not just the top 50 on websites like
Beatport
. Be creative and try and mix the songs in a way to keep a vibe going. Don't sit behind a computer checking emails or getting girls phone numbers while your DJing. Feel your audiences vibe and try to convey that you are doing something other than just standing there or letting the modern technology auto mix for you. Frighten or shock your audience with a scratch maneuver. Complement the music with added EFX or Echo. Remember that if you succeed you will become an entertainer and it's your job to keep people dancing or vibing. If you work your way up a ladder to high paying gigs remember where you came from and if you just played a gig for 10,000 people and the next city has only 50 people, play with the same enthusiasm for those 50 people that you did for the 10,000. If you can do that your are getting close to what a real DJ is all about. Real DJing is not: "Oh this is so cool I wanna be a DJ can I borrow $3,000, buy all the latest equipment and play songs to people." When older rock and pop stars come up to me and ask about DJing and whether I can teach them how to do it... as it will be easier than hauling guitars and equipment to gigs. I always respond with: "Yes, I will teach you how to DJ and then you can teach me how to be a rock star."
MNC: What do you believe is your roll as a curator and historian of small record labels and beyond? Why does that interest you?
FF
: Without the people that took risks financially to release these early recordings there would be no industry today. I simply documented and kept records before
Discogs
 was in full effect.
MNC: What do you think were some of the key factors that contributed to the success of your career and its different stages?
FF
: I was exploring mixing rock and roll style rockabilly and boogalooo rhythms with electronics (that's how I made my largest mark) and on the hip hop tip I was big on sampling and scratching (an art form that is finding favor again). Europe appreciated, embraced and played my music on mainstream radio even though I was not a member of the "boys club" that you need to be part of to get into 95% of USA radio's market. In Europe they look for new talent in the USA and much is formulated on what has sold in the past. Hence lots of formulated music appears (sounding like whats worked or whats sold before). Less chance taking. [caption id="attachment_274072" align="aligncenter" width="485"]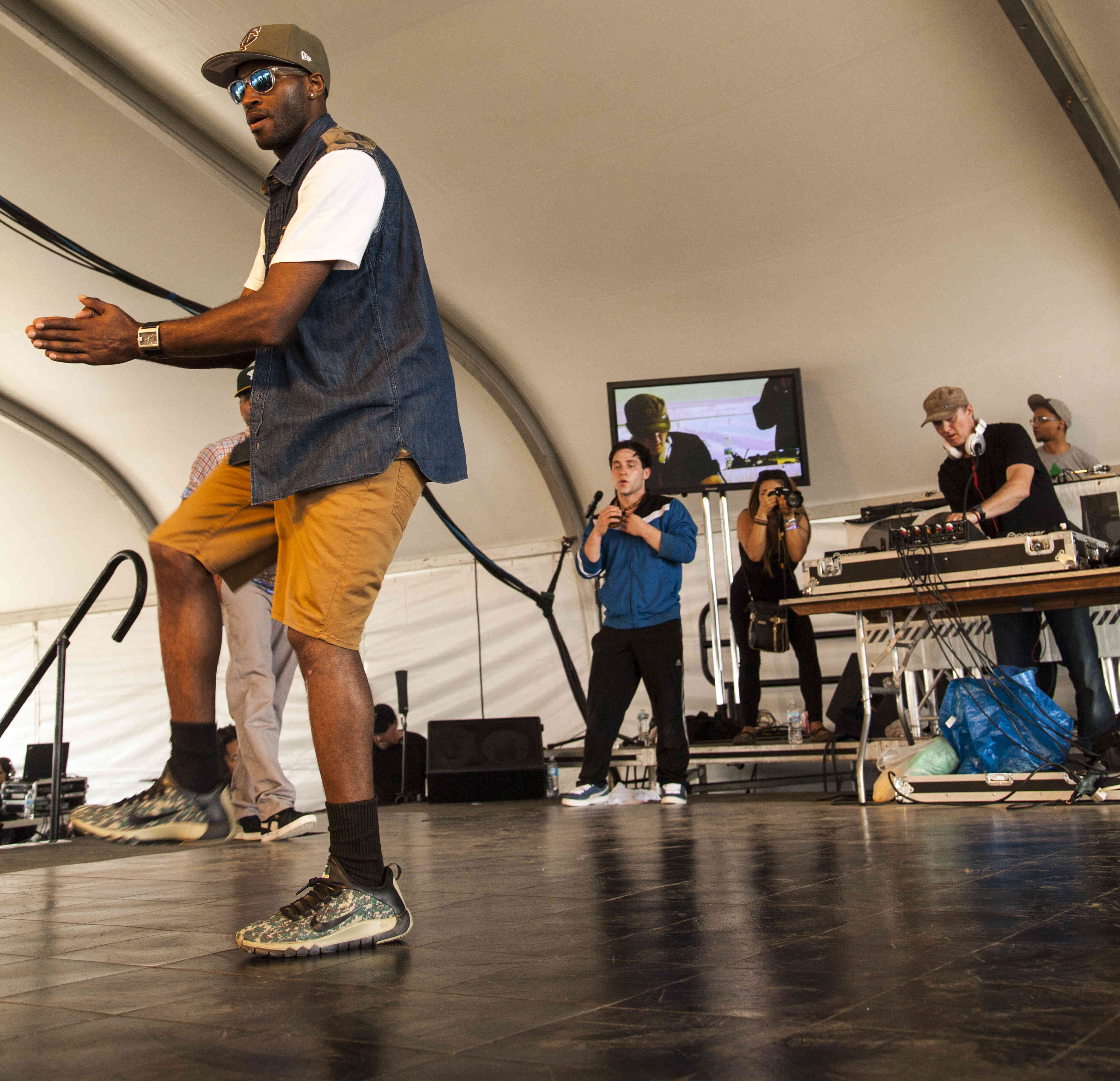 Freddy Fresh and Break Dancing (Match made in heaven)[/caption]
Further Developments
MNC: What's going on with Howlin' Records? What's your involvement, dreams and goals with it?
FF
: I'm in a blessed position, as I am working with legendary singers/rappers
Tanto Metro and Devonte
along with
Andy Ictus
in Jamaica and UK on a song that I honestly feel will have great potential in Europe/UK.  It's Big Beat with the most devastating rap I've heard in 20 years (And I wrote the
book on rap records
literally). I'm finishing up my new album and I have singers from all over the globe: some quite famous, some unknown.
MNC: Where can you regularly be found performing around town?
FF
: I DJ regularly at
Barrio
in Lowertown St. Paul on weekends, the last Saturday of each month I do a Disco night with records at
Kitty Cat Klub
with the famous King Otto and now I am starting to DJ at
Marins
on 9th & Hennepin on a monthly basis. I will have updates on F
acebook
.
MNC: One of the interesting things about DJs is that the average person is often listening to your work during a movie or on TV and they don't even realize it (like the music is creating excitement or emotion for the visuals). Are there any little pieces of yours that we might see on TV or in a movie that you'd like to bring our attention to?
FF
: 
Austin Powers  - Goldmember
,
Fox Network Promos
, Jackie Chan's
The
Tuxedo
, Microsoft X-Box games like 
Project Gotham Racer II
, Adidas Commercials, Peugeot, Renault, American Express, Coors, Budweiser, 
So You Think You Can Dance
, some recent programs on MTV and we just did a new Disney Film background tune for a trailer (my artist Rory Hoy) as well as a new Ritz Ad. So, lots of action going on... and stay tuned for more! [caption id="attachment_263286" align="aligncenter" width="550"]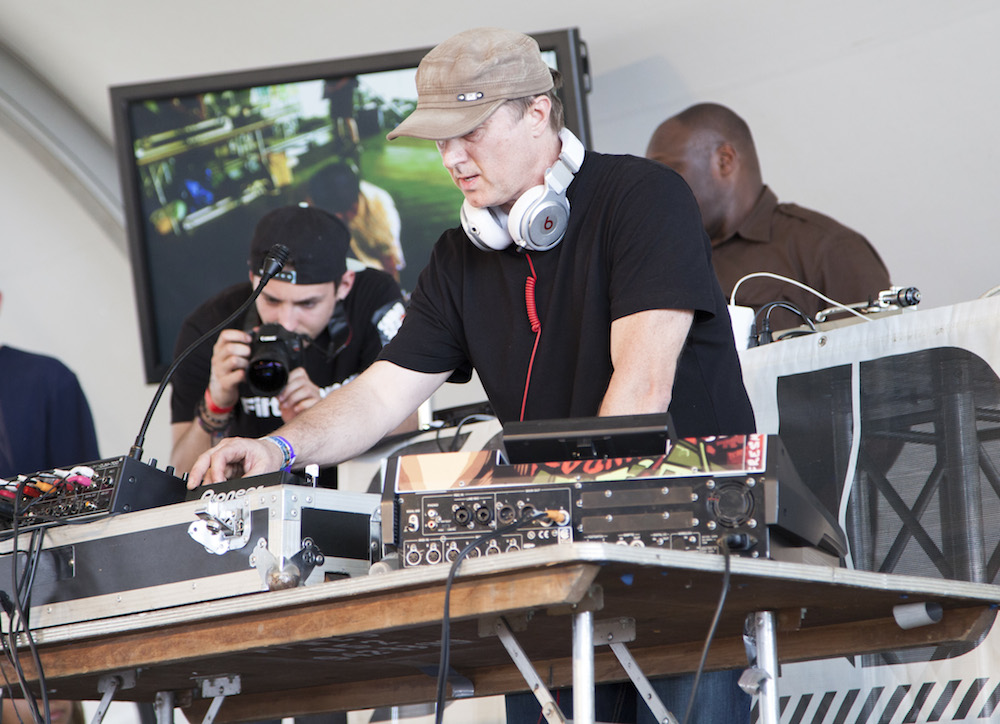 Freddy kept the music spinning in the Essential Elements Tent (Soundset 2014)[/caption]
Lyrical Questions
MNC: Ice T or Jadakiss?
FF
: Ice T
MNC: Is life violence and is violence life?
FF
: Violence is a result of desperation. Life is violent if you put yourself in certain situations. Violence isn't a very common thing for people living in Minnesota. Minnesotans are quite lucky. Even impoverished people in Minnesota look well off compared to impoverished people elsewhere. Hip hop in the early days lived the violence that was talked about in lyrics. Now the stories are only perpetuated out of tradition because most of the artists aren't still living in those conditions. There are a lot of talented artists in places where violence might prohibit them from getting to the next level.
MNC: Flobots or the Beatles?
FF
: The Beatles
MNC: What would you think if I sang out of tune? Would you stand up and walk out on me?
FF: No I'd stay and wait for you to be in tune. I'd give you the benefit of doubt that your going to be in tune, and I'd support you as a friend.
MNC: Kanye West or Notorious BIG?
FF
: Notorious BIG by a trillion miles.
MNC: What happened to summer time cookouts?
FF
: They're still happening.
MNC: DMX, Baha Man or Lauryn Hill?
FF
: DMX
MNC: Where my dogs at?
FF
: They're on the prowl. Find Freddy's music on his
website.
Photos by: 
Alexander Kohnstamm