Interview with Slug from 'Atmosphere'
Posted by PJ Mudd on Wednesday, February 12, 2014 at 12:00 AM
By PJ Mudd / February 12, 2014
Comment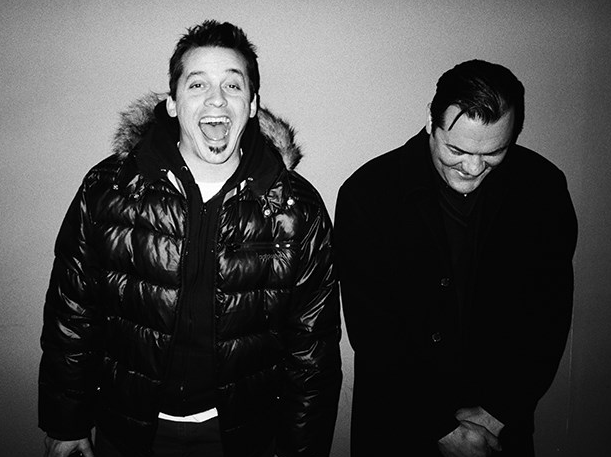 Today, the 2014 edition of the Welcome to Minnesota tour kicks off in Mankato and will conclude less than a week later in Minneapolis at a sold out First Avenue. We spoke to Slug (pictured above on the left next to his DJ, Ant) of Atmosphere via email about the tour, Soundset, the Current, and some of their favorite local acts. **
Minnesota Connected:
Congrats on four years of the Welcome to Minnesota tour. Is it getting easier to pull these together now after four years, or is it just as much work as year one?
Slug: 
Circumstances. I think it kinda depends on what else is going on in everyone's life. For me, this year will be a little more complicated than last year because I have a new infant son at home. It's difficult to work around a baby's schedule.
MC:
I'm guessing Welcome to Minnesota is fun pulling together compared to the larger summer festival, Soundset?  How's that coming along by the way, anything you can share at this point?
Slug:
I'm thankful that I really don't need to put much thought into the organizational side of Soundset. I don't have to decide who is gonna play. I don't have to build the stages. I don't have to sell the beer. I'd be horrible at all of that. I do work some angles on the promotional side of it. I lightly work as a diplomat. And we play our hour. Other than that, I'm fortunate that I don't have to stress about it as much as some of my other teammates. Nobody wants to decorate the room and bake the cake for their own birthday party.
MC: Keeping with tradition, you've released a new song, "Color In The Snow." Do you have a database of past Minnesota references so you don't repeat them? Or do you keep a list of Minnesota things to use in future songs? Should we be concerned if there's ever a song that attempts to rhyme something with lutefisk or Nickelodeon Universe?
Slug:
I'm not embarrassed to admit that I don't have a clue about whether there's a program I could use to organize my lyrics in way that would easily allow me to check references I've made in the past. I'm not much of a list person either. You should be concerned, yes, but not about what I decide to say in any of our songs.
MC:
Speaking of Minnesota centric songs, how do those songs translate live outside of the state?
Slug:
Depends on which song. A song like "Say Shh" translates well because it's about being proud of where you're from. Many people can relate to that if they choose to. But for the same reasons, it's rare that I will play a song like "I Got Chased By A Dog Down 4th Avenue."
MC:
The Current
just celebrated
their 9th birthday and nine years since they kicked off the station by playing "Say Shh."  How do you think that one spin affected the trajectory of Atmosphere?
Slug:
I believe that it opened up a lot of Minnesota listeners to Atmosphere and other local rappers/groups. When the Current began airing in 2005, we had already secured our position in the worldwide indie-rap trash heap. But the Current opened up a lot of local listeners that may not have normally been checking for local rap music, or any local music for that matter. I also deeply appreciate the Current for how human they are. They're one of the good teams.
MC: You obviously have a huge connection with the local rap/hip-hop scene; outside of that which Minneapolis bands are exciting you at the moment?
Slug:
Cloud Cult, Vandaam, Jeremy Messersmith, Chastity Brown, any project Crescent Moon is attached to.
MC: Last year you [Slug] joined LL (Cool J) onstage at the Target Center during the Kings of the Mic tour stop in Minneapolis. How did that come together, and what was it like? As a audience member it was a pretty awesome surprise.
Slug:
We have a mutual friend named Z-trip (LL's deejay). He suggested it and introduced us to each other. I grew up on LL Cool J's music, so there was no way I was gonna miss the opportunity. We didn't rehearse anything, just ran with the spontaneity of it. It was three minutes of fun.
MC: Your longevity is amazing and respectable, do you feel like you have a responsibility to set a good example or mentor younger artists in the Twin Cities?
Slug:
I don't really know anything about being a mentor or setting examples for rappers or artists. But I have a responsibility to do my best to be a good person.
MC:
As you've slowed down the sampling in your music, and increased the use of instruments, how have improvements in technology (such as music software to new hardware that didn't exist even five years ago) affected your music production?
Slug:
Mainly, and most importantly, it allows us to make music anywhere we want to. In the past we were kinda assigned to one main workspace. The factory. Now if I choose to, I can write and record songs in Bemidji, while Ant makes beats atop a mountain in Peru.
MC:
Finally, what's your go-to watering hole in the cities?  Someplace that you think out-of-towners and locals alike, have to visit?
Slug:
I don't really go out to bars anymore. But if you need a place to visit, go see the Minnehaha Falls in the middle of winter when the waterfalls are frozen. BYOB. **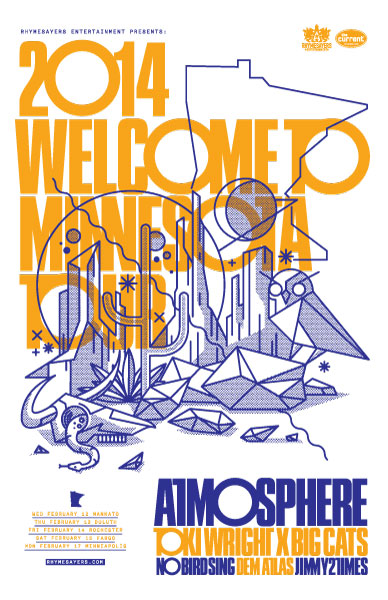 Atmosphere will be performing with Toki Wright, Big Cats, No Bird Sing, Dem Atlas, and Jimmy 2 Times, on
Monday February 17th, First Avenue
Photos via: Dan Monick and First Avenue 
Event Page