'Justice' @ Epic Nightclub
Posted by PJ Mudd on Tuesday, May 14, 2013 at 12:00 AM
By PJ Mudd / May 14, 2013
Comment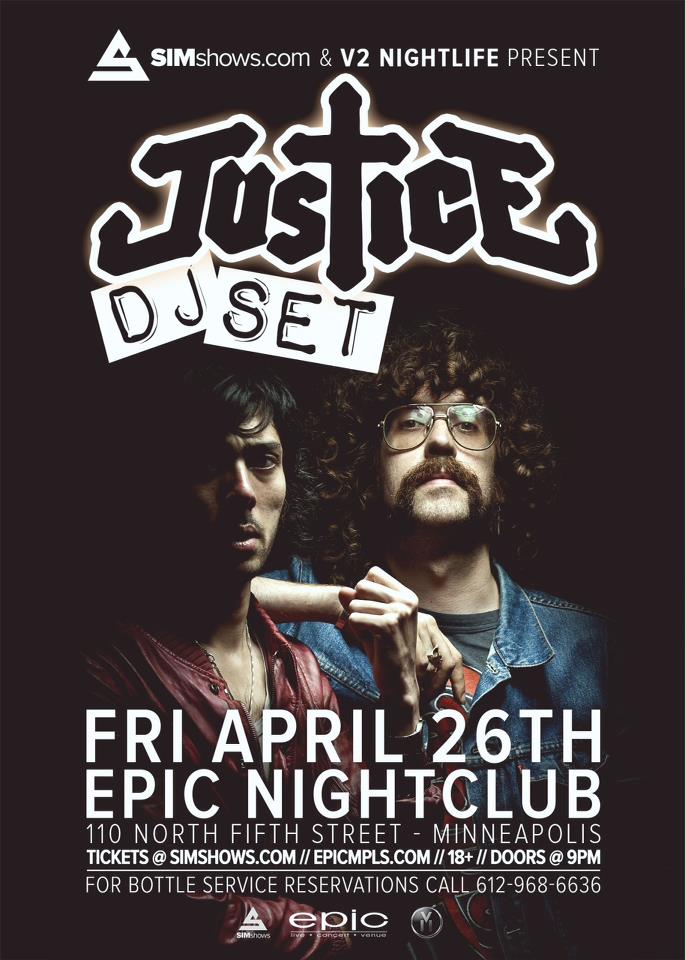 DJ Set or Live set, that is the question.  Depending on your preference you may or may not have had a good time at Epic Friday night.  A live set consists of the trademark Justice stage setup, which is a giant wall of speakers and the white cross, with them playing all Justice tracks or remixes (Check out their new album 
All Access Areas
 for a perfect example of a live set).  A dj set on the other hand is what we got, which was the duo behind a nondescript table with a couple of laptops and some mixers, playing mostly other peoples music.
That's a pretty big difference, although you wouldn't know it from the price of the show.  A $50 ticket would not be out of sorts for a live show, although for the size of Epic and this being Mpls, that's still pretty steep.  So it was a little disappointing that was the price for this show.  According to the promoters, they have to charge enough to pay what the group demands, but if you have to have 
a Groupon
 to help sell tickets, it's obviously too much.
Just after midnight, following 2 opening DJs (KPT & Soviet Panda), Justice finally took the stage to spin some tunes.  In my opinion they did a great job with song selection.  They didn't depend on your typical EDM tracks to get the crowd moving.  They dropped in some classics, from 'Windowlicker' - Aphex Twin to 'Move Your Feet' - Junior Senior, as well as a few Justice tracks.
If you were hoping to see Justice perform, you were probably pretty let down, especially after dropping $50.  However, if you were there to dance, have a good time, and let Justice curate the music for the evening, you likely had a blast.  After all, hearing them mix in D.A.N.C.E. and Civilization is the next best thing to a live set.