Kevin Correia on the Precipice of Disaster
Posted by Jeff Schwenn on Tuesday, June 3, 2014 at 12:00 AM
By Jeff Schwenn / June 3, 2014
Comment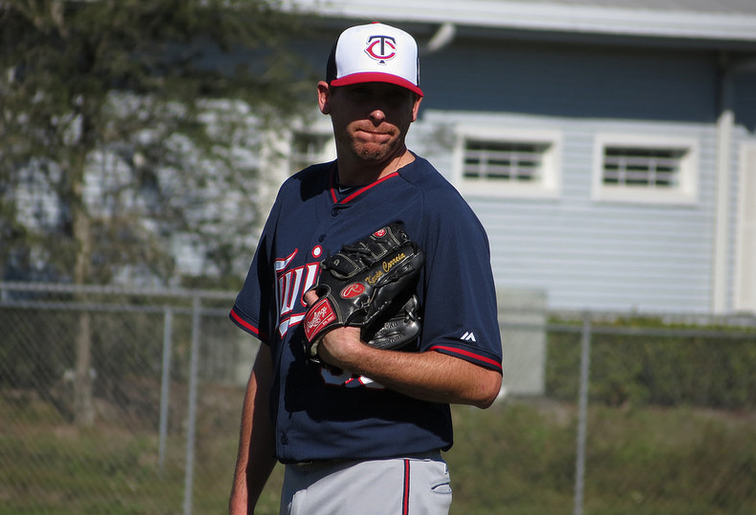 Kevin Correia is in trouble and it's early -- he's no more than 10 minutes into his Saturday start at Yankee Stadium -- as he looks around, the bases he sees are all occupied. Brett Gardner singled to lead off the game, Derek Jeter politely doubled, and then Correia compounded his problems by walking Jacoby Ellsbury. Now Mark Teixeira represents not just the deliverer of potential runs, but quite possibly the death knell for Kevin Correia remaining in the starting rotation this season -- even perhaps the rest of his career.
It's no secret that Kevin Correia has
struggled
this season. He's been hit hard and often. He's been fortunate many outs have been line drives into gloves. These are signs the game has caught up to you. Kevin Correia has spent 1,300 innings and twelve seasons trying to stay ahead of an enemy that is bound to get him -- at age 33 he knows young guns Alex Meyer and Trevor May are more than ready to take his spot in the rotation. He also knows pitchers with ERAs north of 6.00 don't last long. With all this in the back of his mind, the bases remain loaded, there are no outs and Yankee Stadium rises up all around him.  Kevin Correia's career may rest on the next hitter he faces. This is how careers come to an end.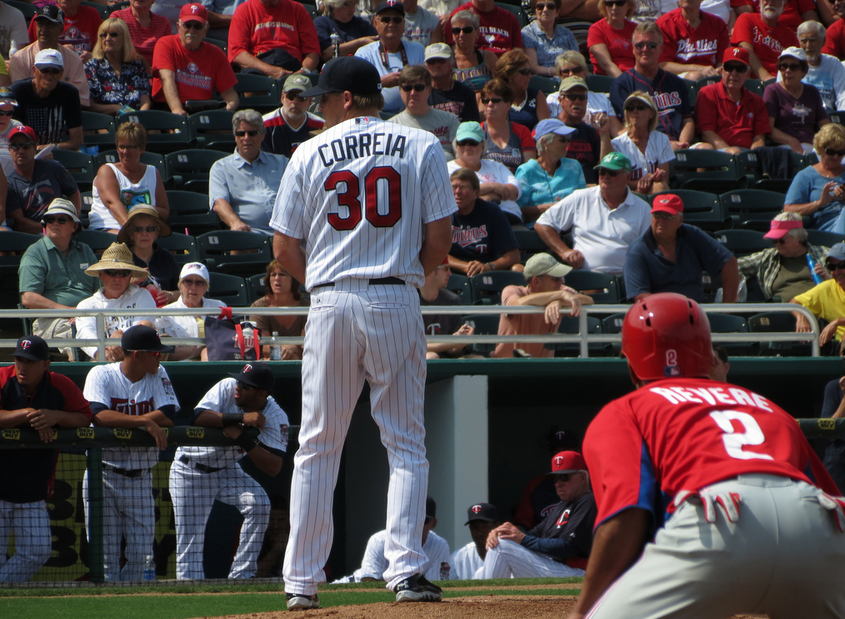 Mark Teixeira is a professional ball player and he's Correia's next hitter. "Tex" has been in the league for 12 years and has 350 home runs to his credit. He's made a career destroying pitchers with far better resumes than Kevin Correia. Armed with a 89 mph cut fastball, a 78 mph curveball, and a 90 mph sinker, Correia gets to work bringing the count full to Texiera. Teixeira, knowing Correia doesn't have much left in his arm, gets overly excited and is far in front of the next pitch swinging and connecting with nothing. One out, bases still loaded and the walls continue to close in around the Yankee Stadium mound Correia stands on. Brian McCann represents the next dagger Correia must avoid.  He throws a sinker that must sink, if it doesn't his unsightly 6.34 ERA will creep towards an unfathomable 7.00. Correia gets the sinker he needs, his career needs, and McCann rolls over on the pitch and hits a ground ball to Chris Parmelee at first base. Parmelee fields the ball, fires a high throw to shortstop Eduardo Escobar getting the force out and fires to a hustling Kevin Correia covering first base. McCann is out by half a step and one of the great Houdini acts by a Twins pitcher this season is complete. Kevin Correia remarkably tip-toed across a Yankee minefield unscathed. His reward: a chance to pitch the second inning. Correria scattered 9 hits and pitched 6 innings, giving up just one run. Yes, the Twins eventually lost the game, but Correia kept them in the contest.
Kevin Correia isn't a great pitcher, but he is a professional pitcher. He was on the precipice of disaster Saturday afternoon at Yankee Stadium and didn't falter. More importantly, he'll stay in the starting rotation and silence the naysayers for another five days.
Photos by:
BeGreen90