Kevin Garnett: Timberwolves' Sherpa?
Posted by Brent Lee on Monday, February 23, 2015 at 12:00 AM
By Brent Lee / February 23, 2015
Comment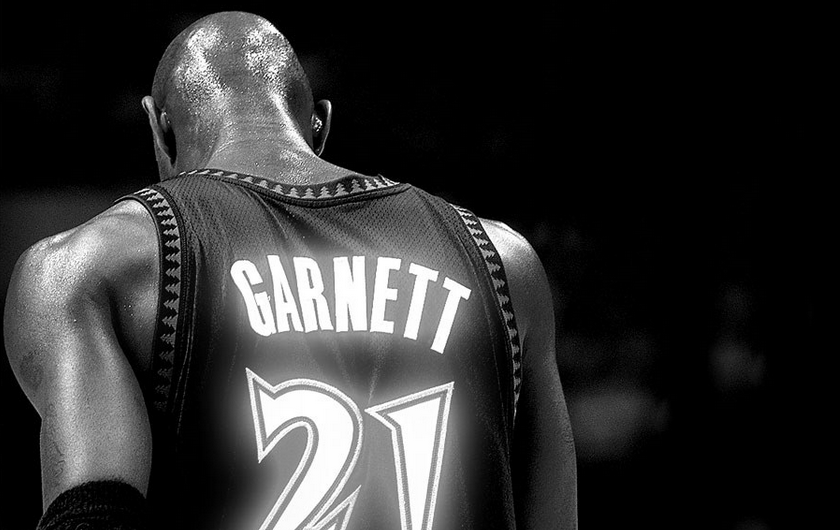 As Minnesota Connected
reported
last Friday, this Wednesday night, Kevin Garnett will pull a #21 Timberwolves jersey over his distinctive wiry shoulders for the first time in nearly eight years. After what is sure to be a goose bump-inducing player introduction sequence (which will, no doubt, involve Diddy's "
Coming Home
"), the house lights will come up and "Da (now 38-year old) Kid" will head to scorer's table at Target Center to engage in his pregame talcum powder ritual/spectacle. And so will begin the (perhaps multiple season long) swan song of the only truly great Timberwolf. Most folks who even casually follow the Wolves know Garnett is an important part of the team's history, but a side-by-side comparison of the Wolves' performance with, and without, KG reveals just how significant his contribution to the organization — and thereby this town — has been.
With Garnett

Without Garnett

12

Seasons

13

501 - 451

(52.6%)

Regular Season Record

(Winning %)

201 - 749

(21.2%)

7

Winning Regular Seasons

(Above .500)

0

4

50+ Win Regular Seasons

(Are you kidding?) Zero.

0

60+ Loss Regular Seasons

8

8

Playoff Appearances

0
As the numbers clearly show, Kevin Garnett has been an integral part of
every single good
(non-
Dunk Contest
)
thing
the Wolves and their fans have ever experienced. He is (by far) the all-time franchise leader in every major
statistical
category — points, assists, rebounds, blocks and steals — and with due respect to
Kevin Love
,
Ricky Rubio
,
Andrew Wiggins
, (Pooh Richardson?), et al., the 7-foot phenom out of Farragut Career Academy has been the closest thing to a real identity this organization has ever had. In fact, it's hard to remember a Minnesota figure — in any sport — who has been more singularly important to his team's success. Below is a graphic showing the 26-year history of our beloved T-Wolves. Notice how all the positive things — regular season wins and playoff appearances — begin and end with The Big Ticket. On either side of his tenure in MN, it's nothing but dark, barren valleys for the Wolves… But for the better portion of a dozen year stretch, thanks to Kevin Garnett, Minnesota basketball fans enjoyed an ascension into relevance and respectability among the NBA ranks (Click the graph to bigify)...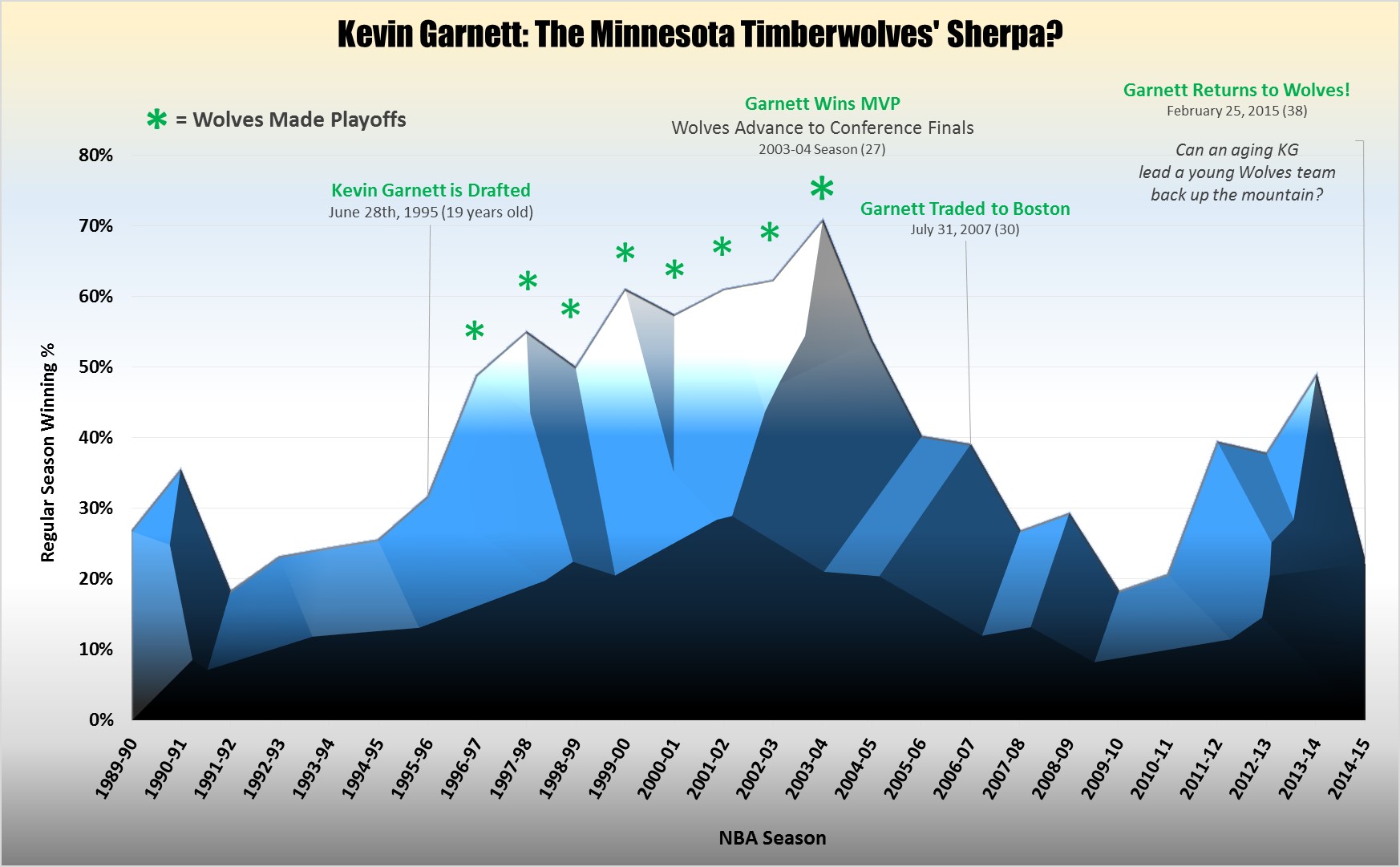 The graph bears a resemblance to a mountain; the young Garnett using his amazing basketball talents as a sort of Sherpa, guiding the Wolves to their summit during the prime of his career. (Before leaving for Boston and winning an NBA Championship.) Of course, as he closes in on 40, KG is no longer able to carry a team with his athletic ability. Can the aging superstar instead equip Rubio, Wiggins, LaVine, and the rest of the young Minnesota roster with the mental edge they need to climb back toward the top? Can he use the wisdom he's gained during his 19 years in the NBA to mentor Flip's floundering team, inspiring them to new heights? The expedition — should it flourish or fail — begins on Wednesday night. Images via Brent Lee — Flicker