Kurt Suzuki's Career is Defined by Hard Work
Posted by Jeff Schwenn on Tuesday, May 27, 2014 at 12:00 AM
By Jeff Schwenn / May 27, 2014
Comment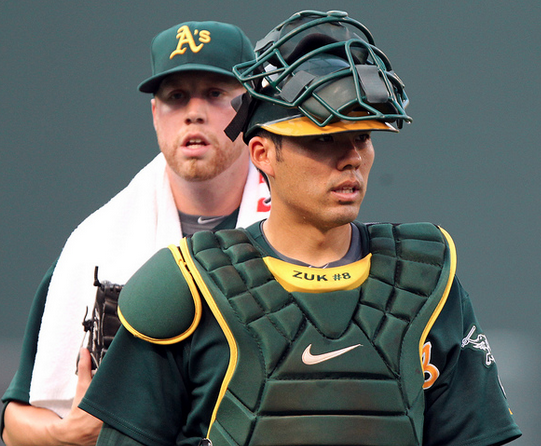 An unnamed American League umpire remarked a few months ago the Minnesota Twins signing of Kurt Suzuki was their best free agent signing in several years. This umpire also indicated Suzuki is the best defensive catcher in the American League. After 46 games, neither can be questioned -- Kurt Suzuki has performed beyond what the front office or anybody expected. What fans are seeing is what many scouts felt Kurt Suzuki would become when the Oakland Athletics drafted him in the second round of the 2004 amateur draft.
Growing up in Wailuku, Hawaii, did not provide Kurt Suzuki many competitive opportunities -- with only five local baseball teams, scouts didn't feel the desire to venture off the mainland to see him. Instead he walked on the Cal State Fullerton baseball team and hit .392 with a .523 on base percentage as an 18 year old.
Suzuki excelled during his three years at Cal State Fullerton hitting .390/.491/.599 and became the Titans team leader earning the nickname "Kurt Klutch." The pinnacle was 2004 when Suzuki and the Titans won the College World Series. His college coach George Horton says Kurt Suzuki's unfailing work ethic at Cal State Fullerton was responsible for him winning the 2004 Johnny Bench Award which is awarded to the most outstanding collegiate catcher each season.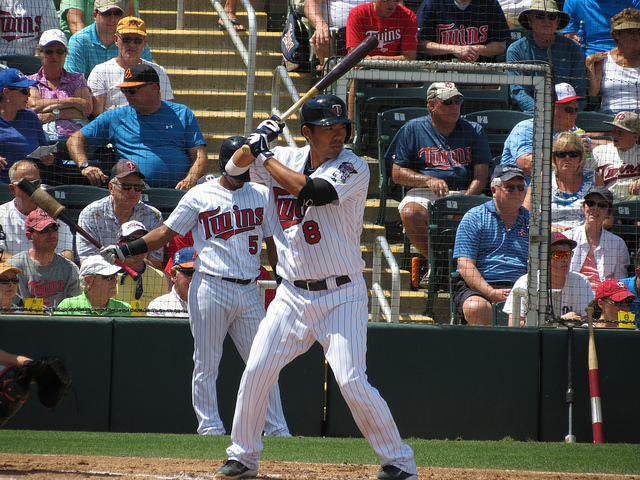 Fast forward ten years and Kurt Suzuki's presence on the Minnesota Twins has transformed a pitching staff from middling to professional. But Suzuki's bat has been the biggest surprise of the 2014 season for the Twins. His .301/.368/.419 hitting this season has produced a 121 OPS+ (21% better than an average player) and his 27 RBIs are more than any other catcher in baseball.
In addition, his eye at the plate has been exceptional this season. He strikes out just 7% of the time -- only Victor Martinez of the Tigers K's less. More remarkable is when Kurt Suzuki swings the bat in 2014, he swings and misses only 2.6% of the time, the best in baseball by nearly a full percent. For a Twins team that K'd in record numbers last season, this may be the most under appreciated aspect to Suzuki's game.
Twins management hopes Suzuki's consistent hard work makes an impression on catcher-in-training Josmil Pinto. Twins Pioneer Press beat writer Mike Berardino quoted Phil Hughes on Suzuki's work ethic:
"He asks (pitching coach Rick Anderson), 'Who's coming in?' He's constantly worried about handling the staff, handling the pitchers. He sits through every single pitchers meeting, and the pre-start starter meetings. He's been great."
Hopefully Pinto is taking notes. The Twins deserve credit for signing Kurt Suzuki to a one year deal totaling just $2,75 million when many fans felt the catching reigns should've been turned over to Josmil Pinto (
myself included
). Despite Suzuki turning 31 in October, now fans in Twins Territory wouldn't mind seeing a two year extension offered. Kurt Suzuki's leadership is needed in the Twins clubhouse and for a still developing pitching staff beyond 2014. Photos via:
Keith Allison
--
BeGreen90