Latté Da's 'Cabaret' Heats up in the Second Act, But Never Reaches the Uncomfortable Temperature the Show Needs
Posted by Nadja Leonhard-Hooper on Tuesday, January 21, 2014 at 12:00 AM
By Nadja Leonhard-Hooper / January 21, 2014
Comment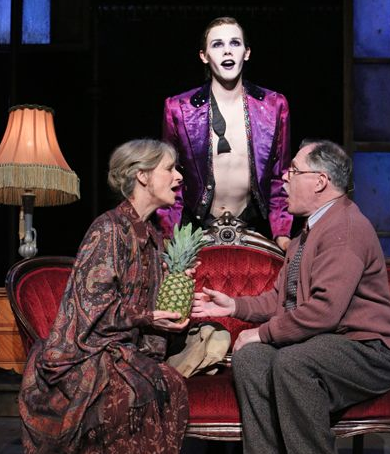 "Willkommen, Bienvenue, Welcome - to my crotch! I'm your sexy emcee for the evening, welcome to the Kit Kat Klub. And my crotch. I'm going to hump everything for a while, and then the Nazis are going to come." Welcome to Theater Latté Da's production of the hit musical
Cabaret.
Peter Rothstein directs this dark and funny romp through the seedy underbelly of Berlin's nightlife in a Germany on the brink of Nazi uprising. There will be confetti guns, there will be terribly overdone German accents, there will be stripper outfits, perhaps including swastikas. There will be acrobatics, high kicks, and hip thrusts galore.
Cabaret
's multiple plot lines have something for everyone. A mysterious and alluring Emcee narrates in the creepy, sexy Kit Kat Klub, where Sally Bowles, a young showgirl determined to be a star, works until she is fired and moves in with Cliff Bradshaw, a bumbling American in search of story material for what he hopes will be the next great American novel. His landlady, the aging Fräulein Schneider, finds companionship with the local grocer after years of widowhood and loneliness. It could all end happily in Paris, but this is Berlin, and the rise of Nazi power is a constant underlying threat.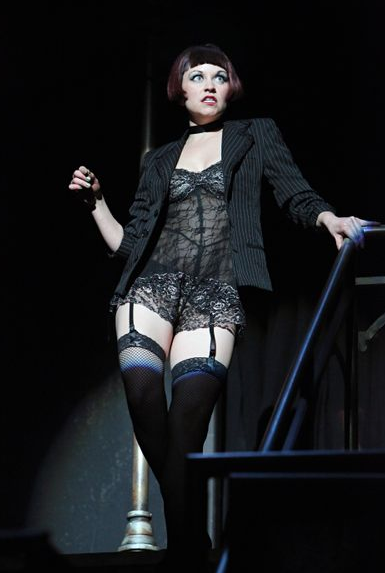 Kira Lace Hawkins belts her heart out as the show's alluring and aloof heroine who refuses to face the reality of her situation. Cliff Bradshaw (Sean Dooley) is the naive American who sets out to save and reform Sally Bowles. Aside from the gentleness with which he treats Sally, it's difficult to see what keeps them together, though it's hard to say whether their lack of chemistry is a flaw or a director's choice, since Cliff's sexuality, like most of those who spend time in the Kit Kat Klub, is ambiguous. Sally Wingert is sweet and funny as a tough-as-nails widow whose past experiences have taught her to expect little which makes it all the more satisfying when she is romantically overwhelmed by the gift of a pineapple. Aeysha Kinnunen is appropriately manic as Fräulein Kost, a young woman who sneaks sailors into the room she rents from Fräulein Schneider. Kinnunen and Wingert have great comedic chemistry; watching the old land lady repeatedly catch the spirited young woman sneaking one to three sailors into her room is gold. Tyler Michaels plays an acrobatic and energetic emcee with the classic white painted face and dark eyes and lips. It's a nice touch to keep him as a presence in all scenes; watching and silently commenting without ever being seen by the other characters. He plays well with the audience, but Michael's rendition of the emcee is so boyish and gay you feel a little like you're watching Puck from
A Midsummer Nights Dream
take on a role that is usually played as older, darker, and more sexually ambiguous. It works to an extent, he gets a lot of laughs, but some of the edge is lost.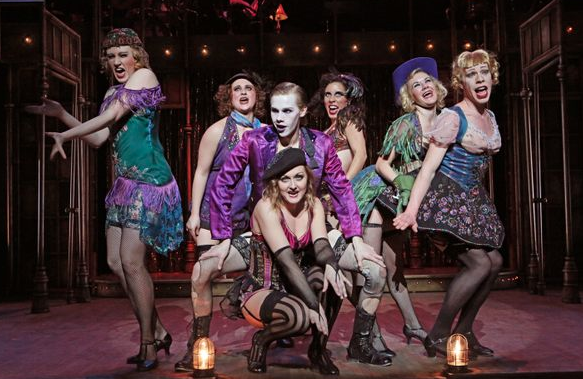 At one point, we take a break from the action during which the emcee shows us historical footage of German boys at a summer camp meeting Nazi soldiers and, judging by the smiles, join the cause to the tune of the Nazi anthem "Tomorrow Belongs to Me." It ends with our glittery-eyed emcee smearing a small black mustache onto his upper lip. The projection of historical footage looked beautiful in the space. It might have been more compelling if they had used it more than once.
There are some very strong scenes. "If You Could See Her," a song in which the Emcee dances with a someone in a full body gorilla suit, combined the visually lighthearted with the abysmally dark. The beginning of "Money" has the best choreography of the show, with the entire cast in trench coats repeating movements evocative of businessmen. But, all too soon, the dark coats come off to reveal assless shorts and loincloths jangling with gold coins. It's a crowd pleaser, but with so many different stripper outfits the usually biting lyrics in "Money" about hunger knocking at the door ring hollow.
Cabaret
was first directed by Sam Mendes in first opened in London, 1993. Its first broadway production, under the direction of Rob Marshall, has become what many call the "template" for many directors, Peter Rothstein included. It's a sizable challenge to translate the aesthetic of a piece to another country and time while still making it accessible to the local audience, and Rothstein grapples with this admirably.
But this production has had an injection of "broadway glam" that resembles an overdose. The costumes are extravagant and I couldn't help but wonder how the financially unstable Kit Kat Klub could afford so many sparkly dresses and undergarments. We are, after all, in a serious depression. The choreography is aesthetically impressive and shows off the considerable athletic abilities of the actors, but the sexual content is so over the top that it becomes silly and mechanical. It feels a little like watching a gay porn spoof of German Cabaret culture.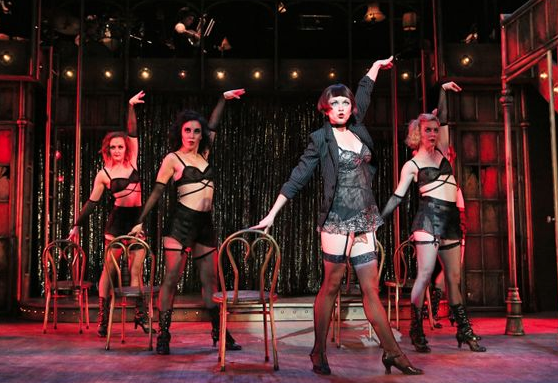 The extravagance of the production and the silliness of the sexual content obscure the desperation that should be the driving force of
Cabaret
. Economic crash, political unrest, and the growing power of the Nazis loomed just outside places like the Kit Kat Klub. You don't get that sense of danger until the Nazi presence explodes onto the stage at the end of the first act (the first time we see a swastika, we hear a gunshot although no one is shooting, a device which, although metaphorically clear, is not subtle.) One scene later, an enthusiastic kick line reveals its sinister side when the dancing girls begin goose stepping, then rip the sides of their shirts to reveal swastikas on their breasts. But until that point, the constant threat of danger is not integrated into this production. Although the play itself is clearly dealing with gay themes and possibly homosexual characters, it's not the main point of the show. Rothstein's production revels in the overt homosexuality of its emcee and the men in the chorus, who "play gay" in a way that feels like a 21st century Pride parade. You don't get a sense that this is happening in a world where being gay could land you in jail or worse. Cabaret's were an exciting and necessary outlet because they allowed for the display of behaviors that otherwise had to be kept secret. Frank Theater, under the direction of Wendy Knox, did
Cabaret
in 2011 starring Sara Richardson as Sally Bowles and Bradley Greenwald as the Emcee. The two of them gave stellar performances, and the ensemble played the dancers at the Kit Kat Klub as desperate, poor, hungry women trying to sell themselves as sexy rich showgirls. The veneer of sexual performance as a way of coping with imminent disaster is what makes the musical so compelling. The audience reveled in the more playful parts of the production, and responded thoughtfully whenever the Nazi presence was felt. In that sense, the production was a success, but some of the complexity of the history was smoothed out in Broadway's glamorous botox. Photos via: Michal Daniel