'Le Switch' -- Le Sigh: A Review of Phillip Dawkins's New play at The Jungle Theater
Posted by Nadja Leonhard-Hooper on Monday, June 27, 2016 at 12:00 AM
By Nadja Leonhard-Hooper / June 27, 2016
Comment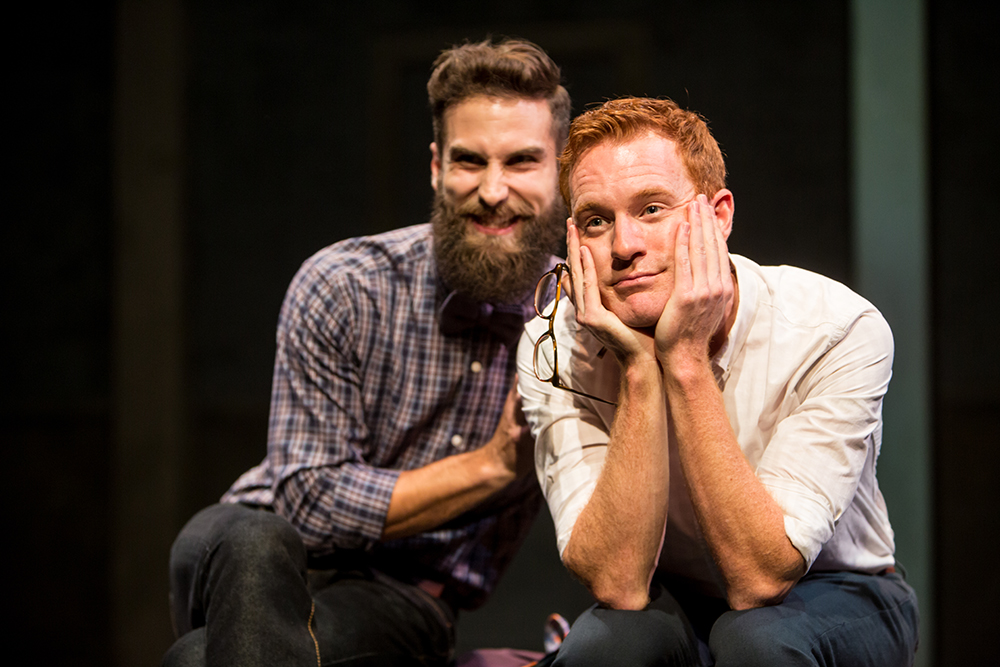 Meet David. He's the protagonist of 
Le Switch,
 a play now having its world premiere at the Jungle Theater under the direction of Jeremy Cohen. David is a 35 year-old gay librarian who loves long walks by the water, has a deep love for collecting rare books that he never opens and a deeper ambivalence about marriage. Everyone wants David to find someone. His best friend Zachary is getting married. His sister Sarah is already married. Even Frank, his never-married but deeply committed roommate, thinks he should get over himself and get into something serious. David asks "Don't you want me to be happy?" The world answers: "I want you to be happy 
and 
married." But David, proud of his self-proclaimed queerness, wonders aloud whether now that gay marriage has been achieved, "We can go back to fighting for gay rights." Hooray! I thought to myself -- this could get a little provocative! But the play remains in the safe haven of romantic comedy. David meets a sexy 23 year-old French speaking Canadian named Benoît (like you do). They climb a mountain, kiss each others' pretty faces, and talk about whether or not books are better opened and read, or closed and full of romantic potential. It's a little ham-fisted, but it's hard not to love Benoît telling nervously smitten David that he wants to pull David's books out of carefully ordered shelves and open them. ("I'll make you watch," he says. David's jaw drops). In the face of Benoît's almost irritating perfection, David's phobia of commitment is put to the ultimate test.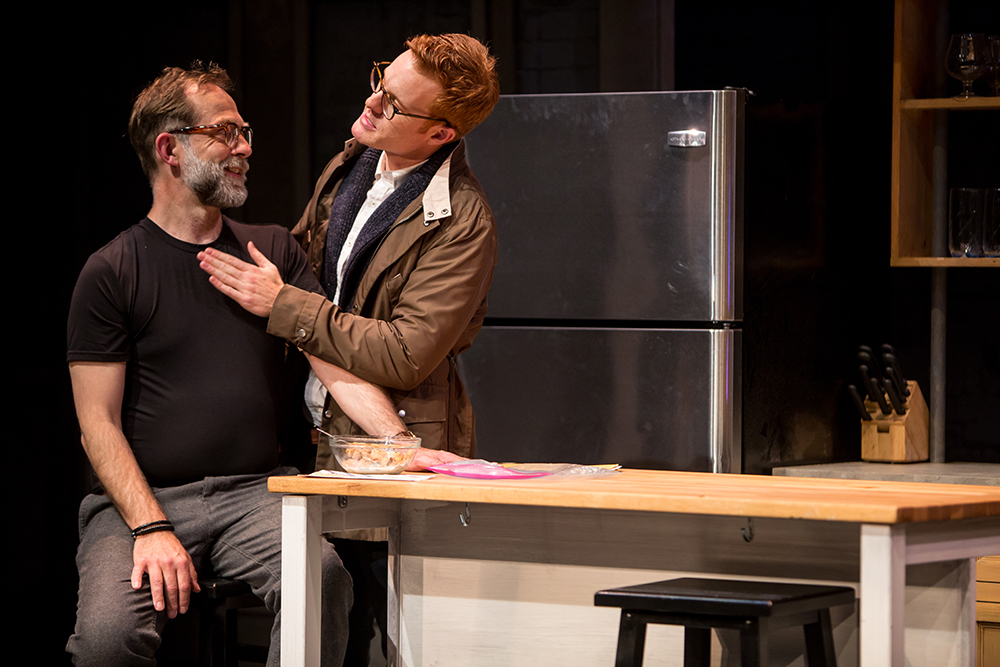 As it progresses, David's political reservations about marriage are increasingly portrayed as rationalizations for more personal, psychological reservations. The political choice to remain outside of a heteronormative institution is revealed as a cover for an internalized homophobia. "Do we deserve it?" he asks his lover in a particularly tense scene. His original stance is portrayed as a hard shell, donned as self protection in a world that rejected him, a world where now, his identity is "trending." It's dramatically satisfying to watch David work this out, but it seems too bad, on the part of the playwright, to let his original questions about prioritizing outsiderness fade away without deeper exploration. Of course, my desire for the author to explore more radical issues is a great demonstration of how far the gay rights movement has come. And the speed at which an idea like gay marriage, once considered radical, can become mainstream (even co-opted or hegemonic) can create roadblocks in intergenerational communication, even among people who love each other. Frank, David and Benoît, three gay men spanning 50 years between them, all have a different sense of what it means to be queer and what it means to be committed to someone. Entry into an archaic institution like marriage may be considered no great victory by the activists of my generation, but for many, it is the realization of a once impossible dream. It has only been twelve years since Massachusetts became the first state to legalize gay marriage.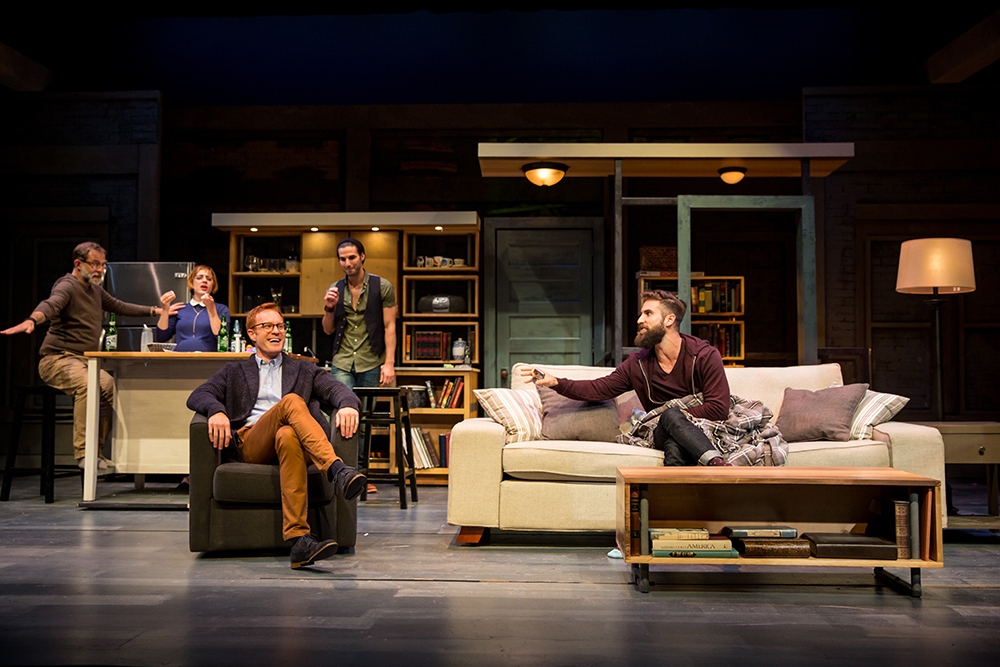 And yet, there are some elements of the play that feel conservative, even for a romantic comedy. No play can, or should be asked to, do everything. But in a play that repeatedly uses queer as a political term to mean pride in aberration, there are some moments that rub uncomfortably against this purported progressivism. The omission of anything other than white cisgendered experience is highlighted by an offhand remark about a sizable portion of Africa wanting to kill the gays, and an offensive and unfunny joke about a hermaphrodite. In spite of these shortcomings in the writing, the performances are strong, although occasionally it feels that the director has forgotten how intimate the Jungle Theater really is. It can't be easy playing David, who spends most of the play a bit emotionally constipated, but Kasey Mahaffy makes him come alive, ambivalences and all. His timing is great, particularly with his funny-loud best friend Zachary (David Wieser). Emily Gunyou-Halaas can do no wrong as David's brassy and complex sister, and it's in her command that the cleverness of the writing finds its fullest expression. Even when her part in the scene was minor or background, I couldn't stop watching her, and I couldn't stop giggling. Patrick Bailey gives a poignant and darkly funny performance as David's widowed roommate, Frank. His final monologue is a salty treat -- the audience screamed with laughter, and he exited to applause. Michael Hanna is adorable as Benoît, but his character would have profited from more nuanced script and direction. As it stands, he's an under-written dream-boat.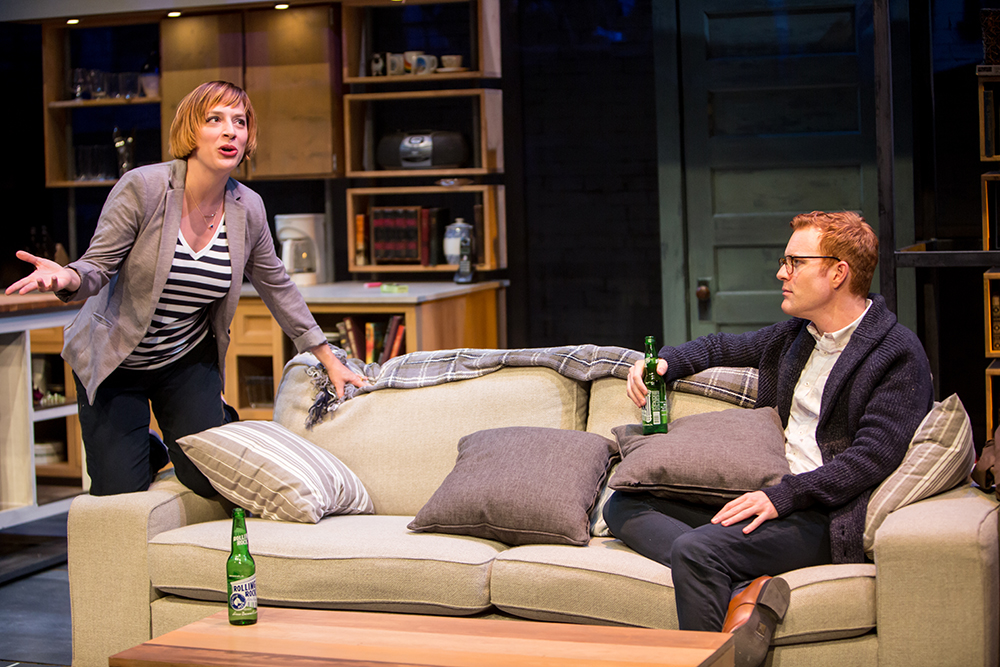 Kate Sutton Johnson has designed a set that transitions elegantly from a New York City apartment to a flower shop in Montreal, to the top of a mountain, and back into the city again. This kind of a living room drama doesn't really need projection design; the lights moving around the edges of the set or hinting at rocky terrain don't distract, but they don't add much to the story, either. Costume designer Moria Sine Clinton has dressed the actors stylishly -- the post-bachelor-party outfit she designed for a ruinously hungover Zachary is her pièce de résistance. There is also a kilt or two. I've already said too much. It's exciting to see a show like this at the Jungle, and I hope it paves the way for plays that are just as fun, but more complex. At its best moments, the dialogue sparkles, the characters revel in their own drama, and we get to see a portrait of a non-traditional family being kind and loving to one another. If you like feel-good romantic comedies with a fresh and slightly salty twist, this show is for you. Photos courtesy of:
Dan Norman