Looming Sharkcano and Minnesota's Best Shark Week Experiences
Posted by Tony Randgaard on Tuesday, June 14, 2022 at 12:00 AM
By Tony Randgaard / June 14, 2022
Comment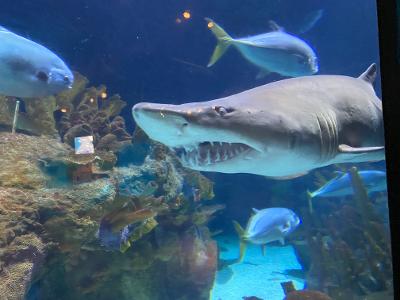 Shark Ray Alley off the coast of Belize offers some of the world's best snorkeling. In warm crystal-clear water I experienced a kaleidoscope of psychedelic queen angelfish, fluorescent orange and yellow hogfish, silver trumpetfish and pastel triggerfish. A large black grouper lumbered by me and then a gnarly-toothed barracuda caused me to gasp for breath. On our second stop the crew tossed pails of bloody chum into the water, inviting us to jump into a swarm of tiger sand sharks. My mind raced to Shark Week and Sharknado: The sharks are in the streets and falling from the skies! I quickly opted out and then worried for the tourists around me diving into the swirl of sharks (see photo).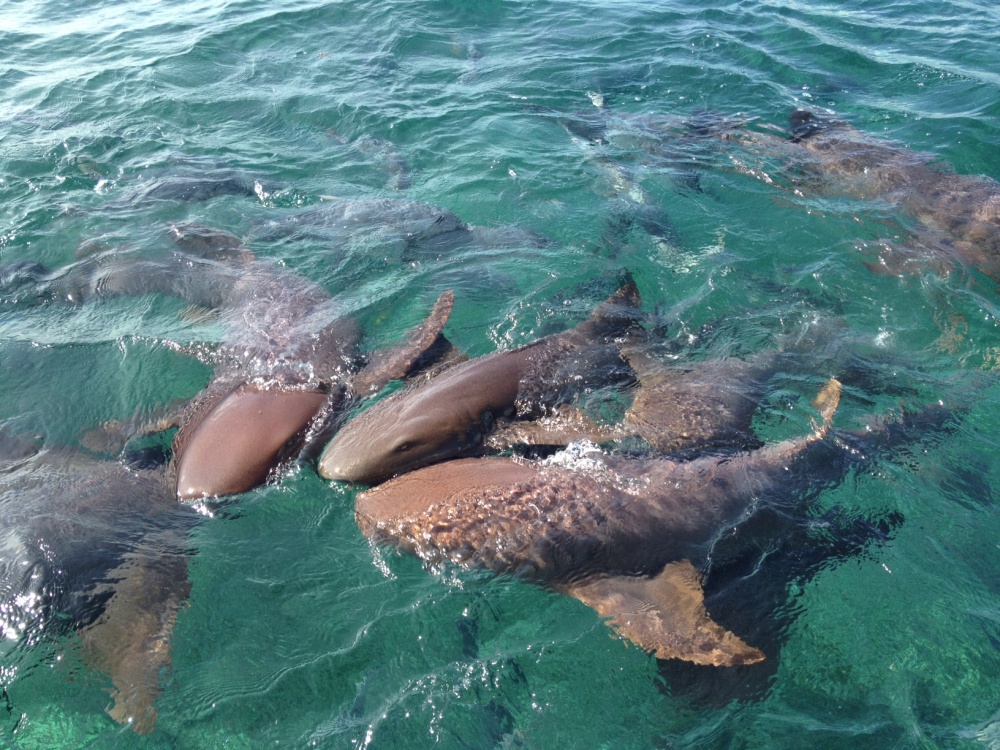 In a few weeks the cultural phenomena, Shark Week returns. Originating in 1988 as conservation-oriented programming on Discovery Channel, Shark Week and its cult series of Sharknado movies has blossomed into an eagerly awaited festival of media, themed bar parties and B movie reruns. Back in Minnesota, I reminisce about my exciting Belizean adventure and wonder if I'll have to fly 2800 miles to relive it. Was my shark-induced panic an overreaction? After a little online research, I am surprised to discover that I can get up close and personal with a panoply of tropical species and more importantly sharks right here in Minnesota. Shark Week here I come! (with legs trembling) Minnesota Zoo's Discovery Bay — I walked most of the sprawling zoo grounds but have to admit that the highest levels of excitement were generated by the kids petting the Discovery Bay leopard sharks or pressing their noses against the glass at the Shark Pool. The huge, fearsome tiger sharks cruise by so close that you could touch them (see photo). At the monk seal pool, one youngster was immobile on his back on an observation bench for most of my visit. He was entranced, absorbing the seals' play time while his mother waiting patiently in the background.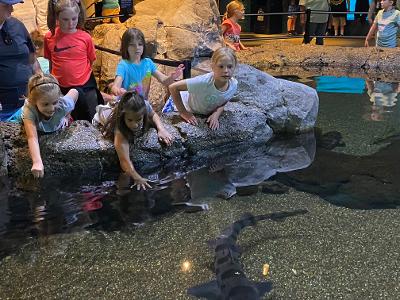 Discovery Bay
is located smack dab at the main gate of the zoo. Prices (which include run of the whole zoo) are: $19.95 for adults, $13.95 for kids 3-12, seniors 65 and over $13.95 and free for children 2 and under.
Sea Life Mall of America
— Their 300-foot Ocean Tunnel below the aquarium is super cool. There are up close views of large tiger sharks and endangered guitarsharks. Sea Life promotes 11 interactive zones and indeed there are several unique opportunities. You can crawl into a tube literally underneath crocodiles. There is a 2 and ½ story rainforest and a Ray Lagoon where you can pet a stingray. A pro tip would be to check out Sea Life on weekdays when there are less crowds.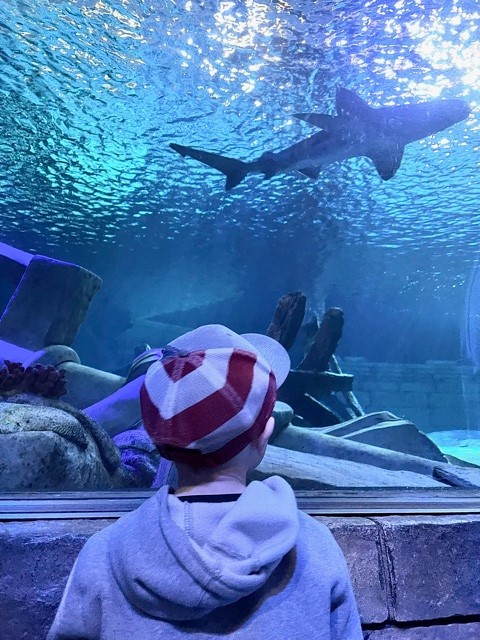 Prices are: $24-25 for adults, $20.99 for kids 3-12 and children 2 and under are free.
Great Lakes Aquarium, Duluth—The Great Lakes Aquarium (GLA)
is an expansive facility located right on the Duluth waterfront. Its benign brown-spotted zebra sharks pale in comparison to its wonderful views of the Lift Bridge and passing harbor traffic. GLA is focused on fish and wildlife native to the Lake Superior basin but its exhibits are not just fish-behind-glass. I was entertained by otters and ducks in bubbling streams, snakes and predatory birds. There were pleasant flashbacks of Belize when I took in their exhibits of electric eels, stingrays, and a rainbow of tropical fish. Prices are: adults $18, children 3-17 $15, seniors $17 and children 2 and under are free.
When I Thought It Was Safe to Get Back in the Water
Just in time for July 2022 Shark Week, NASA released new satellite photos of the erupting "Kavachi Oven" submarine volcano in the Solomon Islands. When Go Pro cameras were lowered into its crater, scientists were stunned to discover "mutant' hammerhead sharks thriving in the belching, super-heated, acidic waters. The discovery of sea mammals living in such extreme conditions spurred researchers to name the molten area Sharkcano. So just when it seemed my Minnesota aquarium tour had eased my shark-related fears, Dunh, Dunh….Dunh, Dunh. The new bizarre shark super powers should lead to some frightening new scenes for this year's Sharknado. Momma!
For the latest Shark Week schedule at Discovery Channel!