Lutsen Mountains: A Minnesota Must
Posted by Eva Meierhoff on Wednesday, February 12, 2014 at 12:00 AM
By Eva Meierhoff / February 12, 2014
Comment
Hey, Minnesotans! I've found it: God's country. If you're a skier, a snowboarder, or just someone looking to head up north for a weekend away from it all, I'd highly suggest a trip to Lutsen. I've lived in Minnesota for 21 of my 24 years and I've been a snowboarder for the last 12 of them. It's actually pretty pathetic and embarrassing that I'd never made the trip to Lutsen before now. I've snowboarded in Colorado three times (and by the end of the month, four), I've been to Buck Hill, Spirit Mountain, Welch Village, and Giant's Ridge. But WHY had I never gone to Lutsen? Face-palm. Okay, enough lamenting. I headed up north to Lutsen Resort on Lake Superior with my friend Meg on Friday afternoon. The resort is a large, rustic lodge nestled on a beautiful section of Lake Superior with fantastic views. Upon check-in, we learned that we were actually scheduled to stay at the Mountain Inn, which is the resort's affiliated hotel closer to the ski hill. In the future, we probably wouldn't stay here again. There was nothing really wrong with the hotel, but it was small, virtually empty, simple, and the hot tub was pretty dirty. If we wanted to eat any of the resort's meals, it required us to leave the hotel and drive a mile back to the main lodge. This was not a huge deal to us, but I just think next time I make a weekend trip up there, I'd prefer to stay in the main lodge or one of their many cabins and condos.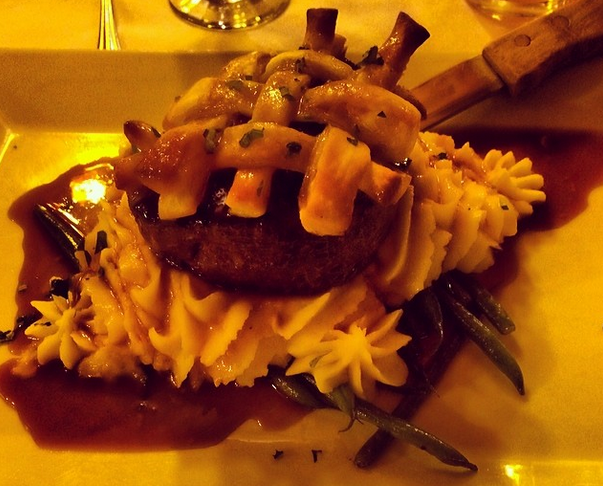 After we got settled at the Mountain Inn, Meg and I went back to the lodge for dinner. I ordered their take on Beef Wellington, and I have to say I was extremely impressed. The filet was cooked to a perfect medium-rare, the pastry was light and fluffy and the mashed potatoes were delicious. Meg was less impressed with her seafood pasta dish, so I was more than happy to share. Dinner left us full and sleepy, so we decided to check in for the night and rest up for the day ahead. Saturday morning we had a quick breakfast at the main lodge, then took the extremely convenient shuttle to the base of the mountain. What came next was the best day of snowboarding I have ever had
anywhere
. It was perfect conditions: the sun was shining, the snow was newly groomed and very soft, and with 95 runs, we had a ton of options.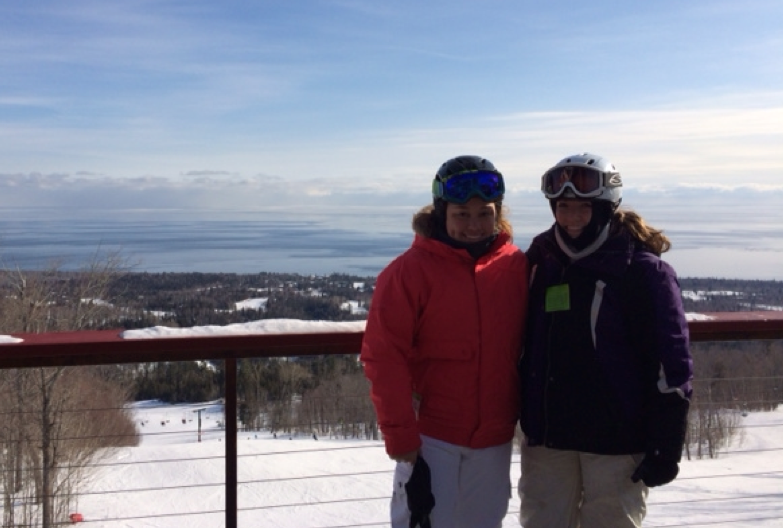 The majority of day one was spent on Moose Mountain. The moderately difficult runs pleased Meg, who is more of a novice snowboarder --  this section of runs also boasted the new 6-seater Caribou Express lift. To us, this lift was a game-changer. There was never a line at the base of the hill and the lift could get us to the top in about two minutes. We were easily getting three to four times the runs using the Caribou Express over any of the other lifts at Lutsen. With lift tickets costing $70/day, this was the best way to assure we were getting our money's worth.
Well, to be fair, my parents' money's worth – this was all a Christmas gift to us from them.

We ate lunch at the Summit Chalet. This was kind of a disappointment. Maybe I'm naïve, but I'd think at a ski resort of this size, they'd have some fairly decent food. Instead, it was your typical run-of-the mill fried food options sitting under heat lamps. I'd suggest packing a lunch or visiting Moguls or Papa Charlie's instead. However, this was the only blight on an otherwise perfect day. We finished our evening with dinner and drinks at the aforementioned Moguls Grille and Tap Room. The dim mood lighting created a calming and relaxed atmosphere. Meg really liked her Fettucine Alfredo and my food was good as well -- although I can't remember what I ate -- try their Homemade Limoncello Shot if you're up for it. The shot was very light and refreshing.

Sunday we ventured back out to the ski hill, braving the fierce winds and extreme cold. It was a complete turnaround from the day before and required us to really bundle up.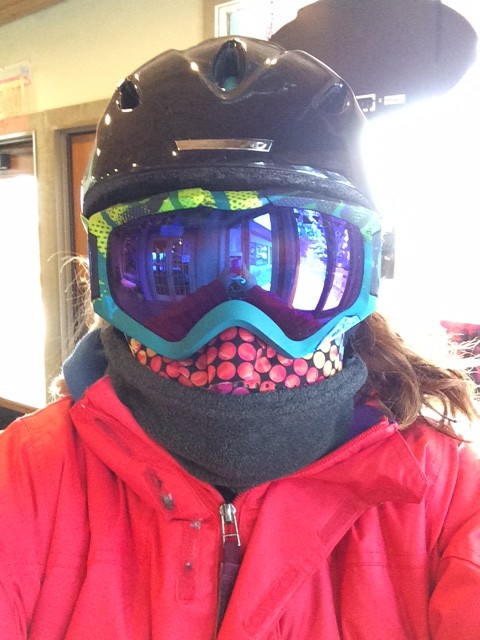 Regardless, we made the most of it and explored a bit of Eagle Mountain. This was a fun area with a delightful run called Charlotte's Web. I was a fan of this run because it allowed me to board through the woods while still feeling in control. After a few times down, we headed back over to Moose where the runs were wider and longer. By 3:30 we were exhausted, sore, freezing, and ready to head home. Overall, the weekend in Lutsen was a great one and I can't wait to go back very soon! If you haven't been yet, grab your gear and head north before this winter is over! Photos by: Eva Meierhoff