McCain v. Franken in Vikings' Pregame Skit
Posted by Brent Lee on Friday, December 11, 2015 at 12:00 AM
By Brent Lee / December 11, 2015
Comment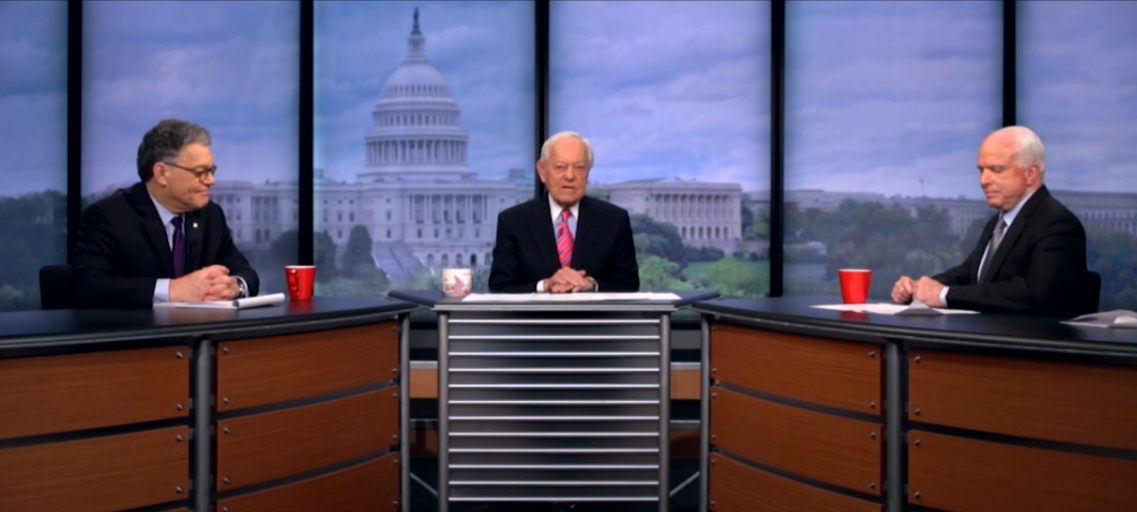 The Vikings' Blair Wlash made a game-tying field goal as time expired in regulation...
While Thursday night's game against the Cardinals ended in
typical
Vikings heartache, it started with a clever skit involving two high profile government officials. Arizona Senator John McCain and our very own Senator Al Franken joined Bob Schieffer to parody a segment of
Face the (Football) Nation
during the intro for the
NFL Network's Thursday Night Football
telecast.
It was pretty funny. Here is the video,
it is only viewable on the NFL site
:
Here is a portion of the transcript:
Bob Schieffer: Your teams—the Minnesota Vikings, the Arizona Cardinals—are about to play on Thursday night football. If you can, briefly, sell the American people on these two teams.
John McCain: Well Bob, it's simple: When the going gets tough, Americans don't fold. When the Arizona Cardinals have an injury, it's 'next man up'. I'm proud of my football team, I'm proud to be an Maerican. and most of all...
Al Franken: He said "briefly," my good friend.
JM: ...if you'll let me finish...
AF: You know we've heard this kind of rhetoric before from my very close friend. But where has it gotten Arizona fans? To one Super Bowl, which they lost.
JM: And how many times have the Vikings lost? Four times. Count 'em. Four.
AF: Exactly. Four times. We got to the Super Bowl four times, Bob.
JM: I'll tell you one thing my esteemed colleague: You're not going to get there this year. Look at the embarrassing loss you just suffered at the hands of the Seahawks.
AF: Okay, we, uh, we had a lot of guys hurt.
BS: Gentleman, let's not turn this into sports talk radio show...
AF: Well it's too late, okay. He is my friend, but he is a loser.
JM: Maybe you will understand the virtues of being a Republican instead of a Liberal, Commy Socialist. You're just mad because the Cardinal defense is a wall, and you can't penetrate it.
AF: A wall, huh? Well let me tell you something. Donald Trump is not building his wall, and the Arizona Cardinals are not building their wall tonight...
BS: Gentlemen, if we could...
JM: Bob, a successful football team is like a successful government, you gotta spend money on defense.
AF: Overspend on defense? I think we've heard that before from my very good friend...
 "Liberal, Commy Socialist." Ha.