'Mid-Major Jones' -- Champ Week Viewer's Guide Trilogy -- Part 2
Posted by Scott Flaskerud on Tuesday, March 11, 2014 at 12:00 AM
By Scott Flaskerud / March 11, 2014
Comment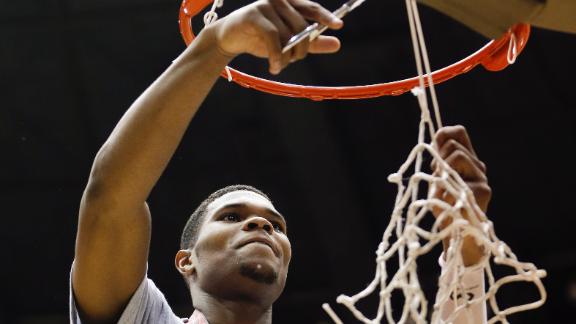 So, two paladins and a nun with a time-traveling wooden leg walk into a bar... Skip it. After Saturday's action, the Eastern Kentucky Colonels became the first team to punch their ticket into the NCAA's Big Dance by virtue of their upset over Belmont in the Ohio Valley title game. Personally, I prefer my tourney upsets to happen in the Big Tournament, but fair enough, Eastern Kentucky! A 16 seed surely awaits. And speaking of upsets in the conference tournaments...
TUESDAY
Horizon League: 3) Wright State Raiders vs. 5) Milwaukee Panthers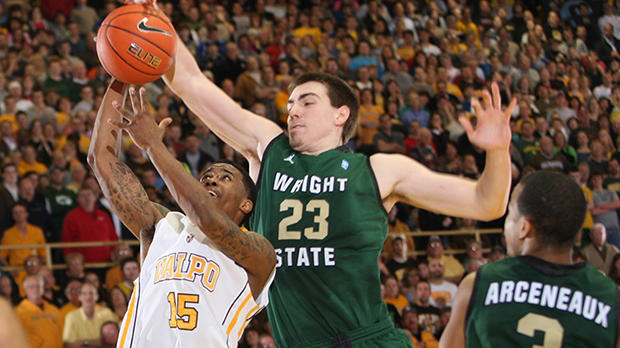 Time: 6:00 pm Channel: ESPN
Best Conference Team Name (special Minnesotan edition):
Cleveland State Vikings Holy crap, you crapped the bed, Green Bay. The Phoenix went (14 - 2) in the Horizon this year to win the league's regular season title -- they apparently displayed enough special sauce in doing so, because some of the big wig national pundits were toting them as the Cinderella-to-be this year. AND... like the Ohio Valley Conference, the Horizon protects their two best teams by 'double-byeing' them into the semi's of the conference bracket. So all Green Bay had to do was win one game in the tourney on Saturday to get to the Horizon League Final. But they couldn't even do that. Instate rival, Milwaukee (Algonquin for "The Good Land"), tripped them up (73 - 66). Furthermore, the aforementioned and 2-seeded Vikings pulled a Vikings and dropped the ball in the game to get to the title game and they lost, too! So, the moral of the story is, I'm probably going to be watching the other conference title game that tips off at 6 pm on Tuesday night, per below: P.S. The Phoenix were projected to get a 12-seed in the Big Dance. That's practically a
guaranteed
upset. Jeez, Green Bay! How's that professional football team of yours doing?!
Northeastern Conference: 1) Robert Morris Colonials vs. 4) Mount St. Mary's Mountaineers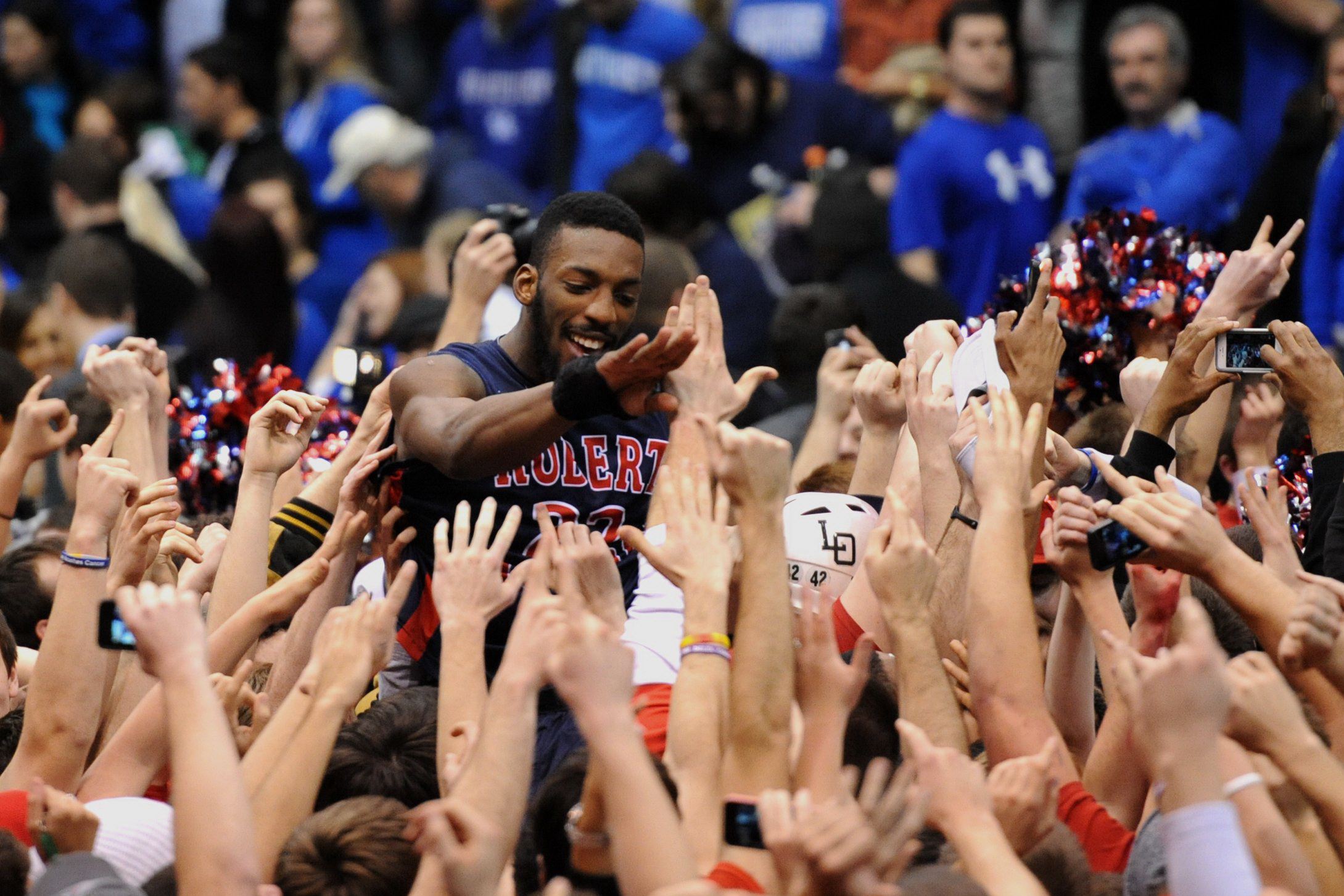 Time: 6:00 pm Channel: ESPN2
Best Conference Team Name:
Saint Francis University Red Flash Do I even want to know what a Red Flash is? Did I just have one this morning...? Let's move on and never speak of this again. The Northeastern Confernece doesn't protect their top teams in their tourney -- they line 'em up in a standard bracket of eight and let 'em have at it. But they do, however, re-seed their bracket after the quarterfinals to pit the highest remaining seed against the lowest remaining seed like it's the NFL playoffs or something. I'm not gonna lie – that completely grosses out the sensibilities of my bracket aesthetics. A bracket is a set of straight lines that lead to another straight line that's in between two straight lines. There's no shifty-snaking in between the lines! I mean, am I mentally insane?! Regardless, Robert Morris is destined to be the heartwarming, feel-good story of the tournament this year on account of their star player, Karvel Anderson, who lived in a park when he was a kid. Like, unsheltered-like. In the wild. By himself. I'd tell you more about his story but I have conference tournament finals to watch, so you're on your own. For the meanwhile, what I
can
tell you is that Robert Morris is definitely going to win this game on Tuesday night. Ten out of ten times. You should watch it and feel the heartwarming goodness of it!
Summit League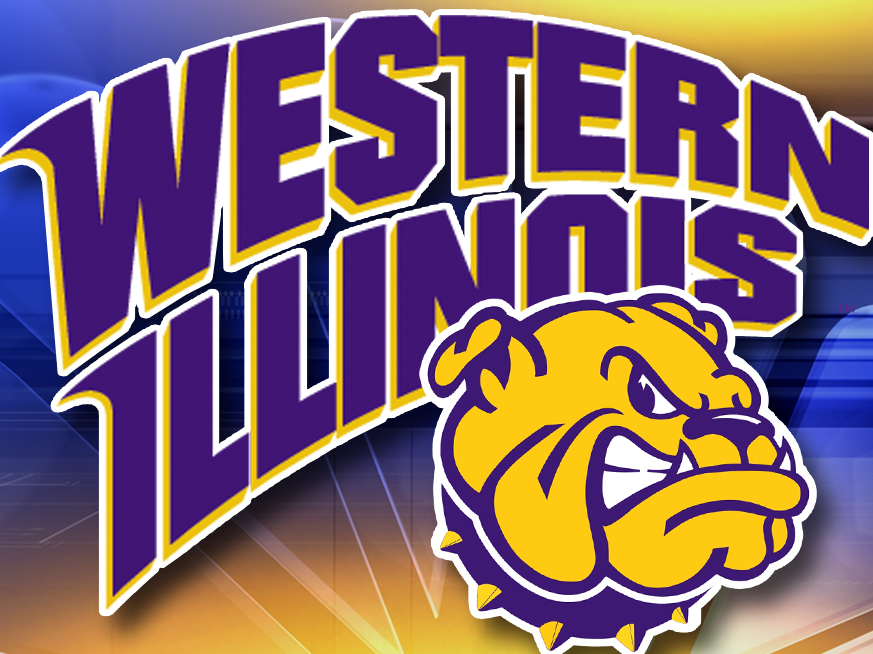 Time: 8:00 pm Channel: ESPN2
Best Conference Team Name:
The Western Illinois Leathernecks aren't bad. The South Dakota State Jackrabbits are pretty awesome (and on a personal level, jackrabbits are totally my "power animal"). But the real elephant in the room that we have to address is the Indiana-Purdue Fort Wayne Mastodons. Mastodons never forget anything, okay? The North Dakota State Bison not only won the Summit League title, but they are also the institution that employed George Flaskerud, who won a Nobel prize for his study in wheat, as an agricultural product. Whether or not Nobel prizes for wheat really exist, Fargo, North Dakota is where NDSU is located, and I know the town well. I've, unfortunately, lived there. As such, I am bound to it and therefore must root for them to win this Summit League tourney and get to the big stage. And the Bison are currently projected to be a 13-seed, mind you. Cinderella town!
West Coast Conference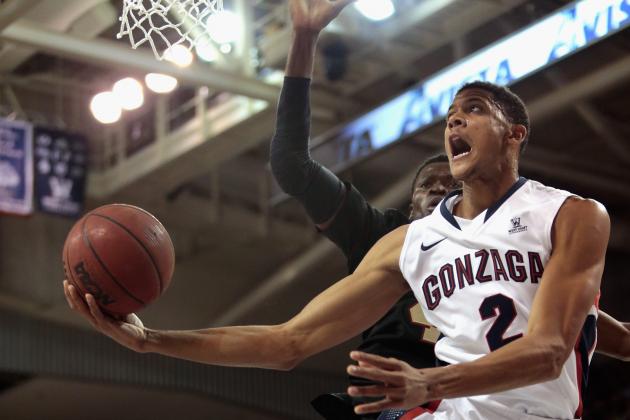 Time: 8:00 pm Channel: ESPN Gonzaga country. The End.
WEDNESDAY

Patriot League: 1) Boston University Terriers vs. American University Eagles
Time: 6:30 pm Channel: CBS Sports Network #1) I'm pretty sure 
G.I. Joe
went to American University. Is that even a place?! #2)
Best Conference Team Name:
Navy Midshipmen (They're just never... ever... going to be good at basketball without David Robinson... ever... again) I've really got nothing for this bad boy. Straight tapped. Either Boston University or American University is going to win the game. I will mention that during the season, there were some AP Press voters throwing down votes for AU to be in the Top 25 in the nation, however. Does that count as intelligence?
G.I. Joe just called me. He says nothing I ever say or think will count as intelligence.
Photos via: Google